Seasonal fluctuations in CPMs are inevitable for publishers. While you cannot completely avoid them, you can definitely mitigate the damages if you are prepared. Knowing the underlying cause behind the fluctuations will enable you to predict the ups and downs in the CPMs way before they occur. So, let's understand CPM seasonality and the reasons behind it.
Table of Contents:
What is CPM Seasonality?
While observing a time series (sequence of data points in successive order), seasonality refers to events that occur regularly. Since the events occur on a regular basis, it is easy to predict their arrival.
For example, if you talk about a calendar year (a time series), you can easily say which month of the year will have the highest average temperature because every year you've experienced the temperature rise in those months. So the rise in the temperature is seasonal, regular, and predictable.
Something similar happens with your CPMs too. All across the industry, publishers experience CPMs rise and fall during some specific periods within a year. The phenomenon is called CPM seasonality.
Why Should You be Aware of Seasonality?
While you are buying traffic, then seasonal dips in the CPM can be the opportunity to acquire more traffic by spending less. You can direct this traffic to your paid services like newsletter subscriptions or memberships to access content behind paywalls. 
When you know the patterns of your CPM then it won't be hard for you to figure out whether the fluctuations are occurring due to seasonal changes or due to an internal fault with your site. Knowing the cause will save you a lot of time.
Even during the Q4, if your revenue is not reaching as high as it should reach then, you are incurring opportunity costs. Q4 gives you opportunities to increase your revenue with affiliate links. You also have the chance to spike up your traffic by enhancing your existing content and by creating season-specific content. 
So you can take the measures necessary to keep your revenue up before the seasonality hits. In this way, you'll avoid any potential losses. Additionally, the seasonality in Q4 will give you many opportunities for earning additional revenue. You'll be able to take the required actions at the right time only when you're aware of the seasonality patterns.
What Causes Seasonal Fluctuations?
The changing behavior of users and advertisers during specific periods, like a holiday season, causes fluctuations. During holidays, the users are more likely to buy new products. So. to make the most out of the opportunity, the advertisers also want to show more and more ads to the users. Since the users are already in the mood to make purchases, advertisers get better than average results from their ads during such seasons. Hence the competition among advertisers increases and the CPMs shoot up.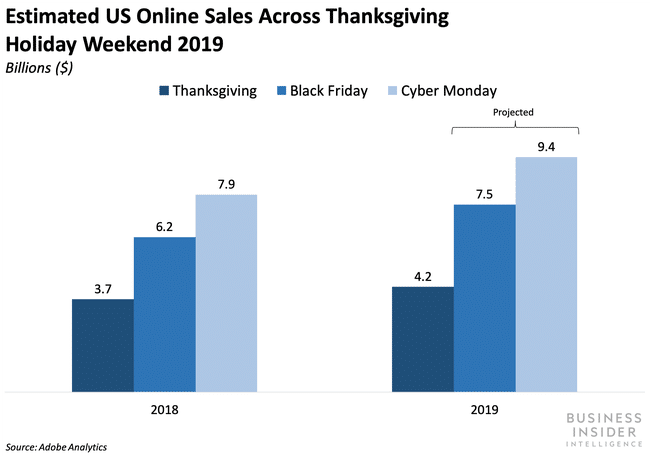 Billions of dollars are spent just via the e-commerce channel during festive seasons. Source: Business Insider
When to Expect Seasonal Fluctuations in CPM?
Seasonal CPM patterns emerge throughout the year, here are some of the most common trends we have observed: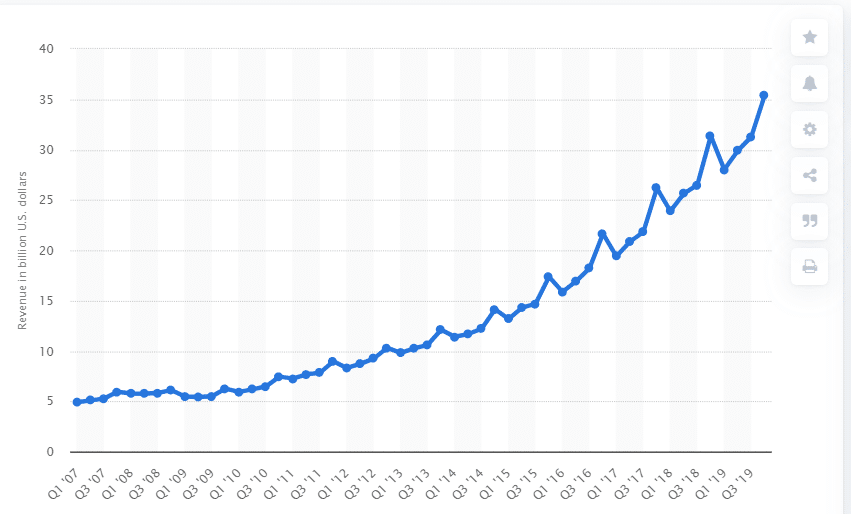 Source: Statista
Quarterly Pattern:
Companies generally have quarterly marketing budgets. At the beginning of a quarter, companies are cautious about their spending. But as the end of the quarter approaches, the companies try to exhaust their budgets to make sure no opportunity is being missed. Due to this tendency, the beginnings of the quarters have low CPMs that keep increasing as the quarter comes to its end.
How to deal with Quarterly Pattern
Increase your floor prices successively. Say you keep $0.5 as your average floor price in Q1 then maintain it around $1.0 in Q2, $1.5 in Q3, $2.0 in Q4. Don't go back to $0.5 again in the new Q1 try going slightly higher say $0.55 or $0.60 because we are seeing the growth of ad spend in the industry every year. Your rates should catch up with the industry too.

Your sales team needs to have a few direct deals planned for every quarter. For example, a clothing brand may start an end-of-season sale between June and July, a gift items brand may want to advertise more around Valentine's Day, a smartphone brand may launch new phones on specific months of the year. All such events are your opportunities to sign direct deals and minimize the effects of quarterly fluctuations. Your sales team has to stay in close contact with the advertisers to win such deals. 

You can sign such deals at 1.5x or 2x of your average CPM. Suppose your average CPM for Q1 is averaging at $2 then you can try to win a direct deal at $3 or $4 by negotiating with the brand.
Highest CPMs in the last quarter:
Many festivals, including Christmas, fall into the fourth quarter. Most parts of the world remain in a festive mood during this time. Users buy lots of gifts so the advertisers also get ready to advertise. Additionally, December is not only the end of the fourth quarter but also the end of the financial year of many companies. This is why you can expect the fourth quarter to be the highest earner. All the spikes in the chart we showed earlier are from the fourth quarter of the respective years.
How to deal with the last quarter?
Increasing the floor price is the first action you need to take during the last quarter. Use the same strategy of the successive increment that we discussed for the quarterly pattern. You can start testing with the addition of a small amount, say 5-10 cents. Strike a balance between floor price, fill rate, and revenue. As you'll increase the floor price, the fill rate will decrease but your page revenue will increase in the initial stage. You have to keep increasing the floor price until the revenue is increasing. You have to stop as soon as you start noticing a decline in the revenue.

Keep the floor price highest during the weeks of Christmas and Black Friday.

Produce Season-Specific Content. The demand for season-specific content rises during the festivals. For example, people will be looking for Christmas tree decoration ideas during Christmas. So, such content can attract a lot of audiences during a short period of time.

Update your content to rank higher in search results. Additionally, your competitors will also be updating their content which increases your chances of losing your SERP rankings. It'll be better if you update your best-performing pieces because you already know that they have the potential to attract an audience.

Try PMP deals as it will be easier to find advertisers during the last quarter. The returns from PMPs will be higher than open market auctions.
January Can be the Slowest Month:
The companies, as well as the users, exhaust their spending budgets in the preceding month. There are no big festivals in the month. It is also the beginning of the quarter and the beginning of the financial year. All these reasons make January the slowest month of the year for publishers.
How to deal with January slumps?
January is the month when you reduce your floor prices. Keep reducing the floor prices until your RPM is increasing.

When the CPMs are low, then increasing the number of impressions by refreshing the ads can compensate for the loss in revenue. You can deliver more ads to the same users' by-products like

AXT

. Intelligent ad refresh products like AXT make sure that ads are refreshing only for the users who are actively engaged with your content. Showing ads only to engaged users

provides remarkably high viewability

while significantly increasing your revenue.

January also gives you the opportunity to acquire traffic at economic prices. You can run ads to promote your newsletters and membership programs for revenue diversification. Bloomberg is a great example of a publisher that is using the same tactic.



Increase the number of pages with video ad units on your site during January. You can also use docking video players and syndicated videos. Refer to our

video ad optimization article

for complete guidance on video ads.

Optimize your ad placements for the best CTR. Use our article on a data-driven approach to

finding the best ad placements

on your site. An increased CTR will not only increase your revenue but it'll also increase your CPM in the long run.

Services like Power Inbox can help you in monetizing your newsletters with ads. You can use such services for the time being for further revenue diversification.
Weekly Trends:
You may experience a rise in CPM during the weekends. But the changes are mostly minuscule. Since users spend more time on the internet on weekends when compared to weekdays, the advertising side is slightly more active, leading to a small rise in the CPM.
How to manage weekly trends?
Do not adjust your CPM for weekends because the CPM fluctuations can be minuscule. It is neither worth the effort nor the risk to optimize for weekly variations.

You can have a series of articles for attracting more traffic during the weekends. Here's how Forbes does it:



Commercial Events:
Events in which brands give hefty discounts also bring people in the mood to buy new products, and therefore more and more ads are pushed by advertisers that push up the CPM. Black Friday, Cyber Monday, Amazon Prime Day are some examples of such events.
Source: Think With Google
How to prepare for Commercial Events?
Prepare commercial content for affiliate revenue.

Pieces of content that help people with their buying decisions can help you generate additional affiliate revenue. Since people are already looking for products to buy, there are good chances that people will click on your links to reach the suggested products. Product reviews, lists of best products to buy are some examples of content made for affiliate revenue.

Integrate Amazon's Unified Ad Marketplace with your header bidding setup. Being one of the biggest e-commerce players in the world, Amazon is likely to outbid your current demand partners, especially during commercial events.
Other Trends:
While the above-discussed seasonal CPM trends are experienced by the majority of the publishers, there can be many more trends depending on factors like niche and geography. For example, a local news publisher may see a rising demand for inventory during a local festival or event. A personal finance website may see an increasing demand when the tax filing deadlines approach. 
How to deal with the other trends?
Direct deals are the best solutions for such occasions. If your sales team is prepared in the way we discussed earlier then you won't face any problem in capitalizing on these trends.
Header Bidding: An all-time Solution for Higher CPM
No matter what season it is, Header Bidding will always help you with increasing your CPM. It'll plug multiple demand sources into your inventory. The simultaneous bidding from all demand sources always leads to higher CPM. Even if you do not sell a large chunk of your inventory on the open web, you should still give header bidding a try during your slow months.
What's Next?
Publishers should always be prepared for CPM seasonality. When the traffic, CPM, and revenues are low and there is nothing much left to do about it then you can shift your focus to lesser urgent activities for the time being. Some suggestions? Work on improving your site's UI, strengthen your search engine optimization, try experimenting with newsletters, work on your social media channels, improve your site's speed, there are plenty of things to do.
Other Seasonal Optimization Posts
How Publishers Can Improve Halloween Ad Revenue?
Best Thanksgiving Strategies for Publishers.
Top Strategies to Make the Most Out of Christmas 2021
Black Friday 2021: 4 Opportunities To Drive More Ad Revenue