Programmatic advertising evolved to automate media buying. It overcomes the drawbacks of traditional advertising, which uses direct deals that are narrowed only to limited resources and revenue.
However, direct deals never lost their scope and potential in the era of automated media buying with programmatic direct deals.
Programmatic direct is the automated way to do direct deals under the private marketplace. Google Ad Manager, the popular ad server, provides a dedicated platform to perform effective programmatic direct deals. 
This blog walks you through what are programmatic direct deals and how to set them up in the GAM. You will also learn how to perform effective direct deals to attract potential buyers and end up with high CPMs and when programmatic direct deals can be optimal for you. 
What Is Programmatic Direct?
Programmatic Direct is an automated way to direct deals. Suppose you want to sell your premium inventory to a premium buyer. You select the buyer and approach them, or they will approach you and negotiate the campaign terms and conditions in a dedicated platform like GAM. 
Once you and your buyer agree on deal terms like price and time range to show ads, the GAM moves your campaign to delivery. According to Boston Consulting Group, the publishers and advertisers using programmatic direct deals save 59% and 29% more time than traditional deals.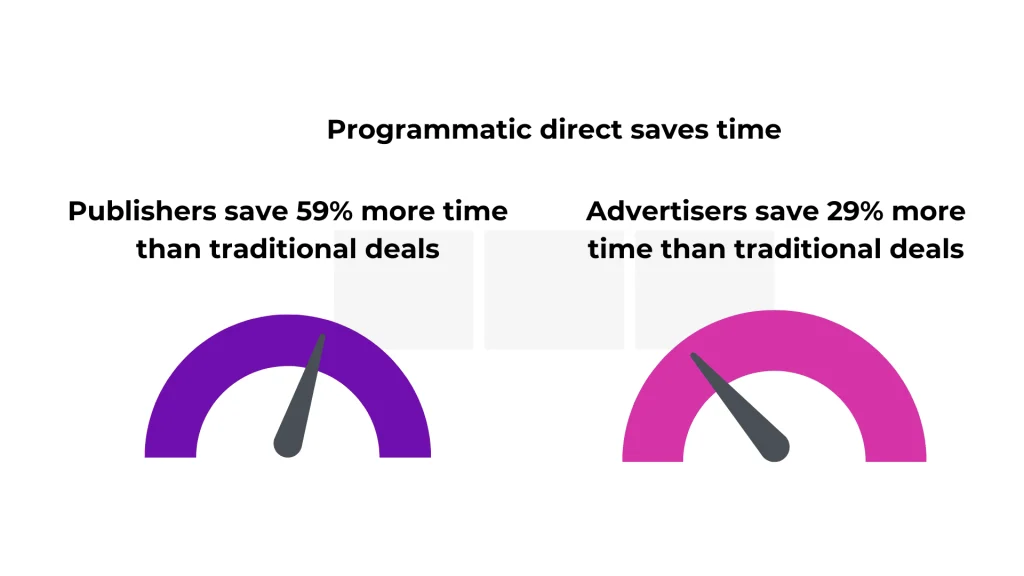 Utilizing programmatic direct in GAM reduces overhead in managing ad creatives and the overall process. Moreover, billing, tracking impressions, and reporting have also been taken care of by GAM. 
What Is Programmatic Direct Deal?
The direct deals carried out programmatically in platforms like GAM are called programmatic direct deals. Because the platform will give ready access to potential buyers and an automated process to send proposals, negotiate, and finalize the deal. 
Programmatic direct deals are classified into two categories: guaranteed and preferred. 
Programmatic guaranteed: You negotiate with the buyer at a fixed price and terms for the guaranteed ad space. The buyer has to buy the ad space designated for them at a fixed price. 
Programmatic guaranteed is a successful programmatic direct deal. It influenced the operational efforts and time taken in traditional reservations of the top news media publishers like Postmedia and The Globe and Mail.
Preferred deal: You find a buyer, negotiate with them, and finalize the deal at a fixed price. Here, the buyer is not obligated to buy the ad space, and you are not obligated to reserve the inventory for them while negotiating. You can reserve it for a guaranteed deal, and the buyer can go for more efficient deals.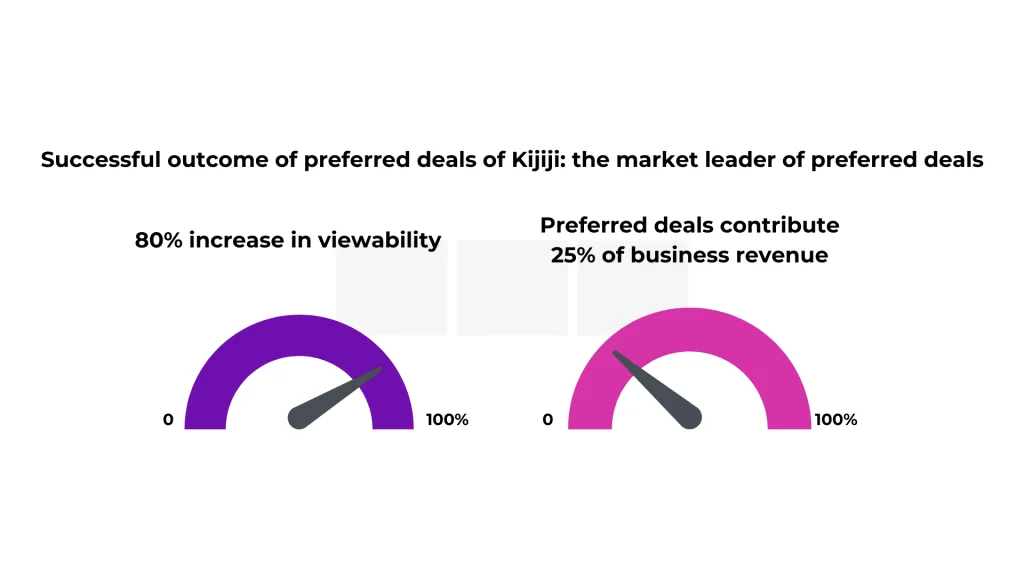 How do you set up a Programmatic Direct Deal in Google Ad Manager?
Publishers prefer GAM for the efficient platform it gives to perform efficient deals. It also connects you with the potential buyers, allowing you to negotiate and finalize the deal with less effort, time, and human errors. 
You or your sales representative can follow the below steps to set up the programmatic direct deal in GAM.
You have to enable programmatic direct in GAM first to perform programmatic direct deals. Go to

Admin>Global settings>Feature

, and enable

Programmatic Direct

. Also, click

Save.

As a second step, you need to set up the inventory type. Inventory type tells buyers what type of ads you are going to for and in which medium you will offer it, like display, mobile app, or video ads. 
Set the inventory type under Admin> Global Settings. This setting will help your sales team in negotiation. Set up inventory type in targeting settings for programmatic direct proposal line items.
Next, you need to set your publisher profile. 
Under

Sales>Deal settings

Click on the

Publisher profile

 

Click on the

New profile

to create and fill in all information.

Click on the name of the completed profile to edit it.
You must create a profile to discover your inventory in the marketplace. You can enter your achievements and the eligibility of your inventory to get a strike from the buyer for guaranteed or preferred deals. You can also set visibility to selected or all buyers and see impression estimates in the GAM.
Add the publisher's terms and conditions in

Deal settings

to add it to the proposal.

Now, you can create a proposal to send to the buyer to make a deal. 
Go to

Sales>Proposal

Click on the

New Proposal

Enter necessary details like a message for the buyers on the top, the buyer's name, and other additional settings.

Click

Save
Complete the proposal generation by adding proposal line items that contain the creative requirements, targeting, starting and end time of the campaign, etc. 
Send the proposal to the buyer, start the negotiation process, and finalize the campaign.

Once the campaign is finalized, the Ad Manager creates an order and line item with placeholder creative for the corresponding proposal and proposal line item.

GAM uses the placeholder creative and targeted ad units to get ad creative from the buyer

GAM moves the campaign to delivery

After negotiation, the buyer and the seller can renegotiate order details if needed for better campaigns.
Tips to Optimize Programmatic Direct Deal
Whether you send the proposal to the buyer or the buyer sends you the proposal, you need to appeal to the advertiser with the optimal website. Here are a few tips for effective website optimization to end up with high-paying direct deals.
Better viewability: Buyers seek a website or ad unit with viewability over 70%. So, improve your viewability by delivering quality content, different ad formats, and other good UX tactics.
Try ad placements that gel with the content and different ad placement strategies that drive better revenue.

Implement

lazy loading

to stop loading the ads that are not in the viewpoint and to increase the view of ads in the viewpoint.

Sticky ad units

stick on the left or right side of the content while scrolling. Try that to increase viewability.

Anchor ads are another good option to increase viewability, as they will be on the user's page and viewpoint for the entire duration of the visit.
Update CPM value frequently: Calculate the CPM value of your ad units based on the demand and fill rate. Also, frequently update it according to seasonal changes and other demands to increase the CPM you get from the buyer.
Post-checkout ads: If you have a post-checkout page (the pages that come after completing a transaction), like order history and order details, you can install one ad unit there. Post-checkout ads have high CPM value for high customer intent—for instance, $20 for a simple ad unit of size 300×250.
Install high-impact ad units: Try high-impact ad units to maximize the CPM, like interstitial ads, which are 100% effective on viewability and Video ads. Interstitial ads have 8x CPMs than display ads, and video ads have 4x times better CPM value than display ads. 
Targeted website: Gain a loyal user count who will be more targeted to your niche. Collect first-party data of those users to share it with buyers in a safe environment and for only showing non-intrusive ads. A website with high targeting opportunities naturally attracts deals and high CPMs.
Benefits of Programmatic Direct Deal
The programmatic direct deal replaces the traditional reservations with automation, reducing manual efforts and time-taking processes. 
Higher revenue and performance: You can achieve higher CPMs with extensive features in programmatic direct. They will have optimal buyer lists, and you can unlock new settings in media buying to strike deals of your choosing. You can reserve the inventory only for the buyer you want to with guaranteed deals. 
Better campaigns: Your direct deals on GAM add value to your buyers with advanced features and functionalities. You can serve different ad formats, types, and channels, improving the campaign performance and CPMs.
Basic process: GAM offers a streamlined workflow for ad trafficking, removing the need to copy/paste tags and generate insertion orders. You can increase the efficiency of the deal process and save costs.
Correct payments and reporting: You will receive on-time payments from buyers through Google within 30 days after the campaign.  It aggregates payment from every buyer and settles it at the same time. It also gives clear reporting on the direct deal campaigns.
Drawbacks of Programmatic Direct Deal
Despite the advanced features and advantages, direct deals have drawbacks, too. 
Not assured filling: Direct deals are for selling premium inventories. You have to move the remaining to the open auction. In an open auction, if you are strict in only getting contextual ads (ads related to the website content) rather than extending the inventory stock to accept any ads, you must make the extra effort. Even if you do, you can't fill all the remaining inventory.
Not a place for small publishers: Entering GAM to utilize direct deals has a vetting process. It is a game for large publishers with over a million website traffic.
Need expertise for negotiation: Even for the large publisher, performing direct deals in GAM requires an expert team to negotiate and strike the deal. Finalizing the better deal depends on the expertise and experience of the team. If you don't have the finest team to make better deals, you will end up with deals with lower CPMs or no deals.
Time-consuming than RTB: Even though the programmatic deals have simplified workflow, the profile setup, searching for a good buyer, and the negotiation process take time.
When Should You Go for a Programmatic Direct Deal?
Direct deals are the best kind to get high CPM for your premium inventory. It gives guaranteed revenue. So, if you are wondering when to go for it, let me explain in two cases:
Case 1: You are a large publisher with a website with traffic of more than a million.
As a large publisher, going for a programmatic direct is optimal if you have a separate team to perform deals on your behalf in GAM or other third-party servers.
You will get the chance to maximize your inventory value in direct deals if you have:
High page traffic with more targeted users because only the buyers who want to reach the target audience choose premium inventory. They will be in the third stage of the marketing funnel of getting leads and converting them into potential buyers. 

First-party data that helps your advertiser to show ads to potential prospects.

Better user experience on the site by showing an optimal mix of quality content and ads

Loyal users who believe and follow your suggestions on brands and services through ads.
Case 2: You are a small or medium publisher delivering quality content for targeted users but with less traffic.
In this case, you will not be qualified to enter the dedicated ad servers designed to do automated direct deals. Even if you approach the potential buyers manually, they surpass you for the high-traffic website.
So, to cross all these hurdles and nail the direct deal, join hands with reliable programmatic partners like Automatad, who offer exceptional support and services for performing programmatic direct deals. 
You will get extensive benefits by connecting with third-party partners, 
The partner will serve as a bridge to connect you to the potential buyers in GAM, as they have a reliable name and qualification to enter the platforms that let you perform direct deals.

They act on your behalf and handle the deal from profile creation, proposal generation, and negotiation to campaign delivery. 

They optimize your deal settings to appeal to buyers. They optimize ad formats, units, sizes, and channels that drive maximum revenue. 

They put forward your pluses like quality content and very narrow targeted audiences to reach suitable buyers. For instance, if you have a highly targeted audience in a pharmacy niche, the partner will reach the pharmacy-related buyers to strike a deal. 
Partners will learn about you from A to Z and make personalized solutions. 
Closing the Deal!
The programmatic direct deal is a reliable source to monetize your premium inventory for higher CPMs. However, it has merits and demerits and needs many strategies and expertise to nail it. 
So, if you enter programmatic direct, analyze all your strengths and needs to make a structured plan to achieve the objective, i.e., maximizing revenue and a successful campaign. For more information on what type of programmatic deals suit you and how you can perform effective direct deals, we are one call away!