Whatever the method of selling is, publishers need to care about eCPM and learn to increase it to improve their ad revenue. So here's how to increase ecpm. 
Publishers sell their impressions either directly or programmatically. In direct deals, publishers and advertisers will pre-negotiate and settle on a CPM/CPA/CPC. In programmatic deals, publishers will make their impressions available to multiple demand partners with the help of an SSP or Ad Exchanges. Whatever the method of selling is, publishers need to care about eCPM and learn to increase it to improve their ad revenue.
Before we plunge into the strategies to increase eCPM, let's shed some light on the basics.
What exactly is eCPM?
eCPM stands for "effective Cost Per Mille". "Mille" is a Latin word that represents one thousand and "effective" indicates the actual value, rather than face (projected) value.
In short, eCPM is the ad revenue generated per 1000 impressions. You can calculate the ad revenue generated by a specific ad unit with the help of eCPM. Thus, eCPM is the exact cost to the advertiser for a thousand hits. High eCPM means the publisher makes more profit.
What is eCPM Formula?
eCPM is calculated by a simple formula as shown below.
eCPM = (total earnings/total impressions) x 1,000.
What is the Difference Between CPM and eCPM?
CPM is something, advertisers set the price for 1000 Ad impressions. Inversely, eCPM is used by publishers to determine how much revenue is earned per 1000 ad impressions.
Why is Calculating eCPM Important for Publishers?
It depicts the actual revenue generated by the ads running on your site.
It helps you to make an educated decision* on the type of ad units to create/run in the future.
*For instance, if an SSP/Ad Exchange paid you $5 for 500 impressions, for a 300 x 250 ad unit and $3 for 800 impressions, for a 250 x 250 ad unit, there is no way you could compare them directly. But, when you calculate eCPM for both the ad units, you will know that the former earned you $10 while the latter earned you only $3.75. You can plan and create ad units accordingly. 
How to Increase eCPM?
Here are some of the strategies that will help you to increase eCPM and maximize your profit as a publisher:
1. Experiment with Ad Networks
Ad networks are simply the aggregators of demands and supplies. It is up to you to make sure that relevant ads are being shown to your users.
How can you do that?
By partnering with the right ad networks. Yes, there are various types of ad networks in the market that have unique capabilities and can offer you different solutions. For example, a vertical ad network can help you if you have a niche website. Whereas, an inventory-specific ad network can offer unique solutions to a specific ad inventory. So, choose an ad network wisely according to your requirements.
2. Partner with Ad Mediation Agencies/SSPs
Yes, ads served via mediators' calls for greater success and increased eCPM. Ad networks generally unite publishers and advertisers, allocating ads on the basis of their own capabilities. However, SSPs can help you overcome the limitations of ad networks. How is it so?
A mediation company (commonly known as SSPs or Seller-side Platform) connects the publisher with various Ad Networks and Ad Exchanges. As the SSPs are working with various demand sources (Ad Exchanges, Ad Networks, DSPs, etc.) already, they can open up your inventories to more bidders, thus, increasing eCPM.
Besides, they can help you optimize your ad stack, improve your demands, and deliver a better user experience. This may seem obvious. It is worth mentioning that partnering with the right SSP is essential as it influences your revenue directly.
At Automatad, we help publishers of all sizes to monetize their ad inventories. We connect them with the right Ad exchanges and implement suitable monetization solutions (for instance, Header Bidding) to ensure higher ad revenue, ad quality, and better user experience. You can learn more about us by visiting our website automatad.com.
3. Try Different Ad Formats
This part is quite tricky. Some of the ad formats might always work for others, but not for you. So, you can't follow a standard set of ad formats, hoping to increase your eCPM. However, the following are some of the most used formats.
Banners: Permanent rectangular and square-shaped ad formats that usually appear on the websites. How can you choose the right out of many?
Pick the one with the highest fill rate and lower chances of getting affected by fraudsters. eMarketer study shows why certain ads are prone to ad fraud and it's always recommended to avoid them (as much as you can). Besides, we have studied the best ad sizes for websites. Begin with a few and wait for the results.
Interstitial: These have one of the greatest eCPM rates. Also identified as "full page" ads, interstitial ads occupy the full screen of the user's device. But do consider the user experience and make sure that you're following the guidelines outlined by your ad-tech partners.
Video: These ads are both "intended" (the user can skip the ad), or "compulsory" (where the interface returns after the video is finished after a period of time) and are considered as one of the best formats these days.
4. Changing the Ad Placement
You should experiment with different ad placements on multiple sections of the page using a mixture of ad sizes. Keep your statistical tools handy to compute CTR and the best position on the webpage. If this is professionally handled, the right placements serve huge profits.
For instance, a heat map tool like hotjar can help you figure out the ideal placements with higher user engagements.
Again, many believe that adding multiple banners on a webpage can get increased clicks for improving website performance. Again, this is untrue. Adding multiple banners on a webpage can lead to "ad blindness".
5. Keep up with the Industry eCPM
We all know how the demand for a particular format increases as the users changes their behavior. In order to keep up and evolve, you need to track the industry average CPM/eCPM of different formats.
A proven example is video ads. You can see how video ad formats have experienced an increased demand just over the last few years and if it was on your watch list, you'll be playing video ads to the users by now and bagging higher eCPM. To keep yourself updated with the industry eCPM, sign-up for our blog AdTech Insider today.
6. Generate Search Engine Traffic
The greater the number of visitors, the greater is the opportunity of them interacting with ads. More ad impressions, More CTRs, and hence higher daily profits. Is that so?
Of course, not all the traffic sources are proven to increase your eCPM. Particularly, Search Engine Traffic captures the highest eCPM.
Why?
SEO is the organic technique of driving traffic and hence, users (obtained through SEO) reading your content are expected to stay longer and interact with ads more than the others.
Social media, on the other hand, helps in getting the content quickly go viral. This provides thousands of unique website hits in a short span of time that significantly increase your eCPM. Instagram, Facebook, and Twitter are there to let people share content with one another. So, if you have rich and valuable content, you can leverage these social media platforms to drive organic traffic to your website.
7. Make Your Site Mobile-friendly
With the ever-evolving Google algorithm, non-mobile-friendly websites will lose a lot of organic traffic, this, in turn, results in reduced eCPM. Besides, we're mobile. A lot of users are accessing your content through mobile devices on the go. According to Statista, more than 3 billion users are using smartphones worldwide.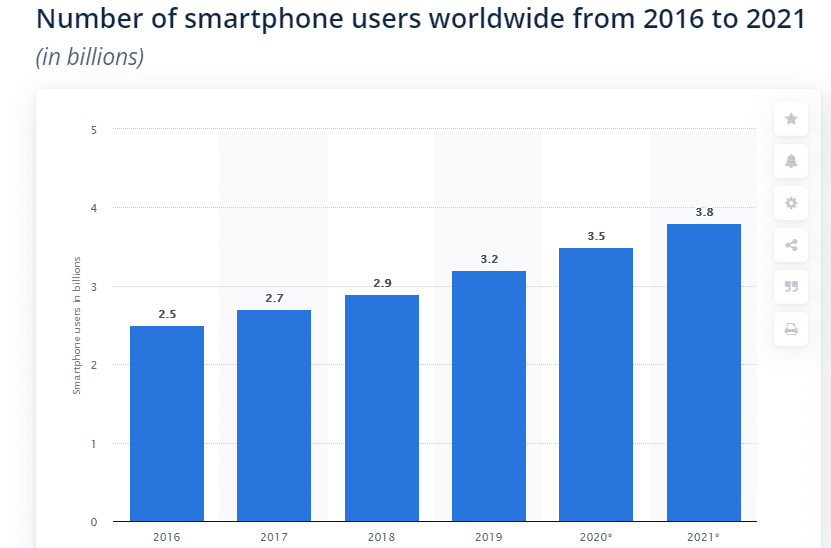 This means you need a mobile-friendly site with the right ad units to increase eCPM. In case, if you're providing a better user experience and higher ad engagement on mobile, buyers would love to bid more for your impressions. Here's a guide to effectively monetize your mobile website traffic.
Conclusion
eCPM is quite easy to understand. And if it is broken down into CTR and conversion rate, it turns out to be a lot simpler to move towards new ideas to increase eCPM.
It is not possible to get an ideal eCPM during initial efforts. Test a number of ad networks, ad placements, ad formats, and traffic-driving ways to observe the methods which bring out the best eCPM rates. The strategies we've shown here are only a start. Keep optimizing and keep growing.
Note: We are partnering with experienced Engineers and adtech professionals to demystify adtech jargon, share insightful tips and data. You can sign up here for our free e-mail course.