Google provides a handful of tools for publishers to help them improve the user experience on their sites. How fast your ads load is undeniably an important factor in determining the CPMs and assessing the user experience. In this post, we'll take a look at two tools to test your ad load speed – Publishers Ads Audits For Lighthouse and Google Ad Speed Report.
Publisher Ads Audits For Lighthouse has been built on top of Lighthouse, a tool that was already in use by publishers. For a better understanding, let us discuss Lighthouse before talking about Publisher Ads Audit, the latest addition to the Lighthouse.
Lighthouse is an open-source tool provided by Google to check the performance of web pages. You can measure different page performance-related metrics with Lighthouse that can help you to provide a better user experience. You can audit any webpage, including the pages from the sites that are not owned by you. Here is a quick snapshot of the categories of site audits you can do with the Lighthouse:
After selecting the categories and running the audit you get a detailed report on how your web page performed and what can be done to improve the performance.
Specifically, you find out about the opportunities you have to increase the page speed. 
Various technical suggestions to speed up the loading time. 
Accessibility related suggestions to ensure your site is rendering instantly. 
And, even SEO related suggestions to improve ranking on SERP. 
In case you wish to audit your site with Lighthouse here is how you can do it:
Open the Chrome browser and go to the page you wish to audit.

Click on the

three dots

at the extreme right end of the address bar. Hover over

"More Tools"

and click on "

Developer Tools

".

Alternatively, you can also click

Ctrl, Shift, and I

(all at the same time) on your keyboard to reach "Developer Tools" directly.

Go to the "

Audits

" menu. Select the device type.

Select the audits you wish to perform. Select your preferred Network and CPU Throttling settings.

Let the

Clear Storage

box checked. Click "

Run Audit

".
You can also go to PageSpeed Insights, enter the URL, and analyze the page. 
Also read, How To Optimize Page Loading Speed For Higher Revenue?
So these were the audits that you can do with Lighthouse. But what about Publisher Ad Audit for Lighthouse?
Publisher Ads Audits For Lighthouse
If you have noticed then you must have observed that none of the audits above were related to ads. So, as the name suggests, the Publisher Ads Audits for Lighthouse helps you with a similar audit of the ads running on your webpage. Just like the above audit, you get suggestions on how you can improve the speed of your ads, and then you can implement the suggestions for a better ad experience. It is also noteworthy that the Publisher Ad Audit works only with GPT tags.
Here is a snippet from the audit of a news site:
After running the ad audit, you can get a number of suggestions to improve the ad speed on the tested page. It is fairly normal if you do not understand what some of the suggestions mean. We will try to cover how to solve each and every one of them separately in a separate post. For now, let us see how to run the ad audit.
How to use the Publisher Ads Audits For Lighthouse
Here are the different ways to run Publisher Ad Audit:
– Through the webpage: This is the simplest way to run the audit.
Go to the

Publisher Ad Audit webpage

. Enter the URL you wish to test in the text box.

Click on "Generate Report". The report will be generated in a new tab.
– Through Bookmark: This is the easiest way to run the audit
Start creating a bookmark in your browser. Give the name of your choice

In the URL, add the following code:




javascript:(function(){window.open('https://pub-ads-audits.appspot.com/audit?url='+encodeURIComponent(document.location.href.split('?')[0])+'&mobile-emulation=on&utm_source=bkm','_blank');})();

Save the bookmark. Move it to your bookmark bar.

Go to the page you wish to audit, let it load completely. Click the bookmark created above in the bookmark bar.

The Publisher Ad Audit webpage will open in a new tab with the URL prefilled in the text box.

Click on "Generate Report". The report will open in a new tab.

Once the bookmark has been added to the bookmark bar, you can run it whenever you want with just a single click on the bookmark. This is why it is the easiest method.
– Through Publisher Console: 
Refer to our detailed

guide on Publisher Console

. Open the console. Click "Audit this Page"

The Publisher Ad Audit webpage will open in a new tab with the URL prefilled in the text box.

Click on "Generate Report". The report will open in a new tab.
Ad Speed Reports in Ad Manager
Now, let's take a look at the next tool. As you could see, this isn't a tool per se. It's a report for Google Ad Manager publishers. You can check the performance of ads with the help of Ad Speed Reports in Ad Manager.
Log in to Google Ad Manager

Go to Reporting > Reports > New Report.

Give a name to the report.
You can add filters for a granular report.

Select the required Dimensions and Metrics.
We've run a quick sample report on one of the test sites to show you an overview of how the results will be displayed. You can analyze your ad creative load speed, % of users scrolled before ad rendering, and more.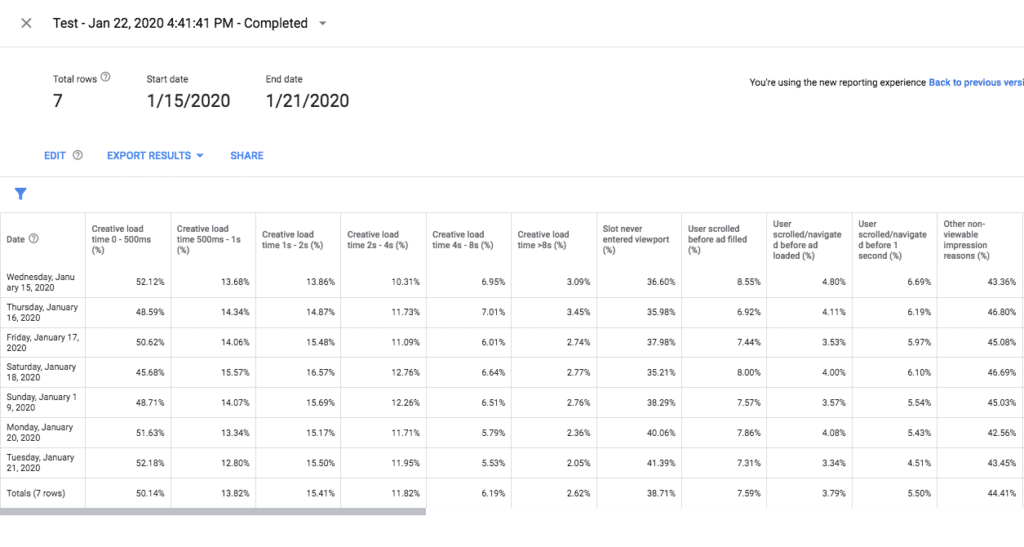 Please note that similar to the Publisher Ads Audits, Ad Speed Reports also exist in beta mode.
So these were some ways of scrutinizing the ad performance. While you work on the ad speed, you will be tempted to score a perfect 100. And, that's what everyone strives to do. But implementing all the suggestions blindly may sometimes force you to sacrifice some of the functionalities of your site. For example, having multiple bidders may slow down the ad serving process a little, but you cannot remove them all because it is not practical. You may lose 20 to 30 percent of your ad revenue if you do it just for a perfect score.
Confused? Need help on how to implement the suggestions without jeopardizing the ad revenue and setup? Then, bookmark this page. In part II of this post, we will tell you how to fasten your ad speed while keeping your ad setup intact. Meanwhile, learn What are core web vitals & How Core Web Vital Impacts Ad Load Speed.