Why Politico?
Politico has a serious reputation in the news market. Its founders used to work in The Washington Post but today, Politico stands neck and neck with the legacy news brand. It's quite a feat considering the fact that The Washington Post started in 1877 whereas Politico started in 2007. That's a gap of more than a century between the two.
Politico has also made some unconventional moves— giving out its printed newspapers and magazines for free, selling subscription services for a minimum of $1000, using Apple wallet to distribute news, etc., and succeeded with them. Its approach to building a publishing business was different from most of its competitors. 
How it All Started?
2006
Politico was the brainchild of Jim VandeHei, who started his career in the small town of Brillion when he was just 19. The first newspaper he worked with had a single editor so he moved to Washington where he got the opportunity to work with prominent newspapers like the Wall Street Journal and The Washington Post. 
During his job, VandeHei had an ambition of putting together a few of the best people who are known for their political journalism to form a news media outlet. This outlet will focus solely on the country's politics. VandeHei had the reputation and connections to get the job done but ultimately, the biggest requirement was funding.
To VandeHei's luck, Robert Allbritton, the owner of Allbritton Communications wanted to transform his legacy newspaper the Capitol Leader into the biggest player in the game. Allbritton was a billionaire who acquired his fortune from his father — a successful banker and a businessman with the ownership of TV stations. As both the men needed each other to fulfill their dreams, a deal was inked, VandeHei joined Allbritton and Politico was born (Src).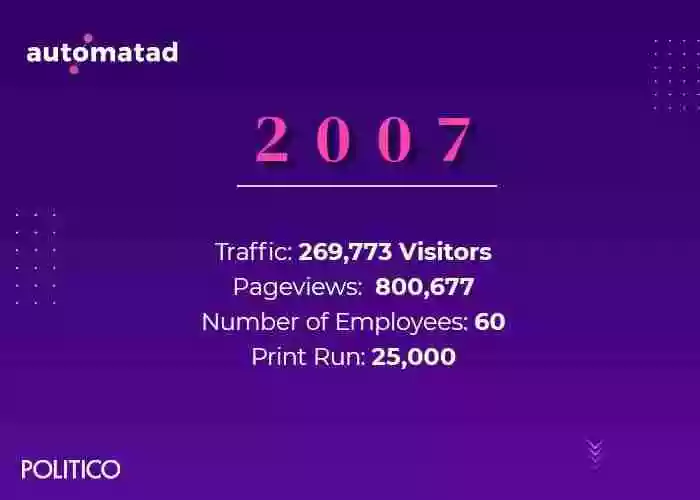 Where are they today?
Politics influences every citizen of a country and you can find people discussing it almost anywhere in your daily lives. It's no surprise that many people are interested in Politico's content even when they are not the publisher's target audience. Due to this reason, Politico garners close to 52 million monthly visitors with an average of 2.8 pages per visit (Src). Its European site has 4 million visits with 1.72 pages per visit (Src).


Source
Many users prefer apps over going to the site via the browser. Politico shines in that area as well. Its iOS app has 37.5K ratings averaging 4.7 stars. But having a loyal audience doesn't free you from maintaining your distribution channels. Politico takes social media platforms seriously, and it has built its strong presence on all the major ones. Its Facebook, Twitter, and Instagram pages have 2M, 4.4M, and 1.7M followers respectively.
Politico's hard work has helped it grow at an incredible speed. Currently, it has close to 800 employees helping it make more than $160M a year. (Src)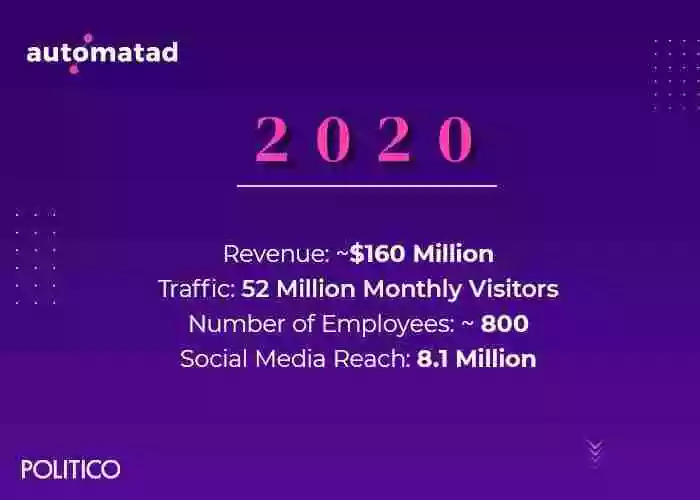 Becoming Politico
The Launch (Till 2010)
On 23 January 2007, Politico went live at 05:07 a.m. It garnered 269,773 visitors and 800,677 page views on the same day (Src). Apart from the website, the publisher also started with a print run of 25,000 (Src). It became possible with weeks of hard work by its co-founders and approximately 60 employees.
Politico's initial focus was on bringing political scoops faster than any of its competitors. Assembling a workforce wasn't a challenge as it branched out from Capitol Hill, a newspaper already owned by its investor Robert Allbritton. Within 20 months of its operations, Politico grew to 50 reporters from 39, and the overall staff increased to more than 105 (Src). At the same time, the site reached 3.5 million unique visitors and 25.1 million page views (Src). 
Just like most of the publishers, Politico's initial revenue came from ads. When Politico was in its second year of operations, its co-founder Jim Vandehei said that almost all of the money comes from ads. Subscriptions were contributing a nominal amount, but it was irrelevant when compared to ad revenue. Politico's ads space was best suited for issue advocacy (we'll discuss it in detail in this article), so it served a specific niche of advertisers.
But, only the right audience can attract the right advertisers, and a tiny but crucial group of its audience read printed newspapers. It consisted of policy decision-makers in the government. Because of this reason, Politico also started with a print run to show its ads to the group. 
Politico Playbook
2007
Politico launched Playbook, a daily newsletter in 2007 which soon became a must-read morning briefing for Washington DC insiders. It was hosted by Mike Allen, the first reporter hired by Politico who is also considered as the founding father of the online news site. Not only the writing style but the contents of the newsletter were so useful for its audience that the newsletter gained more than 100,000 subscribers by the time he left Politico in 2016 (Src). These subscribers not only consisted of the average political newsreaders but also an elite set of political and news-media thrivers and strivers.
The NYT compares the newsletter with those pills that futurists envision will replace meals. But how did Allen create such a successful product? He gives the formulae in simple words:
"The people in this community, they all want to read the same 10 stories. And to find all of those, you have to read 1,000 stories. And we do that for you." 
– Mike Allen (Src)
Until Allen was working with Politico, the newsletter brought $3 million yearly ad revenue. The weekly sponsorship rates for the newsletter were $55,000 and up. After his departure, the publisher brought a few changes to the newsletter to improve it further. 
For instance, the newsletter started including color photos and graphics, a specific timing was set for sending it, etc. While the current revenue and subscription numbers for the newsletter are not known, Politico reported that it "continues to literally blow away the competition", during the pandemic (Src). We have also seen other Playbook-themed newsletters introduced by the publisher, like London Playbook, California Playbook, G7 Playbook, etc. So, it's safe to assume that the Playbook model is still working for Politico.
Politico Pro
2010
In an attempt to diversify its revenue, Politico started offering its Pro version. It was a paid subscription service focussed on health care, energy, and technology. It allowed the readers to subscribe to specific topics and the cost depended on the number of topics they subscribed to. The cost ranged from $1495 to $2500 a year for the first topic and $1000 for each subsequent topic (Src). 
The pricing sounds expensive because it was more than any typical mainstream newspaper subscription. For a comparison, when the New York Times started charging its readers in 2011, the price for the highest tier yearly subscription was $455 (that too for the whole newspaper, not just a section or a topic). (Src) So how could Politico charge such a premium within four years of operation whereas one and a half-century old NYT couldn't do the same? The answer is "niche"!
Politico has always targeted a very specific group of people as its audience. These people want to stay informed with every detail about the nation's politics, not because they like to do it, but because it's a crucial part of their jobs. In its own words "POLITICO Pro is a smart, personalized policy intelligence platform for professionals who create, influence or communicate about policy" (Src). The value provided by the subscription services supersedes the monetary cost by leaps and bounds, thereby empowering Politico to command a premium.
Improving Programmatic Advertising
2011
Politico started building its own programmatic offering in 2011 when it partnered with a DMP and created its DSP to understand its audience deeply (Src). Working with a DMP has many benefits for publishers, including an increased value of the inventory with the help of custom audience segments, first-party data management, high engagement with better content recommendations, etc. Creating their DSP gives more nuanced targeting capabilities, customized reporting, fewer intermediaries, and ease of working with direct advertisers.
Politico Magazine
2013
A large part of Politico's success came from its fast-paced journalism. It has been criticized for being small, scrappy, and its relentless daily digest for the Beltway class. In fact, founders have called it ESPN of politics but these were the same qualities that made Politico one of the most influential news media outlets in the US (Src). Even the idea behind its Playbook newsletter was that it'll hook the user at the start of the day and then make the stories and further developments available in all possible formats for continuous consumption.
Once Politico strengthened its position in the market, it was time to win the slow-paced, long format, i.e. magazine. With original reporting and ideas-driven journalism, Politico wanted to talk about big issues and deliver its opinions.
"I don't care for the term longform, because length isn't the objective; it's stories with some depth, driven by a reporter-editor concept, rather than breaking news."
– John Harris, Editor-in-Chief and Co-Founder (Src)
The business rationale behind the move was that magazine stories, profiles, and investigative works have a much longer shelf life than quick news stories. In other words, they can bring traffic for a long time. Such content is also considered premium, it helps in attracting top-tier advertisers who would not only buy ads but even newsletters and event sponsorships. To make it lucrative for the advertisers, Politico made sure that the print edition reaches Congressional offices and Washington power centers by making it available for free. Note that it was not free for everyone but only to an audience segment of 30,000 people, everyone else had to pay $2000 a year.
It might be hard to say how much profit the magazine generates in monetary terms, but it builds a significant brand image for the publisher. It's hard to ignore a publication that can be seen in the offices of some of the most powerful people in the country.
Politico Europe
2014
To start its expansion into the international markets, Politico partnered with Axel Springer, Europe's one of the biggest digital publishing houses. The 50-50 joint venture was funded with an eight-figure amount. The partners considered Paris and Berlin as the headquarters location before finalizing Brussels. Axel Springer described the new venture as "a new digital political media offering that will offer in-depth coverage of European politics and policy." (Src)
Politico acquired the website and weekly newspaper European Voice and Development Institute International, a profitable conference business, to give itself a start in Europe. The plan was not only to launch a website, but also a weekly newspaper circulated in Brussels and conferences in Brussels, Paris, and Berlin. Offering a newspaper is important to Politico because its target audience includes people forming the government, and they are likely to read physical newspapers in their offices. This is also the reason why Politico's print edition is available for free in the USA's political hub Washington.
The operation started with 30 journalists soon launching a paid service as well. It was similar to the Politico Pro service that the publisher offered in the USA. It offered news alerts via email, in-depth online articles with analysis and insights, a weekly newsletter called Brussels Influence, and priority access to news-making events in Europe. During this time, Politico was offering its Pro subscriptions at a price between $10,000 and $300,000 in the US, so similar pricing was expected in Europe too (Src).
Within three years of operations in Europe, the publisher was making half of its revenue from paid subscriptions and the remaining from ads and events. Politico expanded its offerings by including a research tool in its subscription plan. It hired data analysts for turning market findings into visual graphics and charts-based presentations that the subscribers could download and use in their professions. This move helped the publisher in creating a product that set itself miles apart from the local competition.
"There is a lot of competition in our individual policy areas. There are a gazillion publications that focus on specific areas we cover, like the environment, and then very niche within those. We want to use DataPoint [the research tool] as a way to complete the package and give people all they need to do their jobs."
– Nirvi Shah, Editor, Politico Pro, Europe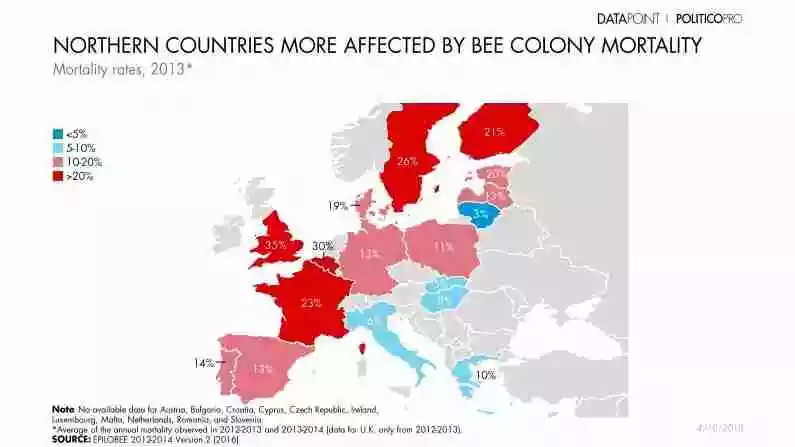 Source: Digiday
DataPoint started with thirty presentations and the publisher planned to create around three presentations a week across policy areas namely technology, agriculture & food, energy and climate, financial services, health care, transportation, trade, Brexit, sustainability, data & digitization, budget & competition. But what was the use of these presentations? A large number of Pro subscribers were lobbyists, trade organization employees, and government affairs professionals. They needed such graphics in their daily work.
With a sharp focus on its audience, Politico created the best offerings. Despite being new, it outranked  Financial Times, The Economist, BBC, and The Wall Street Journal, as well as Twitter and Facebook, and became the most influential media channel in its market. (Src)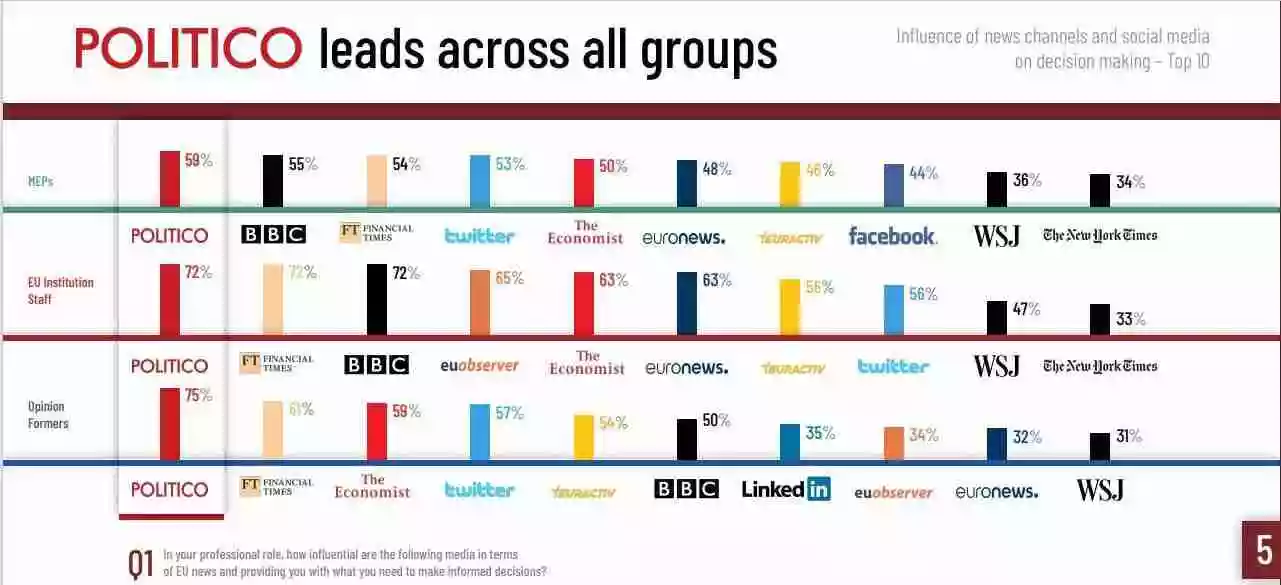 Domestic Expansion
2015
Although Politico took its first step towards domestic expansion in 2013 with the acquisition of Capital New York, it speeded up in 2015 (Src). During this time, Capital New York was rebranded as Politico. Senior staff — Josh Benson, Katherine Lehr, and Tom McGeveran were appointed to oversee the expansion. The company planned to start a bureau in Trenton and hire a team of writers for Tallahassee, Fla.
With these ventures, the publisher wanted to report on state politics. It was a kind of diversification that would bring news from states when there's not much to report from Washington. At the same time, having local bases also helps to capture the local ad market. 
It is not necessary that only local businesses would advertise on local news sites. Even large scale advertisers can reap great results in the local market. But the audience for local news exists in small pockets. It means that people living in a geographical area would only be interested in their local news. If you want to attract more audience, you have to hop to a different geography. It is a scalability problem that the news industry has been struggling for ages. But, if you can cover all the small pockets of the audience and enable advertisers to reach them in a streamlined and scalable manner, you can hit a goldmine. It's an untapped market that many news companies are trying to reach.
Apple Wallet: Bypassing the competition
2016
Political events act as traffic magnets for all news sites. Brexit was an event that pulled in viewers from across the world. During Brexit, while most news publishers were focused on bringing mobile traffic via conventional routes like apps, push notifications, messenger apps, etc, Politico took a very unorthodox approach. It was using the Apple Wallet.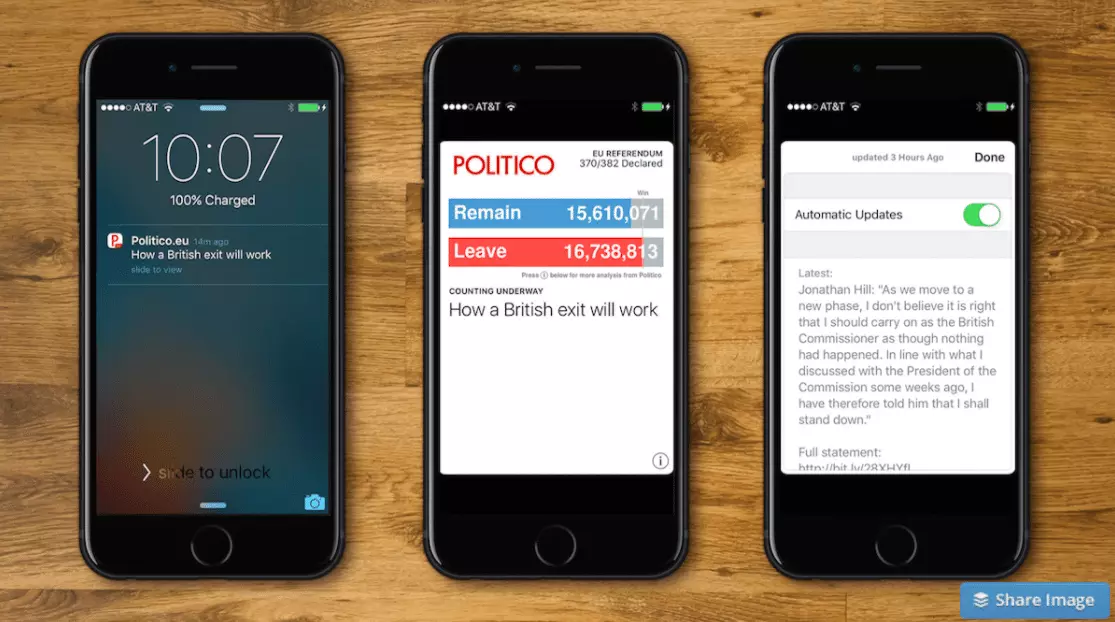 Apple's Wallet app allows users to easily access their credit and debit cards, coupons, boarding passes, and tickets. The passes can have custom visual elements, they can send lock screen notifications, and the information on the passes can be dynamically updated. Politico used this feature to its advantage. It allowed users to download the EU Tracker Pass to their Apple Wallets. The pass showed the visual representation of voting status on the front and a more detailed analysis of the situation with a link to the website at its back (yes, passes are virtually flippable).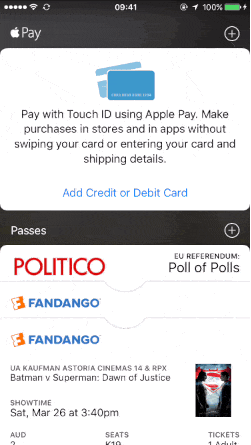 Source: Nieman Lab
How did it work for Politico? The publisher distributed the passes through its newsletters and social media promotions. Within a single week, 10,000 users downloaded them (including prime ministers and government officials). 74% were newly acquired users (Src).
Were there any more benefits of this strategy? Absolutely!
Politico helped users to bypass the whole friction of downloading its proprietary app and opening it for updates. It was a great benefit because many people hate having too many apps on their phones.

The Wallet app was something that users already had on their phones and they knew how to operate it — great ease of use.

The pass was dedicated to a specific event and the users voluntarily downloaded them, so a high engagement was guaranteed.
By thinking out of the box, Politico delivered one of the best user experiences to news seekers. This move helped in gaining new users, strengthening its foothold in the European market, and bypassing the whole competition by finding an uncharted distribution channel. Content quality was the last element that Politico needed to win the election game, and Politico already had it.
New Look
2018
You experience a lot of changes during the journey of your publishing business. For instance, when you start a website, most of your traffic comes from social and organic sources. Users clicking on your links reach directly to the article page, many of them bounce or move to a different article via internal links or content suggestions. In other words, there's not much involvement of your homepage in the initial days of the website.
Once you've spent a substantial amount of time creating great content, you start acquiring a loyal audience. Your readers start coming directly to your site and your homepage is where they land most of the time. The same was the case with Politico. It had to make sure that its homepage visitors get the best experience possible so that they keep returning to the site.
Similarly, the content on your site evolves too. For example, Politico started with its focus on fast-paced news scoops. Later, it had magazine content, newsletters, paid subscription products, article series, etc. Every content category has to be accommodated on the homepage so that it gets the exposure it needs. Such situations make website redesign eminent for publishers like Politico.
Politico revamped itself to make sure its visual journalism is highlighted, so graphical content received prominence on the site. There was a clear demarcation between breaking stories and other stories with the help of tabs. Other changes included new typefaces, brighter background color, and a lightweight homepage for a pleasing experience. New opportunities were created to accommodate branded stories in such a way that it doesn't hamper the user experience. (Src) Let's have a look:
Separate sections for breaking news and top news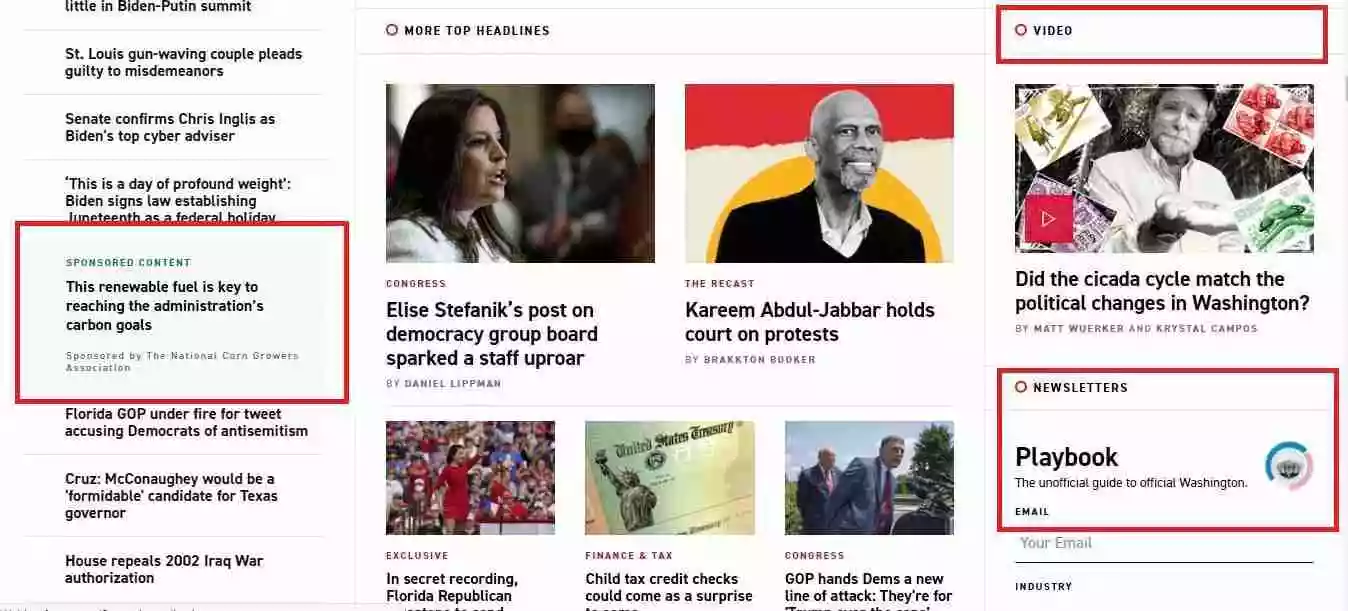 The redesign helped Politico with a cleaner look and improved user experience. The homepage gave its stories the exposure they deserved, resulting in more engagement. The magazine-style content got the magazine-like treatment with more emphasis on visual elements. Its native advertisers got a better proposition with more effective placements. All these changes further strengthened Polito's brand image as a premium publisher.
COVID-19 Crisis
2020
The coronavirus pandemic gave the toughest time to almost all the publishers. The CPM's were ridiculously low and keyword blocklisting was at its peak. The importance of subscriptions and first-party data became evident for everyone. But Politico was prepared by default.
Politico was always serious about its subscription business with half of its revenue coming from it in 2018 (Src). As a result, its business grew by double digits in the first half of 2020 despite the pandemic (Src). To make it possible, the publisher adapted quickly to the situation and launched fresh newsletters, including one dedicated to the pandemic. At the same time, it did not shy away from converting its newsletters from daily to weekly wherever the situation demanded it. Apart from newsletters, the publisher also launched new apps, podcasts, and offerings for its Pro subscribers.
A large portion of Politico's success during the crisis can be attributed to its B2B offerings. Pro subscriptions were largely held by organizations that were not likely to cancel them. The pricing started with 4 digits. It worked as a safety net for the publisher.
Politico's Advertising Strategy
Advocacy Advertising
If you observe Politico's traffic and social media numbers closely, you'll find that they are very small in comparison to other news sites like The Washington Post and The New York Times. That's because Politico caters to a very unique audience and advertisers.
The news from Politico reaches political insiders like members of the congress, members of the administration and the lobbyists that are paid to influence these insiders. So, unlike regular publishers, Politico's clients are advocacy advertisers. Meaning? It means the advertisers on Politico are using the ads to promote a cause or a message; and not a product. Organizations working in highly regulated industries do advocacy advertising because they want to promote causes and messages to influence policymakers so that they make policies that are favorable to them. Pharmaceutical companies, environmental groups are some examples of entities that need advocacy advertising regularly.
So, how does having a niche audience and advertisers make Politico's business different from a mainstream publisher? First, the regular success metrics like website traffic and social media followers won't work for Politico. The value doesn't come from the number of people coming to the site but it comes from their demographics. Second, the advertisers would pay a high premium to run campaigns on its site because it's helping them reach a difficult audience. In a nutshell, the publisher can make a lot of revenue despite having less traffic than most of the news publishers.
"I think our overall approach is simply unique. We target a specific type of reader and specific type of advertiser and then provide both exceptional value for their money."
Programmatic Advertising
Politico understands the importance of programmatic advertising. The publisher has two different teams for the sales and optimization of the site's programmatic inventory. Politico also invested in resources to train the teams and make them efficient with programmatic technology (Src). While the sales team manages programmatic direct and PMP deals, the programmatic operations teamwork on optimizing yield with solutions like header bidding and ads.txt.
The publisher has made all the right moves to strengthen its programmatic advertising. For instance, header bidding has historically proven itself to be the best solution for maximizing revenue by multiplying the demand and competition for the publisher's inventory. Private marketplaces (PMPs) give you better rates for your inventory along with more brand safety. Programmatic direct brings scale to a publisher's direct selling process. 
There's no surprise when we see Politico inking seven-figure deals with its clients (Src)
Conclusion
The objective behind our Becoming Series is to bring forward the strategies of the top publishers so that you can learn from them. Politico has given us many lessons that can be beneficial for you. The biggest takeaway is that the value of your audience can play a significant role in your business. Traffic size is not the only yardstick to measure the success of a site. 
Politico taught us that you always need the right strategy to reach the right audience. It distributed its printed newspapers and magazines for free so that its target readers are always engaged. Similarly, it used Apple Wallet to make sure that the people interested in a specific topic (Brexit polls) have a great reason to choose Politico over any other news media outlet.
We also learned that the right approach can help in creating unique products. While most publishers think of creating editorial subscription offerings, Politico repurposed its content to come up with an analytical product. It used the findings from its reporting to create DataPoint, a research tool, that allowed it to charge subscription fees higher than any editorial-based product could.
Having a hook can help you make your audience stick with you, just like Politico hooked its readers in the morning so that they are following up the stories later during the day. We can draw many more learnings from Politico, such as finding the right niche, paying special attention to your content, adapting your site's design to your storytelling style, diversifying revenue, etc. Now, it's your turn to find how you can apply them.