Thanksgiving 2020 is expected to be the first-ever to surpass $6 billion in online retail sales, according to eMarketer, with 42% Y-O-Y growth. Amidst the pandemic and most physical shops closed, many consumers have flocked to start the holiday shopping online.
Despite the year full of uncertainty, 43% of respondents surveyed say they are waiting to start shopping until November for this season (so, this month). Furthermore, a majority of respondents (~59%) planned to shift toward online shopping compared with the previous year.
"In a year that has been full of uncertainty, we encourage consumers to avoid the last-minute stresses of the holiday season like long lines and shipping delays. Retailers are ready with inventory and sales, and there's no reason to wait until Thanksgiving weekend to kick off your gift shopping."
– Matthew Shay, President and CEO, National Retail Foundation (Src).
There is no doubt that this year's Thanksgiving will be unprecedented and you can't rely  on the previous trends. But there is one thing that is constant — the behavior of consumers towards online advertising and eCommerce. Here are a few findings that show how digital advertising stays ahead in the festive season:
67% of respondents say digital advertising helps them when they look for products and promotions.

37% of respondents say that contextual advertising helps them to ensure product buying decisions.

Though the majority of consumers rely on eCommerce and retail sites to find the perfect gifts, ads also play an important role to discover holiday gifts.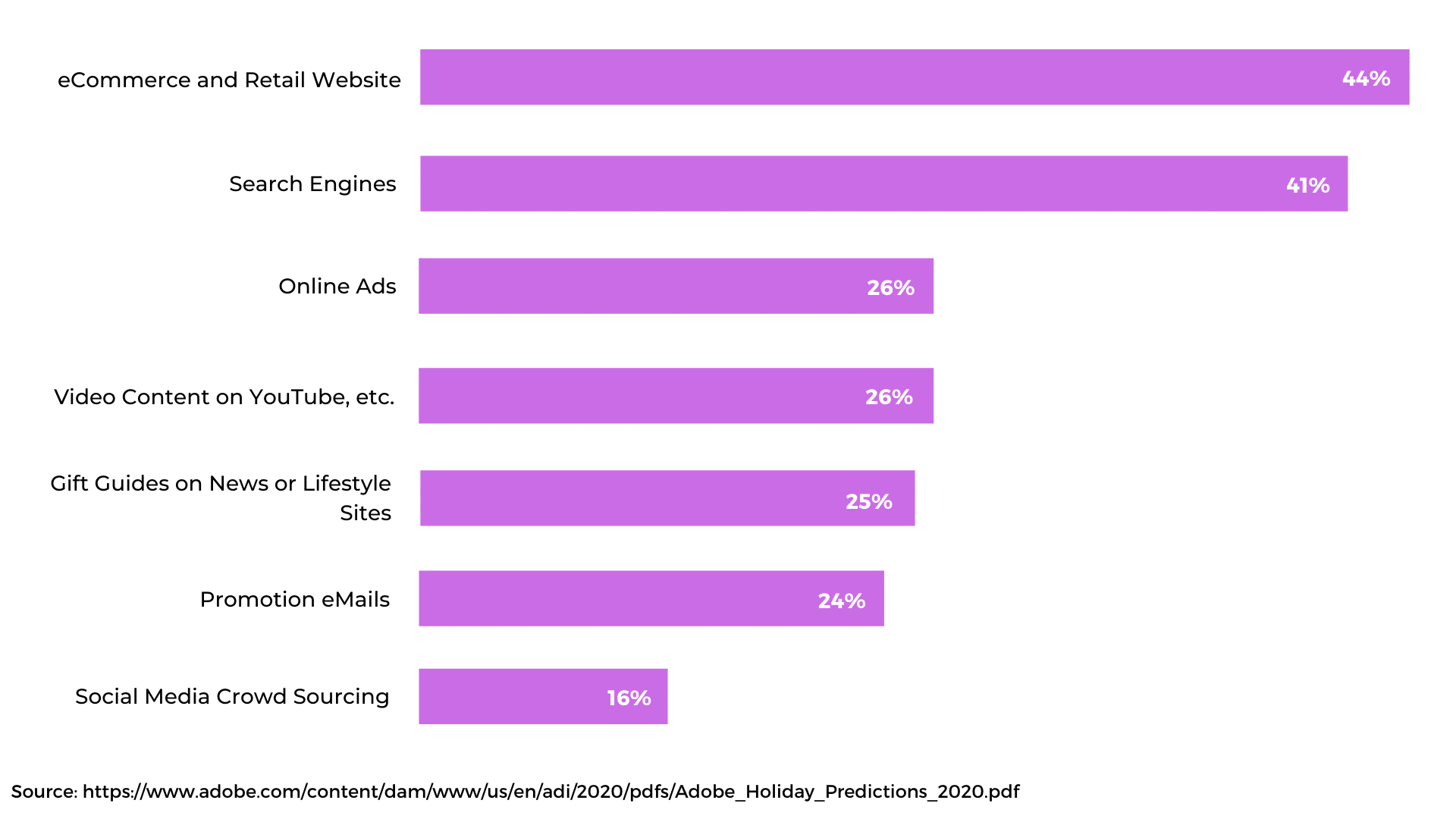 28% of consumers believe that online ads help save time researching for gifts whereas 25% of consumers are more open to online ads during the holiday season.

When asked about the web environment, 25% of consumers find online ads helpful when displayed more frequently and 29% of consumers find online ads helpful when the ads recommend products based on their previous purchases.
In short, the attitude towards personalized ads changes a bit in favour of the ad-tech industry during holidays. 
Now that you know the expected spending on Thanksgiving and consumers' perspective towards advertising, how can you prepare yourself? While there are plenty of ways to maximize traffic and revenue, learning from those who have succeeded can help a lot.
Table of Contents:
4 Thanksgiving Strategies To Learn From Top Publishers
The New York Times' Cooking Website:
Have been in the publishing industry and never heard of The New York Times? That's hard to believe. The American news publisher has catered a broad range of content categories to millions of online visitors across the globe since 1996.
Though there are several growth strategies that you can learn from The NYTimes, the publisher takes different measures to attract an audience on Thanksgiving and advertisers. The Times has a separate landing page for Thanksgiving recipes on its cooking website. And the publisher has been using it since 2017. 
However, unlike other similar recipe-based publishers, the NYTimes bets that it can convince audiences to pay for the standalone section devoted to all things related to Thanksgiving cooking and recipes. Many criticized the strategy as the Internet was full of recipe contents free of cost.
Users can get access to the Thanksgiving content free for a month but after that, they are asked to pay $1.25/week or $40/year. For many competitors, the idea of putting such content behind a paywall was considered risky when the publisher launched the NYTimes Cooking (in 2017). And guess what, in a span of a year, 120k people subscribed to the NYT Thanksgiving Cooking. 
"We had this notion that we could build a digital version of what was 'The New York Times Cook Book."
– Sam Sifton, Editor, NYTimes Cooking (Src)
To promote Thanksgiving content, the NYTimes started Turkey Text, a text messaging service that helps the publisher to remind the users who miss the latest content that they may find interesting. Now the question is how does the publisher monetize the Thanksgiving traffic with ads? The strategy involves both direct sales and programmatic advertising. 
"At the Times, we believe that programmatic provides one of the best levers for publishers to optimize yield during the holiday traffic spikes. The NYTimes is aggressively pursuing programmatic ​buyers that are heavy in holiday-conscious categories such as retail."
– Michael Stoeckel, VP of Ad Revenue Operations, NYTimes (Src) 
Not only indirect channels, but the publisher also leverages Private Marketplace and Preferred Deals to map the increased advertisers' demand and the influx of inventory supply during Thanksgiving. 
Conde` Nast's Food Innovation Group
Publishers with recipe websites witness a rush of online users looking for instructions to make pumpkin pie and Thanksgiving appetizer. While almost every publisher is familiar with this, Conde` Nast ensures that they are getting the most out of the spike in web traffic.
The publishing company grouped Epicurious and Bon Appetite in 2014 and created a new entity Food Innovation Group to provide a one-stop-shop/destination for its advertisers. It monetizes the traffic coming to the website by direct sales as well as programmatic solutions.
"We had great talent, and we wanted to be digital first. In this way, we're able to sell to advertisers all as one package, as one group."
– Pamela Drucker Mann, CRO, Food Innovation Group (Src) 
Conde` Nast provides customized solutions to cater Thanksgiving advertisers and enable them to reach 86 million audiences that are relevant. Additionally, the publisher offers sponsored Thanksgiving guides created by top brands on the website. 
"We can integrate our holiday recipes and content into high impact creative ad units using HTML5. It's a single build and tag that takes advantage of all our traffic."
– Craig Kostelic, Head of Digital Sales, Food Innovation Group (Src)
Hotline Discussion Forum of Food52
Food52, a publishing company founded in 2009, is leveraging its online forum to interact with audiences on Thanksgiving and witnesses a spike in the engagement rate in this quarter of every year. Known as Hotline, the online discussion forum allows the readers to ask questions to its Editors Amanda and Merrill, and initiate a discussion on a variety of topics from baking and roasting to cooking equipment.
"Usually, holiday plans are locked in by our teams before the end of the second quarter, but this year didn't start having those conversations until the end of the third quarter because of all the uncertainty."
– Jon Kaplan, Head of Global Sales, Pinterest (Src) 
Although the content on Food52's website is similar to Meredith's AllRecipes and BuzzFeed's Tasty, what makes the publisher different from the competitors is how it blends the content with its eCommerce marketplace. Here's a slider added to a Thanksgiving article on the page to drive the users to Food52's eCommerce page: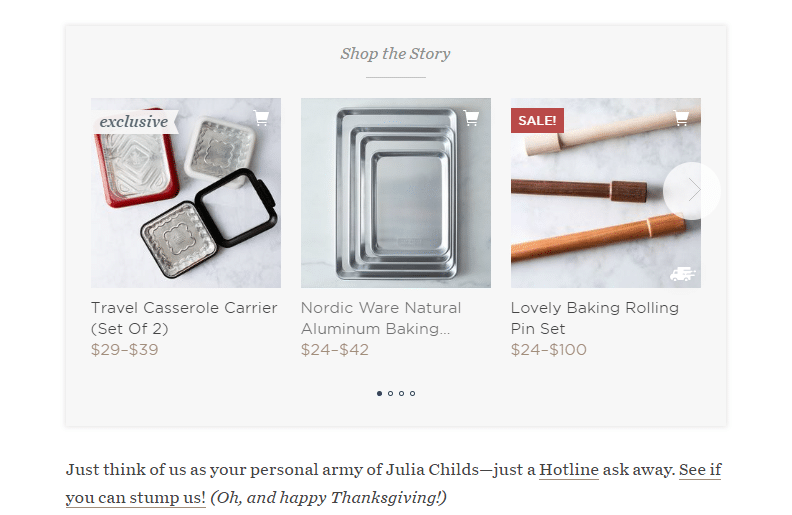 The publisher also has a landing page for Thanksgiving recipes and creates custom packages (content and ad) for eCommerce companies.
"That's our most prized inventory time, that's where we're getting sold out and shuffling things around for advertisers."
– Lauren Locke, director of ad sales and partnerships.
In general, over 2/3rd of revenue for Food52 comes via its in-house eCommerce section. And during Thanksgiving, it became the best timing for the publisher to shine. Besides, to boost revenue and drive eCommerce sales, the publisher uses email advertising.
"We're interested in having a lifelong relationship with our readers, and to have them come to us to buy a gift, have ideas for post-Thanksgiving recipes, watch videos and connect with other cooks,"
– Amanda Hesser, co-founder and CEO of Food52 (Src)
First-party Data Strategy of AllRecipes
Usually, for long-tail publishers (e.g. recipe website), using the first-party data strategy for audience targeting is considered less efficient. But if you look at how AllRecipes, a food publisher operated by Meredith, leverages its first-party data to bring advertisers, the opinion will merely become a misconception.
The publisher leverages the analytical tools like Chartbeat and Tableau, and DMPs (e.g. Bluekai and Adobe Audience Manager) to collect and store first-party data in its database. Further, it enables the advertisers (that have CPG – Consumer Packaged Goods model) to identify the relevant users.
Since mobile devices account for half of the visits to AllRecipes' website, the publisher offers cross-device and contextual ad solutions to target both – desktop and mobile users. So that advertisers can stay connected to their relevant users throughout their path to purchase.
Meanwhile, the publisher creates a variety of content from articles to videos and guides, to bring more search traffic to the website. The higher the traffic on site, the more the revenue you get. Last year, AllRecipes recorded its highest-traffic on Thanksgiving with 50.4 million visits in just six days (Src).
"During Thanksgiving week, cross visits between Allrecipes and grocery ecommerce experiences grew 22% year over year as home cooks used Allrecipes to help guide their online grocery shopping – from inspiration through to purchase."
– Catherine Levene, President and Chief Digital Officer, Meredith Corp (Src)
Now that you have a brief overview of the strategies tried by the publishers, let's help you with the key opportunities for you in the Thanksgiving month. 
4 Thanksgiving Opportunities To Boost Your Revenue
Get Started with Video Content and Ads
There's no doubt that we're witnessing a shift in the way content is delivered. The rise of videos has changed the way publishers deliver the message to their audiences. And if it's about food-related content, users are more likely to prefer videos over text and photos.
So, experiment with this as an opportunity and create video content on Thanksgiving recipes, party-planning guides, and more. Once you've enough quality videos, you can start with monetization by serving in-stream video ads. Even if you don't have video content, you can display out-stream video ads and maximize the ad earnings. Here's a guide that will help you to learn more about video advertising in detail.
Wondering how it will go? See the result of producing video content and monetizing it – Food Network, a publishing company saw an increase of 160% in video views and a 10% increase in page visits (Src).
Monetize Web Traffic on Mobile and Tablet
While it's a well-known fact that publishers have a strong desktop presence, less known is the fact that mobile and tablet users are often overlooked. Here's the statistic that you should know – in 2019, smartphones accounted for 30% of total ad revenue whereas desktop accounted for 60% and in terms of website visits, smartphones contributed 51% and desktop 40% (Src).
Thus, catering to mobile users is vital if you want to maximize your revenue. Besides, according to Taboola's survey, mobile and tablet have almost the same demand among the advertisers. As you can see in the graph attached below, the supply (% of ad spending) on tablet users is lower than mobile and desktop, but the conversion rate (CTR) is comparatively a bit higher for tablet users than mobile users.
"In the days before smartphones, US shoppers were perhaps less inclined to scurry away from family members to start shopping on their home computers,"
– Andrew Lipsman, eMarketer (Src)
Create a Timely Content Strategy
There are plenty of things to consider when starting about creating content and monetizing the website in the holiday season. You must ask yourself when is the right time to publish the content or serve Thanksgiving ads on your website.
Chances are, that you already know this. So, make sure you display Thanksgiving customized content at the time when users are more likely to visit or engage. The more pageviews you get, the higher your impressions. As a result, better revenue. Although you may have unique content and visitors to your website, Taboola's survey can help you to get started and do the experiment with your publishing schedule.
Publish Thanksgiving Content and Leverage Contextual Ads
Do you know 37% of consumers find online ads helpful when they are relevant to the content being consumed? This is why it is important to include contextual information in your content and Thanksgiving advertising. We've added a list of strong keywords with the engagement rates (as per Taboola's survey). So, make sure that you create content around the right keywords and serve contextual ads on the pages.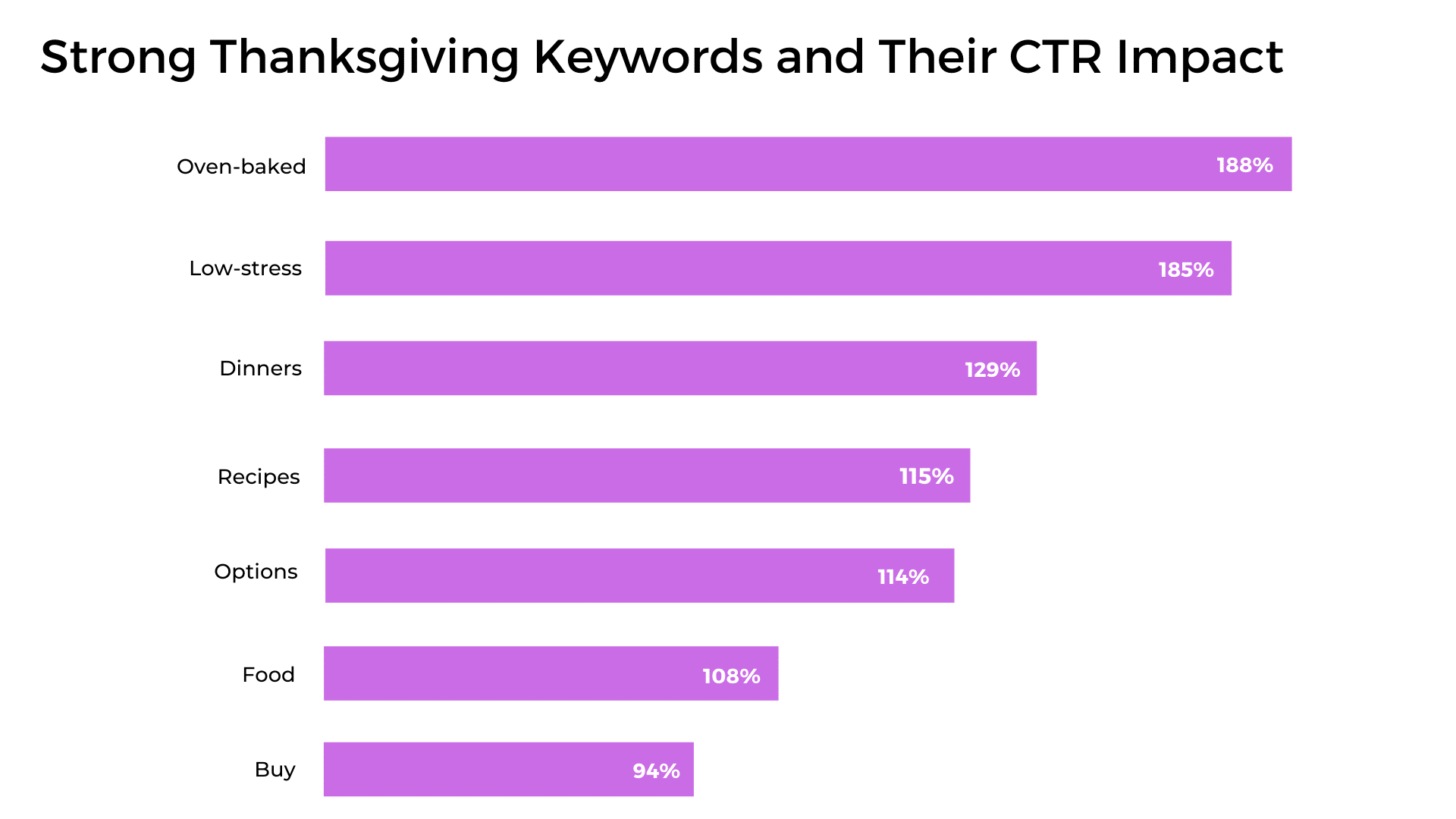 Start with Programmatic Ads and PMP Deals
Today, almost every major publisher monetizes the website with programmatic ads. IAB predicts $7.9 billion will be spent by US advertisers on programmatic ads this year. So, if you haven't started with programmatic, then it's high time to give it a try. 
Moreover, with programmatic solutions, you can connect with your direct advertisers and indirect advertisers to monetize the ad inventories in real-time. Wondering what are the options to sell your ad inventories programmatically? We've listed the existing techniques below:
Thanksgiving is a great time to target new audiences and seasonal advertisers. This unprecedented holiday season has been going strong for a while now. With the right strategies and early preparations, you can stand out from the crowd.
What's Next?
Looking for more growth lessons from top media brands to increase your revenue? Our Becoming Series is something that you should check now. What will you get? Unique growth strategies of publishers like The Guardian, Business Insider, Forbes, etc. Read the case studies here and let us know how it helped you.
Other Seasonal Optimization Posts:
How Publishers Can Improve Halloween Ad Revenue?