On Halloween, consumers spend significantly on costumes, home decoration items, pet dressing products, candies, and more; so do the advertisers to attract the shoppers and increase their sales. This year 58% of people in the US plan to celebrate Halloween. Though the percentage is lower than the previous year due to Covid-19, we can still expect consumers to do online shopping.
Table of Contents:
Halloween Celebration Plans and Consumer Spending
This year, it is expected that nearly $8 billion will be spent during the Halloween holiday with average spending of $93 per person.
The pandemic hasn't dampened consumer's plans. 95% of shoppers will buy Candy bars and 75% of shoppers will purchase decorations items for their homes.
18% of total consumers will gather Halloween inspiration on Facebook, and over 35% will do an online search to get Halloween ideas. On the other hand, only 23% of consumers will visit a retail shop or costume shop this year. What did we tell you! 

Candy bars are the most advertised category and will account for 63.5% of candy ads this Halloween.
Image & Data sources:
National Retail Federation, 2020 Holiday Consumer Intentions Survey – Numerator. 
Halloween Tips for Publishers
Let's look at how publishers can capitalize on this influx of advertising business during this Halloween.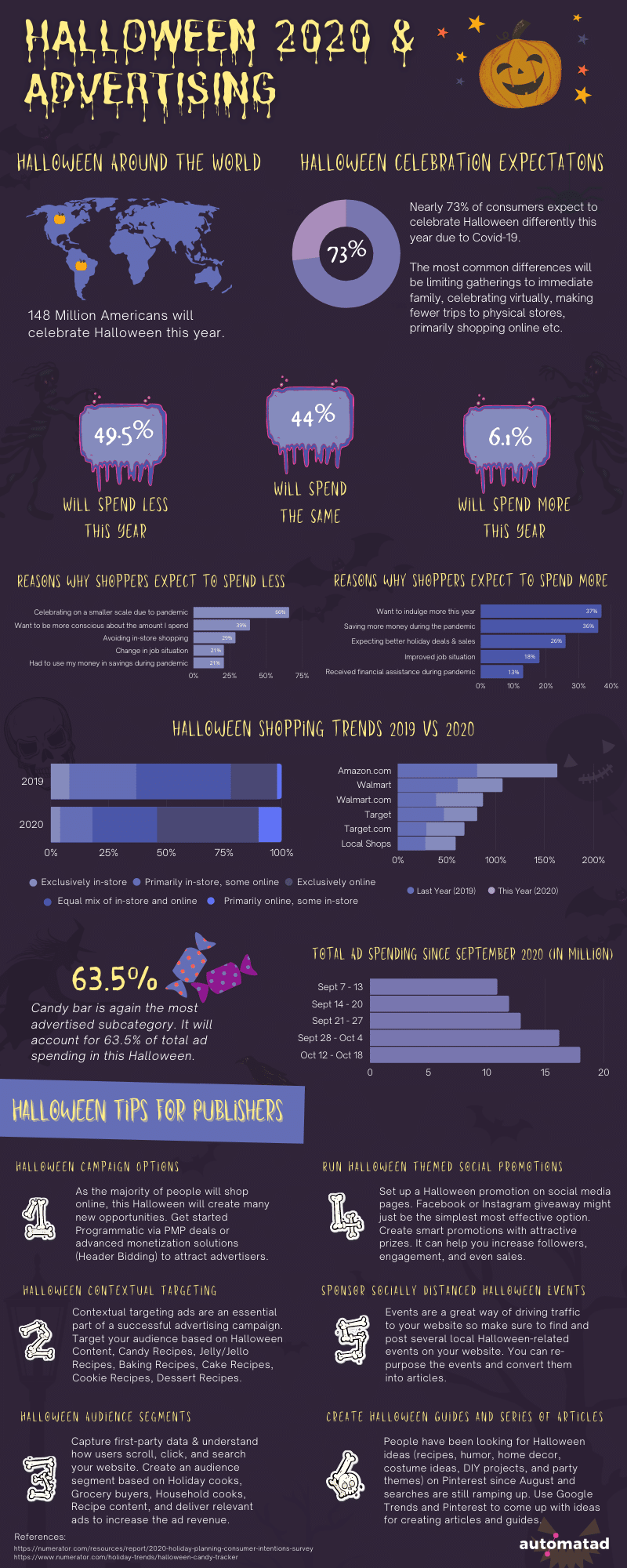 Halloween Ad Campaign Options
While you can continue to serve direct-sold Halloween ads on your website, what about going beyond traditional direct-sold ad campaigns and start with Programmatic advertising? As most consumers will shop online, this Halloween will bring in tens of thousands of new advertisers.  So, why can't you sell the remnant inventories via programmatic options?
The most preferred method of programmatic advertising is header bidding. You can connect with several buyers at once and sell the ad impressions at the highest possible price in real-time. Simultaneously, you can set-up direct deals and increase the competition between direct and indirect advertisers.
Contextual Targeting
Contextually targeting ads are an essential part of a successful advertising campaign – whether you have direct ad campaigns or indirect ad campaigns. As the advertising industry shifts towards a data and privacy-first ecosystem, contextual advertising is positioning itself as a robust tool to deliver relevant ads on websites.   
Target your audience based on Halloween Content, Candy Recipes, Jelly/Jello Recipes, Baking Recipes, Cake Recipes, Cookie Recipes, and Dessert Recipes. As the contextual ads are more likely to be relevant for the audiences, the ROI of advertisers is higher. And thus, ad revenue for publishers.
Note: If you use GAM, you can leverage key-values to match the ads with the page's context. You can contextually target ads coming via header bidding as well. Here's how to do it.
Halloween Audience Segments
As third-party cookies are going away, transitioning to advertising based on first-party data has become more prominent for the publishers. Advertisers want to consider expanding their reach and invest in publishers who can provide them first-party data. 
So, capture first-party data from your website& understand how users scroll, click, and search your website via analytics tools (such as Google Analytics). Create an audience segment based on Holiday cooks, Grocery buyers, Household cooks, Recipe content, and deliver relevant ads to improve your bottom line.
Run Halloween Themed Social Promotions
As we saw earlier, 36% of consumers will find Halloween inspiration on Facebook and Instagram. If you have a social media person, spruce up your social media pages and optimize the pages for Halloween.
Set up a Halloween promotion on social media pages. Facebook or Instagram giveaway might just be the simplest and most effective option. Additionally, you can create smart promotions with attractive prizes. It can help you increase followers, engagement, and even sales.
Create Halloween Guides And Series of Articles
You don't necessarily need to hit up something very new. You can attract the audience and keep them engaged with what you do – producing original and unique content. People have been looking for Halloween ideas (recipes, humor, home decor, costume ideas, DIY projects, and party themes) on Pinterest since August, and searches are still ramping up. 
Not sure where to start? Use Google Trends and Pinterest to come up with ideas for creating articles and guides. Take a look at Facebook and see what people are talking about.
Sponsor Socially Distanced Halloween Events
It's Halloween, and your audience may expect special offers, content, or anything that excites them during the holiday—and being stuck at home or socially-distanced, what could be better than hosting virtual events?
Events are a great way of driving traffic to your website, so make sure to find and post several local Halloween-related events on your website. You can even include goodies (if possible) with the tickets or send them Halloween-themed craft DIYs and decoration tutorials to the attendees. Later, you can repurpose the events and convert them into articles.
Other Seasonal Optimization Posts [Unlocked]:
Best Thanksgiving Strategies for Publishers.