Halloween is right around the corner and media publishers are preparing for ways to drive traffic to their site. Halloween advertising dollars are way up this year due to consumer demand. Both consumers and brands are shelling out more money than usual for pumpkin lattes, candy, costumes, and candy corn! But how can publishers leverage this increase in spending to generate revenue? Let's learn.
The National Retail Federation is projecting that spending on Halloween-related products in the US will reach an all-time high of $10.14 billion in 2021, up from $8.05 billion in 2020. Shoppers spend a lot of money on costumes, home decoration items, pet dressing products, candies, and more. And advertisers invest a lot of time and effort to reach those customers and increase their sales.
Over 65% of Americans plan to celebrate Halloween or participate in Halloween activities this year, up from 58% in 2020. More people are buying costumes and candy this year, and as such Halloween spending will be up as well. We have searched various resources to help you see how consumers are behaving around Halloween and how retailers are planning to reach them. Staying up to date with the latest trends will help you capitalize on them. Also, try implementing the strategies explained in this article to increase the revenue opportunities.
Table of Contents
Halloween Celebration Plans and Consumer Spending 2021
The most popular activities for celebrating Halloween include handing out candy, decorating their home, dressing in costumes, carving a pumpkin, and hosting or attending a Halloween party.
Nearly three-quarters of consumers expect some sort of impact from COVID-19 on their Halloween celebrations, though only a little over a fifth expect this impact to be a significant one.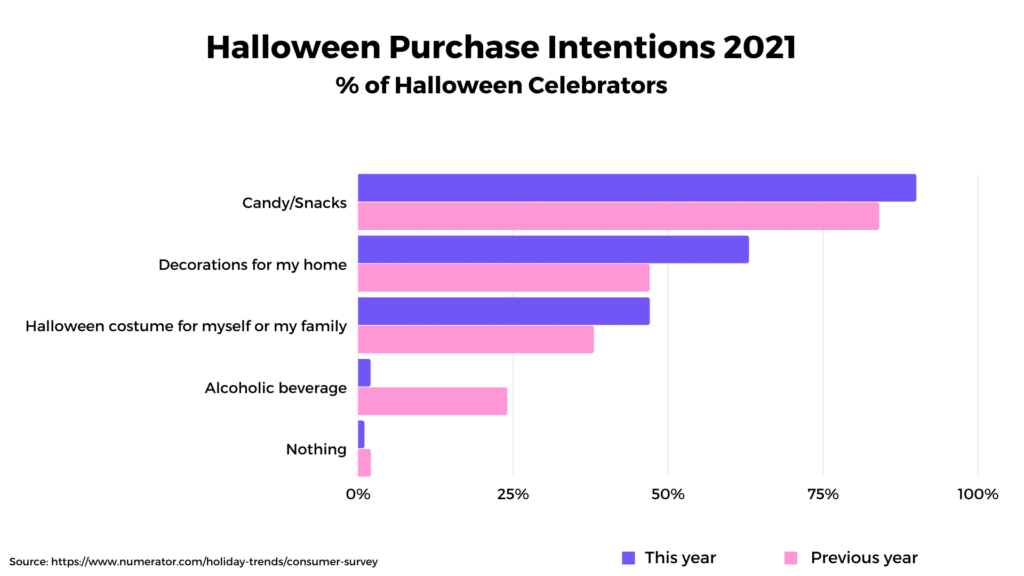 One-third of Halloween shoppers will spend between $25 and $50 on their items, whereas one-fourth of shoppers will spend over $75. Two-thirds of the respondents expect their budgets to be roughly the same as usual. One-fifth expect to spend money more this year than the previous year.
Data sources: National Retail Federation, 2021 Holiday Consumer Intentions Survey – Numerator. 
Other Seasonal Optimization Posts [Unlocked]:
Best Thanksgiving Strategies for Publishers
How to Optimize Your Setup based on Seasonality? 
3 Super Bowl Strategies From the Top Publishers
Top Strategies to Make the Most Out of Christmas 2020