Halloween is right around the corner and media publishers are preparing for ways to drive traffic to their site. Halloween advertising dollars are way up this year due to consumer demand. Both consumers and brands are shelling out more money than usual for pumpkin lattes, candy, costumes, and candy corn! But how can publishers leverage this increase in spending to generate revenue? Let's learn.
The National Retail Foundation projects that total spending on Halloween-related products in the U.S. will reach an all-time high of $10.6 billion in 2022, up from $10.14 billion in 2021. The most popular items shoppers are inclined to spend their money on include costumes (for both children and pets), candies, and decorations.
Nearly 78% of Americans plan to celebrate Halloween this year, an increase from 65% in 2021. We have searched various resources to help publishers see how consumers behave around this festive season and how retailers plan to reach them. Publishers need to keep an eye out for such trends, as considerable advertising dollars will be up. They should also try implementing the strategies explained in this article to increase their revenue generation opportunities.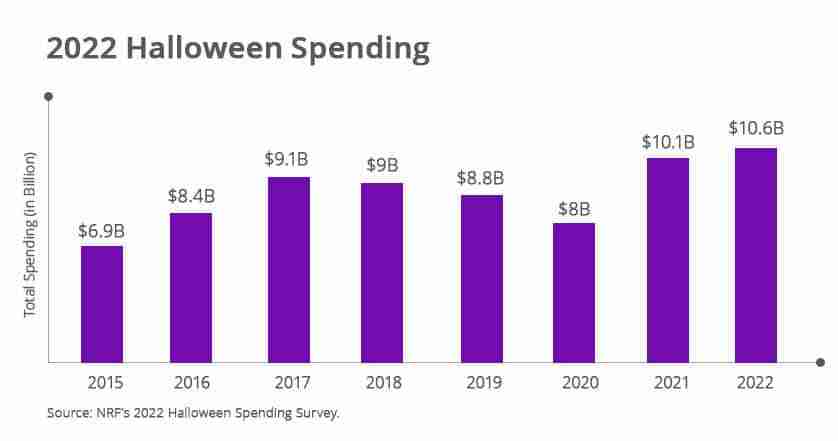 Image Source: The National Retail Foundation
Table of Contents
Halloween Consumer Trends and Spending in 2022
The most popular activity that 48% of Americans are planning to do is decorating their homes.

The most popular product would be buying candies, with 80% of Americans planning to spend on the treat. Decorations follow at 47%, costumes at 46%, and apparel and party supplies at 21% each.

The average spending per household has slightly decreased from the last year and will be around $100.45 this year. The highest expected spending intention is between $25 and $50 (27%).

Costumes would account for the highest total spending ratio reaching around $3.6 billion. Approximately $3.4 billion of the total spending would be on decorations and $3.1 billion on candies.

Approximately 11% of consumers expect this year's Halloween to be impacted by COVID-19 significantly, while 33% feel this impact to be moderate. 26% think that there would be no to slight effect.

While in-store purchasing (88%) will be the most popular shopping method, as many as 45% of Americans also plan to shop online. This is quite a considerable number, as publishers should look to gather demand by attracting buyers willing to advertise to this group of consumers.
Halloween Tips for Publishers
Let's look at how publishers can take advantage of this influx of consumer spending and retailers' increased budget during this Halloween.
Halloween Ad Campaigns
Publishers prefer to serve direct-sold ads on their websites. However, going beyond direct-sold ads this time is a step forward that publishers can take. 
Since consumers prefer to shop online, this Halloween will bring in tens of thousands of new advertisers. This gives publishers a chance to sell the remnant inventories via programmatic advertising. Getting better-targeted ads, higher eCPM, and generating more revenue through multiple demand partners are a few of the special treats brought in by programmatic advertising.
The most preferred method of programmatic advertising is header bidding. Publishers can connect with several buyers at once and sell the ad impressions at the highest possible price in real-time. Simultaneously, publishers can set up direct deals and increase the competition between direct and indirect advertisers.
Contextual Targeting
Contextually relevant ads are one of the most effective ways to serve ads on the website. On average, they bring in click-through rates nearly twice as high as those on non-contextual ads, and users are more likely to convert since ads are relevant. Further, with the advertising industry shifting towards a data and privacy-first ecosystem, contextual advertising is positioning itself as a robust tool to deliver relevant ads on websites.
Publishers should target their audience based on Halloween Content, like Candy Recipes, Jelly/Jello Recipes, Baking Recipes, Cake Recipes, Cookie Recipes, and Dessert Recipes. As contextual ads are more likely to be relevant for the audiences, the ROI of advertisers is higher. And thus, ad revenue for publishers.
Note: If publishers serve ads via Google Ad Manager, serving contextual ads is easy. They can set up key values and deliver ads aligning with the page's context. They can contextually target ads coming via header bidding as well. Here's how to do it.
Halloween Audience Segments
As third-party cookies disappear, transitioning to advertising based on first-party data has become more prominent for publishers. Advertisers want to consider expanding their reach and invest in publishers who can provide them with first-party data. So, capturing first-party data from the websites and understanding how users scroll, click, and search on the websites using tools like Google Analytics is an excellent way by which publishers can acquire quality demand and make their inventories premium. 
Publishers can create audience segments based on audiences who fall best within categories like holiday cooks, grocery buyers, household cooks, and recipe content enthusiasts. This will help them deliver relevant ads to these audiences and improve their bottom line. 
Run Halloween Themed Social Promotions
Social media platforms like Facebook and Instagram are pivotal in inspiring purchase intent in most people. Publishers with a social media presence should spruce up their company pages and optimize them for Halloween. 
They can set up Halloween-themed promotions on social media pages. Facebook or Instagram giveaways are also a simple yet effective option. Additionally, publishers can create innovative promotions with attractive prizes. It can help them increase followers, engagement, and even sales.
Create Halloween Guides and a Series of Articles
Halloween-themed content is a great way to serve not only contextually relevant ads but also works great to increase dwell times and engagement rates amongst audiences visiting a website. Publishers don't necessarily need to hit up something very new. They can attract the audience and keep them engaged with the one thing publishers do best – producing original and unique content. 
People have been looking for Halloween ideas (recipes, humor, home decor, costume ideas, DIY projects, and party themes) on social media sites like Instagram, Pinterest, and TikTok. Doing something similar, related to the theme of Halloween, and one that is trending is a great way to attract interested audiences. Google Trends and Pinterest are great resources for developing new articles and guide ideas. Publishers can also look at Facebook and see what people are talking about.
Sponsor Virtual Halloween Events
It's Halloween, and a publisher's audience may expect special offers, content, or anything that excites them during the holiday. What could be better than hosting virtual events? 
There are two main reasons why publishers need to sponsor virtual events. First is the post-COVID-19 factor. This makes sense, especially since people in the post-COVID-19 world prefer viewing events or conferences virtually rather than physically. The second reason is that these events allow publishers to reach a broader audience without stepping away from desktops.
There's no doubt that events are a great way of driving traffic to a publisher's website. So, they must find and post several local Halloween-related events on their website. They can even include goodies (if possible) with the tickets or send the event attendees with Halloween-themed craft DIYs or decoration tutorials. These events can also be repurposed and converted into articles.