The Christmas season, one of the busiest shopping seasons for e-tailers and retailers, is right around the corner. Reaching the peak of sales and revenue during the busiest festive time is a challenging task for even the most successful publishing companies.
However, there are several things you can do this year to increase your revenue and make it a successful Christmas for you and your team. Here is a quick guide to help you make this Christmas your biggest business Christmas yet.
Table of Contents
Christmas Strategies Implemented By Top Brands
Conde Nast's Approach To Personalizing The Content
Conde Nast with the firm Tapestry found out that 79% of the consumers already make holiday purchase decisions long before the holiday season starts. Conde Nast calls this the "pre-search phase". The company feels this phase is the most profitable time, and every publishing company needs to take advantage of it to influence consumers' pre-search. 
What content you put is what will influence the user's purchase decisions. For that very reason, many of the Conde Nast editorial teams ensure that their content is easy to read, digest, and relevant to readers. Looking at an analysis of March and April, Conde Nast saw that they got 30% more traffic from their email marketing. That's why, with Christmas just two weeks away, the publisher has planned to invest more in email marketing and drive it to the next level.
But collectively sending about 400 million emails a month is not a simple task. Keeping up with the volume of ad impressions per capita is also difficult. And, with AI and machine learning, the company can now make decisions and personalize email newsletters based on the customer's profiles. 
Takeaway: Although not every publisher can leverage email marketing to reach hundreds of millions of users, they should still analyze how their past email marketing performed and then make necessary improvements to it to grow their audience and drive revenue for their businesses.
Food52's Strategies To Boost Loyalty
Food52, a publishing company, includes a smart audience segmentation strategy during the holiday season to cater to a lot of different subscribers and customers that have different preferences.
The publisher has one of the best content+commerce strategies, bringing the best of both together to build long-term relationships with their users. The publisher sees two-thirds of its Christmas revenue from its online shop. The publisher is very much equipped to exceed the industry benchmarks by 30%.
Food52's audience comprises both eCommerce shoppers and content readers, so with the combination of aforementioned segmentation and content+commerce strategy, the publisher was able to effectively segregate their audiences and send them a mail with relevant content.
Food52's Cookie Map, an ingenious marketing strategy, attracted many readers to their website. This creative strategy offered readers the history of 46 different cookies from across the globe and also an appeal to purchase the brand's fun holiday-themed baking necessities such as mixing bowls, cookie cutters, and others.
"Our most engaged folks get up to two emails a day. They're our super fans and their open rates are more than 30%."
—Grace Ouma-Cabezas, Food52's VP of Digital Marketing.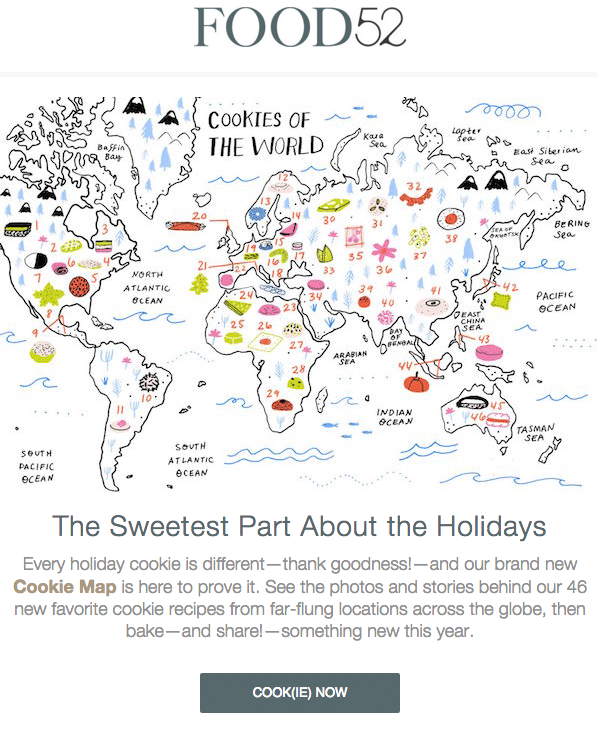 The publisher has been remarkably successful at not letting its readers deviate to other websites while shopping for Christmas or other holidays. The website Food52 engages its audience with relevant content and nearly half of the products sold by the company are unique and cannot be bought anywhere else. 
This strategy paves the way for the next following year for the company to ensure customer loyalty. Food52 reaches out to its customers with relevant content to further nurture their purchases. Through these strategies, the company aims to provide a personalized experience and provide recommendations to the customers based on their past behavior. 
"Food52 is a place for everyone who believes that food is at the center of a life well-lived. We also have a curated POV around how we talk about food and products at Food52."
—Caroline Harris, SVP of partnerships and strategy at Food52.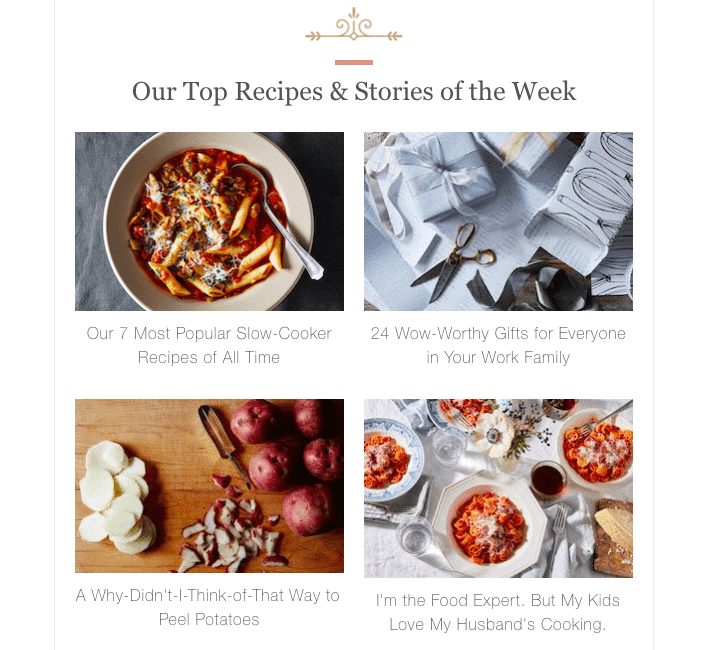 Takeaway: You should also leverage this strategy of segmenting your audience to maximize your revenue this holiday season. Analyzing your audience will allow you to segment them on the basis of their interests, device, geography, etc., and create relevant content for your audience, thereby having a higher chance of conversions — both on-site and on emails.
Buzzfeed And Popsugar Making More Revenue Through Gift Guides
Today, many publishers are thinking of expanding their effort to make more revenue during the holidays, whether it's via affiliate links, digital ads, or a branded store. Publishers have realized to get more heavily involved in eCommerce, they have to experiment with different monetization strategies.
One such media company is BuzzFeed that turned its gift guides into a native ad opportunity, creating customized gift guides for advertisers to attract more consumers. Instagram or Pinterest, until last year, was still not taken as serious eCommerce drivers. But today many publishers have adopted Instagram and Pinterest as channels to expand their audience reach. 
Pinterest has become even more popular as they now include affiliate links in it. That's why publishers like Popsugar have started sharing shoppable links to their gift guide items into Instagram Stories and publishing gift guides directly on Pinterest.
Takeaway: One important takeaway from their experience is to take advantage of the benefits offered by these social platforms, include affiliate links, and thus drive more traffic to your website. In addition to that, always ensure that you deliver real value to your audience.
Now that you have a brief overview of the strategies tried by top publishers, let's see what strategies or opportunities you can leverage to make the most out of the remaining holiday season. 
Key Opportunities For You to Boost Your Revenue in this Christmas Month
The past few months have brought many challenges to the front, with many publishers like you looking for alternative ways to overcome them.
Here are a few key opportunities that can help you maintain and maximize your revenue as we are heading to the end of the holiday season: 
Opportunity 1: Start Early But End Later
Holidays have always been the busiest time of the year, with consumers usually starting their shopping way before the holiday season starts. 60% of U.S. consumers start their holiday gift shopping way before December to get good offers and discounts.
And, that's why you must prepare ahead of the holidays, find new ways to bring more value to your readers. A great way to do this is by creating gift guides, giving shopping recommendations. This will essentially remove the need for your audience to spend hours on the internet to find the perfect gift, thus streamlining their holiday shopping and gift-giving process.  
Also, include unique products and membership programs on your websites. Products that are unique to your brand can extend your audience reach. And, through membership programs, you can provide value-added benefits for readers who are willing to pay a monthly or yearly fee. This will in turn boost your revenue. That being said, to maximize your efforts, let these programs and gift guides go on longer than that of your competition. 
Opportunity 2: Diversify With Ecommerce Content
Undeniably, eCommerce has the potential to maximize your revenue. It is a revenue stream that you should not ignore. Many publishers are investing more in commerce platforms while still ensuring that they are building relevant content to drive new revenue streams. 
For you to do the same, start pairing your content with eCommerce platforms, this will continuously bring attention to your content, product, or gift guides throughout the shopping season. Schedule a few posts to go out on the social platforms and then direct your readers to these posts. Include affiliate tracking links, in the hopes to get a commission for every sale you drive and ultimately, increasing your affiliate income.
Opportunity 3: Analyze Your Demand Partners Stack
This year was no less than a rollercoaster ride, and it has become more imperative than ever to ensure that your ad stack is ready for Q4. To best prepare your ad stack and capitalize on increased ad spend this holiday season, start testing which ad units, formats, or sizes are going to perform their best and help you earn extra revenue. 
Here's the guide on the best ad sizes for you to start with. Also, start partnering with the right bidder partners (say Google and Amazon) to achieve and maintain a competitive advantage over others. Here's the list of best programmatic demand partners. 
In case, you already have the right partners in your stack, adjust the price floors to increase the bid price and thus revenue. 
Opportunity 4: Engage Your Audience With Videos
A short but-to-the-point video can be the best addition to your content to ensure reader engagement. For creating engaging and personalized video content, analyze each user's unique behavior. Also, to make the most out of Christmas, include videos that are more holiday-oriented.
It's proved that including relevant video content in your content drives more engagement and revenue. By focusing on efforts to create and maintain your video inventory, especially at the end of the year, you will make this Christmas and New year the best. 
Opportunity 5: Improve Your Time-In-View Of Ads
Publishers are making great efforts to optimize their inventories and maximize their revenue. For you to ensure the same, one of the key opportunities is to improve your time-in-view of ads. Most likely, advertisers target publishers that have pages with less ad clutters and with longer time-in-view. For them, a smaller number of impactful impressions is more valuable than a larger number of impactless impressions.
When it comes to ensuring that you get impactful impressions on the ads, you need to start monitoring and optimizing your time-in-view by ad unit. Also, evaluate your inventories to reduce ad clutters. Optimizing your inventory accordingly will help you bring better results and maintain long-term relationships with your advertisers, and ultimately drive more revenue.
Thus, go beyond understanding whether or not your ads are viewable, and ensure that they are also viewed for long enough to influence your consumers. Here's how to maximize time-in-view of your ads. 
Opportunity 6: Email Marketing Should Become the Priority
Long before, publishers thought email to be a subscription driver and not something that can be a standalone product, a product that can bring revenue too. If you haven't yet started your marketing through email, then this is the right time as it will provide you with first-party data and direct access to your audience.
Customize it to make it more Christmas-centric, a way to get into the holiday spirit. Change the design to feature contents or products that are more holiday-centric such as blog posts, gift ideas, and more.
What's Next?
There's no doubt that the year 2020 brought many challenges and opportunities driven by a customer-centric approach grounded in both brand experience and privacy. So, forging ahead, monitor and understand your business and audience behavior. Obviously, there's no planned guidebook or a blanket approach to choose from that will help you plan for such a level of uncertainty. But a little research and preparation can revamp your business to make the most out of Christmas. 
For more growth lessons like this, check our Becoming Series now. What will you get from it? Well, unique strategies of top publishers like The Guardian, Business Insider, etc. Read the case studies here and let us know how they helped you.
Other Seasonal Optimization Posts [Unlocked]:
Best Thanksgiving Strategies for Publishers. 
How to Optimize Your Setup based on Seasonality?
Black Friday 2020: 4 Opportunities To Drive More Ad Revenue
What Publishers Need to Know About Halloween Advertising 2020?