For a very long time, data has been at the heart of how the programmatic advertising industry identifies the right audience. They always relied on syncing cookies to identify their users. And since there was no standardized solution to identify users across all platforms — mobile apps and connected TVs, the process often resulted in losing users' data. How?
Each ad-tech partner to identify their users synchronizes third-party cookies with one another. It also slows down page loads, negatively impacts user experience, and reduces match rates as well. This is why the need for standardized universal IDs arose. Universal IDs provide a shared identifier to trace the user across the supply chain without cookie syncing.
That being said, there are plenty of ID solutions in the market by various ad tech companies that aim to eliminate cookie-syncing problems like data loss and user duplication and identify users across all channels. Through universal IDs, companies also aimed to serve relevant ads to their users.
One such company is The TradeDesk, one of the largest demand-side platforms (DSP), which created a proprietary identifier called Unified ID.
Let us dig deeper into what Unified ID is, its future advances, and how useful they are.
Table of contents
What is Unified ID — 1.0 and 2.0?
Back in 2019, The Trade Desk introduced Unified ID 1.0, which aimed to eliminate the cookie-syncing process and help buyers and sellers identify audiences effectively — by creating a common unique identifier for the users on the open web that can be shared b/w the players in the ecosystem.
From DSPs to SSPs to DMPs, anyone can use the UID 1.0 to identify users and trade ad impressions rather than creating their own cookie-based user IDs and then later syncing their cookies and IDs with other platforms.
"As the largest independent demand-side platform (DSP), we have one of the most ubiquitous cookie footprints in the world."
With Unified ID, publishers were able to reduce loss of user data and grow the match rates (because there's no cookie syncing).
And since its launch, The Trade Desk saw cookie match rates of 99%. That said, this solution soon came to an end as it's dependent on third-party cookies. So, yes, UID 2.0 had the scale and looked promising but it relied on 3p cookies.
Following this, The TradeDesk released a new and improved version of its solution — Unified ID 2.0.
So, what is Unified 2.0?
Unified ID 2.0 is an industry-wide initiative, independent of cookies that aims to preserve the ability to run targeted and personalized ads, and improve privacy and controls for consumers. It's open-source and can be used by all the parties involved in the Supply Chain.
"UID 2.0 provides an opportunity to have conversations with consumers and provide them with the sort of transparency we as an industry have been trying to provide for a really long time," 
– Dave Pickles, Co-founder (Src).
How Does it Work?
Unified ID 2.0 is expected to be a single sign-on product wherein users can log in* to the websites with a click (as long as the websites support and integrate UID 2.0's SSO product). This will provide users easy and seamless access to multiple sites and apps with just one set of login credentials. Because of single sign-on, users can be saved from maintaining different credentials for different websites (publishers) separately.
*If the users are new, then they have to sign up first using their email addresses.
This will also make identifying users easier across all the channels — desktop, mobile, and CTVs.
Let's understand Unified ID 2.0 better with an example:
When users visit your site, they'll be asked to log in via UID 2.0. Once they log in, an identifier is created that is in the scrambled and encrypted form. This identifier regularly regenerates itself to ensure better security.
At the point of login, the consumer can see why the publisher wants to create this identifier as well as see how their personal information is used on the open internet. They also get to set and control how their data is shared.
Features of Unified ID 2.0
While developing UID 2.0, The TradeDesk mainly focused on features that would continuously support publishers to deliver relevant content efficiently to consumers. Here are four key features of Unified ID 2.0:
– Open source: The ID framework is open-source, non-commercial, and available for free for everyone. Emails will be hashed and encrypted to prevent any fraud. This ensures that your consumer's data is secured. The fact it is open-source is backed by the involvement of Prebid that's also taking care of the infrastructure, encryption, and decryption process of the solution.
– Single Sign-On (SSO): Free and independent single sign-on that works across the open internet. Criteo, one of the first companies to join Unified ID 2.0 has started testing the user-facing component (i.e., SSO) of UID 2.0. Dubbed as "OpenPass", it'll enable publishers to capture the email address and consent (right) — which in turn helps in creating user IDs that could be used for targeting purposes.
We expect that Criteo will run some experiment before finalising the SSO UI/content. In case you decide to integrated UID 2.0, you're required to use the SSO to create user ids.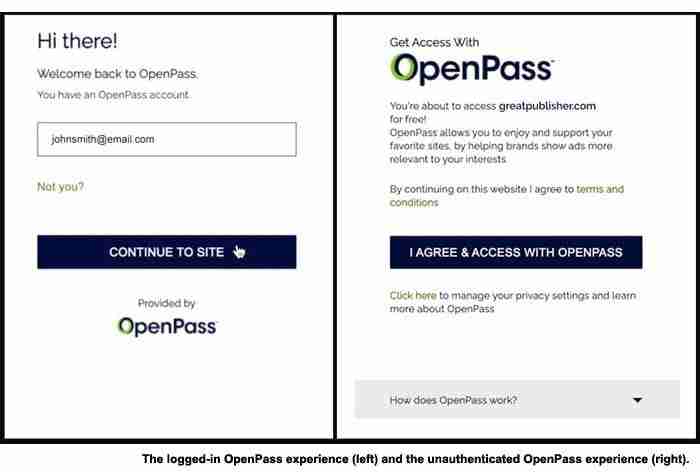 – Framework for publishers: A clear, easy, and simple user interface that not only explains the exchange of data on the internet but also builds trust with your users.
– User transparency and privacy controls: Consumers will be able to view and manage their preferences and opt-out at any time.
Benefits Of UID 2.0
The key to driving the overall success of UID 2.0 is ensuring publishers are adopting it. The bonus you get by adopting it is that your ad inventories will be able to get higher CPMs for more relevant advertising.
Anonymization:

Your user's UID 2.0 is a string of numbers and letters that cannot be reversed back to an email address or any other form of identification.

Greater control and privacy for users:

With

UID 2.0, consumers get great control over how their personal information is used on the internet.

Thus, more privacy.

Greater transparency:

When consumers opt-in through their email, UID 2.0 allows you to have better communication with them, enabling you to give them a more personalized site experience and transparency.

Better interoperability:

Interoperability is key because it reduces friction and costs for all ad tech players, helping them drive scale as well as boosting digital ad revenues. Thus, no cookie-syncing is required.
Roadblocks Of Unified ID 2.0
The main functional limit of UID 2.0 is that it depends only on authentication through email logins to identify users and doesn't work for users that have not logged in. Also, getting consent from the users to share their email addresses is tough.

The solution is ideal for large publishers but for small and medium-sized publishers who have no direct relationship with the users, it gets really difficult to convince users to sign up/login using their email address.
The Collaboration
The Trade Desk is building on the work of leading industry partners and collaborating across the ecosystem to develop this open-source ID framework.
"The more collaborators join this initiative, the more critical mass it will achieve in the market,"
– Michelle Hulst, EVP of global data and strategy at The Trade Desk. (Src)
Several players have signed on, including Prebid, Criteo, LiveRamp, Nielsen, and the likes. And each of these partnerships is contributing to a different piece of UID 2.0's development process. Here's a quick snapshot of how different partners are collaborating with UID 2.0

Interoperable with UID 2.0:
IDs that are interoperable with UID 2.0 so far:
Epsilon's CORE ID.
Neustar's Fabrick ID.
Measurement:
Nelson is helping with the measurement aspects.
Empowering Publishers and Media Buyers:
Several exchanges, SSPs, and DSPs announced that they'll include UID 2.0 in their platform or support it in their bid stream.
Xandr
OpenX
PubMatic
SpotX
Index Exchange
Magnite
LiveRamp
The Washington Post and its Zeus Publisher Platform
SSO:
Criteo is working on SSO.
CTV:
FuboTV is working to leverage the new ID in CTV environments.
What's Next?
To drive focus and accelerate progress, The Trade Desk is planning to add more new partners in the weeks to come, including supply-side partners, advertisers, and publishers.
Of course, establishing an internet-wide approach to their unified ID is a tough task, and it's going to take a major change of mindset for the entire ecosystem to accept it. The future of unified ID still remains uncertain and a lot more can happen with it. Keep following our Ad Tech Weekly space for the latest updates on the industry.