Over the past few years, video advertising has undeniably grown and is expected to grow further in the future. According to eMarketer, on average, a US adult spends 1 hour and 49 minutes per day consuming digital video content and digital video's share is increasing every year.
As an effect, video advertising has started to become increasingly popular among publishers and advertisers. US advertisers will spend over $22 billion on digital video advertising in 2021. Although video advertising is a win-win for both sides, many publishers are still unaware of the different types of video ads available in the industry. 
In this article, we aim to brief you on in-banner video ads. So, let's begin with the introduction to in-banner video ads and their benefits for publishers.
Table of Contents
What Are In-Banner Video Ads?
Unlike in-stream video ads that are run specifically on video ad inventories, in-banner video ads are GIFs or video creatives embedded in the display banner ad slots on a webpage and usually play without sound. These ads are suggested to be placed in the 300×250 pixels ad unit size on a page. 
In general, in-stream and out-stream video ads need a video player to get displayed. But, in-banner video ads don't require a player. 
There are three types of in-banner video ads for publishers:
Click to play –

In this, a static image is displayed at first and when the user clicks on the creative, then the video ad starts playing.

Autoplay with no sound –

Here, the video ad plays without any sound. Once the user clicks on the video, the video ad starts playing.

Hover to play –

When the user hovers over the video ad, then only it starts playing.
In-Banner Video Ads Vs. In-stream, In-article, or In-feed video ads
How in-banner video ads are different from in-stream, in-article, or in-feed video ads? Currently, there are two types of video ads for publishers available in the market – in-stream and out-stream. 
An in-stream video ad is an ad that is played inside a video player and is basically of three types – pre-roll, post-roll, and mid-roll. For an in-stream video ad, a publisher should have video content to play the video ads along with it.
On the other hand, an out-stream video ad is played within the article on a web page. Unlike in-stream video ads, out-stream ads don't require video content and can be played independently. But they do require a video player as in-stream ads. Based on the placement, out-stream ads are divided into in-article and in-feed video ads. 
Compared to in-stream and out-stream video ads, in-banner video ads don't require a player and video content as well. The videos or GIFs are provided by the advertisers, and such ads are displayed over banner ad slots.
In-Banner Video Ads In Google Ad Manager?
Setting up in-banner video ads in Google Ad Manager is pretty simple and similar to that of display advertising. There are just a few minor changes you need to make as these ads aren't banner ads in real but get placed in the display (banner) ad slots:
– Ensure that ad unit size is selected as you do for banner display ads. However, while selecting the size of ad creative, you need to select the video size, for example, 300x250v.
– Make sure that you select Web display and out-stream while setting up the targeting criteria for the line items.
– Also, you need to Opt-in in the Google Ad Manager to allow the server to deliver in-banner video ads. If you don't know how to do that, follow the steps given below:
Go to Google Ad Manager home page, and select

Protections

.

Click on

New protection

>

Ad content.

Enter a name for the Protection and selecting the

Targeting

capabilities for the inventories.

Then, scroll down and you can see

Opt-ins

in the right-side of the screen. Click on it to enable Google Ad Manager to receive requests from demand channels for in-banner video ads.
In-banner video ads are usually served via direct campaigns in Google Ad Manager.
Though the ad creatives are sent by the advertisers, there are a few points that you can also check to be on the safe side of in-banner video advertising. Because, if these requirements aren't fulfilled by the creative, then Google Ad Manager restricts the ad to be displayed on the slot.
Requirements for in-banner video ad creatives:
The ad creative should have a "replay" button. Also, the video ad should not take more than 4 minutes.

Both audio and video must play only when the users' click on the creative. It should have a "start", "stop", and "mute" button.

For hover to play in-banner ads, the video should play after 2 seconds of hovering over the creative. And it should stop if the user stops hovering.
Given that ad creatives follow the above-mentioned standards and of Ad Manager setup is already done, you're ready to start with the in-banner ads on the website. 
Pros and Cons of In-Banner Video Ads
If you're still confused about whether to have these ads or not, then we have listed a few benefits that you cannot get with other ad formats:
You don't have to rely on video player vendors, this, in turn, reduces half of the complexities involved in running video ads.

You don't need a dedicate a separate inventory for the video ads. As these ads can be displayed over the banner ad slots, you can reserve other ad inventories on the page to display in-stream or out-stream video ads.
In-banner video ads have their own merits. But, that doesn't imply there is no downside to such ads. Compared to in-stream video ads, in banner video ads are found more disruptive because visitors don't expect a video ad while consuming text content. 
However, in the case of in-stream video ads, they opt for the video content and already have a hint of following up by a pre-roll or mid-roll ad in advance. For this reason, it is recommended not to bombard the users with banner video ads unnecessarily as it can ruin the user experience as well as your ad revenue. 
And, demand isn't as high as other video ad formats (comparatively lower). In fact, as per the latest Confiant Demand Quality Report, IBV impressions are diminishing.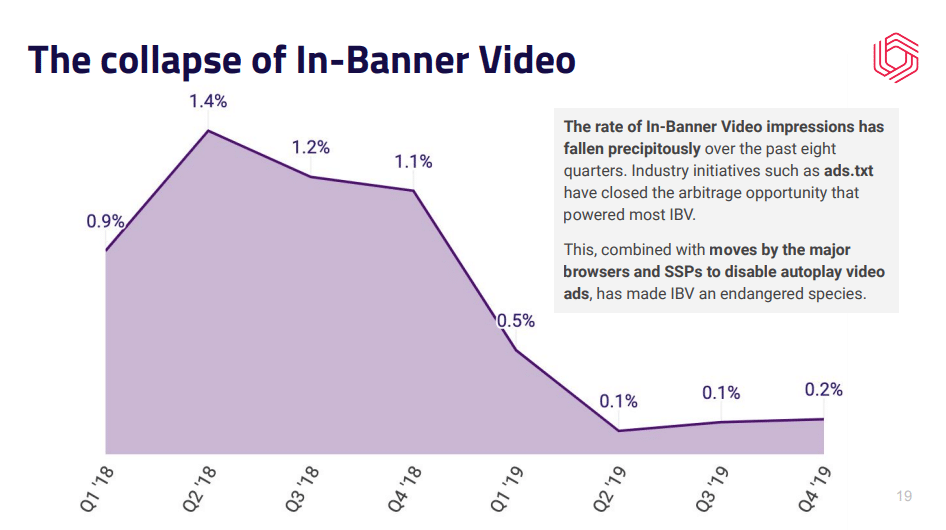 While there's no player on the page, the creative can be heavy and increase page load time. 
What's Next?
So, what are you waiting for? Why shouldn't you make it a priority in your ad stack? If there is any technical glitch that is stopping you to start with in-banner video ads, let us know in the comments below, or you can even ask us to troubleshoot the issues via AdOps Quick Fix to get the solution direct from our AdOps experts. As always, experiment first, then decide based on the results.