Since last year, Google has been rolling out the beta version of the Multiple Customer Management (MCM) for selected publishers and channel partners with Ad Manager 360 accounts. The idea is to replace Scaled Partner Management (SPM) with MCM and recently, the company made it official with an announcement — MCM is set to replace SPM in July 2021. 
So, the SPM program will no longer be active and publishers who've been using an SPM partner to access Ad Exchange demand have to make the transition to an MCM partner. Now that we're just two months away from this transition, it is crucial for you to understand what is Multiple Customer Management in google ad manager and how you can migrate from the SPM in order to avoid any drop in ad revenue. So shall we begin?
Table of Contents:
Overview of Google's Scaled Partner Management (SPM)
SPM program enabled smaller and mid-sized publishers to access Google's Ad Exchange via larger publishers and channel partners. Under this program, a Child publisher (who needs AdX access) can use the account of a larger Ad Exchange publisher (also known as Parent publisher or SPM partner) to access Google AdX and expose their ad inventories to a large pool of advertisers. 
Other than the AdX demand, a Google AdX partner can also help in additional services such as yield management, ad optimization, and more. To put it simply, with Scaled Partnerships, the ad inventories on your website can be completely operated by the SPM partner. 
Why is Google Replacing SPM with MCM?
With Scaled partnerships, there was little clarity on the authorization level of the selected partnership. So, to create a more effective and transparent environment for both parties (Child publisher and Parent publisher), Google is going to replace it with Multiple Customer Management (MCM).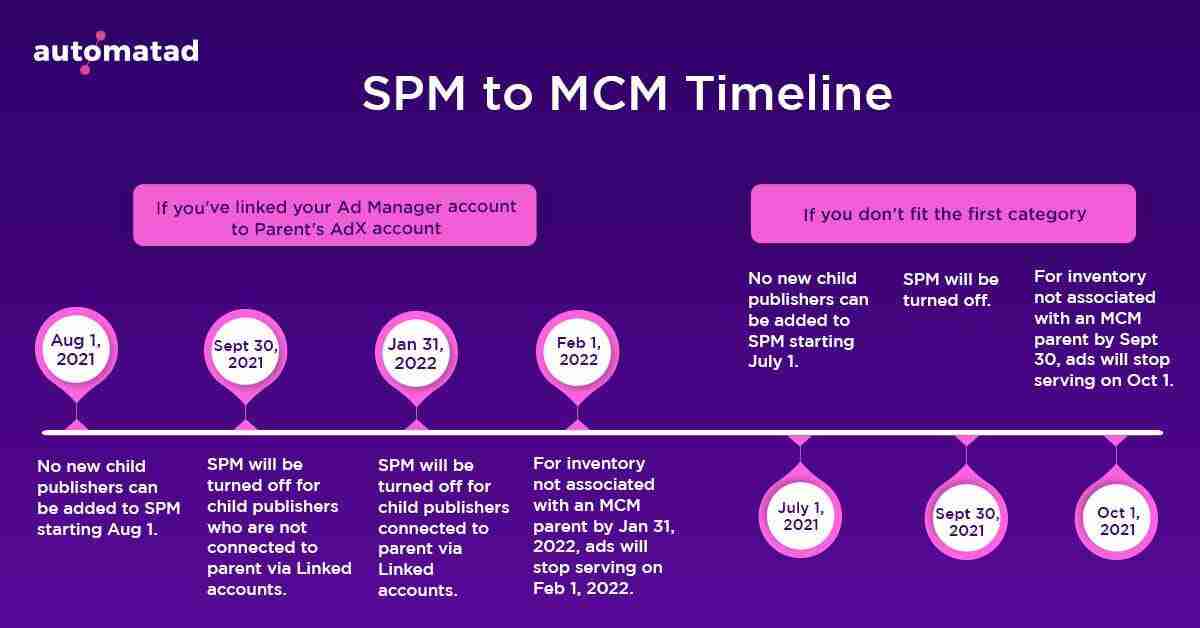 What is Multiple Customer Management (MCM)?
Similar to Scaled Partner Management, MCM enables small to mid-sized publishers to get access to Google Ad Exchange demand. Under this partnership, an MCM partner can represent and manage your ad inventories on your behalf. Then what's going to change?
As we mentioned earlier, MCM clearly defines the authorization level of Parent publisher (let's say, Automatad) and Child publisher (i.e., you). It has introduced two types of access levels (also known as delegation types): Manage Inventory and Manage Account. Let's break down the types to understand better.
Types of Delegation in MCM:
About Manage Account Delegation
As a Child publisher, when you allow the MCM partner on the 'Manage Account' level, you are giving them direct access to monetize and manage all the ad inventories from their account. Besides:
You can agree on the revenue-share model ranging from 0% to 100%. Please note that if you agree to this, it will apply to all the websites within the account.

You will have one MCM partner for one account.

You will have to use your own Google Ad Manager tags.

You will receive the payment based on the revenue-share agreement via auto-payment methods. Your MCM partner will get their payment separately.
About Manage Inventory Delegation
With this delegation type access, you:
Will allow the MCM partner to monetize a portion of your ad inventories on behalf of you in their account. The ad trafficking will be done by the partner, but you will not be able to view the settings.

Can have up to 15 MCM partners. However, an MCM partner will not have access to your account.

Will have to use Ad Manager tags of the MCM partner's account.

Your payment will be done by the MCM partner.

Manage Inventory or Manage Account?
Now the natural question would be — what's the delegation type that you should choose? Well, it depends on the publisher. As you can see, based on the type, the way the MCM partner works with you is going to change.
Also, having the right partner, not just the delegation type, makes the difference in your revenue. Especially if you are opting in for "Manage Account", then you're betting on a single partner to deliver the results.
Benefits of Google MCM Program:
In addition to the primary benefit of getting access to Google Ad Exchange and maximizing available revenue opportunities, the MCM program offers other advantages such as:
Access to additional demand from other ad exchanges via Open Bidding.
Support to Programmatic Direct deals, Preferred deals, and Programmatic Guaranteed deals.
How Can You Get Started With Multiple Customer Management (MCM)?
There are only two cases:
You're a publisher and want to get Google Ad Exchange demand. You don't work with any SPM partner currently. 

You've got an SPM partner in place and want to know the next steps. 
Side note: No matter whatever case you fall under, you need to have your Google Ad Manager. If you don't have one, you need to sign up for GAM and create an account first. It's free and quite straightforward. Need any help? Here's a beginner's guide on setting up Google Ad Manager.  
Case I: 
If you're a publisher trying to access Google Ad Exchange via a channel partner, then ensure you are looking for a partner with an MCM-approved account. 
Note that not all the SPM partners will be automatically transitioned to MCM program. Google has a separate evaluation process to assess the partner's performance (specifically, their Google Ad Exchange Health Score). Only selected channel partners will become MCM partners. 
So a partner could be part of the SPM program but not the MCM program. Once you find the right partner, then you can follow the steps based on your delegation type (we'll discuss them below). 
Case II:
As you're already working with an SPM partner, you can check whether your current partner is MCM approved or not.  
If so, you'll get an invitation from your Parent publisher (i.e. MCM partner). In order to accept the invitation, you must have the following permission within 'Manage People' under Role Permissions.
Once accepted, your MCM partner will be able to monetize and manage the ad inventories. But as we mentioned before, you need to decide the delegation type and act accordingly. 
Manage Account:
– You'll have to agree on a revenue share (Google will make the payment to you based on the agreement).
– The partner manages all the inventory in your GAM account and you'll be able to keep a tab on it as well. Mostly, your partner will be able to take care of the setup and optimization work but it depends on your negotiation. 
– You'll paste the GPT tag generated from your GAM account.  
Manage Inventory:
– After the invitation approval process, you'll give access to a specifically delegated inventory to the partner. Your partner doesn't have access to your account or any other inventory. MCM Partner will set up and manage the delegated ad requests from their GAM 360 account. 
– All you have to do is add the GPT ad tag on your website — which will be provided by the MCM partner (Parent publisher). A GPT tag looks like this:
While '1234567' in the network code of the Parent publisher (MCM partner), '1234' represents the network code of the Child publisher. While adding the GPT tag, ensure that the GPT code is correct and the network codes are placed in the .defineSlot() function.
What's Next?
Google Ad Exchange is one of the best demand partners in the programmatic landscape. However, getting access to it is a tedious process. You need hundreds of millions of page impressions, go through a tough review process, and wait for days. 
If you need help, feel free to reach out to us. Being a Google authorized channel partner (yes, we are part of the MCM program), we can get you the AdX demand and also help you get started with heading bidding and more.