Why Forbes.com?
When Forbes.com went live, it didn't have the audience or the content prowess, as we know it today.
It was yet another print publisher that ended up launching a website, at least that's what it looked like at first. Soon, even with the competition from the TIME (Fortune Inc.) and Bloomberg's BusinessWeek, The Wall Street Journal, and The Financial Times, Forbes firmly stood its ground as one of the best media publishers for business news.
There was a time when Forbes employees worked one week each month without remuneration and sent on leaves because of the scarcity of resources. But recently, the publisher announced a special bonus to its employees, which amounts to 4.5% of the total income of their annual salary. Forbes stood the test of time and, in fact, won in all aspects of the media business – Reach, Revenue, and Remuneration.
Agreed, it had its fair share of flops. And that's why we've studied the growth of Forbes. After all, no one pulled it off successfully without some failed experiments. With no further ado, let us show you how much the publisher has grown – in terms of both reach and revenue.
How it all started?
David Churbuck, a technology journalist, former editor of Forbes Magazine, founded Forbes.com in 1997 and handled the media strategy until 2000 (Src). The idea was to design and run a frequently updated tool – with interactive datasets, directories, calculators, and lists. In fact, Forbes.com was initially launched with a motto of "tools not text".
Surprisingly, Forbes had around 150k visitors a month and employed just 4 people to manage the online site.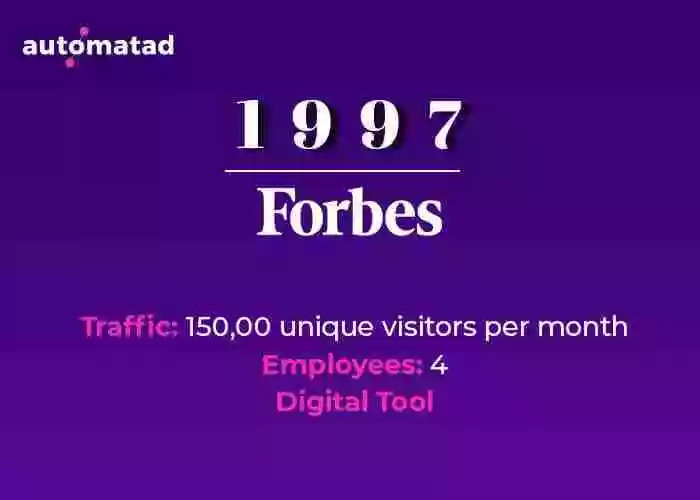 Where are they today?
The publisher has a global audience of 132M+ monthly unique visitors. Forbes also boasts over 40 global licensed editions and various different social media channels. The publisher is particularly active on Facebook, Twitter, LinkedIn, and Google+, which altogether have over 35 million followers.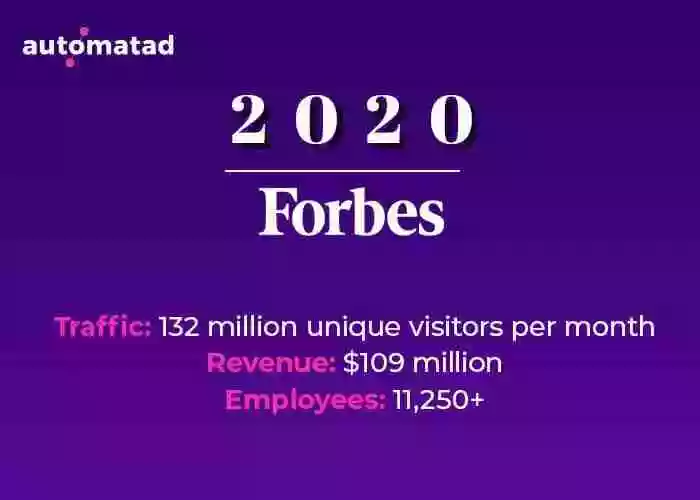 These platforms are also found to be most effective for their advertising campaigns aimed at increasing brand recognition globally. The estimated ad revenue generated by Forbes is $109 million last year according to a source.
Becoming the Forbes
Digital Tool to Media
Funding and Launch
1996 – 1998
To be frank, we can say that Forbes.com is the eldest of almost all the news websites you've ever come across. The domain was registered in 1993 and the website was up and running by the end of 1996. But, when the publisher made its online presence on WWW, they weren't sure about what to do and how to do it. The print revenues were declining and the resources were limited.
So, they figured out getting an external investment will help.
Print legacy and standard concepts will always do the trick. With the funds from BMW, Fidelity Investments Company, Intel, Oracle, Teleport Communications Group, and Stolichnaya vodka, Forbes redesigned the website and announced the launch. Besides, the publisher asked for a commitment of $2,50,000 from each one investor (Src).
Stephen Glass Scandal
Until the early 2000s, the digital magazine and online news websites were not fully considered significant as they were in print. There were a handful of digital publishers that existed before this decade, but the major players at that time faced the same challenge i.e. their audiences never saw digital content as a priority.
For this reason and to prove that their digital content wasn't a fad, Forbes tried to eliminate this belief by providing genuine editorial to its visitors. To the surprise of many readers, the publisher got attention from all over the world by revealing the fabricated story published by Stephen Glass, an associate editor of TRP in 1998.
The article "Lies, damn lies and fiction" became the biggest tool to build trust among its readers by the end of the 90s and has attracted more than tens of thousands of visitors till now (Src).
Marketing and Promotion
Everyone needs a promotion. Though Forbes had a print legacy, it needed to market itself as the print and internet teams were siloed. Unlike NYTimes, Forbes.com was functioning as a separate entity – with different goals, editorial style, etc.
In 1999, to grow the number of website visitors and Forbes brand, the publisher announced its first major offline ad campaign where it spent $10 Million. The primary goals of the ad campaign were to drive the traffic on the website and thus, increase the ad impressions.
"We have to grow the brand fast. The time span to build a brand on the Web is different. The life span of a Web entity is shortened because there's so much competition."
– Bruce Rogers, Vice President for Marketing Communications, Forbes (Src)
Not only the digital channels, the publisher also used Radio channels for the first time to increase their audience reach further. According to the Marketing team of Forbes, one-third of the total budget was allocated to the radio channels where they ran a series of three 60-second programs in seven different countries to create buzz among the people. 
Wondering how many visitors they got? By promoting the ad campaign, Forbes allured 2.5 Million monthly visitors in May, which is an impressive milestone for any publisher (Src).
Forbes.com in 1999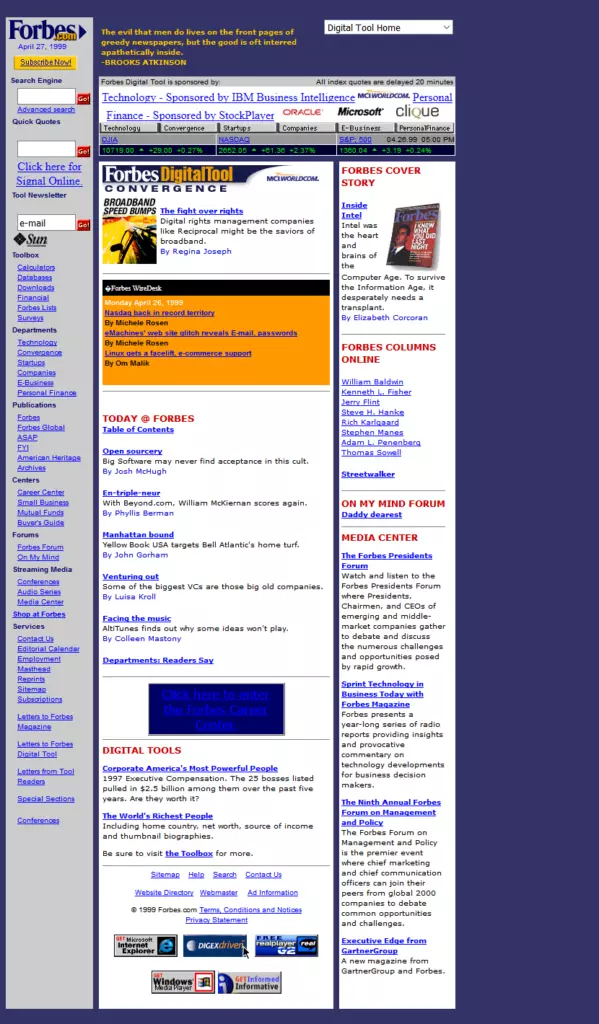 Ad Recession
2000
After the retirement of James Michaels, executive editor of the magazine who swayed scores of writers and editors, the company was visibly affected by the recession and the latter part of the decade wasn't working out so well for it.
As a result, 2001 was one of the brutal ones for Forbes when the online magazine owner ceased the publication of Forbes ASAP and laid off several staff members (Src).
"There is no market for a dedicated new-economy publication"
– Monie Begley, spokeswoman for Forbes.
Reasons?
The closure of the magazine wasn't just a piece of news for Forbes.com. The company was compelled to strategize its investments towards print and online. If you're thinking about what could be the reason, here are a few that might have affected.
– After the Dot-com boom, most publishers were confused about technology. Forbes business readers weren't as interested in tech comparatively. This, in turn, trimmed the readership. 
– Forbes ASAP is not the first or the only victim of the slump in spending on technology. Ziff Davis Media, a publisher of tech magazines, closed several tech-oriented titles and went through a restructuring to continue the operation. During the same period, The Industry Standard closed amid a huge contraction of Silicon Valley ad spending (Src).
With the economic slowdown, the publisher had to cut down its customer acquisition and retention costs. 
As a first step, the publisher picked ORB, its new online advertising agency which had been previously taken care of by Avenue A since the genesis of Forbes.com. ORB was chosen by Forbes to handle its online advertising and offline advertising as well. The objectives of replacing advertising companies were to improve the quality of incoming traffic and thus maximizing the customer attainment and retention programs at the least possible price (Src).
Custom Publishing
Custom publishing is the traditional term for content marketing. Brands and companies deliver useful content to their target audience with the help of their own/partnered magazines and websites. In other words, it works like a sponsored content we see today, but the content wouldn't sell anything at all.
It is there to help the audience do what they like to do – easily. Forbes Inc., with its print magazine fame, bagged an exclusive partnership with WPP, then the world's second-largest agency, wherein the agency could utilize Forbes to run custom content on existing properties or create custom magazines for their clientele (Src).
This joint venture of Forbes with WPP handled everything from the editorial design of the magazine to its marketing in the United States and overseas. As cited by the New York Times, it was one of the "slick alternatives" for traditional print publishers to keep up with the marketing investment and expansion to the web.
Money-back Guarantee
2002
To connect with a greater number of advertisers, the publisher came up with a money-back guarantee. With this, Forbes tried to add strong marketers who were willing to spend more than $1,00,000 on forbes.com. Assuring them the effectiveness of the campaign, it promised to return all money if it doesn't meet their expectations in 60 days of advertising. To measure the effectiveness of the campaign, Forbes partnered with Dynamic Logic, a third-party company (Src).
"We are putting our money where our mouth is in guaranteeing a return on the advertiser's investment"
– James Spanfeller, President and Chief Executive, Forbes
In addition, Forbes utilized its brand recognition to get the word out. It partnered with Fox News Channel to broadcast its fast-paced business analysis program, Forbes on Fox. The major theme of this program was to let people know more about finance and business terms and forbes.com.
In fact, most of the publishers had the chance to partner with industry experts and titles to reach a new audience who're likely to fall under their target market. And Forbes took that chance.
Barbell Strategy
2004
We've seen it before. Publishers with both print and online wings tend to support each other. When Forbes' website showed potential, the publisher used it to balance the declining print revenue. Similarly, when Forbes.com needed external investment, print legacy helped – in terms of funds and network.
For example, during the first quarter of 2006, ad pages were down 0.4%, according to Publishers Information Bureau. Forbes Group spawned an ad revenue of $63.8 million which showed an increase of just 4.4% compared to the first quarter of the previous year. The company recognized that the numbers are saturating. 
Forbes.com has grown exponentially its then-President and CEO Jim Spanfeller said that the ad revenues of Forbes.com would "probably" exceed that of the magazine in about 18 to 20 months (Src). So, the company decided to focus on Forbes.com and used the ad revenue to expand Forbes magazines to other regions  – particularly, Europe.
The Great Recession and Upturn
2006 – 2010
Without any doubt, Forbes had to experience losses, just like many other publishers, during the recession. But what's different in this case is the reasons. The publisher didn't just have to deal with recession alone, they're more problems weighing down the publisher at the time.
Presidential Campaigns
Steve Forbes had many talents and interests in the magazine, but his two presidential campaigns wiped out much of the Forbes fortune. The entire Forbes media underwent a loss of $90 million, according to a report published by Fortune (Src).
As the recession acutely hit the publisher in 2006, for survival it had to sell 45% of Forbes media to an American private equity firm Elevation Partners for $300M. By selling most of the part of its "Capitalist tool", Forbes tried to gather capital for the magazine. The Elevation Partners was the reason that pushed Forbes to add a division of businesswomen, prompting to find ways for increased revenue.
Shallow Content
Though the publisher was well known for its editorial content, Forbes magazine with its several disappointing blog posts like Attack of the Blogs, America's Drunkest Cities, and Don't Marry Career Woman was losing interest in its readers. By publishing such nonbusiness content, forbes.com attracted less than 6.6 million monthly unique visitors in the US that was comparatively lesser than the Dow Jones and CNNMoney (Src).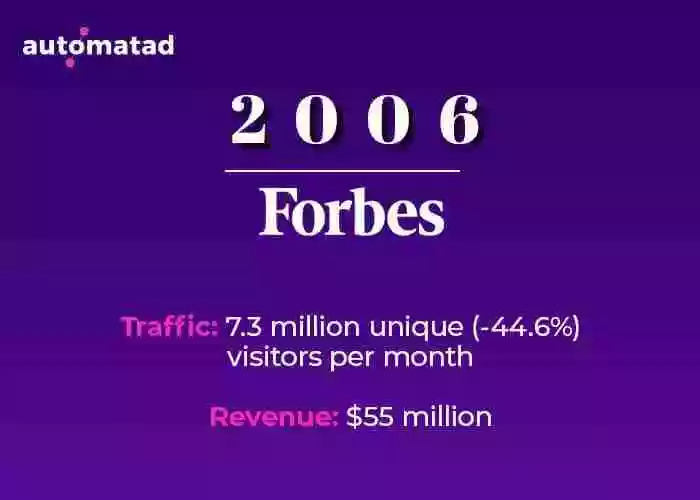 AdSonar Network
To gain more control over placing the sponsored text ads on Forbes and other properties under the brand name, the publisher signed an agreement with Quigo. With this deal, Forbes could use its content-targeting ad network AdSonar and enabled the advertisers to buy the keywords and serve relevant ads to the users.
"AdSonar offers advertisers multiple targeting options for their pay-per-click campaigns including national and local targeting by vertical category, site, individual page, topic and/or keyword"
– Quigo (Src)
One of the major advantages AdSonar offered is that it conducts a "bid-to-brand" auction, where a top-tier publisher can get higher bids from advertisers. Besides this feature, the publisher could see what advertisers it is bidding on, and the choice of their ad placements (Src).
Sidenote: Google AdSense didn't offer the granularity/bid-to-brand auction. It was just contextual.
CMO Network
2008
To cope with the falling number of visitors, Forbes has never hesitated to try new strategies. On March 15th, 2009, Forbes launched a CMO network – a platform equipped with essential news and content analysis and commentary. Forbes tried to engage CMOs, agencies, and advertising executives by providing them a platform to connect with others and keeping them up to date with industry insight. 
It's just not a text. Forbes included stories, interviews, etc. as videos (Src).
With its new sister sites (ForbesAutos.com and ForbesTraveler.com) and video content, the publisher managed to pull itself off of the recession. The 2009 Times report said that, while "one of the top five financial sites by traffic [throwing] off an estimated $70 million to $80 million a year in revenue, [it] never yielded the hoped-for public offering".
Programmatic Foray and Publishing Machine
2010 – 2018
Self-serve Ad Optimization Platform
We already saw how Forbes went beyond AdSense (the de facto ad network) to power its contextual advertising. The same happened again. In the first quarter of 2010, the online publisher shook hands with FatTails, one of the leaders in online ad optimization software.
Forbes utilized FatTaills' PageGage Direct, a self-serve display ad serving platform, enabling the publisher to open direct sales channels to its advertisers which consequently increased the revenue, CPMs, and quality of ads to readers.
Custom Ad Units
Forbes entered into a partnership with Flite, a premium programmatic ad platform to enhance its ad strategy. With the help of Flite, Forbes introduced its new ad unit billboard "Jet Stream", and a social ad module (a 300 x 600 unit). The addition of these custom units helped Forbes to stand out from the crowd and deliver a better ad experience for the users.
Besides giving access to these ad units, Forbes allowed its advertisers to distribute their content on its site (Src).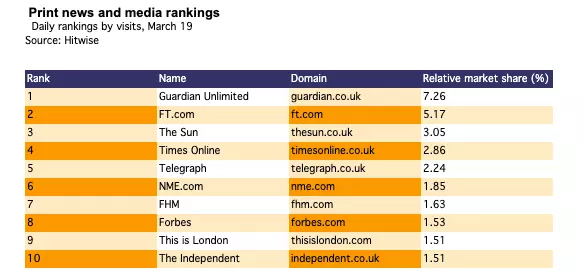 Interestingly, the publisher realized the significance of ad viewability sooner than we might think. To meet the standards of the Media Rating Council and increase the rate of viewability for its website, Forbes also partnered with Moat, an analytics and measurement company.
Programmatic Exchanges
Forbes entered the programmatic advertising industry by the end of 2011. After opening its impressions to open ad exchanges, Forbes removed all restrictions, including price floors. In the beginning, Forbes used Google DoubleClick (now Google Ad Manager) to serve ads and also experimented with dynamic allocation. 
When asked about the ad inventory management strategy, Forbes told AdExchanger that they don't view their inventory as a "remnant". All the impressions have the same value, and the publisher just uses different (direct and indirect exchanges) channels to sell them.
AdVoice
After analyzing the desires of advertisers and marketers to create their own content, and publish it on various social media platforms or other company's websites, Forbes introduced a new product AdVoice.
The AdVoice enabled marketers or writers to publish their blog posts directly on the Forbes webpage. It opened up a new revenue stream for the publisher and both buyer and seller don't have to worry about banner blindness anymore. 
"AdVoice is all about reconsidering the way marketers, consumers, and publishers interact with each other."
According to a Forbes' spokesperson, AdVoice generated 3.3M page views by the end of 2011 (Src). 
Brand Side Platform
One of the boldest decisions made by Forbes is its Forbes Media Extension (FMX). FMX is simply a way for advertisers to reach more affluent readers in a trusted environment. 
FMX provides the environment (a network of vetted publishers with an affluent audience) and technology (Forbes Audience Segmentation Target – FAST) to target the right audience. The FAST technology of FMX combined Forbes proprietary user data and third-party data to create well-defined audience segments for retargeting (Src).
"There is currently a strong demand for advertising targeted at high-end consumers and influencers in a transparent environment. FMX provides this trusted media environment, utilizing the strength and integrity of the Forbes brand to maximize the potential of reaching these users across Forbes.com and a premium network of sites."
– Kevin Gentzel, Chief Revenue Officer, Forbes Media.
Falcon-Software: An assistance to Forbes's Writers
2012
Falcon software, a digital publishing platform, has enabled the writers of Forbes.com to create and edit content easily. In addition, it made easier to search and upload pictures from a secure library, and publish content to different Forbes channels.
It did the job for forbes.com – from 2010 to 2013, doubling the number of monthly unique visitors from 12M to 26M (Src). On November 11, 2013, Forbes signed an agreement with ALM to license the Falcon software.
Forbes had to cut down the software as it can't dedicate enough manpower and investment to improve the tool every now and then. 
Programmatic Guaranteed
To keep a record of the number of viewable impressions appearing on Forbes.com and offer guaranteed impressions to the advertisers, the publisher made an agreement with Comscore Inc. that was known as vCE (validated Campaign Essentials) for its vBIG (validated brand increase guarantee) program which assured the advertisers that ad impressions are in-view. The advertiser will only be charged for ads that have had a chance to deliver the desired advertising effect.
"The Comscore vCE and vBIG technology make sure that the highly engaging content delivers a higher % of validated impressions and they are delivering outstanding performance for our advertisers."
– Bruce Rogers, CIO, Forbes Media (Src)
Forbes promised it will return the advertiser's money if it doesn't reach 90% of a confidence level for any of the brand metrics, provided that advertisers must run a minimum of $2,50,000 on Forbes.com over a duration of 90 days. 
The Forbes Contributor Model: Technology, Feedback, and Incentives
In 2012, Forbes kick-started the contributor model for independent publishers/writers/business leaders/other experts. With this new strategy, Forbes gave a considerable amount of freedom to its vetted contributors to the creation and publication of its quality on the Forbes website. This made the freelance contributors write about specific topics they expertise in with no restriction.
Contributors were provided with the same technologies as Forbes' own journalists. Forbes tried to keep the contributor model as simple as possible. Starting with the Content Curation section, the model included Most Popular Section, Follow on Forbes, and many other sections. Curation allowed the contributors to select relevant topics for their audience, whereas Most Popular looked at the number of shares or comments on social media, thus helping the editor to know about the status of an article. Sections like Follow on Forbes enabled readers to follow writers of their choice.
While most of the other publishers used to pay their contributors based on productivity (per article, per word, etc.), Forbes offered incentives to the contributors based on the number of unique visitors. This way, Forbes encouraged its contributors to build their community and promote their content. As the contributors handled their own content and its promotion, the contributor model offered a feedback loop of data that shared readership data and social sharing statistics.
Undoubtedly, the contributor model was one of the smart moves of Forbes. As this strategy included both content creation and marketing, the model yielded positive results to Forbes. Compared to the previous year, the number of unique visitors to the website doubled, making it to 30 million (Src).
A Branded Content Studio
2014
At the time when only two publishers – BuzzFeed and Huffington had sponsored content programs, Forbes established its native-advertising platform BrandVoice (then called AdVoice) for its advertisers, which aimed at helping marketers to elevate their presence in the digital world by republishing their ads on forbes.com, using the same CMS that journalists and editors used for Forbes website.
BrandVoice contributed 25% to the company's ad revenue with a collection of a sum of 33M page views, with over 4,500 posts on the website.
Krux: Data Management Platform
For over a year, Forbes has worked with its DMP partner – Krux, which helped the publisher to utilize data from multiple sources – BlueKai, Bizo, and Exelate.  By signing a contract with Krux, the publisher was having enough capability to know about its consumer's interests without depending on any other third party like Comscore.
In addition to these, Krux helped the publisher to identify its audience who has viewed the ads on its website and at the same it enabled the advertisers to identify the people who viewed the ad products. (Src)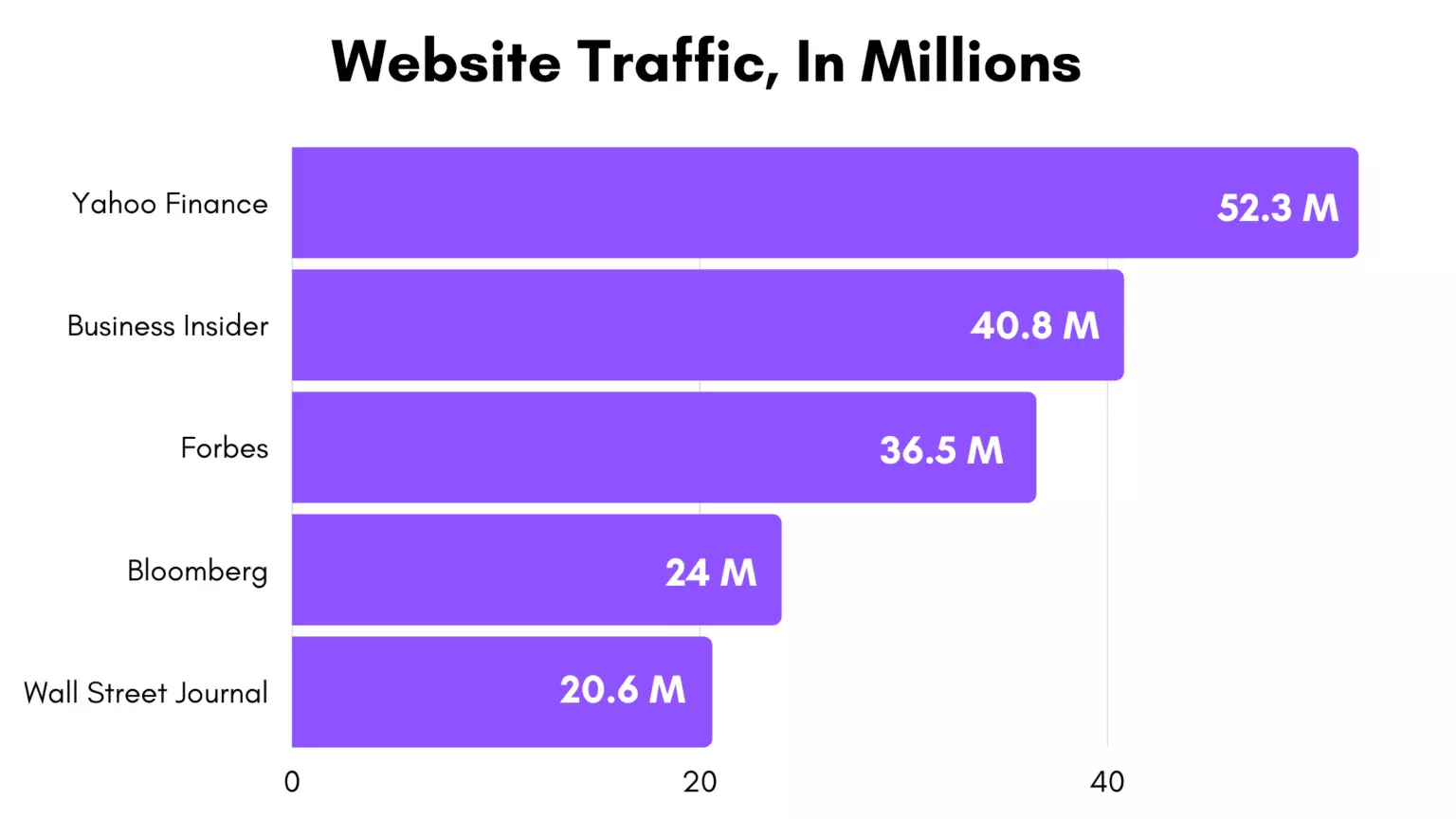 Source: ComScore
Pulse: A Storytelling Platform of Forbes
Forbes launched its new sponsored product "Pulse", which is supposed to blend interactive and visual storytelling for marketers. The Pulse group creates editorial programs and BrandVoice as well. On April 23, Toyota became the first marketing partner that launched a BrandVoice campaign through Pulse program on Forbes.com (Src).
"We're thrilled to partner with Forbes for the launch of this new product. With Pulse, we can bring to life our thought leadership marketing content through visual and interactive stories while reaching Forbes' educated and influential audience."
– Dionne Colvin Lovely, National Director, Traditional and Emerging Media, Toyota
According to a report published by ComScore U.S in November 2014, forbes.com acquired 31.4M unique monthly visitors which indicated a rise of 20.5% comparative to the same time in the previous year. Also, an estimated 45% of visitors checked the website via mobile which was a dramatic increase in the number.
Dealing With Ad Blockers
Ad blockers have been the bane of most publishers' existence since they emerged onto the scene. As Forbes was also facing an uphill battle about ad blocking, the publisher took a step forward to get rid of this and started blocking access to the content for users with ad blockers. Once the users disabled the ad blocker, they were promised for an ad-lite experience for 30 days (Src).
"It's about doing something based on what our users are looking for versus not doing anything,"
– Mark Howard, Chief Revenue Officer, Forbes Media.
The ad-lite feature didn't include animated ads or video ad placements on the website. However, users were still served with a few banner ads.
Media Partnerships
2016
In early 2016, Forbes's digital readership increased to 44.5M monthly unique visitors. Further, to enhance the quality of their ads, Forbes.com along with Conde` Nast, and the Times entered a partnership with Blis Prime, a London-based private programmatic marketplace, that will ensure their ads are geographically relevant to the audience (Src).
Launching A Progressive Web App (PWA)
For many, slow and unreliable mobile sites are still one of the greatest perils. And Forbes faced this challenge when the mobile website (Forbes.com) ranked second last in SERP and used to render after 6.5 seconds, much more than the Financial Times, New York Times, and Business Insider.
Not only this affected the user experience, but it also affected the ranking on search engines results. Besides, with an increasing number of users using mobile devices, this would be a viable option for websites in the near future.
So, to save the position on SERP and compete with other publishers, Forbes relaunched its new mobile website as a Progressive Web App which brought the loading time of the mobile site to 0.8 seconds, comparatively much faster than other sites.
A Progressive Web App (PWA), backed by Google, is a technology that works a bit more like a native app but takes less time to load and improves visual content and navigation.
"Forbes' new technology approach will enable the site's more than 38 million monthly mobile readers to save anywhere from 2 to 10 seconds with every page view."
– Salah Zalatimo, SVP of Product and Technology, Forbes (Src)
According to the 2017 statistics of Comscore, the number of monthly unique visitors had climbed to 60 Million which was way larger than the issues of Inc., BusinessWeek, and Fortune combined.
Microsite 3.0
With the introduction of microsites, the idea of bringing marketers to sell their brands on the webpage was quite a successful one for Forbes. The publisher has been dealing with its microsite 2.0 version for a few years and upgraded it to 3.0 in 2016.
The microsites are marketing content sites used by marketers that offer a consistent editorial experience to their mobile audience by keeping all content clearly tagged and recognized. The updated version of the microsite made scrolling and browsing of data easier for its customers by framing content in a concise manner for its mobile site.
This enabled the marketers to display their brands clearly at a much lower cost than other publishers, and readers to perform their desired action easily. Keeping a mindset of a desktop user, Forbes replaced the text-based story formats and added new card-like formats like video cards, text cards, quote cards, etc which can be accessed and shared independently (Src).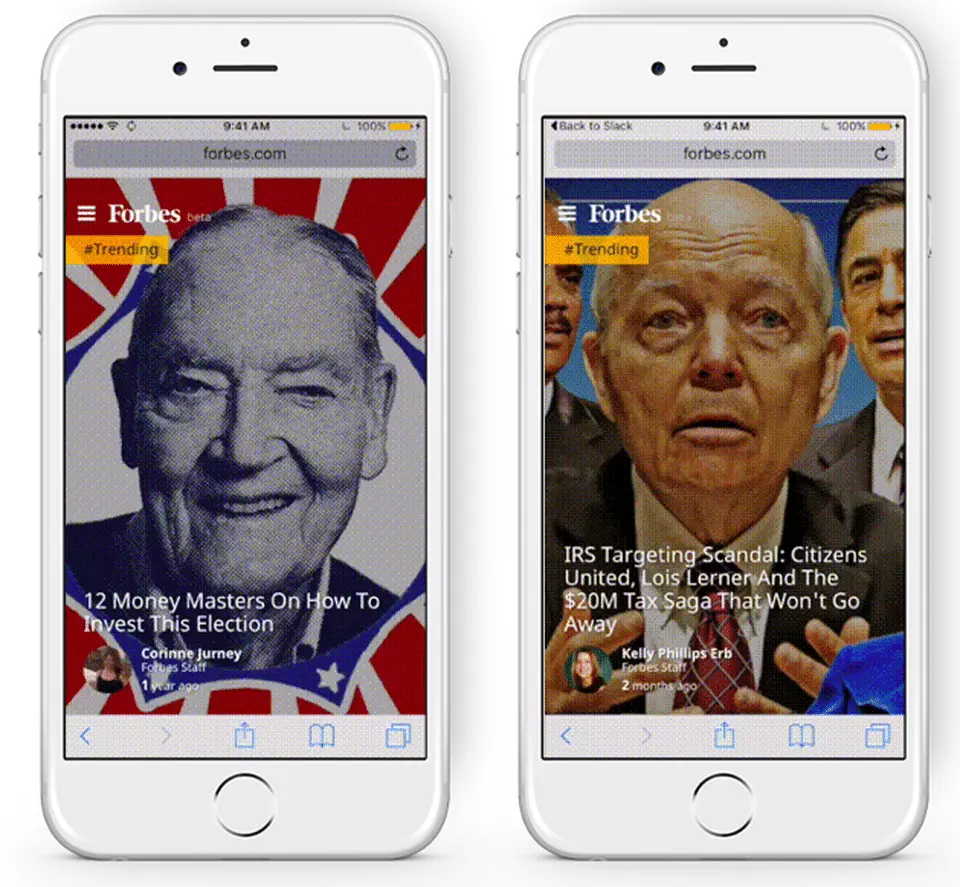 Doubling the time spent by readers
The reinvention of microsite 3.0 enabled outside publishers and advertisers to publish their content or ads alongside Forbes' own journalists. These new changes in the visual format of Forbes' mobile website showed surprising results for the publisher.
According to a Forbes' spokesperson, 35% of users spent 10 minutes on the new format than an average of 4 minutes on the old mobile version (Src).
Google's Ad Experience Report
When Google introduced its Ad Experience Report – a tool that can evaluate websites based on their ad design and creatives – Forbes got the warning sign. The tool captures screenshots and videos of annoying ads served to the visitors on the website. On the basis of this, it divided websites into two categories – failing and warning.
Forbes was one of the failing publishers among many other top publishers. To fix the website and ads, Google warned the publishers that if they don't fix their websites and remove the disruptive ads from the site; all the ads from the web pages would be pulled off. This is one of the instances where the publisher is forced to cut down the ads and deliver a better experience.
Though Forbes managed to invest and continually improve the mobile and desktop versions of its site, ad experience wasn't that great. The takeaway here is not to wait for someone to push you to deliver the best user experience. As a publisher, it's always safe to stay below the critical level.
2018
Content Management System
In July 2018, Forbes introduced its new content management system named "Bertie". Bertie, an AI-based publishing platform, is designed for Forbes' journalists, its contributor networks and BrandVoice partners, now available for senior editors in North America. It's smart enough as it recommends articles to its contributors based on their writing history (outputs, headlines, images, etc.). In addition, it will make the consumption of media easier for visitors.
"Any sort of content creation-focused organization is pressured to make timely content and manage their costs. This is smack-dab in the middle of that trend. We're going to see more of these tools to help with some of this volume-based flow." 
– Ron Schmelzer, Principal Analyst, Cognilytica
According to a spokesman, Bertie has indirectly increased the traffic on Forbes.com and helped the publisher to reach 65 Million monthly unique visitors (Src).
Reorganizing The Sales Team
To simplify the cross-platform selling programs, Forbes divided its 150 strong sales team into five – programmatic, native advertising programs, media sales, insights, and Forbes live events. Besides this, the publisher split its sales team into two: pre-sales and post-sales.
The reorganized sales teams helped the publisher to allocate resources in a uniform manner. For instance, a client who wants to run programmatic ads can be allocated to a different team than the one who wants to run a native sponsored post. This also provided a clear view of what is working (programmatic or native or direct sales) well for the publisher.
Data Management Platform
In October 2018, Forbes partnered with Quantcast, which has built Q, an Artificial Intelligence-driven audience behavior platform. Replacing the old audience tool, Q helped the publisher by making its sales package data-driven.
Q, functioning as a DMP, accessed proprietary data from Quantcast's database and some other data providers such as Datalogix and Bombora, and then created audience segments for Forbes. As a result, this allowed the brand organizers to know about their onlooker's preferences.
"If there are 10 articles that index well [against that audience], we can think about how to build an editorial feature for the brand focused on those topics,".
– Mark Howard, CRO, Forbes (Src)
2021
First-party Data Platform
ForbesOne provides deep insights into the most valuable audiences of the publisher. With the platform, the publisher can better understand the audience, their interests, and ultimately what content motivates them.
The new first-party data platform synthesizes data from 70 different datasets using user behavior across its website, thus allowing the publisher to have a real-time picture of how their users behave across different products of Forbes.
"We believe that through ForbesOne, we have unleashed this new era of innovation and engagement for our audience and marketing partners"
– Jessica Sibley, Chief Revenue Officer, Forbes
According to the publisher, ForbesOne can help to reach 40% of its audience using either a combination of logins, subscriptions, or email.
Conclusion
If you look at the journey of Forbes.com, you can see how the publisher embraced the next big technologies, even before they went big and successful. It never failed to leap beyond the default options to grow its traffic and revenue.
Though the publisher had failed in a few initiatives, it never stopped to try and experiment. In all, it had a clear purpose.
One of the things that companies should always ask themselves in this tumultuous time of the Web is, "what is your purpose? " If you ask yourself that question, you won't get held up on the fact that the tools to achieve it may change, but the goals themselves don't.
– Steve Forbes (Src)
You may or may not emulate the strategies we've shown here, but take the lessons and go write your own story.