Why Forbes.com?
When Forbes.com went live, it didn't have the audience or the content prowess, as we know it today.
It was yet another print publisher that ended up launching a website, at least that's what it looked like at first. Soon, even with bouts from the TIME (Fortune Inc.) and Bloomberg's BusinessWeek, The Wall Street Journal, and The Financial Times, Forbes stood out and become one of the best publishers for business news.
There was a time when Forbes employees worked one week each month without remuneration and sent on leaves because of the scarcity of resources. But recently, the publisher announced a special bonus to its employees which amounts to 4.5% of the total income of their annual salary. Forbes stood the test of time and in fact, won in all aspects of the media business – Reach, Revenue, and Remuneration.
Agreed, it had its fair share of flops. And, that's why we've studied the growth of Forbes. After all, no one pulled it off successfully without some failed experiments.
With no further ado, let us show you how much the publisher has grown – in terms of both reach and revenue.
How it all started?
David Churbuck, a technology journalist, former editor of Forbes Magazine, founded Forbes.com in 1997 and handled the media strategy until 2000 (Src). The idea was to design and run a frequently updated tool – with interactive datasets, directories, calculators, and lists. In fact, Forbes.com was initially launched with a motto of "tools not text".
Surprisingly, Forbes had around 150k visitors a month and employed just 4 people to manage the online site.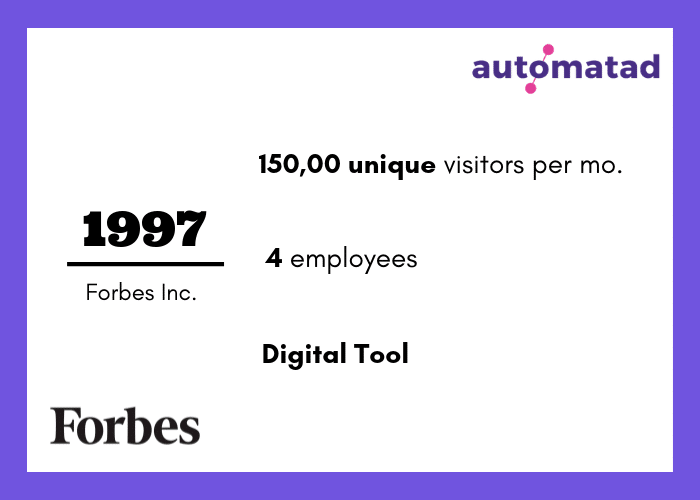 Where they are today?
At present, with the reach of 71.1M unique monthly visitors, the publisher has become #1 Most Shared Publisher on LinkedIn. (Src).
Forbes Inc. is dealing with 40 local licensed editions and more than 2700 journalists and staff members. In terms of social media reach, it has 75M+ YouTube channel views, 5k YouTube channel videos, 606k YouTube channel subscribers, and over 45 million social media followers (Src).
Estimated ad revenue generated by Forbes.com is $86 million last year, with overall revenues went up by more than 18 percent, profits by 42 percent YOY. (Src).
Becoming the Forbes
Digital Tool to Media
Funding and Launch
1996 – 1998
To be frank, we can argue that Forbes.com is the eldest of almost all the news websites you've ever come across. The domain was registered in 1993 and the website was up and running by the end of 1996. But, when the publisher tried the Internet, they weren't sure about what to do and how to do it.
So, they figured out getting an external investment will help.
Print legacy and standard concepts will always do the trick. With the funds from BMW, Fidelity Investments Company, Intel, Oracle, Teleport Communications Group, and Stolichnaya vodka, Forbes.com redesigned the website and published it on WWW. The publisher asked for a commitment of $2,50,000 from each one investor (Src).
Stephen Glass Scandal
At the time, most of the digital magazines weren't viewed as momentous. The publisher tried to eliminate this belief by providing genuine editorial to its visitors. 
For instance, the revelation of a fabricated story published by Stephen Glass, an associate editor of TRP, brought attention from all over the world to Forbes. The article "Lies, damn lies and fiction" became the biggest tool to build trust among its readers by the end of the 90s and has attracted more than tens of thousands of visitors till now (Src).
Marketing and Promotion
Everyone needs promotion. Though Forbes had a print legacy, it needed to market itself as the print and internet teams were siloed. Unlike NYTimes, Forbes.com was functioning as a separate entity – with different goals, editorial style, etc.
In 1999, to fill the website with a spate of visitors and grow the brand as fast as possible, the company announced its first major offline ad campaign and spent $10M on the same. The primary goals of the ad campaign were to increase traffic on the site, and advertising sales.
This was the first ad campaign meant for consumers, unlike previous ones that aimed at potential advertisers and agencies.
Forbes' ad campaign contributed one-third of the budget to its radio-approach and ran a series of three 60-second radio programs in seven different countries to create some buzz among its people. The program was created to make its audience aware of the people who became opulent through the web.
By promoting the ad campaign, Forbes allured 2.5 Million monthly visitors in May, which was an impressive milestone for a publisher (Src).