The shortcomings in the current state of viewability measurements are causing the rising demand for better metrics. The most popular complaint about the present viewability measurement practices is that they do not give enough weightage to time. More and more buyers and sellers want to consider time while making decisions. So, 'time-in-view' is gradually gaining traction in the industry.
So, what are the defects in the current evaluation processes? Why is time important in viewability? How is the industry using the time metric, and how can you adopt it? We'll answer all the questions in this post. 
 What is Time-In-View?
The media business is based on attention. You trade your audience's attention for the advertiser's marketing budget. The advertiser buys attention so he can sell his products to your audience. The advertiser uses an ad as a tool or a medium to convert attention into a sale. 
So, if the ads bring a lot of sales from the attention you sold, then you become a preferred supplier (publisher). Since your supply (ad inventory) is effective for the advertiser, you can command a premium (high CPM) for it.
Viewability: A Quality Check on Attention
The industry knows that the buyers seek the inventory with high potential to convert the ads into sales. So, what kind of inventory can do that? The first requirement would be that the ad should reach in front of the users to catch their attention. As per the latest reports, around 70% of the ads are viewable at the global level. 
70% might be a huge improvement from the close to 50% viewability during the last decade but many critics still believe that viewability does not ensure quality impressions. Why? Because they don't agree with the definition of a viewable impression.
The Media Rating Council gives the standards for measuring viewability, and most of the industry abide by them. The MRC considers a display ad as viewable when 50% of the creative is in the user's viewport for a minimum of 1 second. Such a short span of time is not acceptable for many ad buyers. As a matter of fact, another study by IAS and IPG Media Labs found that the ads meeting the MRC viewability standards have the same recall rate as the ads that fall below the standards.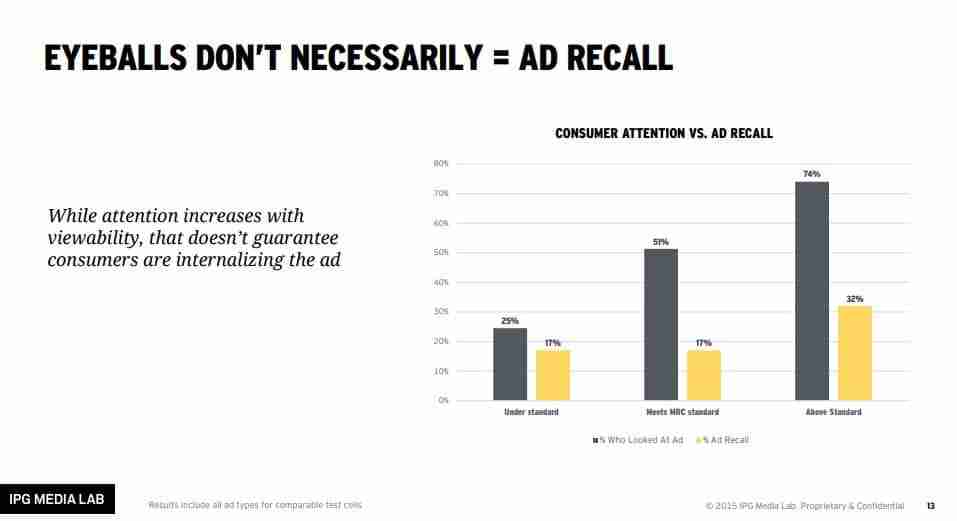 It means even if you pass the viewability test with flying colors, there's still some more room for improvement. You can improve your site's ad recall rate by improving users' attention toward ads. When your visitors are more attentive toward the ads, the engagement, CTR, conversions, and CPM will improve automatically. In this Forbes article, you can see how attentiveness can have a dramatic impact on viewability and CTR. The findings are based on the study we conducted with our publishers. 
Here's a snapshot of the results:
But how can you make use of your visitors' attention? The answer is – Time-in-View.
Time-in-View: A New Dimension of Viewability
Measuring the amount of time is like adding a new dimension to viewability measurement. Just like adding the third-dimension brings depth to objects, time-in-view brings depth to viewability measurement. With MRC standards, you check whether an ad was viewed or not. By adding time-in-view to the equation, you find out the amount of time for which the ad was seen by the user. 
The Telegraph is a great example of a publisher leveraging time-in-view. During the coronavirus crisis, almost all the brands reduced their ad spend. When most of the publishers were losing clients, the Telegraph was winning new ones. 
How? It started using time-in-view, along with other attention metrics, for campaign measurement. Then it correlated these attention metrics with brand upliftment metrics like awareness, consideration, and action. After doing so, the publisher understood how to deliver guaranteed performance by improving attention metrics like time-in-view. What was the result? The average campaign price increased by 24% YoY.
It's not only about gaining new clients. In the past, brands like IBM, HP, and Nestle have demanded time-in-view for better viewability measurements. One of IBM's emails to publishers read, "We have been clear over the years that our goal was to enhance [the MRC's] definition over time and that we would be tracking and optimizing against greater pixels in view and time spent."
What are the Benefits of Time-in-View?
The following are the benefits of Time in View
Time-in-view can help you close more and better direct deals.

Focusing on time-in-view will automatically improve your viewability because you are already thinking beyond the 1-second threshold given by MRC.

When the ads on your site perform, your inventory becomes more valuable to advertisers. The increased value translates to high CPMs.

It'll help you

trade attention, not impressions

. 
In other words, considering time-in-view can take you one step ahead of the publishers who rely only on conventional viewability metrics.
How do I Adopt Time-in-View?
There are many ways to use time-in-view in your publishing business. Here are some examples from the industry.
Using a Product:

Using the right ad product is the fastest way to start leveraging time-in-view.

Partnering with SSPs that sell time-in-view:

Some SSPs, like Teads work with publishers as well as advertisers. They offer media buying based on custom viewability targeting. So, advertisers can buy your inventory when the required time-in-view condition is met.
Use Ad Products
Using the right ad product is the fastest way to start leveraging time-in-view. For instance, we offer Active Exposure Time (AXT), an intelligent product that goes beyond the time-in-view metric; it considers the active view. 
AXT refreshes an ad only after a 25s active view. But what's an active view? Active view records the time when an active user has an ad in-view. So, even if an ad is in the viewport, but there's no mouse activity, then that duration will not be considered as an active view. 
Similarly, if the user has opened a different tab, the view is again inactive. In this way, AXT makes sure that the user has actively seen the ad for a minimum of 25 seconds.
Here's AXT in action.
Partnering with measurement service providers
Measurement service providers like IAS and BrandMetrics can give you solutions and tools to calculate many performance metrics, including time-in-view. You can use the tools to empower your clients with detailed reporting to run high-performing campaigns on your site. We have already compiled a list of all such service providers to get you started.
Partnering with SSPs that sell time-in-view: Some SSPs, like Teads, work with publishers as well as advertisers. They offer media buying based on custom viewability targeting. So, advertisers can buy your inventory when the required time-in-view condition is met.
What's Next?
Publishers who generate a significant part of their revenue from direct deals should find measurement service providers who can enable them to measure time-in-view. Publishers who are mostly selling their inventory on the open web should use products like AXT to leverage time-in-view. Using time-in-view will help you in increasing your revenue.