If you are not aware of the basics of a Consent Management Platform, then you can read the first part of the series here. We have covered: What is CMP? why do you need it? is it compulsory? what is the IAB CMP validator? and what should you keep in mind with regard to a CMP?
Now let's go further by discussing the best CMPs for publishers. We are using Adzerk's CMP tracker as the source of our data. It considers the top 10K US and UK sites to know which CMPs are leading the market.
Sidenote: We aren't associated with any of the CMPs listed here and we restricted our list to include the top 6 CMPs. Of course, you can find more that fits your requirements.
Table of Contents:
Best Consent Management Platforms (CMPs)
Top IAB registered Consent Management Platforms (CMPs)
OneTrust
OneTrust is the most preferred CMP among the top publishers at the moment. It works closely with IAB and IAB Europe and that's why it is capable of supporting TCF v 2.0. Other privacy policies supported by OneTrust include CCPA, GDPR, LGPD, ePrivacy, and DAA AdChoices.
Offers
Free version available to help you become GDPR compliant.

Real-time dashboards to test and report on

 experiments you've conducted to improve opt-in rates. 

Tools to assess

 security risks

 

related to third-party vendors (data processors) on your site.

Consent notice on the basis of the visitor's geography.

AI for automating regulatory tasks and identifying risks.

For example, you can predefine how to respond to a request through a drag and drop automation builder. So when a request is submitted in the future, the AI can automatically perform the workflow without any human interaction.
Benefits
OneTrust takes care of a wide range of privacy laws so that you do not have to worry about separate implementations for different policies.

It supports easy integration with existing tech stacks like Adobe Advertising Cloud, Facebook, FreeWheel, mParticle, Salesforce Audience Studio, and more.

No code is required to integrate OneTrust for blocking tracking technologies until the visitor has provided consent.

It provides analysis and insights to help publishers in increasing opt-ins.
Online Privacy laws are one of the raising concerns for the publishers. If you're curious to know more about how you can deal with different upcoming and existing Data Privacy Laws, we have made a guide for you!
Quantcast
Quantcast is a renowned name in adtech. In addition to privacy-related solutions, it has other products like audience intelligence tools for publishers and marketing tools for advertisers. You can use Quantcast Choice for GDPR compliance. For CCPA, you have to use Quantcast Choice Premium. For mobile apps, you can use Choice Powered by Kochava and Quantcast. 
Offers
Quantcast Choice is free and you can be GDPR compliant.

The free plan also supports customization to match the website's look and feel.

Mobile apps can be made

CCPA compliant with Quantcast..

Quantcast supports

IAB Transpareny and Consent Framework (TCF)
Benefits
Quantcast provides a centralized control portal so that all implementation, vendor management, and customization can be done from the same place.

A single universal tag can be deployed on all your properties

.

It partnered with Kotchava, a mobile-specific analytics/attribution provider to help publishers implement CMPs on mobile apps. 

Quantcast emphasizes quick integration and claims that it can be up and running within 15 minutes across multiple websites.

Vendors that are not registered with IAB Framework can also be integrated with Quantcast Premium.

With Quantcast, publishers can also provide a "Deny All" button in the cookie consent form. From the user's perspective, it eases the opt-out process but from a publisher's perspective, it may lead to higher opt-outs. However, you always have the option to not include this button in your form.
TrustArc
TrustArc provides a variety of privacy-related products and services to publishers. Started in 1997, TrustArc has a strong foothold in the market. It is considered ideal for large publishers that want a robust solution for a multitude of privacy compliance needs.
Offers
Modular platform with tools for every privacy regulation.

Vendor risk management to assess, evaluate, and track vendor status and report on key compliance metrics.

Free cookie consent manager.

Cookie consent notice in various languages according to the visitor's location.
Benefits
TrustArc's privacy framework is designed to support CCPA, GDPR, LGPD, and more than 900 other global regulations.

TrustArc provides scalability in privacy management operations for the teams of all sizes and maturity levels.

It offers dynamic privacy intelligence that can inform you about the right privacy requirements based on your business goals.

It provides you a request management portal to help you respond, track, manage, and resolve

data usage related

requests

from users

in a timely manner. 
Cookiebot
Cookiebot is a recent addition to the IAB CMP compliance program. It operates from Europe and provides full compliance with GDPR, ePR, and CCPA. It is a software as a service (SaaS) platform and its main focus is on consent management. 
Offers
Free version available for small publishers with a single domain and less than 100 web pages.

Support for single-page web applications.

Economic pricing (€9, €21 and €37) packages. 

Stores consent data in encrypted form.
Benefits
Cookiebot is a cloud-based platform that scale as you grow.

It can integrate with any websites regardless of the framework used. 

Cookiebot currently supports more than 40 languages for the consent banner so that your website can ask for consent in the right language to the right user.

The Cookiebot scanner simulates real users on your website, it exhausts all the technically possible options to find all the cookies and trackers working on the website.

It can generate a cookie declaration on the basis of the scan it conducts on the website.

It supports bulk consent for multiple domains, which means if you operate multiple websites then it will only ask for consent when the user visits your first site for the first time. The user's consent will then be followed for all the websites.
Crownpeak
Crownpeak is best suited for large scale publishers with diverse privacy compliance needs. It provides a universal consent platform for managing all privacy policies. The main focus of Crownpeak is on user experience, therefore, publishers prioritizing UI/UX can get more out of it.
Offers
Realtime website scan for all first-party and third-party scripts on your site.

Database of over 6000 companies to show detailed profiles of the data collectors to the users.

Customizable consent banners to match the look and feel of your website.

API and App support.
Benefits
Crownpeak provides no-code implementation and prebuilt notices for privacy laws like CCPA and GDPR. It makes the implementation process faster and easier.

It provides testing and optimization of consent notices to understand what can help in increasing consent opt-ins.

API support helps in tracking consent on multiple platforms like web, mobile, email, forms, IoT devices, chatbots, and more.

Users can choose to provide consent at individual vendor and category level, it helps in providing a granular level control to the users.
Sourcepoint
Sourcepoint is another CMP focussed on user experience. It helps you to become compliant with GDPR, CCPA and supports IAB's Transparency and Consent Framework (TCF) versions 1 and 2. It also enables you to maintain a centralized database of consent records with the help of API.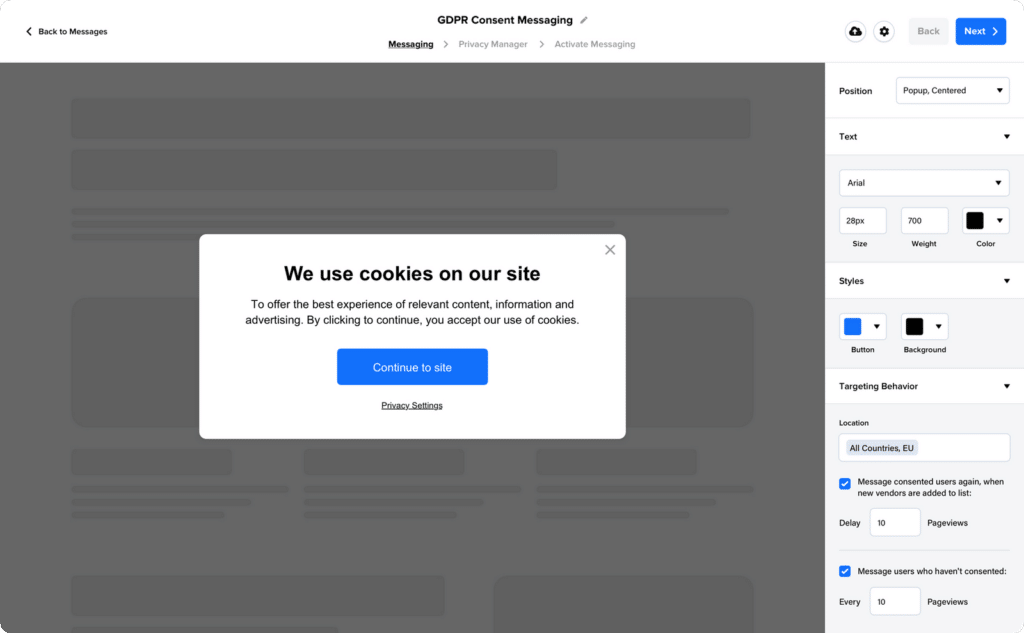 Offers
Tools to optimize consent management

and ad monetization

.

Scans your website to add vendors automatically to your vendor list. 

Identity-based consent

to track users across devices so that you are following users' privacy preferences without asking for them again and again.

Customizable UI components with the help of CSS and HTML.
Benefits
Sourcepoint supports both IAB and non-IAB vendors. So, you can manage them all with a single CMP.

It provides user-friendly dashboards that help with customization of consent and monetization strategies for better results.

Cross environment compatibility saves time and efforts by enabling you to manage consent signals across desktop and mobile web including AMP pages, OTT, Android, and iOS apps.

Sourcepoint maintains a vendor wise records of consent for each user individually to provide enhanced controls to the user.
What's Next?
Every Consent Management Platform will have some common features and some exclusive features for publishers. Privacy policies like CCPA and GDPR not only require you to ask for the user's consent but also makes you responsible for maintaining and securing the collected data (once the consent is given).
You are supposed to have an accurate audit trail that can explain who consented, how was the consent taken, what was told to the user while the consent was being taken. You should also be able to delete the data or provide it upon the user's request.
The above mentioned CMPs are capable of all the arrangements necessary for compliance. But the companies can also offer all the services separately in a modular fashion. You can choose to take all the services from the same company, or you can take separate services based on your requirements and integrate them together. It will always be better to assess your needs before choosing the CMP for your website.
Cover image source: Quantcast.