Why PopSugar?
PopSugar is a fashion and lifestyle digital publishing company founded by media entrepreneurs Brian Sugar and Lisa Sugar in 2005. Since then, PopSugar has grown into a global lifestyle brand and a media powerhouse boasting audiences of 19 million (Src).
Coming from humble beginnings, PopSugar now touts an army of money-making ventures, including its Swipe Shop, The Pop Shop, Beauty by PopSugar, and more. The publisher tested many growth strategies and workarounds to acquire users and hook them to the content and the brand's products & services. 
And guess what? PopSugar was one of the first publishers to:
Embrace affiliate marketing strategy where it added shoppable posts to the content strategy in 2006.

Launch a subscription box in 2012.

Embrace Snapchat to grow its eCommerce business.

Monetize social videos by turning them into a sponsored-content channel.
When it comes to brands and their growth strategies, no two are similar. We can say the same for PopSugar. Therefore, here we are with another case study — Becoming PopSugar. So, shall we start?
How It All Started?
2005
When PopSugar was first started, it was a blog focused on women's fashion, beauty, and lifestyle. This might not have seemed like anything particularly new at that time, given that huge media companies such as Vogue and Harper's Bazaar had similar interests. But what you may find surprising is the fact that PopSugar hit over a million visitors in just eleven months.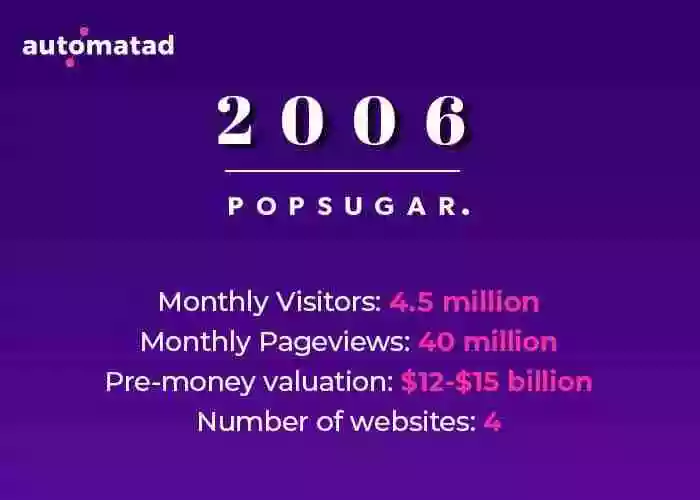 Where Are They Today?
In 15 years, PopSugar has become one of the world's most valuable startups, with a valuation of billions. But before we talk revenue figures, let's look at the traffic stats and the publisher's social media reach in 2021.
Traffic Stats
On the global level, PopSugar gets ~74 million impressions, and nearly 69.72% of the traffic on the website comes from Searches. Regarding traffic sources, the publisher gets ~68% traffic via Search and 9.91% traffic via different social channels. A major chunk (i.e., ~32.44%) of social traffic comes from Facebook, whereas 32.11% comes from Pinterest, making them the primary sources.
Becoming PopSugar
Setting up the foundation
2005 – 2009
The early days
It was 2005 when Lisa Sugar moved from New York to San Francisco and was trying to build a habit of writing daily. While working at an advertising agency named Goodby Silverstein & Partners, she had no plans to build a lifestyle media brand. 
She only wanted to find a website that could cater to her celebrity addiction and provide her with the latest fashion, fitness, and culture trends. She decided to create her own when she couldn't find a site to quench all her interests. And that's how PopSugar was born in April 2005.
"All celebrity-driven sites were either snarky and nasty or boring and sterile, so I just started writing about it in my voice. I kept it to myself for a while; I didn't tell my friends, but it just exploded."
– Lisa Sugar, Founder, PopSugar (Src)
In a few months, the blog started attracting over a million visitors. By February 2006, PopSugar had grown so rapidly that Lisa had to move the blog from WordPress to Drupal and set up a custom infrastructure for the new CMS. Soon after, the publisher started three new blogs – DearSugar, FabSugar, and TeamSugar. 
While DearSugar and FabSugar were based on relationships and fashion-related content, TeamSugar was a different venture (Src). Let's look at what it was and how it contributed to expanding the audience base of PopSugar.
A social networking site for women
The new blog, dubbed TeamSugar, was a social networking website for women launched by the publisher in 2007. TeamSugar aimed to create a place where women could share experiences, opinions, and ideas on pop culture, beauty, relationships, fashion, and gossip, among other topics. The publisher provided different channels, live chat features, and core content.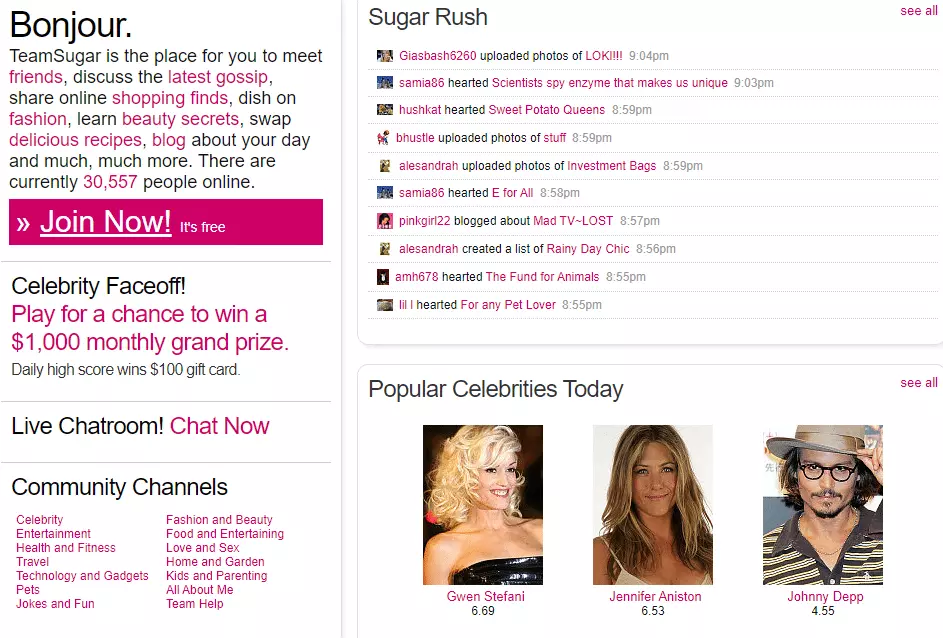 As the publisher already had a notable following by then, the TeamSugar community added 30k+ members within a few months (Src). And the four blogs together served over 13 million monthly page views to 1.5 million unique visitors (Src). Surprised by the massive growth in the traffic across the blogs, the duo (Lisa Sugar and Brian Sugar) quit their job. It officially launched its publication (known as Sugar Publishing Inc.).
But to keep this energy up and grow the business, the publisher needed resources. And in most cases, this is when funding comes in. PopSugar was no different. The publisher looked into its current financial position and identified the requirements.
The first round of funding
In the same year, established and high-overhead publishing companies like CNET were going through a huge drop in website traffic. And it made the blog networks 'hot topics' for investors.
One such investment was made by Sequoia Capital in Sugar Publishing in 2006. Being one of the fastest-growing blog networks, the publisher raised ~$5 million in Series A funding led by Michael Moritz. Although there were no words on the valuation of Sugar Publishing, the company's pre-money valuation was expected to be around ~$12 – $15 million (Src).
"Brian and Lisa have come up with a concoction that is suited for the women of today and tomorrow who will look at the world very differently than the women of yesterday,"
– Michael Moritz, Investor, Sequoia Capital (Src) 
Now that the publisher had the cash to run the business, the next step was adding a pool of writers and editors and building a sales team.
Boasting a thriving community
Driving more traffic to your website is easier said than done, especially when you've limited writers and editors. Besides, having more ideas and tips would be best to keep your traffic growing. The PopSugar faced the same dilemma. Then, user-generated content got a lot of attention. Everyone looked to embrace it through articles, reviews, photos, etc.
The publisher realized there was a tremendous opportunity to utilize UGC to their advantage as it could offer the content that the PopSugar audience loves because no one knows your audience more than yours. 
Henceforth, rather than relying on the in-house editorial staff exclusively, the publisher started with user-generated content and allowed the community members to create, share, and interact, which made the website more engaging to the viewers. But what made UGC different was the way PopSugar approached it.
An example of UGC on PopSugar (in 2007)
Unlike other publishers who allow visitors to publish their content on the website, PopSugar introduced exclusive blogs for each category – Fashion (FabSugar), Beauty (BellaSugar), Entertainment (CasaSugar), Health (YumSugar), Humor (GiggleSugar), Tech (GeekSugar). Later, the publisher embedded all blogs to the PopSugar home page to increase the traffic on the website and keep the readers engaged at the same time.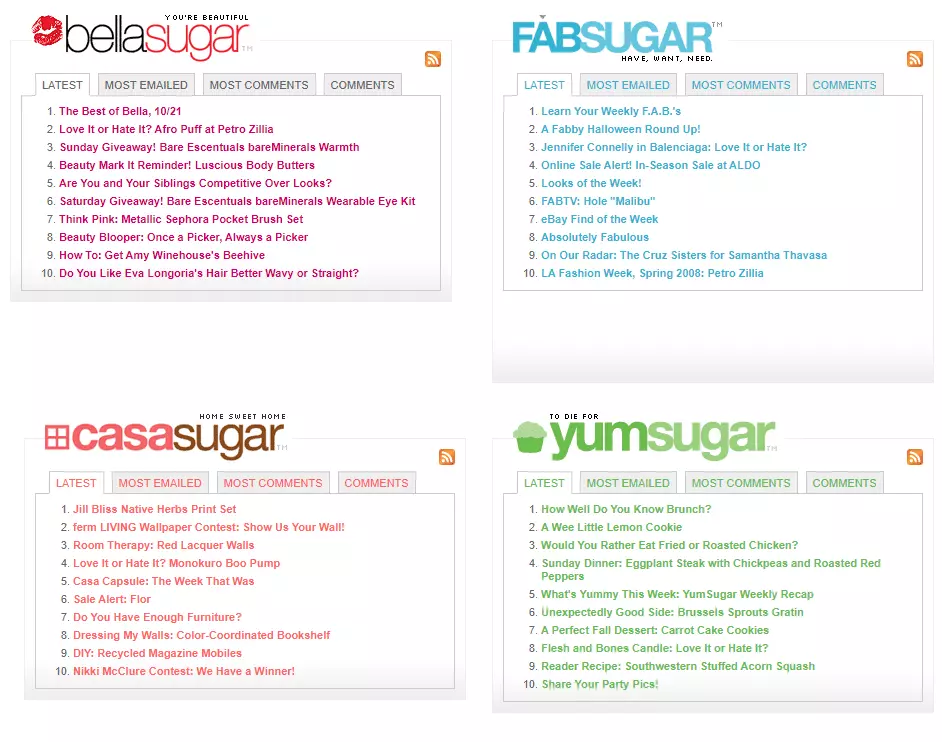 PopSugar brought in new traffic and an additional content creation channel by building a quality relationship with the audience and encouraging them to publish articles on the blog or share through their social media channels.
Getting started with digital advertising
Long before, there was no clear website ad model; the publisher partnered with Blogads, a self-serve content advertising platform. With Blogads, there were no contracts or commitments to sign. Advertisers could simply upload their ad creatives (in JPG or GIF format), the URL of the landing page, and a few other details on the PopSugar website.
They could select the duration of ad campaigns from 1 week to 3 months by paying $1500 to $18000. Once the publisher reviewed the ads, they ran them on the PopSugar website for the specified duration.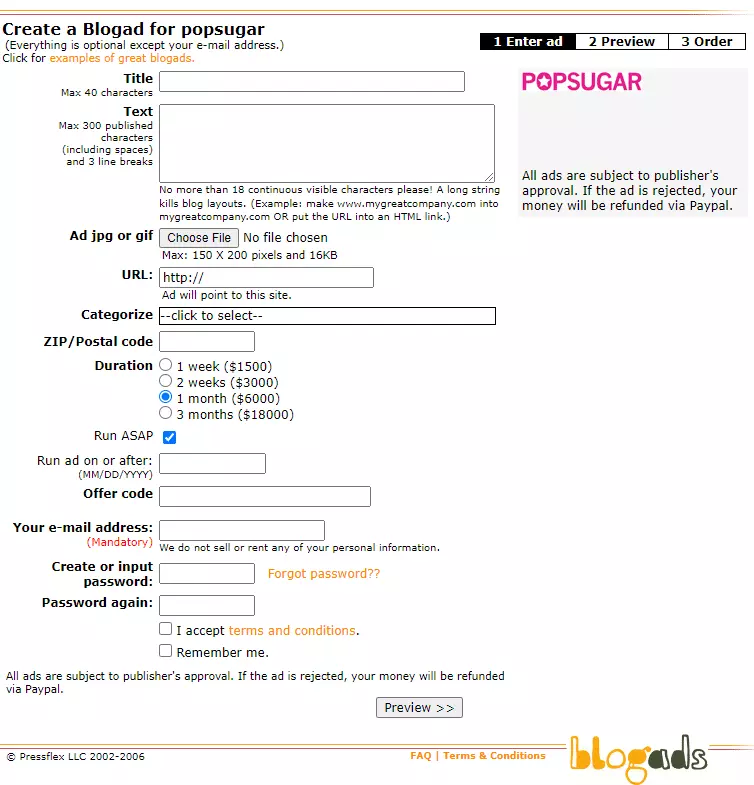 Acquisition of 'ShopStyle'
In 2007, PopSugar had a tough and close competition with Glam, a publisher with the same target audience. Glam was getting stronger in terms of its advertising and shopping component. While PopSugar had advertising opportunities, it lacked behind Glam in commerce. 
Hence, in a strategic move to strengthen its position in the industry and fight off competitors, the publisher acquired ShopStyle, a well-known search engine for fashion and a network for retailers and bloggers. After the deal rolled out, when a user searched for a product on ShopStyle and purchased it on other websites, PopSugar took ~15% of each transaction. It has been reported that ShopStyle brought ~$1 billion in retail revenue in 2015 (Src).
Too many peers, this move appeared like an inclusive acquisition of one company by another. But it was one of the steps that made PopSugar strengthen and hold its position in the Commerce market even today.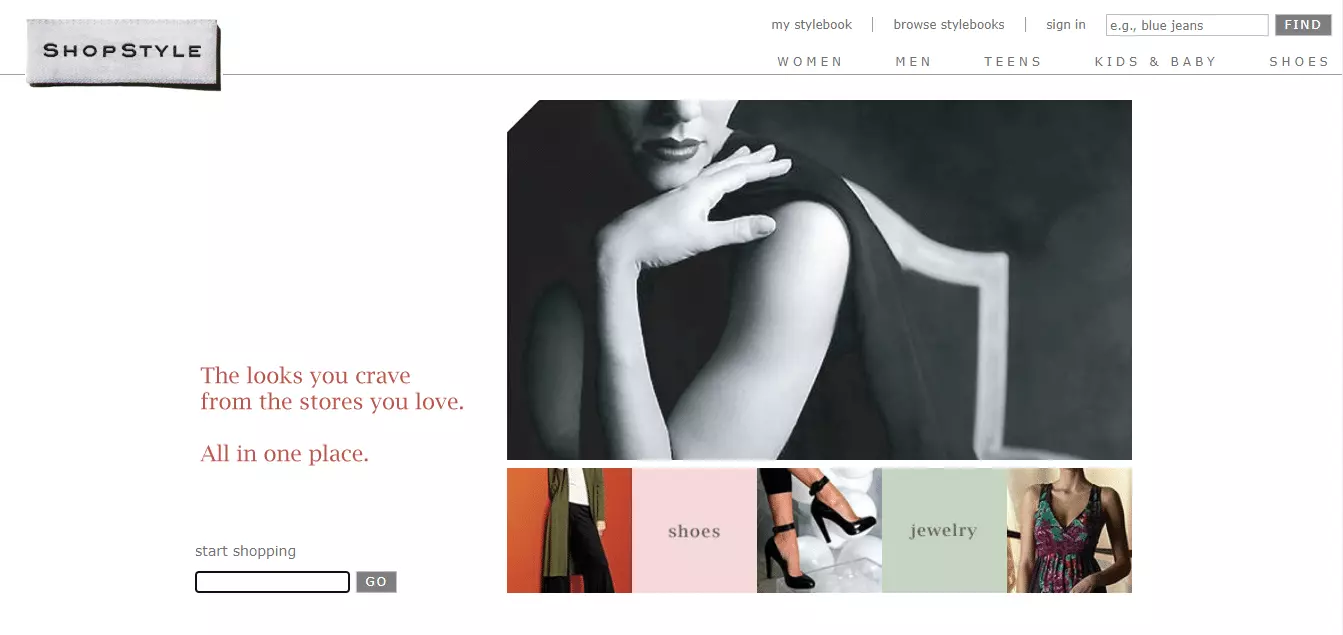 Building a Commerce Empire
2010 – 2015
YouTube Channel
Making videos was becoming an important part of any digital marketing strategy in those days. With such a huge popularity of online video content, PopSugar launched PopSugar Fitness, its exclusive video channel on YouTube, in 2010. This channel was intended to provide its readers with additional video content that is high in quality but extremely easy to tune into.
PopSugar had a lot of influencers with large audience followings on the website, and one thing they understood is posting videos is a great way to attract fitness fans instead of giving instructions through articles.
With this particular launch, the influencers and brands got two options. First, they could promote their products or services via sponsored video clips. Second, they could simply add the links to the descriptions in the channel.
Since then, the publisher has introduced a variety of complimentary YouTube channels such as PopSugar Girl's Guide, PopSugar Travel, PopSugar Live, PopSugar Tech, and more. And today, the main channel (i.e., PopSugar Fitness) has over 5.5 million subscribers (Src).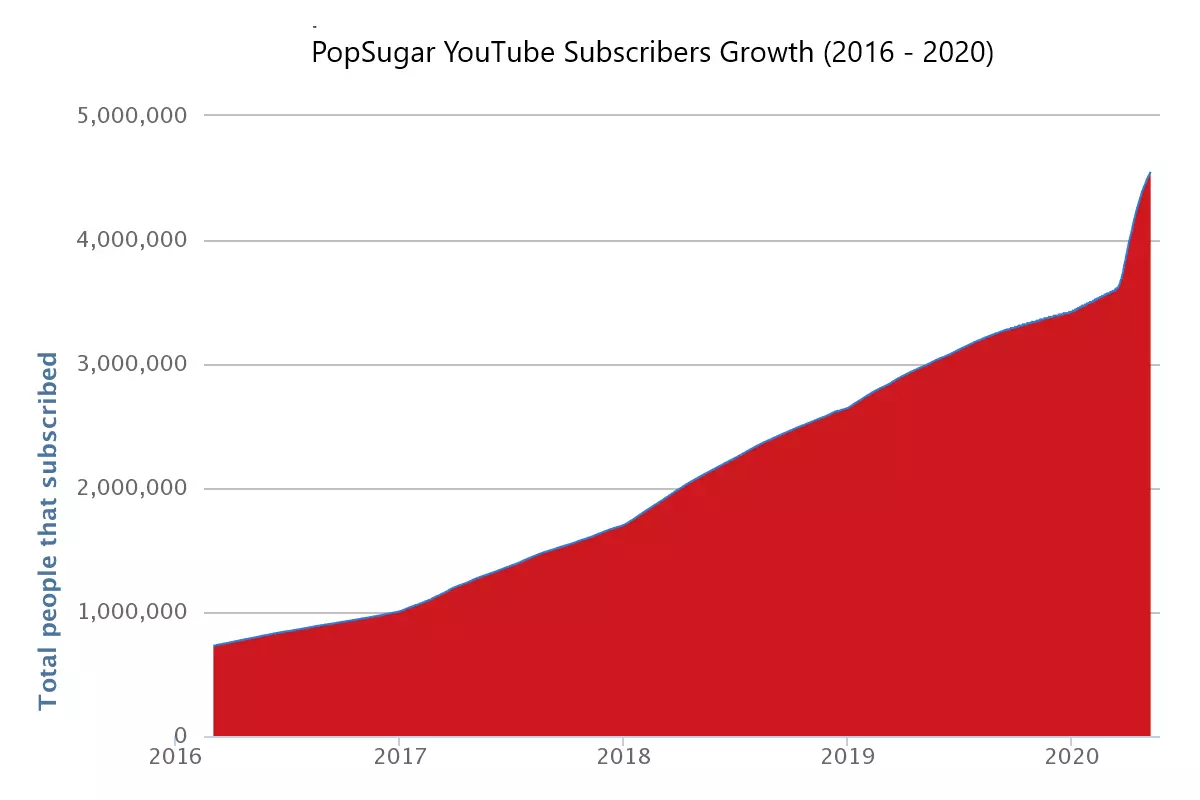 Image Source: Trackalytics.com
Launching a subscription box
The publisher launched the first subscription product PopSugar Must Have in 2012. The subscription box was created to provide women 18-40 with a modern shopping experience. Initially, it was a monthly subscription box and cost $35 per month. Each box featured lifestyle items, beauty products, and full-sized fashion pieces from top brands (e.g., Tarter, Sunday Riley, etc.).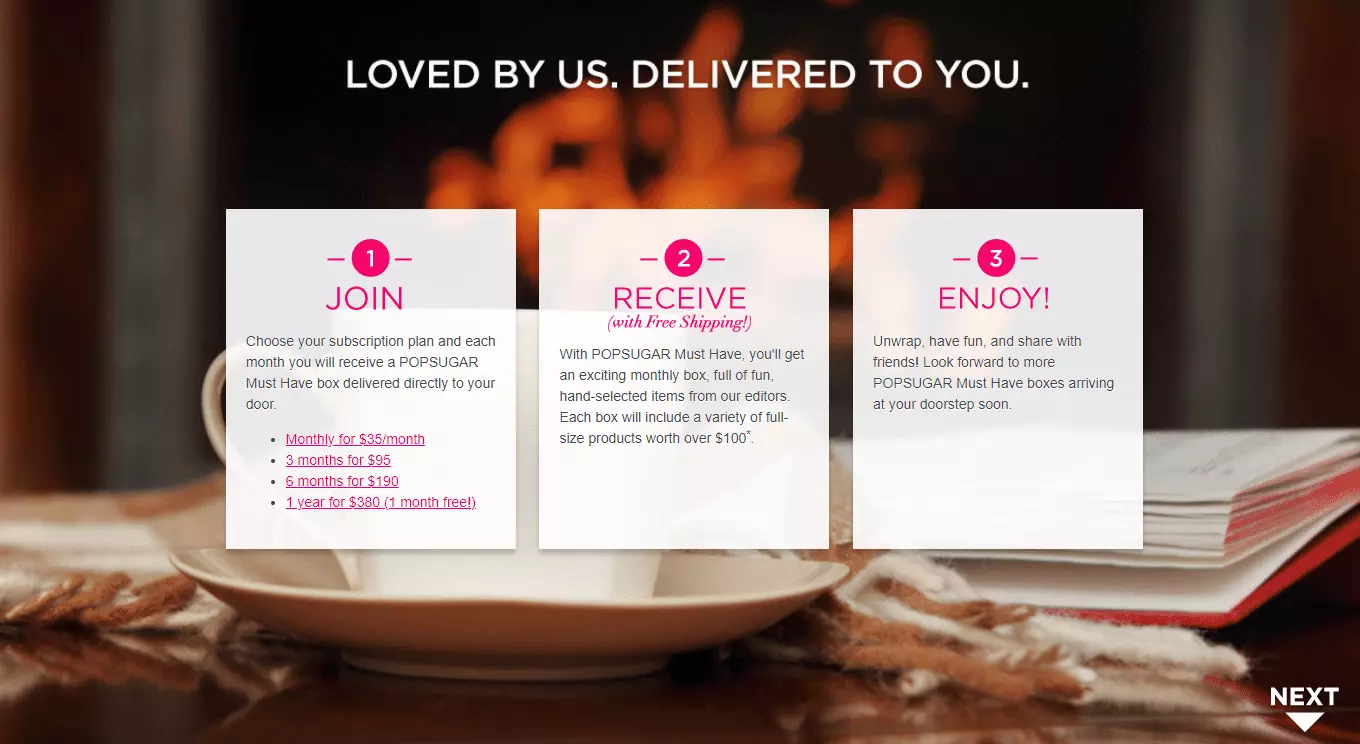 With the PopSugar Must Have box, the publisher created a box that would be considered more editorial rather than purely promotional or transactional. It wanted to present the content more smartly, leveraging the insight of PopSugar editors and putting it in a package where the audience cared about what they were getting. The subscribers could customize the boxes according to their requirements.
Further, as the publisher hadn't launched their subscription product formally, it leveraged the FOMO (Fear of Missing Out) factor post-launch by keeping the little subscription boxes available each month. And by 2016, PopSugar Must Have become profitable for the publisher, accounting for 20% of the total revenue for the brand (Src).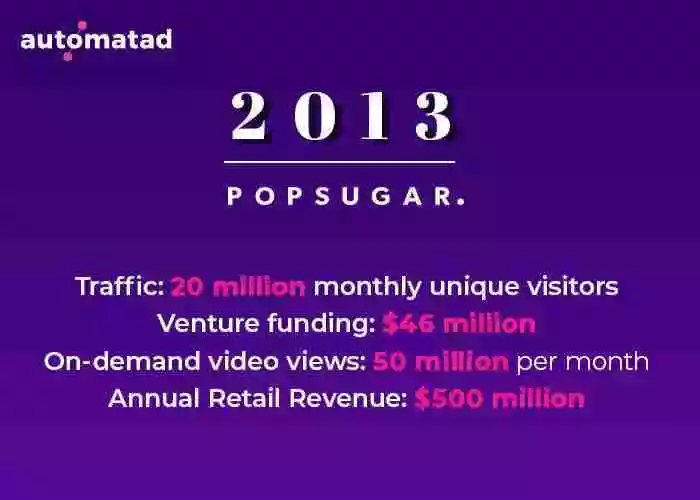 Unveiling The Bakery, a content studio
PopSugar has been in the industry for long enough now. And it has never given the audience a dull voice. So, why not do the same for the advertisers, and add genuine value and quality content to their readers on their behalf? 
The question made PopSugar launch a content studio – The Bakery, in 2014. The Bakery aimed to meet the advertisers' demand and produce premium and unique content that speaks to all aspects of women's lifestyles.
The newly introduced branded content studio enabled advertisers to leverage ideas from the PopSugar editorial team, high-quality video producers, etc.
"With The Bakery, we are bringing together all of POPSUGAR's resources, talent, knowledge, and technology to create and distribute engaging content, experiences, and social media activations. We are uniquely positioned to connect brands to this target consumer."
– Jen Wong, Chief Business Officer, PopSugar (Src)
And in just three years, the publisher grew its branded content deals by 85%, and 60% of revenue came through the content studio. The question is how? By improving the tech stack that fueled The Bakery. 
PopSugar built TrendRank, an analytical tool that measured the audience and their intended data from the website, social channel, and ShopStyle. Not only this, TrendRank monitored the social shares across a few other publishers to identify the topics more likely to go viral.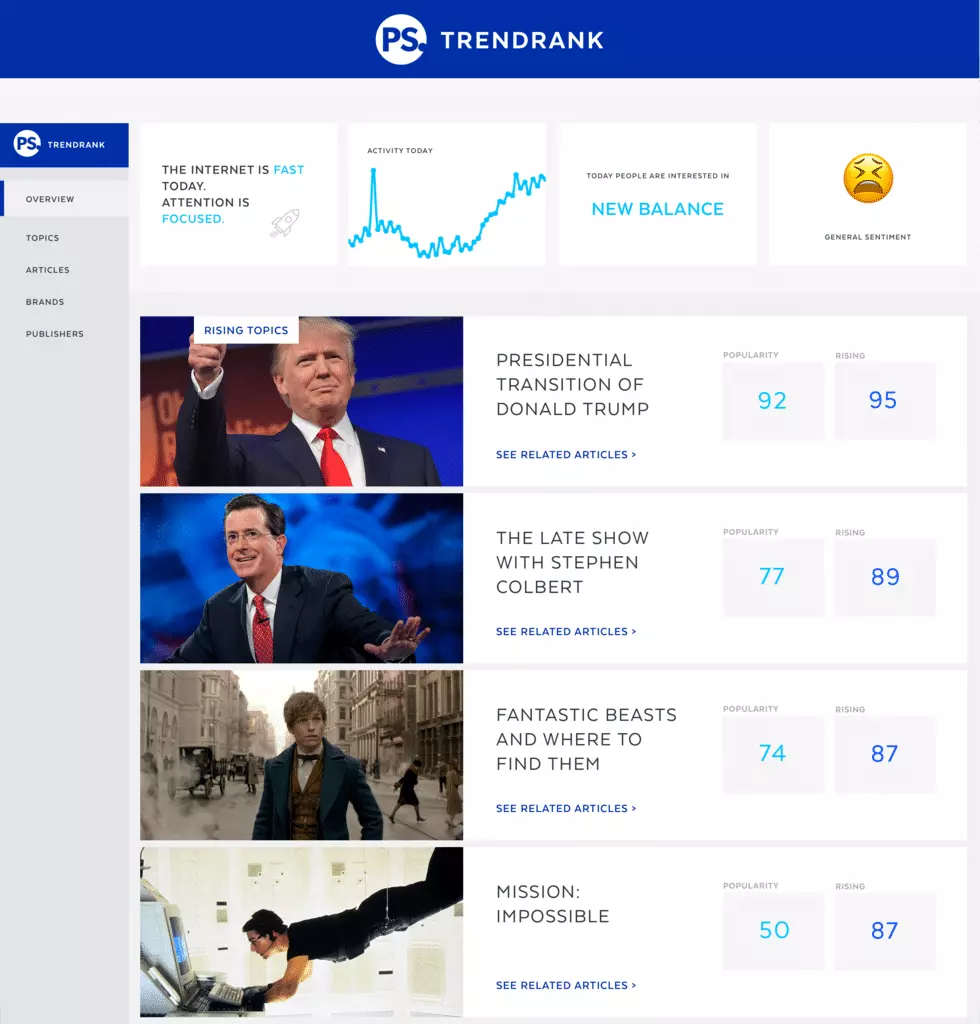 Image Source: Mumbrella.com.au
Based on the analysis, the publisher broke down the content and audience data into relevant segments matching the brand's objectives. By implementing this strategy, PopSugar saw a 40% uplift in brand awareness across its campaigns (Src).
Getting started with Facebook native videos
It was 2014 when native videos on Facebook took over and seemed to be the social media trend back then. Until now, Popsugar had a simple video strategy focused on sharing videos on popsugar.com and its YouTube channel.
However, looking at the growth of videos on Facebook, the publisher jumped on the bandwagon and nailed it. And over the next couple of months, PopSugar saw a huge spike in video viewership. Specifically, the video views on Facebook grew from 20,000 (in October 2014) to 14.3 million (in March 2015).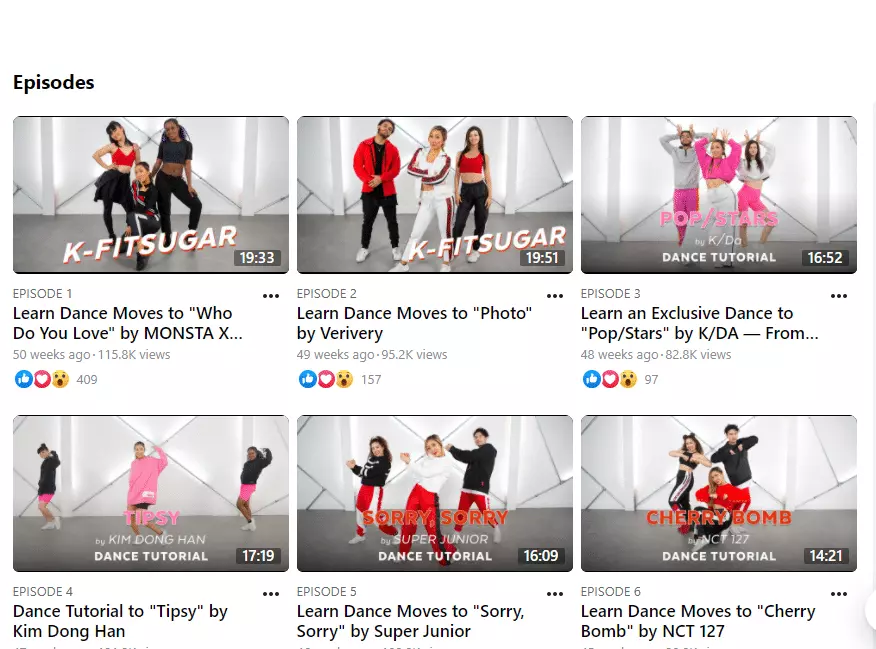 This made the publisher give a lot of weight to what Facebook calls "native" videos and implement a major change to PopSugar's video strategy. Since then, PopSugar has created over 150 videos per month and optimizes them for the specific platform, e.g., shorter autoplay clips without sound and text with graphics.
"We start with one goal in mind — we have to run a business — but we want people to be able to find and engage with our video content everywhere they want to,"
– David Grant, President, PopSugar Studios (Src)
Diversifying Revenue Opportunities
2016 – 2020
Hacking commerce into Snapchat
Snapchat has been an interesting channel for big brands and publishers like Cheddar and Buzzfeed (to name a few). On the other hand, Snapchat could be an elusive platform, and the digital sales capabilities might seem out of reach for a publisher starting with it. But there's always a way around it. At least, PopSugar thought so.
The publisher introduced a new Snapchat companion app named Emoticode. The emoticode enabled the brands to turn any URL into a shortened URL, with the first two characters emojis, and include them in their story.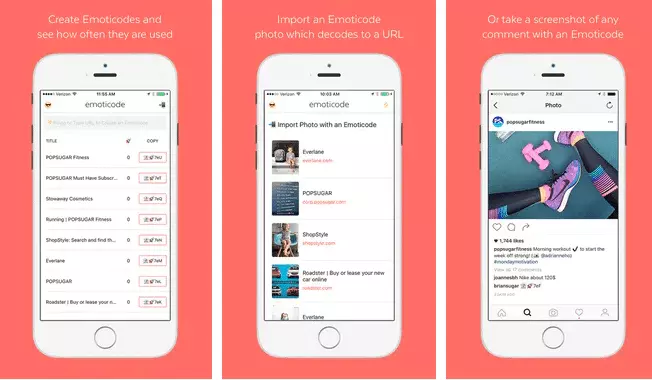 When the users could take a screenshot of the Snapchat story (with the embedded emoticode), the screenshot was sent to an internal hub of the Emoticode app. From there, the users had to visit the Emoticode app and could revisit their screenshots. When they opened the screenshot, the app was used to load the product page to complete the purchase. 
Besides, Emoticode wasn't limited to Snapchat. It was also available for Instagram advertisers and users. At that time, the publisher took a 15% cut of each sale by emoticodes. And this made PopSugar one of the first publishers to use such links to monetize Snapchat content.
"It was clear that people wanted to take action from our snaps, and it wasn't as easy as possible. The lightbulb went off. It works for shopping. It will work for recipes, workouts, articles, really anything you want to engage more with beyond a snap or an Instagram post."
– Brian Sugar, CEO, PopSugar (Src)
Introducing PopSugar Shop
As a publisher depends heavily on commerce, it's worth considering what else the visitor needs or wants to purchase if someone lands on the page with product information. 
So they introduced PopSugar Shop in May 2017. Unlike the name suggests (i.e., a store or shop), PopSugar Shop was an article format that enabled the publisher to add a recommendation pop-up on every shoppable content.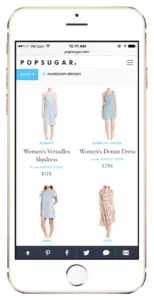 Ultimately, the publisher wanted these personalized recommendations to drive conversion rather than just browsing. These recommendations were based on the curated selection of similar products, usually from the same brand, and even new ones.
And within the first week of the test, these shoppable content with the pop-ups in the lower-left corner of the browser window drove 87% more clicks to retailers' websites than previous eCommerce-focused articles.
"You need commerce functionality to find what you're looking for," "You need commerce functionality to find what you're looking for. There's a lot of dead-end experiences."
– Chris George, SVP of Product Marketing and Sales Strategy, PopSugar (Src) 
First advertising alliance
As of 2017, more than 45% of ad spend was controlled by Google and Facebook, according to CNBC. PopSugar was forced to work with Complex Media to protect their piece of the pie as these digital giants continued to strengthen their stranglehold on consumer attention.
The companies turned to the new alliance in the recent deal and pooled their audiences and ad inventory together. This allowed them to take on larger diversified advertisers—and charge more for ad space. The first example of this alliance was a campaign for the Banana Republic, an American clothing and accessories retailer.
The branded campaign, known as 'From Where We Stand,' had three documentary-style videos, and the video ads were displayed on PopSugar's and Complex's website and PopSugar's YouTube and social media feeds.
"In general, the marketplace consolidation driven by major platforms is creating an atmosphere where independent media companies must present advertisers with novel ideas."
– Geoff Schiller, Chief Revenue Officer, PopSugar (Src) 
A buy-by-text service
Text message marketing allows you to send messages to your subscribers for free. While there would be a cost associated with setting up and maintaining a text campaign, the potential for doubling your subscriber numbers is worth it. Especially when your audience is on the go, you might want to consider using this strategy to promote your products or services.
So, PopSugar introduced a new service called Must Have It. The newly-launched service enabled the publisher to send sales offers to its subscribers via text. And if a subscriber wanted to buy the product, all they had to do was reply with 'YES.' After that, the item was shipped to the person free of charge.
"Not a lot of people are using text as a commerce platform. I don't know why there aren't more."
– Brain Sugar, Co-founder, PopSugar (Src)
When launched in 2017, the publisher sent the same text messages simultaneously to the subscribers. But as the product grew, the PopSugar marketing team started sending specific deals to the users based on their interests and browsing history on the website and mobile apps. And nearly a year later, the publisher had 20,000 subscribers for Must Have It service (Src).
Source: https://web.archive.org/
Stepping into a brick-and-mortar business
Best known for its online lifestyle content aimed at women and foray into eCommerce, PopSugar's first big rollout of its in-house products took place in 2018. The publisher launched Beauty by PopSugar, a series of beauty products and cosmetics that cost between $18 and $42. Along with a website, the publisher distributed the products with the help of a few brick-and-mortar stores (250 Ulta Beauty stores).
"We've always wanted other ways to get money into the company. This has been a long, patient road."
– Lisa Sugar, PopSugar (Src)
Traditionally, publishers have been less willing to start with brick-and-mortar businesses. Instead of seeing it as a way to diversify revenue streams, they used to believe it would make them compete with the existing advertisers. But the publisher wasn't worried about losing out on business as it had a queue of brands around the beauty and lifestyle space.
"There's so much space for it. New beauty brands are being launched daily, and people interested in makeup and product will buy all of them."
– Lisa Sugar, PopSugar (Src)
A subscription product for advertisers
Stories, the up-and-coming darling of the social media world, is no longer a novelty. As stories have become a key feature in Instagram, they have become an important referral source of traffic for publishers, including PopSugar. But the rise of Instagram Stories also created a particular challenge for the publisher.
When the followers swiped up the stories, the pages linked to them tended to load slowly. As a result, the publisher lost out on traffic because visitors left the page before the content loaded. To resolve this, a team of 6 people developed a page format that would load quickly.
How much success did they achieve? You can figure out that by looking at their standalone product Sparkle, a digital product for PopSugar's advertisers. Based on the page format, Sparkle enabled retailers to build pages with their product links for mobile devices.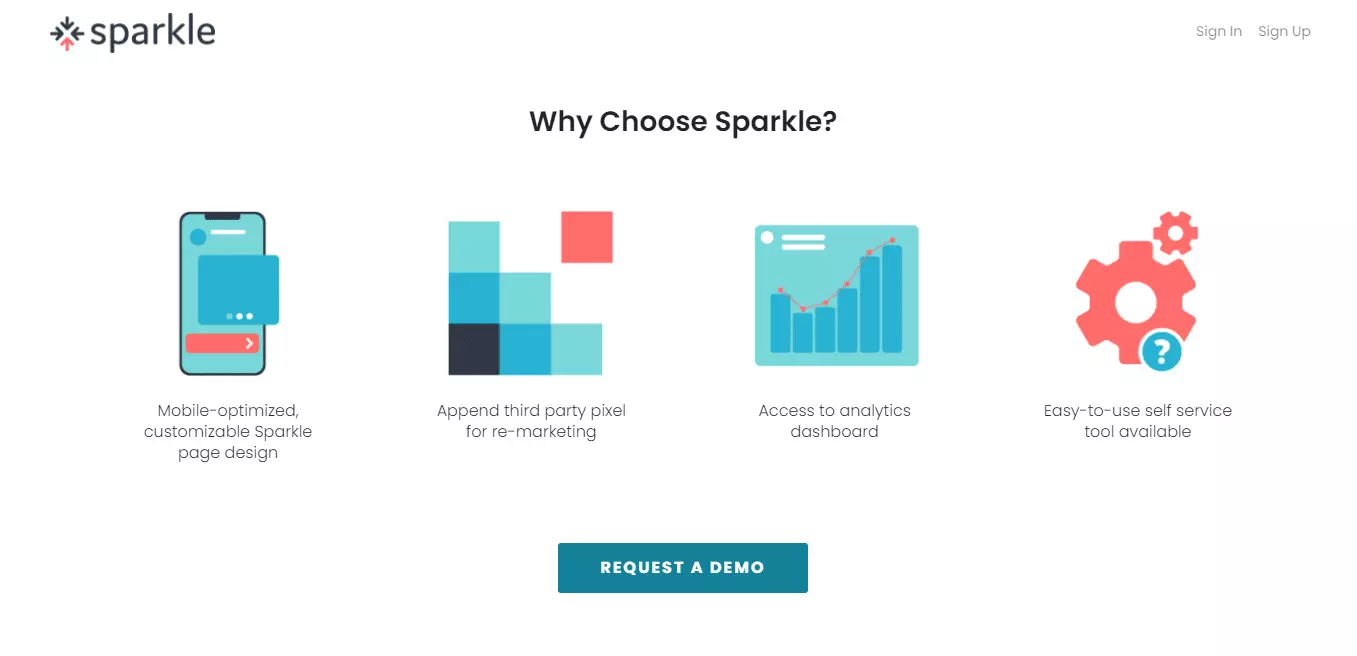 All they needed to do was to upload the images and add the URL and their language to the page builder. After that, Sparkle creates mobile-friendly pages. At first, Sparkle was exclusively for large publishers. But later, the publisher launched a lite version of the product for small retailers. According to a spokesperson, Sparkle comes with a price tag of five figures.
"Many of the things that publishers discover they do well, either opportunistically or overtime, do end up being of use to advertisers. Many of the things publishers discover they do well, either opportunistically or overtime, end up being useful to advertisers."
– Gretchen Grant, Senior Consultant, Quantum Media (Src)
Fitness and wellness marketplace
The audience of PopSugar loved to exercise and stay fit. Unfortunately, not all of them were able to prioritize fitness the most. To win the audience, you need to help them overcome their challenges. And this is what PopSugar was trying to do in the Summer of 2019. 
When the publisher figured out it was the lack of time for the audience while getting into shape or stick with an exercise routine, it introduced Glow – a new 4-week program. Being a fitness and wellness community, Glow's goal was to create a community of health-conscious people who love to read more about wellness products and services and shop.
To make that happen, the publisher partnered with over 50 influencers who can offer goods and courses ranging from video classes to workouts to yearly subscriptions. The Glow was launched with over 1000 items, and PopSugar took a 25% cut of the total for every sale.
"We hope that the size and scale of the platform get too large where we can't support it. [Creating content in collaboration with influencers] helps us learn about creating viable content and helping produce it."
 – Brian Sugar, CEO, PopSugar (Src) 
Programmatic advertising
Since its inception, PopSugar has adopted an eCommerce-based model that has been a boon for its growth and profits. However, the publisher also relies on programmatic advertising as a revenue stream.
Along with Taboola native ads, PopSugar serves up display and pre-roll video ads across desktop, mobile, and app platforms to its 50 million+ unique visitors each month. Most importantly, the publisher is at the forefront of leveraging header bidding and believes the strategy gets higher CPMs and better overall ROI for its advertisers.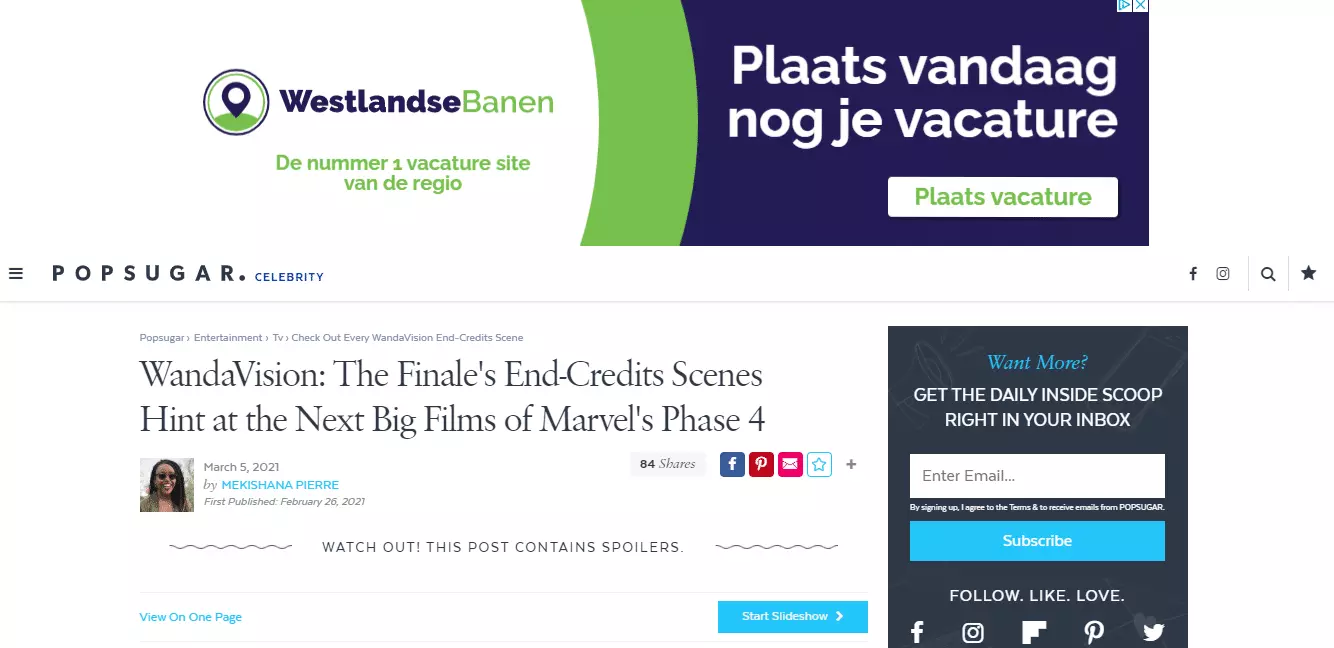 Popsugar has predominantly adopted a DMP-based audience targeting approach to deliver relevant website ads. The publisher has partnered with data suppliers such as Permutive and Adobe Audience Manager to gather users' data and enable the ad-tech partners to take advantage of segmented behavioral audiences and interest categories.
We don't know the amount of revenue generated by programmatic advertising for PopSugar. But it is going in the right direction, and we're equally curious to see how the publisher explores the advertising industry and expands its revenue model.
What's Next?
Opinions aside, the overwhelming popularity of PopSugar in recent years has brought about a tremendous amount of influence on how publishing businesses think about managing their Commerce strategies. The publisher has done a great job building and sustaining an online community with millions of monthly visitors. Their constant stream of content, targeted growth strategies, and social media presence are things that we can all learn from.
Check out more such success stories in our Becoming Series. You can contact us for all your website monetization needs, including header bidding!