Seasonal Ad Revenue Optimization for Publishers
Seasonal fluctuations are real and as a publisher you've probably experienced it first hand throughout the year. For a quick snapshot, take a look at this chart from Statista.
From Q1 to Q2 to Q3 to Q4, you can see ups and downs and it's becoming more apparent in the recent years due to increase spending on digital ads.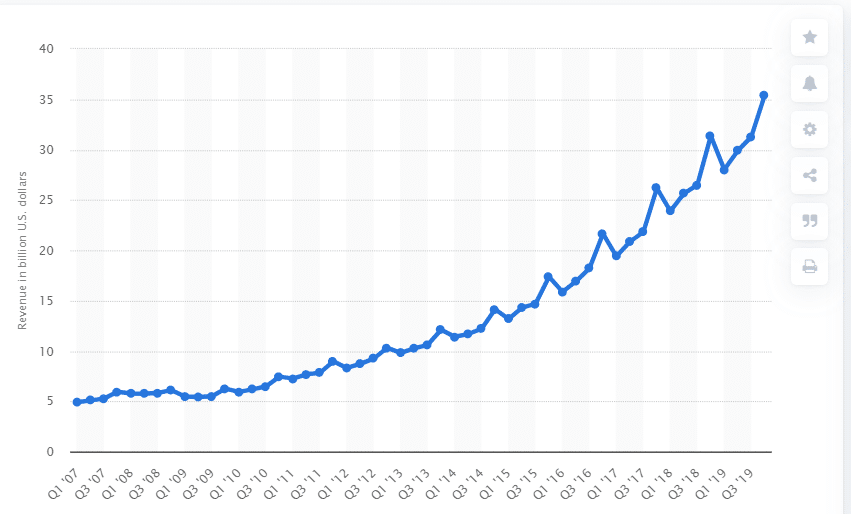 While it's true publishers can't control the seasonal changes in ad spending, they can prepare to handle it effectively. So far, most tend to adjust floor prices and optimize for ad viewability, eCPM, and fill rate. There's nothing wrong in working towards improving the aforementioned metrics but if you are only focusing on the obvious means to prepare, you definitely are leaving money on the table.
If you put yourself in advertisers' shoes, you can see that the spending on the open web and the way advertisers bid and pay for the impressions aren't going to stay the same. Take Q4, for example. Q4 is comprised of several holidays and festivities and advertisers are going to considerably change their bidding strategies — often on a weekly basis. Demand-side platforms are getting smarter every day and it takes a holistic and granular approach to maximize your revenue.
What do we mean? Simple. Don't just focus on ad operations and revenue. Develop a strategy that encompasses all moving parts of your digital publishing business — from content to distribution to monetization. And, most importantly, prepare for a specific holiday or a festivity; not for a whole quarter. As we just mentioned, the whole-quarter mapping and planning wouldn't work as well as you think.
So, where to start?
At Automatad, we've always believed in providing value first. From weekly roundups to programmatic decode series, we have a suite of offerings to help publishers like you learn and stay ahead of the market. Now, we are bringing you a dedicated category of content that focuses on 'Seasonal ad revenue optimization'. We'll break down how you can increase revenue and traffic for individual holidays and festivities. Let us know what should we cover next in the comments!
Strategies to Make the Most Out of Christmas 2020
Many publishers began 2020 hoping it would be 'the year of higher profitability' but then COVID-19 happened, leaving every business in distress. Despite the year full of uncertainty, the first half of 2020 saw tremendous growth in eCommerce activities by 30%.
With the pandemic causing widespread physical store closures and stay-at-home orders, consumers gravitated towards the internet to look for entertainment, festive ideas, or products to decorate and celebrate safely, thus driving more traffic to the websites.
Therefore, treating this holiday season as the preceding ones is so not the strategy that will resonate with the consumers. This time of the year is the most profitable with holiday eCommerce sales accounting for 30% of the total eCommerce revenue.
Read here how to increase revenue this Christmas 2020
Black Friday Ad Revenue Opportunities
It's no surprise that Black Friday offers a huge spike in internet traffic. Thus, ad revenue for publishers. The busiest shopping days of the year start from Black Friday and continue until the next weekend. In 2019 alone, shoppers spent nearly $5.4 billion on Black Friday, up by 22.3% from 2018.
But Black Friday 2020 is expected to be different than previous records. Along with uncertainties in the advertising industry, Covid-19 has brought a shift in consumer's behavior towards online media. With new consumers shopping online and advertisers trying hard to make up for revenue loss, publishers need to be more strategic to capitalize on the Black Friday opportunities.
Read here how to increase ad revenue this Black Friday
Halloween Advertising
On Halloween, consumers spend significantly on costumes, home decoration items, pet dressing products, candies, and more; so do the advertisers to attract the shoppers and increase their sales. This year 58% of people in the US plan to celebrate Halloween. Though the percentage is lower than the previous year due to Covid-19, we can still expect consumers to do online shopping.
Read on to learn about halloween shopping trends and how to capitalize on them.
Thanksgiving Strategies
Thanksgiving 2020 is expected to be the first-ever to surpass $6 billion in online retail sales, according to eMarketer, with 42% Y-O-Y growth. Amidst the pandemic and most physical shops closed, many consumers have flocked to start the holiday shopping online.
Despite the year full of uncertainty, 43% of respondents surveyed say they are waiting to start shopping until November for this season (so, this month). Furthermore, a majority of respondents (~59%) planned to shift toward online shopping compared with the previous year. While there are plenty of ways to maximize traffic and revenue, learning from those who have succeeded can help a lot.
Here are the best thanksgiving strategies for publishers. 

Seasonal Fluctuations in CPM
Seasonal fluctuations in CPMs are inevitable for publishers. While you cannot completely avoid them, you can definitely mitigate the damages if you are prepared. Knowing the underlying cause behind the fluctuations will enable you to predict the ups and downs in the CPMs way before they occur.
So, let's understand CPM seasonality and the reasons behind it.