Round 2: Apple's New Mobile Ad Network
The Wall Street Journal reported that Apple is looking to expand its advertising business with the launch of a new ad network.
Similar to iAd, it's a mobile ad network designed specifically for developers. The goal is to allow application developers to advertise their apps on other apps when users search certain (relevant) keyword. As of now, everything seems to be contextual.
After all, Tim Cook, CEO of Apple Inc, criticized Facebook for collecting too much information.
Wait, iAd? Again?
ICYDK: Apple closed its mobile advertising business iAd in 2016, which is meant to be Apple's AdMob. But this time, Apple has been in talks with Pinterest, Snapchat, and other companies to join the ad network.
Release dates?
It is still unclear when or whether Apple will launch its ad network.
Top Technologies Publishers will buy in 2018
Last week, Publishing Executive posted a study where media executives unveil what they will buy this year. We've decided to highlight the key finding of the study for you to skim in your busy schedule.
1. Audience Intelligence tops the list
Although there are considerable investments in SEO, SEM, and Email Marketing, Audience Analytics and Engagements will be the top priority for publishers. In the top 10 list, Audience Analytics and Audience Engagement came at 1st and 2nd positions respectively.
Over 35 percent said they'll invest in Audience Analytics. In fact, not long ago, we've emphasized the significance of audience and how to start segmenting in a blog post.
2. Objective is on monetization
Without any surprise, almost 50% of the publishers said their objective is to make audience data actionable and monetizable. Increasing website traffic and building audience came right after that.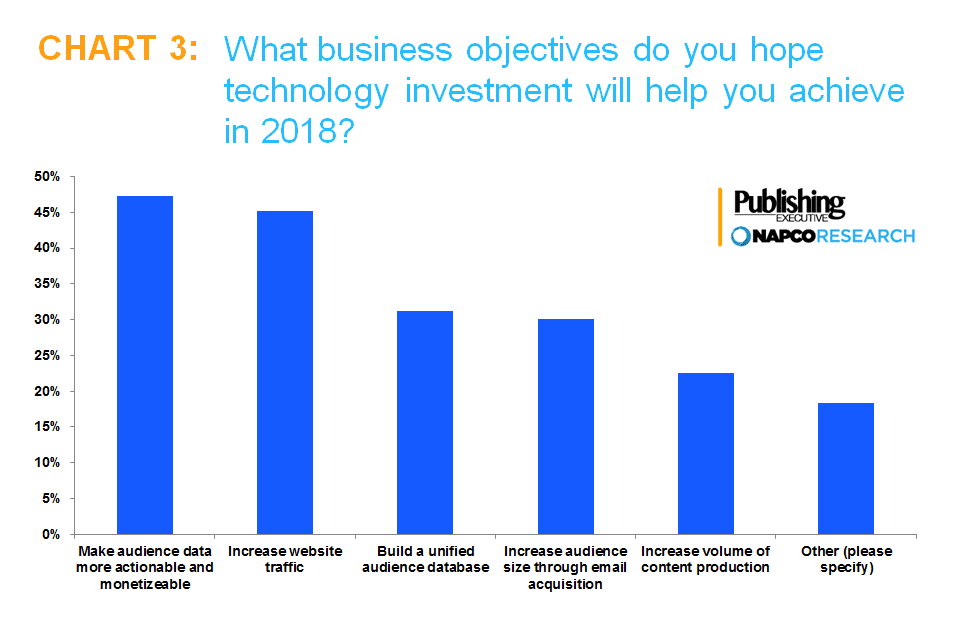 3. Audience Analytics and CDP will be one of the greatest revenue sources
Publishers are seeing the Audience Analytics and CDP as one of the greatest revenue sources. Workflow & Project Management are expected to be a greater revenue-generating stream for publishers.
Publishers in Power
The whole study folded down to a conclusion – "Publishers would like to take the power back". They no longer want to rely on the duopoly to monetize or reach the audience. And, that explains the growing investments in audience intelligence.
IAB Europe isn't governing the GDPR Framework
Then, who? We'll get to know soon.
IAB Europe plans to devise an independent, nonprofit board of cross-industry stakeholders to govern the GDPR Framework it developed to help publishers and adtech vendors to comply with the law.
"GDPR is super vague, so there needs to be a code of the road: policies that bind anyone that is implementing the framework to make calls in a particular way at junctures where the law itself is not clear enough"
 – Townsend Feehan, CEO, IAB Europe.
The goal is to create a separate entity to deal with the issues that arise as publishers and vendors start to comply with the proposed framework. Most importantly, discrepancies resulting because of the implementation and common queries demanding immediate answers would be addressed by the board.
Such as?
Some ad exchanges have seen the demand drop of up to 40 percent, per the report by Digiday.
Publishers saw discrepancies as some of the partnered vendors weren't implementing the framework in the right manner.
And, of course, there's Google, saying we aren't going to support the framework completely till August.
Besides, there will be a constant need for improving the framework. For instance, when IAB Tech Lab introduced the GDPR Consent Framework, it wasn't a hit. Publishers had issues with transparency and control. Then, the framework was improved based on the feedback (pubvendors.json was introduced) to get the mass support.
In all, the board is meant to take care of everything.
Podcasters, Programmatic is Coming!
Just a while ago, we've discussed the roadblocks of making the audio ads programmatic. Last Wednesday, Google announced that it's DoubleClick platform has plugged into streaming services like Spotify to deliver ads.
So, advertisers using DoubleClick can buy audio inventories available on streaming services including Spotify, Pandora, and SoundCloud.
"We are thrilled to see DoubleClick embracing programmatic audio. This launch makes it possible for Bid Manager customers to reach Spotify's highly engaged audience across video, display, and audio formats."
– Zuzanna Gierlinska, Head of Programmatic, Europe at Spotify
DoubleClick customers are already seeing success with programmatic audio strategies, according to a blog post by Google.
What are the upsides?
Audio ads have proven to be effective. But, there's wasn't a way for audio creators to scale like a publisher. This seems to close the gap.
As advertisers have experienced the ROI of audio ads (which is impressive, by the way), there are more chances of getting valuable demands for the inventory.
What are the downsides?
Quality has been a concern for podcasters. Regardless of the reach, every artist would like to avoid irrelevant and spammy ads. And, with direct deals, it's completely feasible. Programmatic raises a question.
Another issue is uncertainty. Listeners are 'okay' with ads for now. If more and more advertisers are getting into the field, the ground might be full of ads. Remember, how it all started with videos?