Google Ad Manager Custom fields enable a publisher to create a report for an individual sales team to understand the performance of line items associated with them. By using Custom fields, you enable people in your Ad Manager network to report on the factors that are not available in the GAM UI by default. 
For example, if you have a line item with ID 0000000000 and want to analyze how it performed, you can add the line item as a Custom field and ID as value, and create a report for the line item.
Here's how to do it:
Step #1: Create and define the Custom field.
Go to Google Ad Manager home page, and select

Admin

>

Global settings

>

Custom fields

.

Click the

New custom field

, and give a meaningful name to it. Now, in the

Location

, select "

Line item

".
Now, make it

Read-only

,

Hidden

, or

Editable

as you required and select the type of value as "

Number

".  
Step #2: Add Custom field and values to the line item/order/proposal.
Now, you need to create a line item or use the existing one. In the line item section, you need to add the Custom field created in the previous step. The option is available in the Additional settings:
Then, enter the value – number, text, toggle based on the selection you have made while defining the Custom field.
Step #3: Create a report on the Custom fields and values.
Once you save the settings, you can go to the Reporting > Reports > New report to start with scheduling the report. While applying Filters, you can see "Label" on the list.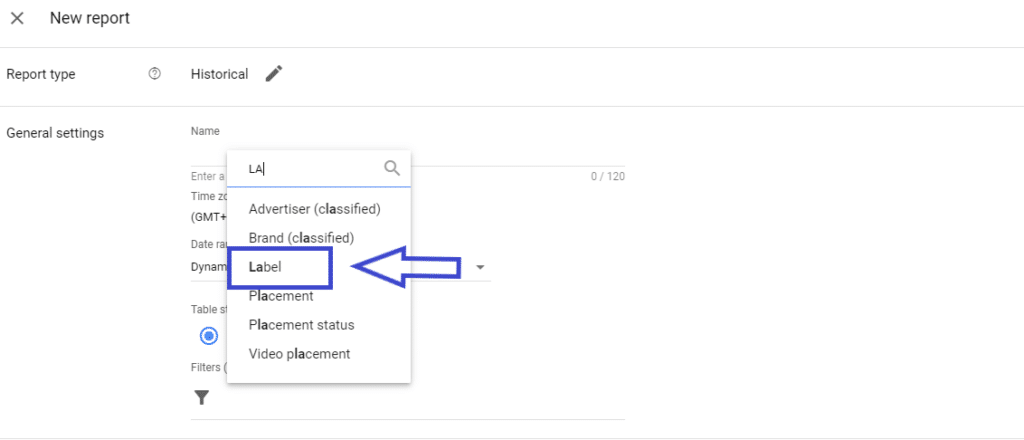 Now, you can select the Custom values to apply more granular filtering:
Since we have defined the custom values as numbers, it is showing to enter a range of numerical values to filter the report dimensions and metrics. After this, you can select the required Dimensions and Metrics to analyze further the performance of the line item for the predefined Custom field and values.