GDPR Vs. Facebook – Facebook confronts the Next Big Issue!
GDPR has stirred the Ad tech industry (enough to make us nauseous). But the major impact will be on the duopoly (Google and Facebook) as they collect, process, and target ads based on behavioral data.
Google released its GDPR update for publishers and said it will be completely GDPR Compliant by 25th May. On the other hand, Facebook has been quite busy with the data scandal and the US Senate hearing. Now, it is compelled to face the next big issue.
'Targeting Ads'
The problem is, it has no solution yet. Facebook has been targeting ads for a user based on behavioral data. When GDPR goes live, it won't be able to collect and use data to target ads behaviourally (No News Feed data assessing and mining too).
If we're being optimistic here, it can. Only when a user allows the social network to do so. With the Cambridge Analytica scandal and the Senate hearing, the odds are thin.
So, what are the options for Facebook?
Follow Google – It can offer an option to run non-personalized ads for advertisers similar to Google.
Back to School – It can use 'contextual targeting'. Johnny Ryan, PageFair's Head of Ecosystem said Facebook can still place broad and contextual ads, to offer reach and compliance for advertisers.
Take away: Earlier this month, Facebook CEO Mark Zuckerberg said, Facebook will apply the GDPR law globally. But as per the latest report, it's not going to do so. It reportedly moving 1.5Bn users out of Ireland to ease the burden. So, 370 million users in Europe might experience a different Facebook experience.
Facebook's GDPR Update – https://www.facebook.com/business/gdpr
Twitter looking to hit a home run?
Twitter videos have been attracting advertisers more than any other video ad. Even though Youtube has billions of viewers, Facebook Watch has been investing $1 billion in content, Advertisers prefer to stick with Twitter.
Bloomberg's Twitter Network is getting 750,000 daily viewers!
What's so special about Twitter?
Advertisers are getting higher video views on Twitter and thus, are happy to move some bucks from other social media channels. In addition, Twitter said that advertisers are seeing 60 percent Year-over-Year increase in 2017 payout.

Twitter provides options to buy inventories based on topics and opens up the premiums too.

Twitter has dozens of video series (Like Buzzfeed's AM to DM), which can be grabbed by any advertisers.

Twitter pays publishers on the basis of ad packages. No licensing model like Facebook or a subscription model like Youtube. This, in turn, healthified both the supply and demand side.
Google expands its 'Funding Choices' to help Publishers.
The online publishing industry majorly depends on digital advertising revenue to fuel its existence. But, the use of intrusive and annoying ads has increased the usage of Ad blockers among users.
The good news is users are willing to remove or "whitelist" websites, in order to view the content. In fact, as per the report, around 67 percent of users are willing to remove the ad blocker to access the content.
This is where Google's Funding Choices will help publishers. When a user with adblockers land on your site, it displays
A message that doesn't limit the content access.

A message that limits the number of articles the user can view (with the ad blocker installed).

A message that completely locks the user out of the content. In this case, the user has to buy an Ad removal pass or remove the ad blockers to continue reading.
What message?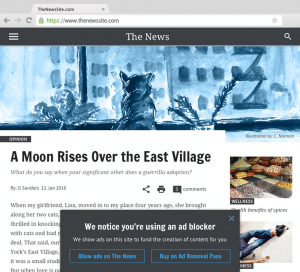 Funding Choices was launched back in June 2017 and now, Google announced that it's expanding it to 31 countries following the successful test run.
In the last month, over 4.5 million visitors who were asked to allow ads said yes, creating over 90 million additional paying page views for the websites using 'Funding Choices'.
How can the user buy an Ad removal Pass?
Purchasing can be done through Google contributor. It is a global ad removing service powered by Google and allows you to get a $5 pass. Every time you visit a page, the fee-per-page is deduced from the pass. Users can add the sites from the list provided by Google and remove them any time from the pass. And yes, Google takes a cut in this process.
Mobile Ad Spending > TV Ad Spending
According to eMarketer, Mobile Ad Spending will take-in 69.9% of total digital ad spending this year. It accounts for 33.9% of the total US Ad Spending and suppresses the TV to become the leading advertising medium of the world's largest ad market.
What's more surprising?
It is expected to hit 47.9% by 2022. Thus, almost half of the advertising spend will be on mobile advertising. eMarketer's forecasting analysts believe that the lift is mainly due to the rise of mobile commerce.
Nowadays, people love to buy the products on the go, using their mobiles. Hence, it became an obvious marketing channel for advertisers around the globe.
Want us to deliver the roundups straight to your inbox? Subscribe here.