With third-party cookies on the verge of being phased out, Google begins Privacy Sandbox origin trials. It is a proposal on how the tech giant hopes to accommodate addressability and targeting in the future. The trials will make advanced features that limited developers can test, available on the canary version of the Google Chrome web browser. Read on to know more about it, among other important adtech updates from the past week.
Last Week's Highlights
Google's Privacy Sandbox Prepped for Further Trials
The origin trials for Google's Privacy Sandbox proposal have started, including the recently introduced Topics API, the ad retargeting and ad auction management solution FLEDGE, and Attribution Reporting API. Third-party developers will be eligible to test code in the canary version of Chrome. If things seem okay, Google is planning to open testing for a limited number of Chrome Beta users, and finally, the stable version of Chrome to expand testing to more Chrome users. 
It further encouraged feedback from developers and promised to provide support in the form of regular updates, developer guidance, and channels to support such feedback. It has also encouraged industry associations to facilitate collaborative tests across the industry and aggregate common feedback themes while promising to work closely with regulatory bodies to ensure the priorities of the ecosystem and users remain at the forefront. This comes after Google made several commitments to the UK's Competition and Markets Authority following a probe into the tech giant related to anti-competitive allegations.
Subscribe to our weekly roundup
Stay informed with the latest adtech news
Advanced settings through which users can toggle to be on or off the trial are included in this origin testing. A menu accommodating browser-based ad personalization that allows users to remove interests assigned to them by the Topics API is also included. Users can also edit the site list used to infer these interests. Two separate menus for fraud and spam reduction and ad measurement are also part of this testing. However, users in the EU and other regional markets can only enter the trials by opting in. This presumably avoids legal complications under specific privacy regulations such as the GDPR.
Why Seller-defined Audiences Is Better Than Google Topics API
In an interview with AdExchanger, Stephanie Layser, the VP of data, identity, and ad tech at News Corp, elaborates why she thinks that the Topics API is inadequate and how IAB Tech Lab's Seller-defined Audiences can prove to be a better solution.  
Stephanie explains how there are questions regarding users being re-identified across contexts if Google Topics is overlaid across multiple intermediaries and data points. Topics API enables cross-domain targeting and data collection, often hindering publishers, something even Digiday agrees with. Data of visitors to a website or domain is shared across the internet, enabling buyers to purchase it from domains it didn't originate in – furthering a feeling of being tracked across the web. It further allows ad fraudsters to mire the efforts of good publishers, ignoring context and quality content in the process.
Layser explains that Seller-defined Audiences are dependent on existing open standards such as IAB Tech Lab's Content and Audience taxonomy, Data Transparency Standard, and the OpenRTB specification. This benefits both buyers and sellers and does so with a privacy-first approach. SDA doesn't enable cross-domain tracking or data collection, treating data purely as first-party data. 
To purchase quality data, advertisers must do so from the domain it originated, ensuring that consumers don't feel tracked and that publishers are rewarded for the quality first-party relationships they have built with readers through their engaging content. 
It also incentives advertisers to prioritize accountable and transparent data use and access, consistent with existing privacy regulations, making it manageable to remain compliant. It also provides solutions that guarantee scale and quality without being limited to a particular platform. Further, it gives them value for their money, as only quality data from quality publishers would bear results instead of data originating from duplicitous or bad intermediaries.
Ad Alliance of U.K. Publishers
Since the announcement of third-party cookie deprecation, The Ozone Project has made its SaaS product prioritize first-party audience data. Publishers can gain more control over the sale of inventories and avoid data spillage. Secondly, ad-funded publishers can start making money in non-core markets with this SaaS product. 
The Ozone Project's technology comprises a permission-based identifier dubbed The Ozone ID, which has recorded an increased addressability of 85% currently, from 52% in 2019. It makes bidding easier for buyers. On the other hand, sellers can use historical auction data to understand how each of their inventories appears attractive to buyers and package their impressions accordingly to generate increased ad yield and bid frequency. 
They can further find the best ad vendors for their impressions and sell impressions to only those that make the most money. This prevents bid-duplication and unnecessary data spillage. Being completely server-side, The Ozone Project's tech also negates the need for technical integrations and page-load latencies. 
"We think of this set of technologies as a way for publishers to take back control of their supply chain, and in doing so they're realizing more value from the partners they work with."
– Danny Spears, COO, The Ozone Project, (Src)
The Ozone Project offers a managed service for smaller publishers that ensures that any unsold inventory from direct deals is managed holistically through auctions happening on header bidding and Google ad exchange. The Ozone Project looks at both bids in Google ad exchange and header bidding and then returns the best bid to the publisher.
AdTech Trends
The Current State of Ad Measurement
Advertiser Perceptions carried out a survey in 2021 to determine the state of ad measurement in media buying, planning, and optimization. This survey is quite pertinent given the vital role ad measurement plays and the increased competition it faces in the current ecosystem. 
The survey revealed that only half of U.S. advertisers are satisfied with where campaign measurement stands as of April 2021 across various media types. While paid search and paid social show the highest satisfaction percentages at 50%, digital video ad measurement solutions have the least satisfied advertisers, standing at a mere 38%.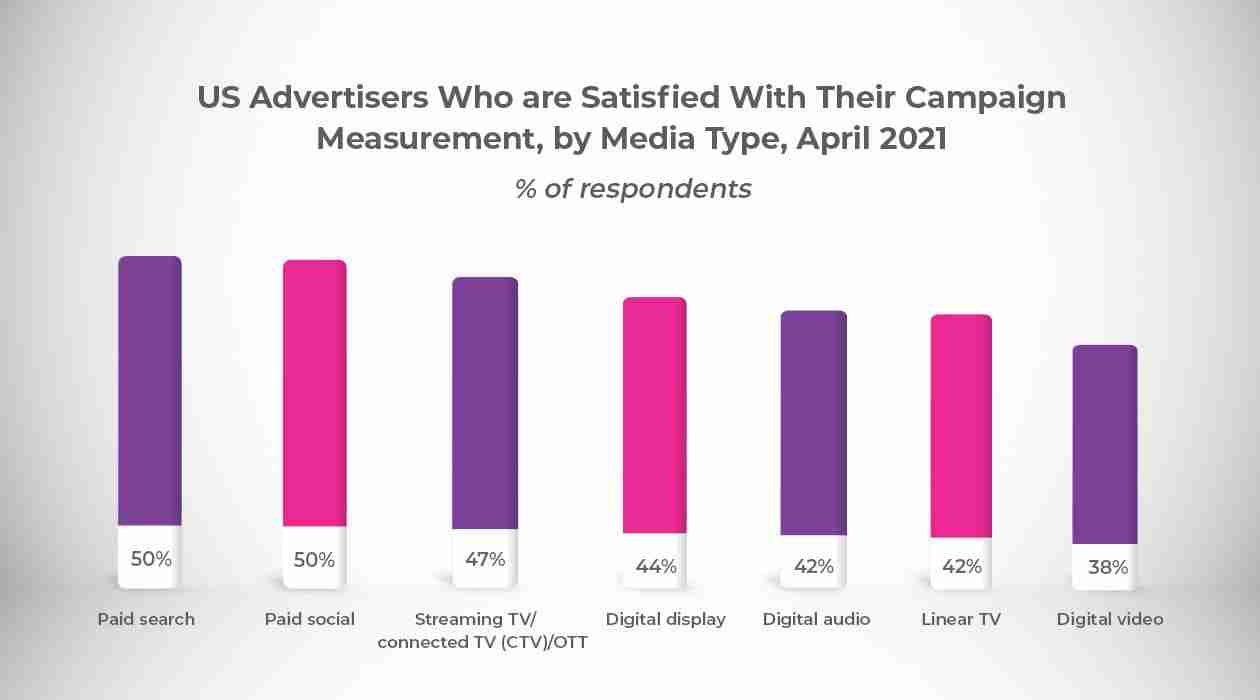 Image Source: eMarketer
The FTC's Updated Guidance Can Make Health Data Transfers Risky
Publishers dealing with health-related data of users, or collecting such data from user inputs, should be wary of being guilty of data breaches if they use or share such data for advertising purposes. As per the updated guidance of the FTC (Federal Trade Commission) regarding its Health Breach Notification Rule, the FTC might consider enforcement actions against parties if health data is found to be used for advertising purposes.
The updated guidelines expand upon the previously finalized version of the rule in 2009, covering all entities dealing with U.S. consumers' Personal Health Records (PHR). The scope of health information has also been expanded, including information collected from device sensors and inputs by users. Publishers must gain authorization from the concerned user before sharing it. The sharing of advertising identifiers or device identifiers also falls within the breach.
Publishers' Strategies
The New Yorker Takes an Editorialized Approach to Its Newsletters
The New Yorker is bringing a more editorial approach to its daily newsletters while curating and packaging its content. In an interview with Digiday, Jessane Collins, the director of newsletters at The New Yorker, explained why the publisher decided to add its unique voice while creating the newsletter. 
User research and feedback revealed that users prefer a digestible insight to navigate the many news articles it promotes via its newsletters. Hence, The New Yorker decided to include the author's unique voice and a human element in its stylistically updated newsletters, allowing it to decrease newsletter length. Having an extensive archive, The New Yorker has introduced a "postscript" feature. It connects the news of the day or event from history with this vast archive. 
The updated newsletter has been created to give readers an understanding of the biggest news of the day and why they should spend time reading it. It further stems from a realization that the newsletter is the most significant contributor to subscriptions for the publisher. The daily newsletter has close to 2 million subscribers (16% increase since 2021) and close to 1 million daily opens. Newsletter visitors have shown twice the likelihood of subscribing to The New Yorker than those who come to the site directly. The publisher is also experimenting with new features for the newsletter, including providing backstories and writer insights into how a particular story came to be. 
Financial Times Launches News Subset at a Fraction of the Cost
The Financial Times has launched a new app called FT Edit, which will feature eight curated articles, offering deep-dive insights every weekday at an affordable price. In a bid to expand upon its digital subscription strategy and yet attract an audience that isn't willing to pay a lump sum for its premium product, FT Edit explicitly targets users who enjoy the Financial Times' journalism and yet won't empty their pockets for it. 
While this seems like an innovative idea, given that the app does not simply focus on the trending topics of the day but instead provides a selection of eight stories expertly selected by its talented editors, it faces a rough path ahead. The first and foremost challenge it faces is pricing, which is quite nominal (free for the first 30 days and then £0.99/month), and will increase to £4.99/month after six months. This might, after all, prove to be too high a price for an app that is also quite simple, lacks scope for editorial customization, has a hard paywall for social media links, and still functions in a market where subscribing to news apps is still niche and rare. Only time will tell how FT Edit fares.
Moments That Matter