Summary
Google's new Topics API for interest-based user tracking in its Privacy Sandbox is being viewed with skepticism and backlash from ad tech executives and advertisers

The inability of IAB Europe being able to audit the TCF makes it unreliable and doesn't assure that user data is not being collected without consent, making it a potential GDPR violation

2021 was the strongest year on record for U.K's ad market, recording a 26.4% growth

The District of Columbia Attorney General sues Google over the use of dark patterns intended to manipulate users into giving up their location information

Podcasts' ad spending increases by 21% in the U.S. in 2021

German advertisers and publishers accuse Google of phasing out third-party cookies to further strengthen its position as the sole provider of user information to advertisers

'The Atlantic' conducts interview-and-survey-based research to form important 'need statements' that influence their journalism and different strategies

Axios launches a premium subscription product named Axios Pro aimed at providing  users with news and analysis about various deals happening in the fintech, health tech, climate, media, and retail industries through exclusive reporting, newsletters, and events
Privacy Updates
Google Topics API in Privacy Sandbox
Google has released its latest proposal known as Topics API in its Privacy Sandbox. The new API proposes a method whereby the web browser being used will determine select topics that portray an accurate reflection of the user's interests. These topics will be determined based on the user's browsing history on a weekly basis from participating websites.
Participating publishers can then proceed to share this data with their advertising partners and serve ads that are relevant based on contextual placement and aggregation of the user's browsing history. Close to 300 interest-based topics have been created as of now, which could potentially increase to thousands, using a hybrid of Google and IAB's latest content taxonomy.
As the collected data will be residing on the user's device, data transfer to external servers – even Google's own – will be avoided. Users will get more transparency to see how their data is being accessed, compared to third-party cookies. Google further states that the Topics API selects only three topics (one from each of the past three weeks) and forwards them to the publisher's advertising partners when a user visits a participating website. A user's Topics get deleted after three weeks. Users can also disable the feature completely or remove topics that they don't approve of.
"It also allows users to remove Topics that they don't like or disable the feature completely… if you compare it to cookies you see these kinds of opaque identifiers that look like gobbledygook that really don't mean anything to anybody except for the person providing the cookie."
– Ben Galbraith, Chrome Product Director, Google (Src)
 What Does the AdTech Industry Think About it?
The introduction of the Topics API in Google's Privacy Sandbox was a much-needed alternative after Google faced pushback from privacy advocates, regulators, and rivals. However, the present solution is also being seen with skepticism and has been facing a backlash from the aforementioned parties.
The main reason for this skepticism includes the fact that Google has not specified which websites will be participating in the Topics API, what type of websites they are, or how many are participating. Furthermore, ad tech executives are skeptical that the  Topics technology could prohibit advertisers from executing ad-targeting precision that third-party cookies ensured.
"Even the difference between 'Sports' and 'Hockey' can be the difference between worthless and worthwhile for the digital marketer,"
– Mike Woosley, COO, Lotame Solutions Inc. (Src)
Google's Duplicitous User-tracking Tactics
District of Columbia's Attorney General sued Google for using shady tactics to track users, while attorney generals from Washington, Indiana, and Texas are expected to follow suit. The lawsuit has been filed alleging that Google has misled users into thinking that they had control over their data and privacy settings, especially location information.
However, the AGs believe that these were false promises. Between 2014-19, Google has been using 'dark patterns' to manipulate users into giving up location information, lest they wanted to compromise on app functionality.
"Google uses tricks to continuously seek to track a user's location, [this is an] overdue enforcement action against a flagrant violator of privacy and the laws of our states."
– Karl A. Racine, Attorney General, Washington DC (Src)
The lawsuit comes after regulators have been mounting pressure on  Big Tech over data privacy concerns. Their priority is to create regulations that force such companies to become transparent with users, provide information about any feature that might compromise privacy, and provide them with control over settings like their location data. Google, however, has refuted the allegations to be inaccurate and outdated.
IAB TCF Doesn't Secure User Data
A blog post released last week by the Irish Council of Civil Liberties showcased flaws with IAB Europe's Transparency and Consent Framework in securing user data. The TCF (Transparency and Consent Framework) is a mechanism used by the ad tech industry to convey consent data during online ad bids. It was introduced to give users control over how their data was being used during an RTB (Real-Time Bidding). However, it has been dubbed as unreliable and a misleading gesture aimed at GDPR. 
According to ICCL, the intrinsic nature of an RTB includes broadcasting intimate personal information about users during an auction and there is no way to determine what happens to that data afterward. There is no way to reliably audit the TCF, with user data being available for all bidders to see. The entire framework is based on an honor-based commitment, whereby participating tech companies and advertisers promise to collect and use the data after proper user consent, only for specific purposes, and delete/ignore them afterward. 
However, there is no assurance that every bidder is complying with these promises and that consent and identity data are being ignored or deleted everywhere. This makes bid-stream data visibility a serious vulnerability of the TCF and a potential GDPR violation. This is clearly elaborated in IAB Europe's failure to identify or stop a rogue employee from collecting data without consent.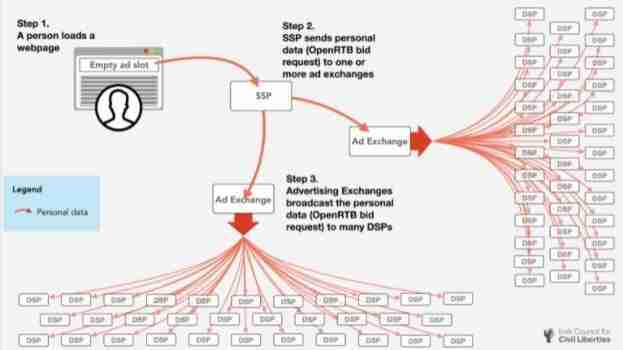 Image Source: ICCL
AdTech Trends for Publishers
Podcasts' Ad Spend Increases By 21%
Podcast advertising spending in the US increased to reach $590 million – a 21% increase – in 2021, according to MediaRadar. YoY increases in spending were 46% and 31% respectively, between Q2 and Q3 of 2020 and 2021. 
Reference Image Source: MediaPost
Double-digit growth could be seen in vertical categories like tech, media, and finance, with the top 10 categories accounting for 83% of the total ad spend on podcasts for 2021. 
Reference Image Source: MediaPost
Advertisers which ranked amongst the top 10 in ad spend included Teladoc Health, Berkshire Hathaway, Amazon, and Comcast. The only changes in Q4 were the inclusion of State Farm and Bank of America, who replaced Progressive and Coors. The top 10 categories accounted for 15.9% of the total podcast spend of 2021. The data also revealed that most of the advertisers were recurring spenders, with 79% of them continuing to invest in the format since 2020.
MediaRadar's report also revealed that mid-rolls (55%) were the most popularly run podcast ads, followed by pre-rolls (26%) and post-rolls (19%). 30-seconds was the average length of 42% of these ads. 
Reference Image Source: MediaPost
Data for Q4 2021 showed the total ad spending to be close to $160m, which remained consistent with the trends of the first three quarters of the year, implying to forecasters that the trends would remain more or less the same in Q1 of 2022.
Ad Market in the UK
A report by Advertising Association/WARC Expenditure revealed that 2021 was the strongest year so far in the UK ad market, with ad spending soaring by 26.4% to reach £29.7 billion. The report suggests that UK's ad market's growth was the largest growth made by any international ad market, even overshadowing that of the United States (21.7%), China (23.8%), and France (23.6%). It also exceeded the global rate by 12 percentage points.
"A strong advertising market is a key indicator of the U.K. economy's growth, with every £1 spent on advertising generating £6 GDP,"
– Stephen Woodford, CEO, Advertising Association (Src)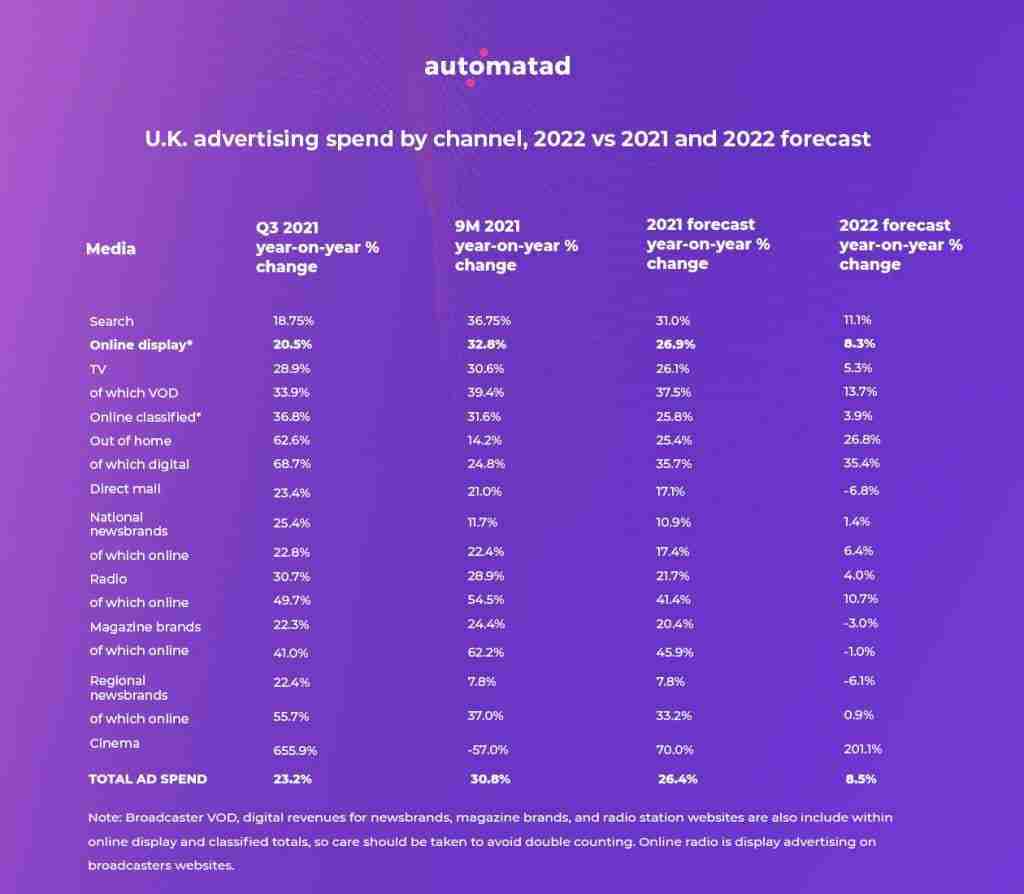 Reference Image Source: MediaPost
Projections predict that this growth is only going to increase, rising by 8.5% to reach £32.2 billion in 2022 – an expansion of more than a third since 2020. The projected growth also predicts search ads to grow by 11.1%, television ads to grow by 5.3%, and online display ads to grow by 8.3%. Robust recovery periods for cinema and OOH are also expected.
Strategies From Publishers
The Atlantic's Learnings from User Surveys
The Atlantic conducted interview-and-survey based research with their current, prospective, and former listeners and readers. It also included people from within and outside the US who listened to the narrated articles of The Atlantic or their podcasts. 
Over the last two years, The Atlantic has learned what their readers have been seeking from the brand, what their met and unmet needs are, and areas that other media have been serving them better than The Atlantic. The survey asked the participants what made The Atlantic's reporting unique, and whether it was worth sharing, subscribing to, or rejecting vehemently. The intel from the survey was then combined with the information gathered by the publisher's audience, customer care, and data science teams to form important need statements.
The five need statements that motivate readers and listeners to interact with The Atlantic's journalism include:
Giving them deeper clarity and context,

Helping them discover new ideas,

Challenging their assumptions,

Allowing them to take a meaningful break, and

Introducing them to writers who are at the top of their craft
This qualitative approach has enabled The Atlantic to adapt its journalism to user needs. It also helped influence its product design, development, programming decisions by the audience team, newsletter and app strategy, and create a balanced editorial strategy, amongst others.
Axios Launches a Subscription Product
The news startup Axios has launched a premium subscription service dubbed Axios Pro, aimed to cover deals in fintech, health tech, and retail. As a plan that has already been in the works for years, Axios Pro is available to users at $600/ year for a single newsletter, or $1,800/ year for all three Pro newsletters. A free two-week trial can be availed, but a monthly plan has not been introduced. 
The product, which contains three newsletters, plans to launch two more, covering 'Climate Deals' and 'Media Deals', as part of Axios Pro. The product aims to enable users to keep up with the myriad transactions, announcements, and deals that happen in the aforementioned industries, and not be overwhelmed by the overload of information. 
"If you're a venture capitalist, private equity investor, banker, trader, founder, executive, anyone who cares about deals Axios Pro was made for you."
– Dan Primack, Author of Pro Rata newsletter, Axios (Src)
The pricing model also indicates that it is not a product meant for the casual reader. Meant for professionals, the pricing has been set to keep it comparatively affordable when compared to competing products like Bloomberg Terminal and Politico Pro. The publisher further intends to conduct qualitative analysis over the course of the next six months to further refine and look for new areas and topics to expand the product.
Google Opposed by German Publishers and Advertisers
German publishers and advertisers have raised a complaint with the EU against Google, alleging that the phasing out of third-party cookies is in breach of EU laws and is a monopolistic maneuver by the tech giant to further strengthen its position in the market. The complainants claim that this move will ultimately have a negative impact on publishers and advertisers, inhibiting their ability to analyze user preferences and effectively conduct targeted advertising. The group of complainants includes large publishing houses like Axel Springer.
Similar complaints have been filed against Google previously as well, citing that the deprecation of third-party cookies is primarily aimed to position Google as the sole provider of user information to advertisers. While arguments have been made that the demise of third-party cookies will actually allow publishers to utilize their first-party data to conduct ad deals; Google's monopolistic practices have been accused of attempting to nullify that advantage. 
Google has been carrying out social media campaigns aimed at clearing its name. However, this complaint is one in the long list of complaints made against Google's data collection practices, privacy violations, market manipulation tactics, and collusion with other tech giants to retain their position in the ad tech industry.
Moments That Matter
Subscriber-only events used by publishers to pitch subscriptions –

Digiday

The Newsette earns $40M in 2021 –

Digiday

AdTech industry conflicted regarding CPRA opt-out signals –

AdExchanger