It's Happening. Google is Getting Rid of Third-party Cookies.
Last August, Google hinted that Chrome will eventually replace third-party cookies with new advertising standards. Google initiated its own standard for web advertising named 'Privacy Sandbox'. 
Third-party cookies are blocked by Safari (ITP), Mozilla's Firefox, Microsoft's Edge, and Brave. While the industry anticipated that there'll be a time when the ecosystem has to function without third-party cookies, most didn't change their tech as 'Chrome', a browser with almost 70 percent market share supported third-party cookies. 
Well, last week, Chrome announced that it will stop supporting third-party cookies within two years. And, it's 'Privacy Sandbox' will be the framework for the industry to run personalized advertising on Chrome. 
"After initial dialogue with the web community, we are confident that with continued iteration and feedback, privacy-preserving and open-standard mechanisms like the Privacy Sandbox can sustain a healthy, ad-supported web in a way that will render third-party cookies obsolete." 
– Justin Schuh – Director, Chrome Engineering. 
Why this is a big deal for publishers?
One, as you know, the way we serve personalized ads to the users, is by learning about them with the data collected as they surf the web. This is done via third-party cookies and without it, one-to-one targeted advertising isn't possible.

Two, the browser takes center-stage and it will play an irreplaceable role. From targeting to tracking to measurement, every platform has to rely on the browser. 
How ad targeting will be done?
The standards and APIs haven't been finalized yet and there's still a lot of development left. But we can fairly guess how the overall framework will work. 
Chrome will hold all the information about the users and put them into flocks (groups) based on their interest, browsing history, etc. An advertiser/platform can target those flocks, not a single user. Chrome will also measure clicks, conversions, and it will send out those data to advertisers via an API calls/requests. Noticeably, user-level data wouldn't be shared. 
So, Chrome will limit, obfuscate, and anonymize user data to ensure no one entity is getting access to user-level data. 
"For instance, an ad tech provider might call Chrome for a list of people who have visited a group of 100 sites, avoiding granular targeting. Or, Chrome might group people with similar browsing habits." 
– Sarah Sluis, AdExchanger.
Chrome's Privacy Sandbox is open and any adtech company can make an API call. However, there'll be a limit on how many API calls can be made. Google plans to enable conversion measurement and then, move onto interest-based advertising. 
Where are we headed?
– Radical but eventual
Google wouldn't phase out the support for cookies until there's a standard replacement. Privacy Sandbox is in its drafts and it will run pilot campaigns to test measurements, attributions, and interest-based targeting (flocks/groups) before shutting down the cookies completely. 
 "Once these approaches have addressed the needs of users, publishers, and advertisers, and we have developed the tools to mitigate workarounds, we plan to phase out support for third-party cookies in Chrome. Our intention is to do this within two years." 
– Significance of data
"Ad tech providers would lose access to data they gathered through third-party cookies when they get phased out. Instead, they would need to target and measure ads by calling the Chrome browser API."
We've talked about the significance of first-party data here in our blog and it's becoming necessary for publishers to start collecting data. Though it isn't clear how 'Privacy Sandbox' will let you use data, there are other ways to put your data into use. 
– Contextual targeting
Whether you like it or not, advertisers will try to get back to contextual ad targeting to see if it's any good. And, if you have context-rich pages with the relevant audience, you are the winner. As one-on-one targeting isn't going to happen, you can build interest-based audience segments yourself and stay one step ahead. 
– All the ad networks, exchanges, SSPs, and DSPs will be affected. In fact, Google Display Network has to make API calls to chrome to run targeted ads to the users. But Google.com and YouTube wouldn't face any issues as they rely on first-party cookies. 
What's Next?
Google said it will start running pilot campaigns from the end of 2020. Top media groups have created their own IDs or joined hands together to form a common identifier (The Ozone Group, for example). Some have started to experiment with various ID providers. It's time for you to start taking actions – build first-party data, experiment with IDs, and keep up with the trend. 
"The upcoming pilots will compare monetization for publishers under the new setup vs. the old one with third-party cookies in place."
– Google Spokesperson, AdExchanger.
Learning from CollegeHumor
On January 9, Sam Reich, the Chief Commercial Officer of CollegeHumor started a thread on Twitter:
So, bad news – with a twist.

⁰IAC, our parent company, has made the difficult decision to no longer finance us. Today, 100+ brilliant people lost their jobs, some of whom are my dear, dear friends. Hire them. (thread)

— Sam Reich (@samreich) January 8, 2020
This was an announcement of the downfall of a successful publisher. If you do not know how successful CollegeHumor has been, let us tell you, CH Media has traffic of more than 20 million, more than 16 million subscribers on YouTube and more than 10 million followers on Facebook. They have sold merch, licensed their original content to TV channels and streaming platforms, and done almost everything right. Still, the company is drowning. 
So, what went wrong with the 20-year-old company that had a knack for creating awesome content?
In the same thread,  Sam says, "While we were on the way to becoming profitable, we were nonetheless losing money — and I myself have no money to be able to lose."
Digiday reports, the company had high operating expenses. Facebook and YouTube could not provide it the returns they hoped for. Due to the competition, the revenue from branded content also declined. Therefore the company decided to bring subscription revenue through the OTT platform. But eventually, even the revenue from all the sources could not meet the operating expenses.
Takeaway:
We have a business lesson to learn here. CH Media has always been successful on the creative front. But, even after growing for 20 years it was still not profitable enough to survive. There is no doubt that its content was exceptional, but the content is not the only requirement for being a successful media company. We should keep in mind that the cost of producing content and other operating expenses should be low and within our control to make a solid base of our publishing business.
CH Media started an OTT platform, which is a resource-heavy task that gives results after a long period of time. It must have been one of the major reasons for the high expenses. We as a publisher should always asses our capital without entering risky ventures. We hope the company will mend its processes and become successful again.
Programmatic is the Default for Mobile Video Ads
Mobile video advertising is changing with programmatic. According to eMarketer, publishers made $19.93 billion through programmatically sold mobile video ads in 2019 and the figure will reach almost $25 billion in 2020. In 2019, 87.1% of the mobile ads were programmatically sold. Even the directly sold inventory is being delivered via the programmatic direct route.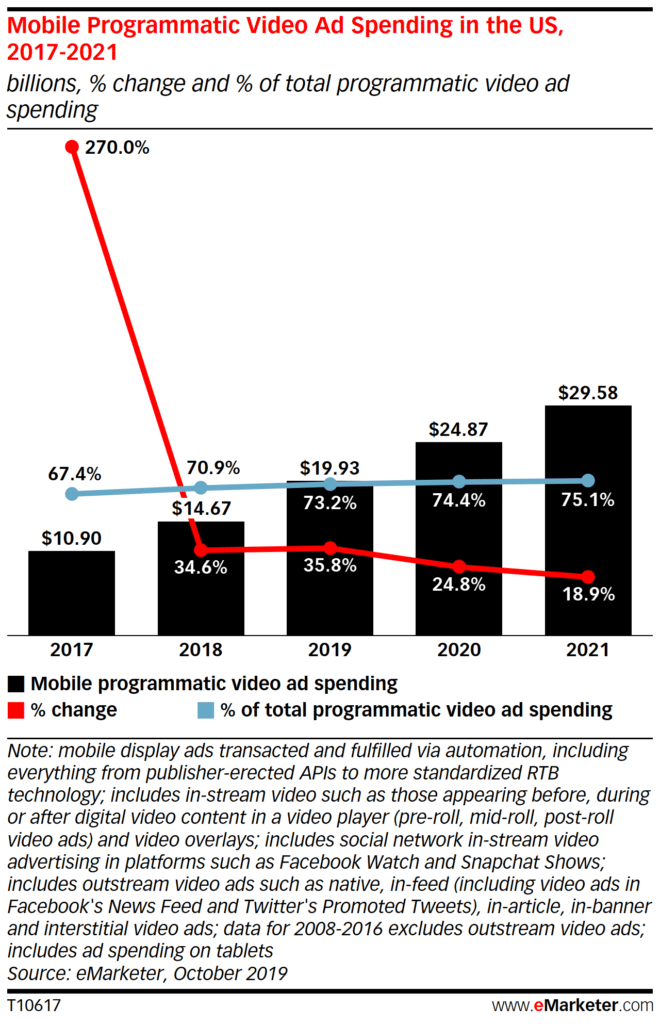 The rise of programmatic media buying is providing scalability to the mobile video ad buying process. To take advantage of the situation, small and medium-size publishers are partnering together to make their mobile video ad inventory available via programmatic channels. A partnership among Group Nine Media, Insider Inc., and BuzzFeed is one such example.
Takeaway:
In the pie of total programmatic video ad spending, the share of mobile is increasing every year. It is a high time when publishers need to have a mobile-first approach in their video content creating strategy. Being a small publisher, if you are not creating video content then you should leverage in-stream video ads to get a share of the mobile video ads market.