Impact of ITP 2.3
Safari's Intelligent Tracking Prevention isn't something new. Webkit has been updating its ITP feature frequently to prevent ad tech companies and web trackers from identifying the users as they surf the open web. Now, we are at ITP 2.3. 
When we covered ITP 2.3 in one of our previous roundups to specifically discuss how the latest ITP update is poised to curb trackers and third parties relying on link decoration to track users. Digiday's piece from the last week highlights the impact of ITP 2.3. 
Second-generation DMPs and Analytics
We've recently seen an uptick in the number of DMPs using first-party cookies to help publishers run targeted ads to users. ITP 2.3 update seems to have affected them as they rely on the browser's 'local storage' and edge computing. Particularly, publishers' analytics tools aren't working as expected. Advertisers and agencies couldn't track their referrals clearly as ITP strips all the params from the URL. 
"The more Safari traffic you have coming to your website, the more you would be impacted by the changes. Beyond CPMs, which everyone agrees has a lower value for Safari inventory when compared with Chrome [around 30% lower], the biggest impact will be for agencies and advertisers to report performance."
– Adriana Tailor, head of data and insight at TI Media.
Facebook
Facebook has felt the impact of ITP right from the start. With link decoration prevention, Facebook IDs are getting updated every 7 days and publishers are counting them as new users. Besides, Safari is likely to put facebook.com under 'tracking domains' and Facebook itself predicts ITP 2.3 will have an impact on its tracking capability moving forward. 
Takeaway:
The cat and mouse game continues and it will. In fact, Permutive, a first-party DMP already offers a workaround – server-side redirect that prevents local storage from being marked for deletion. As of now, Local Storage deletion is set at 7 days, it may become one (24 hours) in the next update. We'll keep you posted. 
Fast Ads Matter
Google's web.dev published a study on how fast ads affect ad performance and user experience. 
Background:
The study is from an experiment where a delay between 100 ms and 1 s is injected before each ad response across 4 billion impressions on sites using Google Publisher Tag in multi-request mode. Then, how latency affected ad impressions and ad viewability is measured. 
Ad Latency Vs Impressions
With a second of added delay, ad impressions for mobile traffic drop by 1.1% and the same for desktop traffic drop by 1.9% While 1 percent may seem marginal, when you lose 1 percent of traffic out of millions of impressions, you are looking at a considerable number. 
If the ad didn't load as soon as the user scrolls it into the viewport, then the user is likely to skip it without viewing 50 percent of the creative (so, the ad isn't deemed viewable and you lose an impression). 
Ad Latency Vs Viewability
We've already mentioned how ad speed and page load speed plays an important role in ad viewability. As expected, with a second of added delay, ad viewability for mobile traffic drop by 3.6% and the same for desktop traffic drop by 2.9%.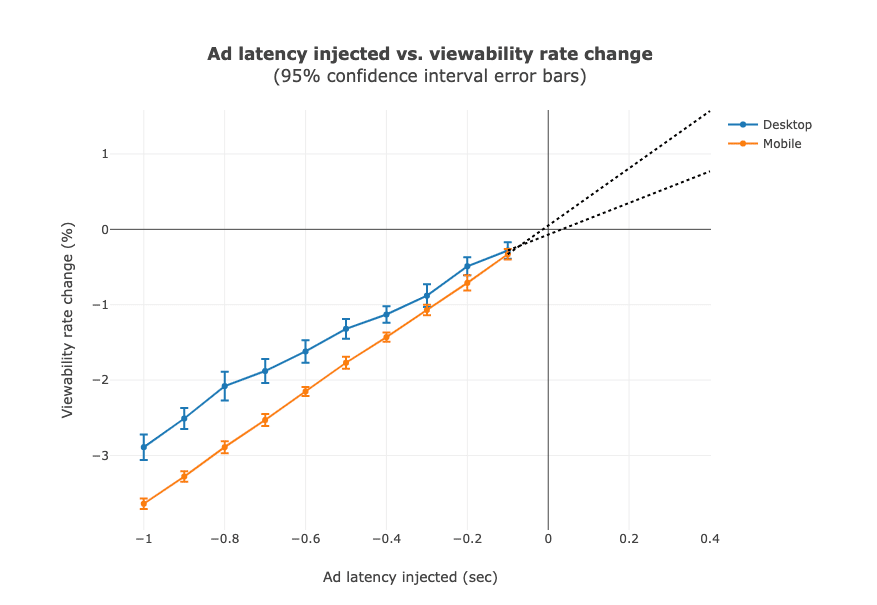 As users are increasingly accessing your site from mobile, with just a second, you're decreasing your viewability rate considerable and eCPM along with it. Here's how to optimize for viewability. 
Takeaway:
The impact of ad latency on your bottom line is real. As the landscape is getting competitive and buyers would likely weed out sellers with lower viewability rate. Then, there's SPO. Talk to your ad tech partner, whether you are implementing header bidding or not, you need to render ads instantly.  
Programmatic Fee 2019
eMarketer's latest report shows that advertisers will spend close to $12 billion on programmatic fee this year – including the fee paid to demand-side platforms, supply-side platforms, and other technology vendors and data providers involved in programmatic transaction.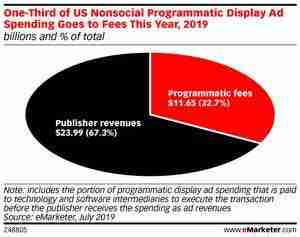 The programmatic fee is decreasing – marginally every year. Interestingly, the report states that 'transparency' is a bigger problem in programmatic than the fee. This is because, both advertisers and publishers understand some fees paid to the vendors are worthwhile and essential for trading programmatically. 
Takeaway:
With the new initiatives like Sellers.json, resellers and ad exchanges/ad networks who aren't delivering real value to the supply chain will be pushed out. So, we believe the programmatic fee and transparency will reach a point where everyone in the chain – accepts and appreciate. The rate of adoption of initiatives answers the question of 'when'. 
Is Google Discover Actually Working for Publishers?
The unending newsfeed on social media sites plays the most crucial role in making the user stick for a long time. This feature has also made users habitual of being served with endless content. Ad tech players like Taboola and Outbrain have been capitalizing on this habit of users by providing unlimited feeds on unconventional places like news sites and blogs. Google too tried the same and has been quite successful so far. Google's success is now becoming a boon for publishers. Let us see how. 
In 2012, Google launched 'Google Now', a service that was focused on proactively suggesting the users with the content they might need. Suggestions were made based on the user's search history. Since then, it has been evolving continuously and now it is known as 'Google Discover'. It provides a long feed of content to the users on the homepage of Chrome mobile app, Google Search app, and Google homepage on mobile browsers. It is now being used by more than 800 million users, which is huge potential traffic for any publisher (as suggested content is from the open web). 
Digiday reports that in the past October, Google Discover traffic surpassed the Google Search traffic on Vogue. In India and Mexico, Google Discover accounted for three-quarters of the traffic those titles received from Google properties. Another analysis says that 27% of the traffic from this channel consisted of returning users, higher than any other social media channel. So Google Discover is proving to be a big source of loyal visitors to publishers.
Takeaway
Since 800 million is not a small number, every publisher should consider Google Discover while creating content. Recommendations work based on user interest and search history and this is why it allows you to connect with potentially loyal visitors from your niche. 
However there is no clear strategy for getting recommended by Google Discover, but still, general best practices can be followed to have the likelihood of getting picked by the algorithm. Try creating high-quality original content, optimize AMP pages, follow content policies while creating news articles.
We suggest avoiding over-reliance on this channel as, at least for now, it is a matter of chance for most publishers to get traffic from this source and nobody knows how to keep this traffic intact. Sudden surges and dips can be a common sight.
Chart of the Week
While the duopoly will face a small decline for the rest of 2019 and in 2020, the market share isn't affected much as per eMarketer's updated forecast. 
Moments that Matter
Ad buyers evaluate what remains of Deadspin – Digiday. 
Rubicon Project Feels 'Slight Ding' As Buyers Cut Off Resellers – AdExchanger.
How Google Edged Out Rivals and Built the World's Dominant Ad Machine: A Visual Guide – The Wall Street Journal. 
The more Safari traffic you have coming to your website, the more you would be impacted by the changes – Forbes.