Q3 Earnings Calls – Google, Facebook, Amazon, and More.
Over the last week, the incumbents of the digital ad industry published their Q3 earnings and we're here to get you the highlights.
Google:
Well, this is no surprise. Alphabet, Google's parent grew its revenue to $40.5 billion in Q3, from $33.7 billion in the same period last year. But its profitability dropped a quarter (almost) to $7.1 billion. Google's advertising revenue went up to $33.92 billion, compared to $28.95 in Q3 2018.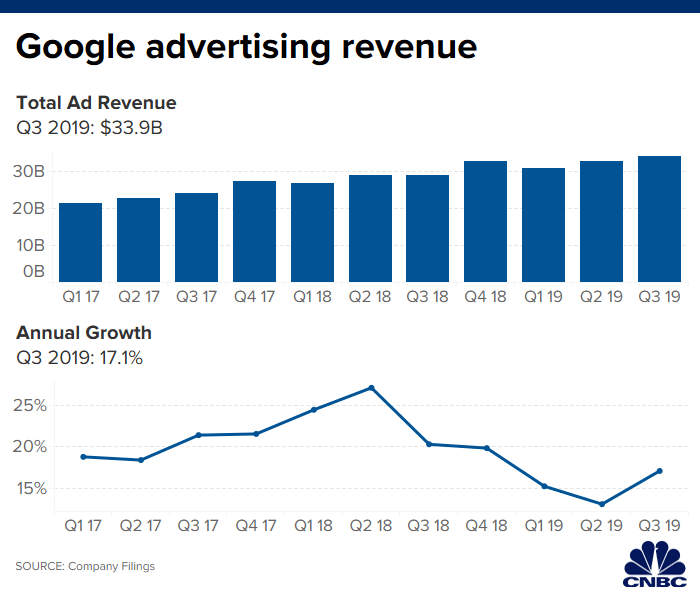 Interestingly, Google maintained its TAC (Traffic Acquisition Costs – what Google pays to Apple or Mozilla's browser to make Google as a default search engine and send traffic) as expected, thanks to its channeling strategy that attracts users from owned properties rather than third-party networks/properties. 
Amazon:
The story is quite similar here. Amazon reported revenue of $70 billion this Q3, but the profitability dropped a bit. The net income stayed at $2.1 billion, down from $2.9 billion in Q3 2019. 
That being said, Amazon's advertising wing grew 44% to reach $3.6 billion in revenue and the company expects to keep up the growth with its evolving technology that shows relevant ads to shoppers with rich data. 
Facebook:
Facebook increased its revenue to $17.65 billion this Q3 and daily active users by 9 percent to hit 1.62 billion. The ad revenue growth was up by 29% and average revenue per user increased to $7.26, compared to the same period last year.
Takeaway:
eMarketer readjusted its forecast earlier this year stating "Facebook and Google hold onto market share longer than expected" and this proves to be true. Advertising wing of all the companies grew impressively, but here's a bigger picture. 
You guessed it right. Snap and Pinterest outgrew the incumbents. This proves that advertisers are willing to try out and in fact, spend on other properties. Understand your users, build first-party data, and leverage it to deliver results.
Leveraging First-party Data – Immediate Media
We've been discussing first-party data and its growing significance lately. Every now and then, we'll find some publishers putting their audience data to use and we tend to talk about it in our roundups. 
Last week, Digiday published a piece describing how Immediate Media found a way to run effective ad campaigns for its advertisers – without using third-party cookies. 
Background:
Immediate Media, home to several big titles including Radio Times, BBC Good Food, and Top Gear Magazine, has been investing in first-party data and DMP for a while now. Recently, it took the next step by launching a platform that enables both its web properties and advertisers to share and match their audience data to targeted and personalized campaigns. 
Specifics:
So, an advertiser who would like to run ads across the Media's properties can use the platform's dashboard to buy their target audiences. Once the advertiser uploads the audience data, it will be matched with that of publishers' to find audiences for re-targeting and also to derive similar yet relevant audiences to target for the campaign (think, Facebook's lookalike audience). 
And, of course, no data leaves the platform and both of the parties aren't allowed to sell to any other third-parties. 
Takeaway:
To be frank, publishers and advertisers weren't ready to share their audience data with a third-party DMP. In this case, both agreed to do it for two reasons: First, privacy laws and ITP features preventing reach and personalized targeting. And, second, no data is leaving the platform and both the parties are getting benefitted. It is easy to imagine how these sorts of platforms can be used by bigger media companies, but what about mid-market publishers? Would they be willing to team up with each other or perhaps, bigger media companies to utilize such offerings? We'll keep you posted. 
Google May Block Resource Heavy Ads 
Last month, in their attempts to improve user experience, Mozilla set the Enhanced Tracking Protection as "On" by default and Safari was seen implementing measures confirm users' consensus to stay logged in to websites. While these browsers were working on their user experience by emphasizing on targeted ads, Chrome is possibly taking a different approach for the same cause.
Google has been observed working on a new ad blocker which will block resource-heavy ads. The ads that use an egregious amount of system resources sometimes spoil the user experience by making page loading slow, draining device battery and consuming too much mobile data. By blocking such ads, Google is trying to enhance the UX with its Chrome Browser.
Such heavy ads are not prevalent in the industry and therefore publishers and advertisers won't see any drastic decrease in the delivery of ads. The heavy ad removed by the ad blocker will be replaced by a notice which will inform the user that the ad has been removed because it was using too many resources. While this move may look against advertisers, but it will be helpful for advertisers as they will end up optimizing their ads.
Please note that this news emerged after a commit was observed in the Chromium source code. There has not been any official announcement from Google and therefore we cannot be certain about the implementation. 
Takeaway
Publishers should not be worried even if Google starts blocking heavy ads in the Chrome browser. First, because there are just a small fraction of such ads on the web. And second, because this move will further enhance the user experience on publishers' websites. 
Platforms and Publishers – Are We Looking at the New Revenue Source?
There was a time when there was only one source of revenue for publishers – ad Revenue. As time evolved, so did publishers. Now it is a common sight to see publishers earning from multiple sources, ads being one of them. Publishers like The New York Times and News UK can be seen implementing paywalls to earn subscription revenue. The Washington Post can be seen selling its own publishing platform to other publishers. And now, a new trend has emerged again – publishers getting paid for their content by aggregators.
The news aggregation app named SmartNews has recently started paying publishers. It has on-boarded 30 US publishers for adapting their articles to the SmartNews format. The publishers will be receiving a licensing fee based on how many times their content was read by the users. The revenue will be tiered so that the publishers will know exactly how much they will make based on the tier they fall in. The participants of this program are also allowed to show ads in their content and keep 100% of the revenue.
Earlier, in a similar move, Facebook announced that it will be paying publishers up to $3 million a year for showing their news in its new "News Tab". Similarly, Apple also started a partnership with publishers with its "Apple News+" subscription which will have a 50-50 revenue share.
Takeaway
This new trend can be beneficial for publishers with great brand value. Small publishers might not have the opportunities for such partnerships right now but as the trend evolves and such aggregators increase, there might be a silver lining.
SmartNews has proved itself to be a good traffic booster for publishers, being installed in users' phones also give it the capability to bring returning users to the publishers. Publishers should keep exploring for similar partnerships. 
Question of the week – Brand Suitability
A recent study by Integral Ad Science on brand suitability shows that industry professionals want everyone in the industry including publishers to be responsible for brand suitability. What are you doing to ensure brand suitability for your advertisers?
Moments that matter
Adsterra saga continues. An investigation from SearchSecurity claims that Adsterra is still connected to Malvertising Campaign – TechTarget. 
The Dawn Of Ad Tech's Open Source Era – AdExchanger. 
'Google's gonna Google': Publishers say a Google search change is denting their coupon revenues – Digiday. 
The balancing act facing the next Guardian CEO – Digiday.