Where Are We With Supply Path Optimization? 
Supply Path Optimization isn't as easy as it seems. We've discussed SPO a couple of times in the past including the basics and its implications on the ecosystem. So, we'll dive right into the news. Last week, Digiday interviewed a handful of advertising executives to understand the progress of SPO and it is quite interesting, to say the least. 
Two-folded:
SPO clearly aims to cut down the inefficient paths to the supply for the programmatic buyers. On one hand, advertisers use SPO to ink a better deal with exchanges and reduce the number of times they bid for the same impression (or sometimes, against themselves). On the other, publishers see SPO as the way to learn how DSPs bid and optimize the way they sell to capture more winning bids. While this doesn't look like a problem at first, when you dive deep, you'll see why it is so.
Mostly manual:
It is true that there are companies (for example, The Trade Desk) offering custom algorithms to help buyers to follow the best route to supply. But it involves a lot of manual work. 
 "SPO has been effective, but it's also been a manual process of making cuts and tweaks to supply sources. In an industry that's doing billions of transactions an hour making changes manually doesn't work. The more we do manually, the worse off we tend to be in ad tech."
– Tom Kershaw, CTO, The Rubicon Project.
In fact, buyers have to either shut down exchanges completely or open up new ones to actually perform SPO. A buyer typically negotiates with an exchange/SSP (demands include more transparency, price discounts, etc.) and see if it fits the bill. If not, they've to cut it out and look for an alternative. GroupM, Havas, and Goodway Group have all used SPO to ink better deals with fewer partners. 
What about resellers?
You're right. Cutting down exchanges don't necessarily cut down the unwanted exchanges – as almost all the major exchanges have some reseller inventory. So, if you cut exchange A, you'll still get to exchange A via some other exchange because of the reseller relationships b/w the exchanges. 
And, with header bidding, publishers are accessing almost all the exchanges, which complicates the issue further. 
Takeaway:
 "An SPO strategy can't be to turn off all resellers. It has to be more precise. There are some resellers that are quite valuable."
– Chris Kane, Founder, Jounce Media. 
As we mentioned, SPO isn't as easy as it seems. On top of it, a buyer can't just cut down all the resellers as some resellers can bring unique inventory to the exchange. The idea way is to find the right balance. Both buyers and sellers need to have exchanges and resellers relationships and cut down the ones who aren't bringing any value to the table. Sellers.json will, indeed, accelerate up the process. We'll keep you posted. 
IAB's Digital Video Ad Spend Report
Vertical videos, interactive videos, social stories videos, OTT videos; the ecosystem of videos is evolving at a rapid rate, all thanks to the meteoric rise in the demand. The whole world is immersed in videos. 
Every now and then we see surveys and studies predicting how videos will become the preferred type of content for consumers. As marketers know very well that they should advertise where all the eyeballs are focussed, the increase in video ad spends is inevitable.
As the rise of video continues, IAB reported 36% year-over-year growth in the US digital video ad spend for the first half of 2019.  Video ads accounted for $9.5bn out of the total digital ad spend of $57.9bn. The total ad digital ad spend grew by 17%. It is noteworthy to mention that the ads delivered on a mobile device now make up 69% of total ad revenue.
The growth is being attributed to multiple factors including the wide adaptation of internet-connected TVs, social video stories and even the political advertising for the coming presidential elections. Additionally, this was also an all-time high overall digital ad spend for the first half of any year.
Takeaway: 
Videos will keep growing as the preferred mode of digital advertising for brands as the circumstances in the digital ad industry are constantly becoming more and favorable to video ads. 
Continuously shrinking attention span of humans, TV's being connected to the internet, increasing number of cord-cutters and the rise of Gen Z which spends its considerable amount of time on social media are just a few reasons for advertisers to choose digital video ads over any other type of ad. 
Publishers should also take note of these trends and create their strategies accordingly. Be it the content or the ad inventory, the inclusion of videos in the mix will definitely increase revenues. It has also been predicted that Programmatic Video will be contributing to the major chunk of the publishers' video ad revenue in the future.
Facebook News – The Whats and Whys
Publishers have always relied on Facebook for traffic. But whenever the giant social media network aims to woo publishers with its new products or value prop – designed for journalism, it tends to be a dead-end. From Facebook Live to Watch to Instant Articles, all were promised to deliver, yet failed in a short span of time. When we say 'failed', we meant the results from the publishers' side and what they got out of it. 
Facebook News: 
Last week, Facebook launched yet another product that's positioned to help selected news outlets thrive. Dubbed as "Facebook News", the new feature is a dedicated tab that will appear right next to 'Videos tab'. Similar to other news aggregators, Facebook News aggregates news from some 200 publishers including The Wall Street Journal, Buzzfeed News, Business Insider, and The Washington Post and presents it to the users based on the interest.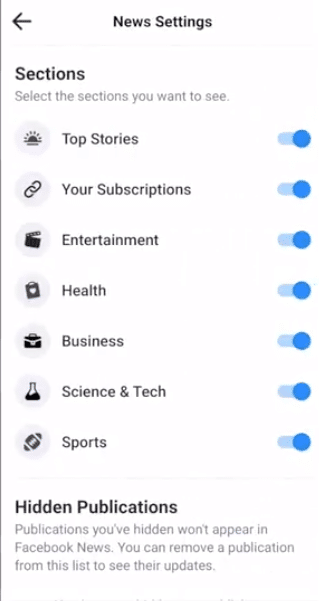 Facebook plans to have a review team in place to manually select articles to include in the tab.
Payout:
Without a doubt, Facebook is pitching hard to get publishers on board. This time, the company allegedly will pay up to $3 million as a licensing fee to the major media outlets. But as you've guessed it, the top 1% will get most of the fee. 
Media Response:
From a Digiday's piece, we can clearly see that publishers are approaching the feature at a cautious pace. In fact, some think the product is designed to help Facebook manage the regulatory beatings and some believe the curators are hired just to train Facebook's algorithm. That being said, premium news outlets who're willing to build dedicated API for Facebook News to sync their articles are moving forward with the product.  
Takeaway: 
While there's no clear number yet, Facebook expects to have 20 million to 30 million people using the News tab in a few years. As of now, a participating publisher can't discern the users from the regular feed and news tab. Besides, conflict of interest in journalism, poor track record, and lack of equivalent payout method makes it a bit complicated. We still have to see how things will pan out. But as we always say, it's better not to lean on Facebook too much. 
CCPA Framework – Open For Comments
In our previous roundup, we reported that IAB will be releasing a compliance framework for CCPA. The framework had to provide a solution to the third parties to know whether a user is from California if the publisher meets the criteria for "business" under CCPA if the publisher got explicit consent from the users and provided an opportunity to opt-out.
Well, now the IAB has published the compliance framework and it is open for public comments. The draft contains the contact which can be used between the publishers and their partners, and the technical specifications to help the companies to follow the contract.
The contract defines the relationship between the publisher and the other entities involved in RTB so that everyone's responsibilities are clear to each other. The set of specifications includes: 
IAB Tech Lab US Privacy String, which will contain the information whether a consumer was given the proper opportunity and disclosure to opt-out.

IAB Tech Lab U.S. Privacy User Signal API, which would be used by websites and applications to transmit information to represent U.S. privacy signals. 

IAB Tech Lab U.S. Privacy OpenRTB Extension which would allow companies to pass CCPA-related information within OpenRTB transactions. 
Digital footprint
Kaspersky published a research on data collectors on the web that depicted the reach of ad tech trackers. And, without a surprise, Google led the charge. 
Moments that matter
'Completely disproportionate and mad': Why ePrivacy is a looming nightmare for publishers – Digiday.
Joe Marchese's Attention Capital Seeks Media, Tech Firms With True Connections – Variety.
'It's like a game of whack-a-mole': Rebates persist in ad buying – Digiday.
'The industry will always find a way': Candid thoughts of European publishers on the state of media – Digiday.