DMEXCO happenings
DMEXCO week is over and this year's event was packed with expected cookie debacles and the rise of supply path optimization. Here are the quick highlights from Digiday's Dmexco coverage.
– Tracking and attribution:
Apparently, marketers are concerned about how they'll tie the clicks and impressions to users and conclude what worked and what didn't – without the cookies. 
"There's a big question mark over how this is going to pan out because all the tech that we've built and the way we track people is underpinned by cookies."
– Senior Marketer @ Dmexco.
While the industry predicted that it needs to have ID-based solutions, Safari, Mozilla, privacy laws like GDPR shortened the usefulness of third-party cookies in online advertising. 
– IDs
At Dmexco, many including IAB's Tech Lab were pitching the identity solutions as the way forward. IAB's DigiTrust insisted marketers to go with Digitrust ID – as it for the open web and not part of any company/walled garden. And, of course, marketers are skeptical because of its unavailability.
On the other hand, The Trade Desk's unified ID, the only identity-based solution with a vast footprint will face difficult onboarding other DSPs (competitors).
– Ad Spend on browsers
As Safari blocks any cross-site tracking cookies by default, ad spend on the browser has already reduced. Firefox is also experiencing a drop in CPM being paid. 
"Safari has lower sell-through, a lower CPM at the moment. Firefox is also starting to decline. It's too soon to tell what's happening to Chrome."
Takeaway:
Though we are aware of the war against cookies, Dmexco demonstrated that it's time for us to have a reliable and standard identity in place. Else, advertisers will likely end up spending even more on walled gardens. As a publisher, take advantage of identity solutions (prebid wrapper supports IDs) and keep up with the market changes. Without a question, start working on the first-party data strategy and see how you can put it to use. 
Prioritizing user experience boosted ad revenue and traffic
GiveMeSport (GMS), a mid-sized publisher with 3.2 million monthly unique visitors (ComScore) struggled to decrease its page load speed. With the extensive image and video content and header bidding, pages took 20 seconds to load completely. 
According to Google, users are 123% more likely to leave the site if it takes more than 10 seconds to load. So, GMS decided to redo its site and prioritize user experience. 
– PWA
The publisher scrapped its old site and redesigned it with PAW features including push notifications and offline reading. 
– Ads per page
Though the publisher relied on programmatic ad revenue, it went against the grain to decrease the ads on a page to just 4, from 11. If you're a publisher, the easiest way to increase ad revenue is to increase the impressions – either by multiplying ad units on a page or by refreshing ads optimally. GMS went with ad refresh. 
"Since we launched the lightweight version and removed the ads, we've seen users get far more engaged and spend more time viewing the content and the ads. It was a bold decision [removing ads,] but it has paid off." 
– Dean Drury, product director at GMS (Digiday).
– Surveying users
Reducing the ad units and increasing the page speed can deliver a better experience for the readers, but readers won't stay unless you deliver the right content (based on user intent). GMS surveyed 700 people from its facebook followers to understand how they can improve the design and site content. For instance, the publisher turned its focus towards in-depth articles from click-bait style content.
Results:
– As site speed is one of the important Google's ranking signals, direct traffic increased 63% YOY. 
– Display ad yield has increased by 17% YOY.
– Direct deals have increased as the publisher can now promise high viewability, better user engagement, and click-through rate.
What's your extension?
In adtech, everyone talks about the importance of diversifying revenue and how publishers should keep improving the value prop. To be honest, it's kinda hard to find any tangible examples to follow and learn. 
Last week, Digiday covered how sports publishers are investing in their own sports betting platforms as the state governments start legalizing betting. Many well-known sports titles including Bleacher Report, ESPN, and Sports Illustrated have spun-off dedicated verticals to attract visitors interested in betting.
Some publishers developed their own apps to allow visitors to bet. FoxSports and theScore released their own apps in the last week and Vox Media launched a publication specifically for sports betting called "DraftKings Nation".
Not all the sports publishers took time and developed a strategy to run verticals or apps. And, that's what is important. As a publisher, you can indeed, find an interesting opportunity to capitalize on, at any point in time. But the trick is to choose the right one. How to do so? 
Takeaway:
Do what you're already good at. In other words, if you have a strong media team and your readers are looking for more content on a new vertical, then spend time and money to come up with a dedicated site. 
"We think the fastest way to grab market share and to serve customers really well is to do what we're both good at"
– Trei Brundret, COO, Vox Media.
And, yes, you need to know the users and the market well to take actions. It is essential to ensure that you're working on a long-term opportunity, not a fad. 
SSPs go direct to advertisers
There's never been a better time to invest in user experience and quality. From advertisers to platforms, everyone seems to flock towards the supply that has quality and audience. That being said, publishers have to do the actual job of inking a direct deal with brands. Whether it is programmatic guaranteed or PMP, sellers typically spend time nurturing the big brands to divert their ad dollars into their supply. 
Well, no more. 
A new trend is on its way. Okay, it isn't entirely new, but still can change the way you close programmatic direct deals. According to Digiday, SSPs have been pitching advertisers directly.

SPO and its implications:
We are already aware of Supply Path Optimization and how buyers are cutting down the number of SSPs they work with to ensure quality. On top of it, DSPs claim to analyze the performance of the supply paths and automatically direct the spend more on the best returning SSPs.  
SSPs understood that they don't have exclusivity when it comes to supply. Header bidding enabled publishers to connect with multiple demand partners and made them compete simultaneously for the impressions. Thus, SSPs have started to connect with brand advertisers to convince them to run programmatic direct deals on their supply. 
Curation of supply:
In order to woo advertisers, supply-side platforms promise to curate the quality inventory in their exchange via whitelists, private deals, audience data, etc. If you're a publisher with the right audience and quality, SSPs can sell your impressions and help you set up a direct deal. To put it simply, the focus on quality and user experience seems to gain traction. 
Chart of the week
Amid fears of a recession and wild swings in the stock market, advertising technology companies are enjoying a renaissance.
From AdExchanger: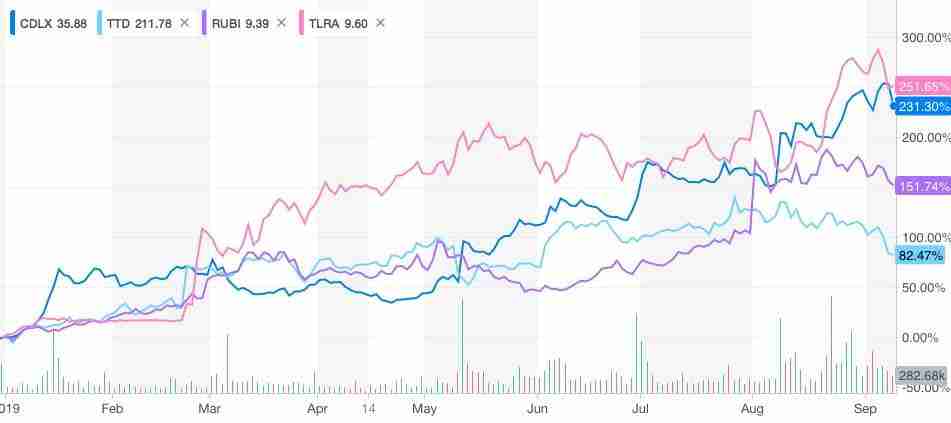 Moments that Matter
Brian O'Kelley's Next Move Has Nothing – And Everything – To Do With Advertising – AdExchanger.
How ad tech is adapting to the pivot to privacy – Digiday.
'Viewability is the starting point': Asics tests attention metrics for ads – Digiday.
ICO Issues GDPR Warning to Ad Tech Companies – PerformanceIn.