Google's attempt to create a new era of web advertising
Google has already hinted that Chrome will undergo an update to put its browser on par with others. Last week, Google made a series of announcements on its blog regarding its stance on web advertising and how Chrome will ensure user privacy while allowing advertisers to run personalized ads. 
Meet, Privacy Sandbox. 
"a secure environment for personalization that also protects user privacy"
As we are going to publish* a lengthy and in-depth blog post on "Privacy Sandbox", we'll keep it simple in this roundup. 
*Get alerts when we publish it. 
Google proposes a set of standards that could be embraced in order to deliver targeted ads – without jeopardizing user privacy. 
Federated Learning of Cohorts (FLoC):
Federated learning is a way to let advertisers target a cohort, instead of individuals. It works by grouping people together based on their browsing habits, which, in turn, will allow adtech companies to observe and target cohorts. Specifically, browsers will generate flock id for a user and update it as the user browsers the web. Flock id can then be shared with the vendors for targeting. Note that each flock id will have thousands of users, so there's no individual-level targeting. 
Trust token: 
Trust tokens are issued to users to help both the sell-side and buy-side avoid bots. This is done by segmenting the users into – trusted and untrusted users – based on the token.
Conversion measurements:
There's also an incomplete proposal to measure and attribute conversions without identifiers. Figuring out what leads to conversion is tricky – even with third-party cookies and identifiers. So, this part is likely to experience a lot of changes and requires more support and development that the others. 
"This API alone will not be able to support all conversion measurement use cases, such as view conversions, or even click conversion reporting with richer / more accurate conversion metadata. We envision this API as one of potentially many new API's that will seek to reproduce valid advertising use cases in the web platform in a privacy-preserving way."
Privacy Budget:
Google also mentioned that it will limit API calls a publisher can make and restrict websites from accessing enough user information to identify the user individually. 
User controls: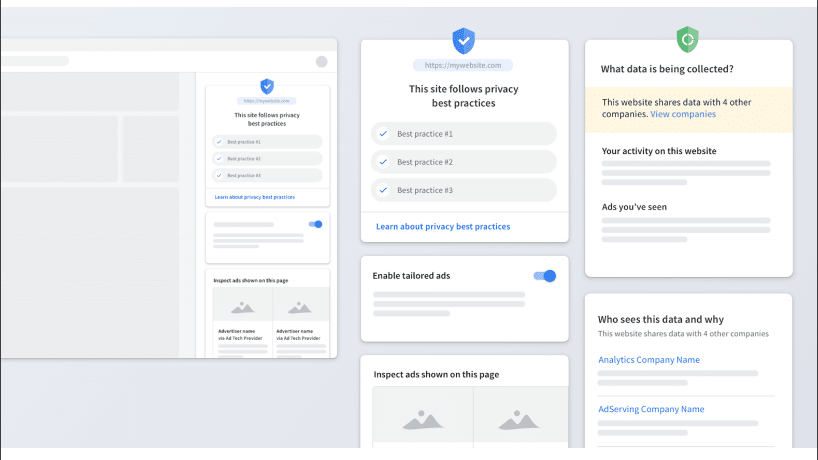 The company released a set of mock-ups that will allow users to control the data being collected and help them to act on it. From blocking tailored ads to vendors, it looks similar to the consent framework. 
Takeaway:
Without a doubt, the initiative isn't something that will affect the industry immediately. It is a multi-year span project which needs significant improvements and it fundamentally changes the way ads are being targeted to users. We'll keep you updated. 
Malicious and in-banner video ads are down in Q2
Ad fraud has never been out of topic in adtech. Every now and then, media outlets publish studies of how advertisers and publishers have been duped by a spoofer or how a botnet scheme siphoned millions of ad revenue in a span of months.
But there's some good news. According to Confiant, ad fraud detection and prevention vendor, malicious ads and in-banner video ads were down this Q2. As per the company's demand quality report, malicious ads – ads that force redirects users or loads a secondary script to download malicious software fell to 0.25% from 0.38% in Q1 and 0.54% in Q4. 
"There continues to be a huge gap between the best and worst performers. Among top SSPs, the worst performer is over 60 times as likely to deliver a malicious ad as the best performer."
– Confiant Demand Quality Report.
As expected, weekends and holidays continue to experience more hits from malicious ads. To compare, attacks on weekdays are three times lower than that of weekends (especially, Sundays).
On the other hand, In-banner videos (IBV) which play video ads in a display unit without the publisher's consent fell to 0.10%. That's a considerable improvement, as the IBV rate was around 0.5% in Q1. 
"If this trend continues, in-banner video ads can be expected to be all but extinct by the end of 2019"
Takeaway:
While it is promising to see the drop, we need to consider the seasonality here. Publishers are likely to experience more attacks in Q4 as it is the prime holiday season. Besides, low-quality ads (ads that don't fit into publishers' expected criteria including sizes, load speeds, etc.) have increased in Q2. It is always better to stay attentive and analyze your bidder partners continually to ensure better user experience and ad quality. 
Facebook's News Tab – Where are we?
Earlier this year, Facebook announced its ambitious project 'News Tab' to woo publishers and establish stronger relationships with newsrooms. Last week, Axios revealed the upcoming plans of Facebook to lauch it later this year. 
Humans and Bots:
Unlike Newsfeed, which relies primarily on algorithms, Facebook claims to involve journalists to curate the News Tab. It is, in fact, hiring seasonal journalists to ensure the right content is delivered to the users without any bias. 
Licensing:
The social media giant will pay large publishers in millions a year to license the content for News Tab. It will also pay dozens of others a licensing fee, as per the WSJ report. 
Credits:
Interesting, the News Tab will credit the actual outlet that broke the stories, rather than the aggregators.
Top News Section:
The hired journalists will curate the top news section for the News Tab while letting the algorithms to handle the rest of the Tab. 
Takeaway:
Facebook plans to roll out News Tab to 200,000 users in the US this October and plans to expand it to cover the rest of the country next year. Facebook believes a whopping 15% of users will read News Tab. What we think is publishers should have independent revenue streams and shouldn't just rely on Facebook to get traffic or revenue. We've seen what happens to Facebook Watch and Instant Articles. 
Google will join IAB's TCF next march
We've been discussing IAB's Transparency and Consent Framework 2.0 for a while now. When IAB launched the updated framework for public comment, we wrote:
"Granularity is one of the important aspects of the CMP, which the original version couldn't deliver as per the industry's expectation. Well, it is all sorted now. The new framework will have better granular controls to collect legitimate interests for 12 purposes in total (it is 5 in the current version)…….Google is planning to join the framework once the v2 is finalized."
Last week, Google said that it will join the TCF by the end of Q1 2020.  
"In line with the IAB Europe timeline, we expect to integrate with TCF 2.0 shortly after the switchover from TCF 1.1 and when 2.0 goes fully live, which we currently understand as by end of Q1 2020"
– Chetna Bindra, Senior product manager, Google.
What are the updates? 
Standardized messaging templates: 
Publishers who rely on open ad exchanges have found it difficult to present tens of vendors and acquire informed consent from the users. To solve the issue, TCF 2.0 will have standardized messaging templates that provide both legal-language and user-friendly language versions for the users. A user can read the optional user-friendly language version to understand the jargon of adtech and give consent accordingly. 
Granularity:
As we mentioned above, the granularity of the framework has been improved drastically (to 12) and two special features (one for geo-location and another for fingerprinting) are added. 
Variations:
TCF 2.0 stack comes with 38 variations as of now (which will be brought down to 5 to 10 at the time of release), to enable publishers to select the purpose and vendor stack. For instance, publishers can decide what vendors do specifically and limit each vendor to perform only the specified tasks. 
"V2.0 provides the granularity publishers need in order to remain compliant under GDPR, and the flexibility to present consent requests as they wish." 
– Angela Mills Wade, executive director of the EPC.
Specifical Categories:
Remember, the complaint against IAB and RTB for processing sensitive data including sexual orientation, ethnic origin, and political views? Well, from TCF 2.0, there will no such data in the bid requests. 
Takeaway:
"The intent is to allow RTB transactions to be GDPR compliant"
– Dennis Buchheim, EVP and GM, IAB Tech Lab.
Apparently, IAB is trying its best to make RTB compatible with GDPR. And, Google is ready to integrate it as soon as the framework is finalized. But the real question remains unanswered – what will happen to RTB without the third-party cookies and cross-site targeting? 
Moments that matter
 How publishers navigate 'bullshit briefs' from agencies – Digiday. 
Websites that peddle disinformation make millions of dollars in ads, new study finds – CNN Business. 
The death of the click – Axios. 
Sports publishers continue to grapple with politics – Digiday.