Preparing for the first-price auctions
It's done. The major ad exchanges including Google, AppNexus, Rubicon Project, and OpenX are all running the first-price auction to determine the closing price. Every player in the adtech chain is influenced by this shift – either directly or indirectly. 
However, publishers are the ones who will continue to feel the heat the most. We've suggested how to prepare for 1PA and Google's new unified pricing rules and compared Google's unified auction with header bidding. Last week, AdExchanger interviewed auction theory Ph.Ds to know what buyers and sellers should be aware of – while navigating the 1PA world. 
Here, we highlighted a few interesting statements.
– Bid Shading
Bid shading algorithms should also consider the value of an impression being bought, not just the price. At present, DSPs boast how they've managed to decrease the CPMs with the help of bid shading. But that's half the story. Without accounting for the value, buyers may end-up buying subpar impressions from the open auction. 
In other words, it's yet another push towards qCPM*
*qCPM checks whether the viewable ad impression is delivered optimally to the right user at the right time in a brand-safe environment or not.  
– Price Floors
Publishers aren't advised to A/B test their floors or use any algorithms to dynamically change their floor prices. This may seem surprising for many but there's a reason behind it.
"When you randomly alter the bid floors, and buyers aren't aware of it, their behavior won't adapt in the short term." 
– Shengwu Li, assistant professor of economics at Harvard University. 
First-price auction and Google's unified pricing rules are affecting the way buyers bid. If you add more and more floor changes to optimize, buyers wouldn't be able to predict and bid as you expect. At the end of the day, you might lose bids from buyers.
– Transparency
The researchers also argued that ad exchanges should allow buyers to have aggregated bid distribution information, which, in turn, can increase transparency and help us get rid of illegal auction tweaking. 
Takeaway:
The industry is moving towards value. As a publisher, it's time for you to focus on delivering stellar user experience and quality impressions. Also, whether you're adding a new bidder partner or creating new pricing rules, give some time so that buyers can adapt to the changes. 
Adtech tax
There are only a few topics that tend to repeat themselves in our weekly roundups and adtech tax, apparently, is one of them. On one hand, private marketplaces are trying to reduce the adtech fee for the buyers – hoping that it would help them build long-term relationships. On the other, consortiums are advising the sellers and buyers that not all adtech fees are taxes. 
Leaving the arguments aside, what's the actual fee that intermediaries levy on the buyers and sellers to enable programmatic trading? 
Well,  eMarketer's latest study has a definitive answer – Nearly one-third of the programmatic display ad spend (non-social) goes to tech intermediaries.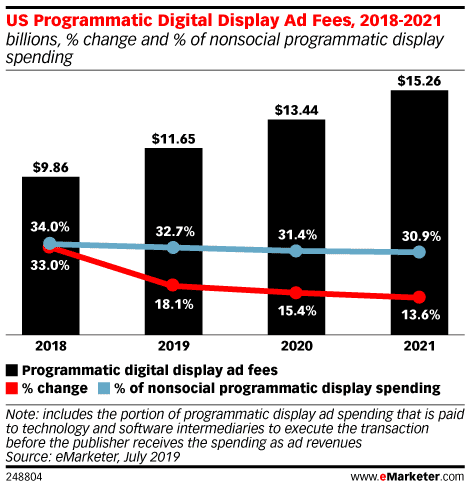 To be specific, that's $11.65 billion fees for ad transactions valuing $24 billion. 
The research includes estimated fees from all the platforms, managed services, programmatic exchanges, demand-side platforms, supply-side platforms, data and targeting providers, measurement vendors, attribution providers, verification services, and others. We believe the scope of the study is to assess the tax – with most of the intermediaries and technologies involved in the transactions. 
eMarketer surveyed dozens of vendors and service providers to get an estimate here.
Where are we headed?
At first glance, the fees might seem huge. But, in fact, it is decreasing. As shown in the picture above, the growth in adtech fee will be 18.1% this year, 15.4% the next, and will reach just over 13 percent in 2021. The overall adtech fees are increasing as the spend towards non-social programmatic display is increasing year-over-year. 
"Programmatic fees as a share of the total have decreased in the last several years and will continue to do so for several reasons."
– Nicole Perrin, Principal Analyst, eMarketer. 
Takeaway:
We expect the fees are reducing because of three major reasons:
Media buyers are taking advantage of vendors offering their products using Software-as-a-service model. Instead of charging based on volume, demand-side technologies are wooing advertisers with month-on-month standard pricing plans. 
Supply Path Optimization (SPO) is getting into the adtech scene and will continue to grow among the buyers.
Last but not least, adtech consolidation will reduce the number of intermediaries/ 
The state of RTB in Europe
The battle against the use of personal data in RTB is gaining steam in Europe. The latest AdExchanger's piece tries to look at the state of RTB from different perspectives. 
IAB Europe:
Without any surprise, IAB Europe believes it is possible to conduct RTB without breaching the GDPR law. Wondering how? The consortium aims to use Transparency and Consent Framework (TCF). 
"There is a latent question in the air. Is it possible to do programmatic in a way that complies with the GDPR?"
– Townsend Feehan, CEO of IAB Europe. 
Informed consent and data protection:
Though TCF can help publishers to get informed consent and pass it along the supply chain, privacy advocates argue that there's no way to protect the data. According to the filed complaints, the framework doesn't consider how data is being handled in real-time bidding – dissemination, lack of minimization, and data leakage issues. 
ICO
On top of the existing grapples, ICO has warned that current TCF isn't in line with the GDPR yet and expect it to comply with the law, within the next 6 months.
Takeaway: 
To be frank, analyzing RTB and how can it rectify its loophole to become GDPR compliant is a long process, which might significantly change the way RTB works. Brian O'Kelley, founder and former CEO of AppNexus thinks it doesn't make sense to run RTB w/o personal data. 
"I'm calling BS – you can't stop targeting and keep doing RTB. Making RTB untargetable kills it, and it's not the right conversation to be having, it's not an honest conversation."
– Brian O'Kelley, founder and former CEO of AppNexus.
We'll see what development follows and where RTB is headed. 
The Ozone Project introduces contextual ad-targeting
The Ozone project, an alliance b/w The Guardian, News UK, The Telegraph, and Reach has come a long way since it started. It ran its first successful ad campaign and integrated the data and audience of the biggest UK titles – beating the scale of Facebook in the UK. 
What's interesting is, the alliance evolves its tech stack to offer what the market demands. With media buyers worried about third-party cookies and personal data (thanks to GDPR and major browsers blocking third-party cookies), contextual targeting has been the talk of the town. 
The alliance realized that there's an opportunity to pull in more ad dollars with the help of the right contextual ad targeting tool. 
Inefficiencies: 
Typically, publishers have different ways to measure the context of the page and place relevant ads. In addition, most tools are keyword-based, that is, it uses keywords to match content and ads.
This means publishers [of the Ozone project] can't reach the combined audience of 40 million+ and keyword blacklist prevents ads from appearing on the relevant web pages. So, the ozone publishers decided to make use of the same ad tech to standardize how context is measured and ads are places across all the sites.
Takeaway:
As per the source, Ozone has run over 50 campaigns on the platform and generated revenue well into the seven-figures, with a month-on-month rebooking rate of 85%. With this contextual ad-targeting options, the partnership makes itself stronger and a compelling alternative to duopoly. 
"If they [premium publishers] can do things as a group, that provides cost benefits to them and to us, a uniform way of targeting in a set structure" 
– Dave Sandham, director of media at GroupM.
Moments that matter
Q1 2019 Reaches $28.4 Billion in U.S. Digital Ad Revenues, According to IAB – Business Wire.
Break Up Google? 5 Questions For Brian O'Kelley – AdExchanger.
Enforcing Against Click Injection Fraud – Facebook.
Publishers thoughts on 1PA, contextual ad targeting, and more – Digiday.