What makes Vungle, a success story?
Blackstone acquired Vungle, a video ad network for a speculated $750 million last week. As you've guessed, that's an impressive exit for an adtech company, especially in the digital advertising space where Google and Facebook capture more than half of the ad dollars. 
Here's a snapshot of Vungle:
Vungle, similar to other ad networks works with both app publishers and advertisers directly. App developers can use its lightweight SDK to ramp up their revenue and user experience. Advertisers can deliver their ads using Vungle's self-serve platform to the millions of users across thousands of applications. 
At first, it might look like just another ad network for apps. But when you dive deep into its offerings, you'll understand what made Vungle become a viable duopoly alternative and a success story. 
 "Only four ad networks have more SDK coverage than Vungle among top-grossing apps, and two of them are from Facebook and Google."
– John Koetsier, VP of insights, Singular.
Ad Formats: 
If you've signed up for our weekly roundup, you know that we suggest publishers and advertisers to experiment with innovative ad formats. Users consume a lot more video content on mobile than they read text-rich articles on any other devices. To put it simply, Vungle capitalizes on the opportunity. With Vungle, advertisers can run dynamic, interactive video ads.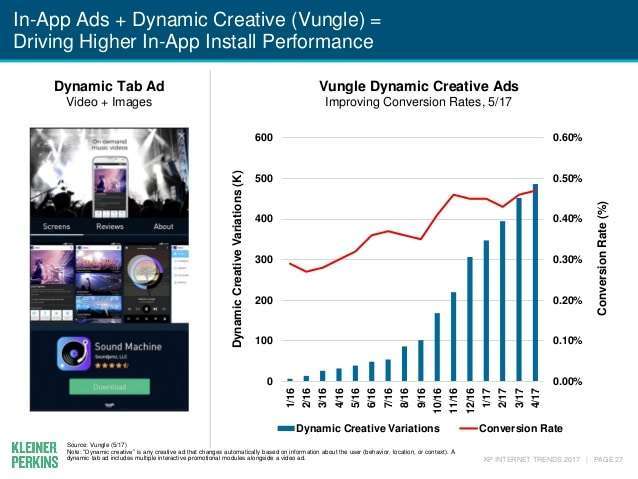 In fact, that's the best value prop of Vungle. 
Self-serve platform:
Media buyers are looking to cut down the middlemen and take over the advertising themselves. It is far more transparent and effective, especially for larger ad campaigns. Vungle introduced a self-serve platform at the right time to capitalize on the demand for transparency. 
"Based on the success of our beta, we have a strong pipeline of advertisers eager to adopt the Self-Serve Platform; we expect that the global availability of the platform will significantly increase the volume of customers on the Vungle platform."  
– Martin Price, Vice President of Product (Src). 
Similarly, they ensured app developer can integrate SDK and manage ad inventories/ads easily with a dashboard. 
Quality and Scale:
Advertisers constantly worry about the quality of inventories in an ad network. Then, there are ad fraudsters trying to siphon the ad dollars by corrupting the supply chain. Vungle curated the higher quality inventory while scaling up its business. 
Singular, a marketing platform ranks the company fifth on its annual index of best mobile ad networks (based on ROI). It also uses its own studio to design the right ads for advertisers and according to Vungle's site, they produce 89% of the creatives running on the network. 
What about its reach? 
The video ad network works with 60,000 apps and ensures that advertisers who are looking for duopoly alternative can use its self-serve platform. 
Takeaway:
Buyers demand quality, scale, and innovative ad formats from sellers. Web publishers and apps willing to increase their revenues need to focus on quality and test innovative ad formats (primarily via Private Marketplaces). 
How publishers are using their first-party data?
Everyone in the industry is concerned about cookie-less targeting. As the browsers continue to block tracking cookies, publishers are compelled to make use of their first-party data to help advertisers target users and come up with insights to drive revenues. Here's how publishers are doing it. 
Meet, Zeus Insights:
Dubbed as Zeus Insights, the Washington Post's first-party data tool will help advertisers to target users based on their intent and context of the page. As marketers are looking to figure out a way to identify users (w/o tracking cookies), the Post believes Zeus will fill up the gap with its intent-based targeting feature. 
The platform collects contextual data including what a user is reading, position, scroll depth, and referral source and matches the data with its existing audience data pools gathered over the last four years. 
Bloomberg's WorkWise:
While the Post uses its accumulated first-party data for ad targeting, Bloomberg used its data to come up with a new product – WorkWise. WorkWise is a product/experiment to weigh the value of career advice and job-related content on Bloomberg. 
According to Digiday, Julia Beizer Bloomberg Media's chief product officer and David Harding, one from the engineering team recognized that younger readers (under 34) contribute to 46% of the traffic on company information pages. 
As the readers are spending time on company profiles, the publisher came up with WorkWise to deliver personalized career-related content for them. 
LadBible's DMP:
LadBible, a publisher with huge social media traffic (90% of total traffic) has struggled to effectively monetize its users. We know it's quite tricky to monetize visitors from social media platforms as they tend to leave the site with just a pageview. Besides, social media platform don't pass any data to understand the visitors. So, the publisher used a DMP to track the clicks, referral source, who the users are, and when they return to create contextual-based profiles with purchase intents. 
"It felt terrible to go into an agency and tell them we have 50 million unique users a month but we can only target 10% of them. We weren't able to understand our own audiences on our owned and operated sites."
– Macauley Lowe, Head of programmatic.
This, in turn, helped the publisher to increase its revenue by 160% over the last six months, as per source. 
Manipulating supply chain – 100 million ads compromised
Ad fraudsters have always tried to get into the supply chain to redirect users to scam sites and force them to install bugged software. An ad fraud scheme ran by Hong Kong-based malvertiser named 'fiber ads/click follow' has been identified last week. 
Confiant, one of the well-known ad fraud detection companies in the market explained how the malvertising group compromised over 100 million ads in 2019 so far. Noticeably, the broker (Fiber ads) partnered with legitimated DSPs to power its transactions. Apparently, DSPs should have passed on the ad creatives from the broker (provided that they win the impressions) to publishers via ad networks and exchanges. 
In fact, the ads were shown to Windows 10 apps and Microsoft Games, not just to the sites on the open web. The so-called broker sourced the DSPs for the scheme from media forums like MediaAds.com posing as a regular buyer. 
Takeaway:
While the affected platforms, publishers, and partners are alarmed, it is yet another hit for the adtech ecosystem. As a publisher, it is always advised to ensure that your suppliers are taking measures to prevent any scams and malicious ads. 
Quality leads to better viewability – A Study.
In our last week roundup, we discussed how advertisers are moving towards overall quality, rather than quantity. Well, The World Media Group (WMG) recently conducted a study across its publishing partners including Business Insider, The Economist, Forbes, Fortune, National Geographic, Reuters, Time, and The Wall Street Journal. 
Moat, an analytics and measurement company measured the in-view rate, dwell time, etc to prove that quality journalism has influenced ad viewability. Here are the few highlights from the study. 
In-view rate:
The proportion of visitors who have viewed an ad was 67% for mobile display ads on WMG sites, which is 32% higher than the industry standard. 
Similarly, desktop display ads in-view rate was 72%, which is 27% higher than the industry standard. 
Dwell time:
The dwell time was also higher on both mobile ads (up 13%) and display ads (up 39%) on WMG sites, compared with the industry average. 
Takeaway:
Not just the advertisers, users seem to chase higher quality sites with better ad experience. This further confirms the fact that the ecosystem will reward publishers with quality, not just quantity in the near future. 
"The Moat analysis underscores what we have long believed – that consumers are more receptive to advertising when it's presented within an environment of high-quality content that they trust."
– WMG.
Ads.txt Adoption hits 90%
According to AdZerk, ads.txt adoption is over 90% in the US. 
Adopt the standard. If you've it already, check your ads.txt file for errors and update it regularly. 
Moments that matter
Wimbledon wants to monetize its archived content in digital push – Digiday. 
Amazon wants to give users $10 in exchange for tracking them all over the web – AdAge. 
Attempting a meta-network for local news, Facebook announces community-building grantees – NiemanLab. 
I found your data. It's for sale – The Washington Post.