Meet qCPM
Though programmatic has proven to improve yields for publishers, the debate characterizing programmatic as 'a race to the bottom' still exists – in infinitesimal proportions. Everyone on the sell-side knows that header bidding drives up the demand for ad impressions, thus the overall ad revenue. 
Especially, with the floor prices, pricing rules, and first-party data, publishers can command premium prices and strategize how they auction impressions. 
Buyers, on the other hand, have been trying to pivot towards quality. Ad agencies and buy-side platforms are left with no choice other than ensuring ads are placed in a brand-safe environment and shown to the targeted user at the right time. As the whole industry is evolving, media buyers and agencies are shifting their focus from CPM to qCPM. 
vCPM (also called as Viewable CPM) helped the industry to prioritize ad viewability. Now, a similar metric is gaining traction again – qCPM. qCPM or Quality CPM count an impression when all the aspects of it – such as viewability, ad environment, targeted user, and frequency meet the preset criteria. 
In other words, it checks whether the viewable ad impression is delivered optimally to the right user at the right time in a brand safe environment or not. 
In case you're wondering, many agencies have been optimizing their campaigns for qCPM, rather than buying the impressions for the lowest CPM possible. According to AdExchanger, Hearts & Science, Essence, Adlicious, and Adelaide (buy-side platform) are some of them. 
"There was a perception in the industry for many years that programmatic was poorer quality inventory. This [metric] was a way for us to compare the two and level the playing field."
– Gila Wilensky, Essence SVP of Media Activation, North America.
While the way of using the qCPM varies from agency to agency (post-campaign or real-time), agencies tend to analyze the log-level data, viewability, time-in-view, and other similar metrics to calculate it. 
Takeaway:
The more familiar qCPM (or Valuable CPM or Cost-per-valuable-impression) gets, the better it is for the ecosystem. Obviously, publishers who prioritize quality will attract similar buyers and experience the lift in CPMs and user experience as well. If you're utilizing any one-off tactic to sacrifice user experience for viewability/CPMs, it's time to shift the focus towards overall quality. 
LUMA market report Q2 2019
LUMA partners, an investment advisor studying martech and adtech landscape released its Q2 report last week. Here we highlight a few interesting insights from the report. 
a. Adtech M&As – Filling the void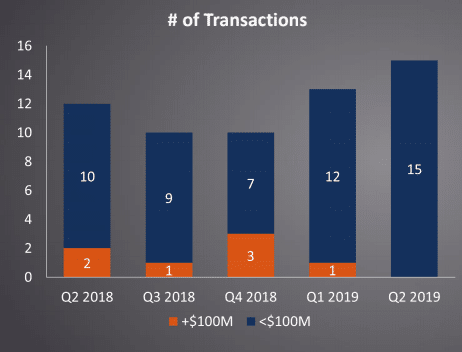 We've been discussing adtech M&As in our roundup for a while now. While there are some noticeable acquisitions – including the ones from Amazon and Walmart, none of them over $100M in transaction value. This is the first quarter with no such transactions and we blame the duopoly. Acquirers don't want to pay a hefty amount and get into the digital advertising – where Google, Facebook, and Amazon (the recent one) clearly eats most of the pie.  
b. Stock performance – Green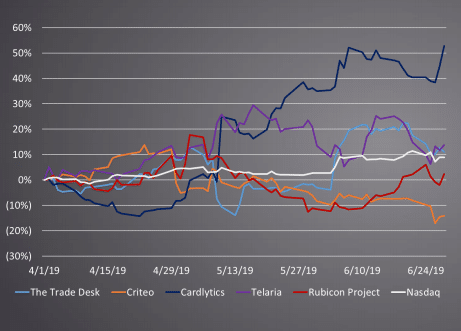 Overall, the adtech sector grew by ~9% (including The Trade Desk performance) and all the companies pushed their respective stock up except Criteo. As you could see, Criteo has been struggling to stabilize its stock value. Privacy-focused browser updates, upcoming GDPR-like laws should've affected the stock. 
Prebid has integrated a new ID solution
Prebid, the most-used header bidding wrapper has built-in user ID modules to bypass the inefficiencies of the current cookie syncing process. Instead of allowing intermediaries to create their own IDs and sync them with each other, all of them can share and use a common ID. With the recent addition of ID5's ID solution, prebid now has four ID schemes. 
"By reducing the amount of matching technology on their pages, publishers can speed up their load times through reducing the amount of pixels on their pages."
– Mathieu Roche, CEO, ID5 (Adweek).
ID5 says that publishers with prebid.js wrapper can retrieve its ID, store it on a first-party cookie and then share it with their partners with a simple on-page configuration. A publisher can choose the partners to sync the ID with and mitigate the impact of tracking prevention features introduced by Safari and Mozilla.
Theoretically, it should improve the match rates, which in turn, increases the revenue for publishers. Advertisers and platforms, on the other hand, can gain from the better match rates and reduced cookie syncing processes. Of course, page load time is supposed to get better too.
Takeaway:
With browsers coming up with features to curb third-party cookies, it is important for the industry to settle on unified ID solutions. Integrating with prebid is one of the best moves to ramp up the adoption of any ID solution and with this integration, ID5 aims to capture the market. As per the company's statement, ID5 has partnered with more than 45 platforms in the ecosystem already. 
Browsers' war against privacy
We know you heard it before. But here's what we wrote about browsers a month ago:
"Browsers are actively pursuing the privacy story to expand their user base and eventually, every browser is compelled to enable some sort of ad blocking experience. It can be either done voluntarily or to take a stand against competitors (for instance, Google's expected Chrome update)." 
In fact, the notion has become stronger since then. Almost all the popular browsers have either announced or yet-to-announce tracking prevention feature. Mozilla's Enhanced Tracking Prevention aims to prevent anyone from tracking its users using third-party cookies. 
Conflict of interest
That being said, Mozilla doesn't want to jeopardize its revenue too. In case you don't know, Mozilla generated a huge amount of revenue from its search engine partnerships including the one with Google. Its revenue mix has a considerable proportion of advertising dollars and Mozilla wants to see how its new feature will impact its very own bottom line – before rolling it out to 100% of the users.
According to AdExchanger, the browser is testing 'Enhanced Tracking Prevention' with fewer than 5% of its total user base to measure the impact on its advertising revenue. 
"As a corporation backed by a single nonprofit shareholder, the Mozilla Foundation, we are uniquely able to put mission value above product. Nonetheless, revenue tests like this are important to ensure we make an informed decision about a feature launch and understand the potential impact on other projects we may want to fund."
– Peter Dolanjski, Desktop product lead, Firefox.
Takeaway: 
It isn't quite easy to restrict third-party cookies altogether. The entire advertising industry is relying on the cookies to capture, track, and report. And, whether we admit it or not, advertising powers the internet. What we can expect is a gradual shift from third-party cookies to IDs like the one we discussed above. 
Term of the week
Zero-party data  – First-party data with clear consent so that marketers can use it to run ads and personalize the user experience.  
Moments that matter
Guide to European regulators' war with the tech platforms – Digiday.
Marriott Faces $123 Million GDPR Fine for 2018 Data Breach – Bleeping Computer.
Are Google Unified Pricing Rules Good For Publishers Or Good For Google? – AdExchanger.