French data regulator releases its POA
In early June, we saw that French data protection authority CNIL (Commission Nationale de l'informatique et des libertés) will give a year for the adtech industry to properly adopt GDPR. At the time, we wrote:
"GDPR requires publishers to get "informed" and "unambiguous" consent from users to drop third-party cookies. But French data protection authority CNIL's (Commission Nationale de l'informatique et des libertés) 2013 consent recommendations allows publishers to drop cookies as long as a banner is shown to the user explaining the purpose. 
Now that the GDPR is live, 2013 recs became obsolete and CNIL plans to revise it and release the updated consent recommendations in 2020. So, French publishers, for the time being, can run personalized ads, just by showing a simple banner to the users."
Recently, CNIL released its agenda for 2019-2020 publicly in its blog. The plan of action confirms that targeted advertising will be further scrutinized over the upcoming months. 
"The CNIL has therefore decided to make targeted online advertising a priority topic for 2019."
The CNIL will stick to its previous plan of updating 2013 recs. However, there's a timeline now – The data authority will repeal the outdated recs by the end of this month and also plans to publish new guidelines in the upcoming weeks. 
Besides, the CNIL has made it clear that the complaints against vendors, publishers, and other stakeholders will be investigated – especially in the areas of data security, consent withdrawal mechanisms, etc. 
The data regulator's next step, as expected, is to publish the new recs by the end of this year or early 2020 after consulting with all the stakeholders in the ecosystem including publishers, intermediaries, and service providers. The new recs is expected to answer all the questions related to operational aspects of the consent mechanisms. 
Takeaway:
As we mentioned elsewhere on this blog, privacy laws are here to stay. Though the POA refers to just French data authority, the implications are far wider. Publishers should try to comply with the law – dodging it or playing the wait-and-see game wouldn't help in the long run. Even if you're concerned about complaints against RTB and TCF, it is better to run with the industry, rather than starting from scratch at the last moment. 
Publishers Vs duopoly
A group of large media companies partnering up to offer their premium inventories isn't something new. We've been talking about the Ozone project from the last year and dived into what makes it an impressive alternative for advertisers in the UK. 
In case you aren't aware, the ozone project was launched as a managed service allowing advertisers to book campaigns – for the team at Ozone to execute. But advertisers who have been buying media via DSPs would have to create separate plans/team to make use of what Ozone has to offer. 
So, the Ozone project partnered with OpenX, an ad exchange last week. The partnership will connect Ozone's platform to OpenX exchange enabling programmatic buyers using DSPs to directly buy and execute campaigns targeting Ozone's audience. 
Why is it a big deal?
Advertisers are increasingly demanding transparency and willing to cut down the middlemen as they can to get rid of so-called 'adtech tax'. Furthermore, agencies who're managing programmatic campaigns for buyers wouldn't outsource the service to Ozone. After all, agencies themselves are outsourcing partners. 
Direct integration with adtech partners will eventually allow the Ozone to chip away the duopoly. 
Takeaway:
As you could imagine, scaling up the demand via integrating with multiple partners will put 'ad quality' in question. Managed service automatically cuts out the rest from the best, but self-serve is a different problem to tackle with. That being said, it's not impossible. From Google to Facebook to Amazon, all of them are attracting billions of ad dollars with their self-serve platforms. 
Supply Path Optimization
We know that the agencies are trying to cut down the number of intermediaries they work with. Though header bidding helps publishers to open up their inventories to multiple demand partners, it makes it harder for SSPs/exchanges to differentiate themselves from others. 
Instead of partnering with tens of exchanges, a programmatic buyer can partner with just a handful and still get the expected reach. AdWeek revealed how Havas directed more of its spend towards premium media properties with SPO. 
SPO:
Havas, one of the well-known media buying houses, started to scrutinize the supply chain, thanks to the wide-coverage of adtech tax. Unsurprisingly, the company found that they're buying impressions from 40+ exchanges and it meant that they're leaving the brand safety of clients to chance. 
"And when we started pulling the data, we saw that we were buying from over 40 exchanges … It's just unnecessary, and the logic is that once you're buying from that many exchanges you open yourself up to risk around brand safety."
– Andrew Goode, EVP and head of programmatic at Havas.
And, most importantly, the agency came to know about the reselling relationships within some vendors – which basically added no value to the clients. It cut down the exchanges to less than 10 and the results are promising so far – particularly, it directed more ad dollars to quality/premium publishers. For instance, Havas' partnership with SpotX, a video ad serving platform (after eliminating the majority of the exchanges) increased the spend on premium U.S. publishers by 217%. 
You're right, the increase in spending doesn't mean more impressions on premium sites (CPMs may be higher). But it does mean fewer impressions on long tail publishers. How? If you only buy via a handful of exchanges, you're reducing the number of long-tails that'll have your target audience. 
Takeaway: 
Buy-side platforms have been providing SPO as a part of their suite. And, if you look at the long-term benefits of supply path optimization – to both buy-side and sell-side, it is apparent that there'll be lesser but deeper relationships b/w the stakeholders in our ecosystem. To put it simply, you will get the same, diversified advertisers bidding from a handful of exchanges, rather than tens of exchanges.
Note: SPO doesn't reduce the number of advertisers competing for your impressions, but will reduce the exchanges. 
Microsoft Tracking Prevention
We saw this coming. In fact, in our last week's roundup, we outlined that Microsoft Edge team is planning to release a tracking prevention feature similar to Safari's ITP and Firefox's Enhanced Tracking Prevention. 
Well, Microsoft released its own tracking prevention and it is now available in Microsoft Edge preview builds – a preview version of the browser which allows users and developers to test the upcoming changes on the Edge. 
The feature is turned off by default and users have to manually enable it by visiting a specific address. What's interesting in this feature is, the browser has three levels of tracking prevention.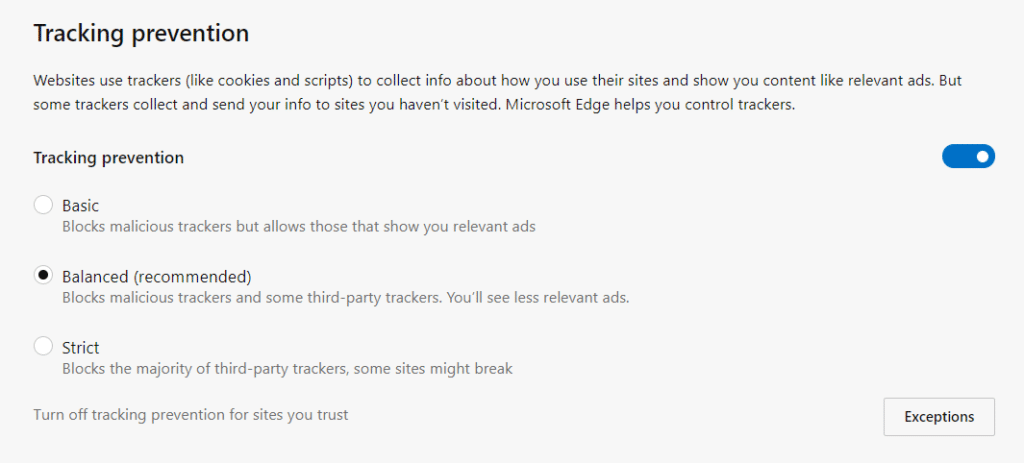 Basic: When a user opt-in to go with basic, only malicious trackers are blocked by the Edge. No third-party cookies or advertising trackers are blocked in this level.
Balanced: Balanced, a recommended level by Edge, blocks malicious trackers and some third-party trackers. Users will see less relevant ads, depends on what is being blocked and what is not.
Strict: Blocks almost all the third-party trackers and cookies.  
The browser will check whether the domain trying to load or access the web storage is a tracker or not by comparing it with "Trust Protection Lists" – a list containing the domains of the trackers. Once it is identified as a tracker, Edge will block it based on your preference (balanced and strict). 
Takeaway: 
The browser will block the tracking scripts entirely if it doesn't add meaningful functionality to the page. To be honest, we know browsers have to come up with tracking prevention feature to hold and expand their user base. However, Edge seems to take a modest approach towards third-party cookies. Let's see what Google does.  
Moments that matter
Publishers will soon no longer be able to detect when you're in Chrome's incognito mode, weakening paywalls everywhere – NiemanLab. 
If Facebook and Google don't fix their problems, advertising execs say they could go somewhere else – CNBC.
120 days payment terms, owning IP rights – Agencies Balk at 'Insane' Conditions of New General Mills RFPs. – AdWeek. 
Ad redirects are still affecting the top media companies (Here's how to take care of them) – FastCompany.