Google unified first-price auction update
If you're a regular reader of the roundup, you would be aware of Google's unified auction release and its implication on the industry. Last Friday, Google shared an update explaining how the new unified auction will work on Google Ad Manager.
Auction:
As of now, Google runs two auctions to pick an ad. The first one is a second-price auction where Google's Authorized Buyers (DoubleClick AdExchange for Buyers) including Google Ads, Display & Video 360, and other DSPs compete with each other. The winning bid from this auction is, then competed in a first-price auction with the bids from guaranteed and non-guaranteed campaigns as well as exchange bidding partners.
So, a second-price auction followed by a first-price auction determines the winning bid.
Once the unified auction goes live, Google promises to slash the multi-stage auctioning mechanism, allowing everyone including Authorized Buyers, header bidding partners, exchange bidding partners, guaranteed line items to compete in a single, unified, first-price auction.
Bid data:
As we've seen before, Google will require all Ad Manager partners to share and receive bid data. Publishers will know all the bids submitted for their ads while buyers have the data to know the clearing price of the auctions they've participated in.
As predicted, Google said publishers are required to set floor prices for all the buyers in one place and cannot create specific rules for platforms. So, from exchange bidding partners to header bidding partners, everyone will have the same pricing rules.
Takeaway:
Some of the information in this thread is well-known to publishers already. In fact, we've discussed in our last roundup. But this, however, is a direct announcement from Google, not from any meeting. Unified first-price auction indeed makes the auction simple, but pricing rules are still a problem for publishers. Google, with its latest announcement, seems to stick to it.
Note: The number of rules is still in the discussion phase.
PMPs see a steady increase in demand
Private Marketplaces are gaining traction in one way or another. Either publishers are increasingly offering their premium impressions to a handful of known advertisers (the traditional route) or advertisers are investing to curate a private, brand-safety marketplace to trade programmatically.
We all know the benefits of PMP. So, it shouldn't come as a surprise when you hear that PMPs will beat open exchanges, in terms of spending by 2021. According to eMarketer, US advertisers will spend $15.97 billion on private marketplaces and close to $14 billion on open marketplaces by 2021.
This year, open ad exchanges will attract $12.22 billion and PMPs will lure $11.56 billion from the US advertisers. The spending will gradually shift to PMPs in the upcoming years. That being said, open ad exchanges are expected to maintain a slow but steady pace.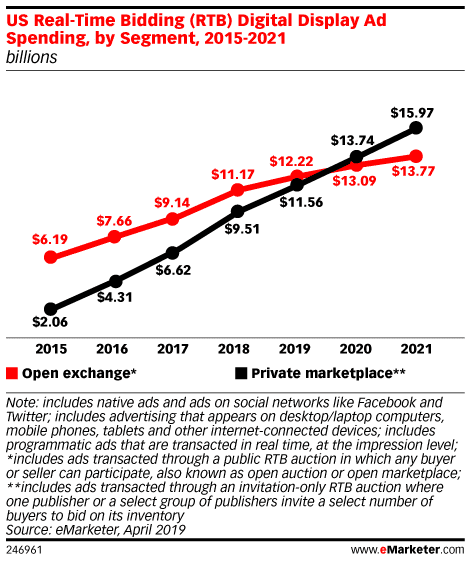 What's helping the PMP adoption?
Other than the obvious ones, there's a couple of factors pushing both the sell-side and buy-side to run PMP auctions.
– Tracking
Thanks to GDPR and Apple ITP, tracking has become a headache for the entire ecosystem. Though we mitigate the impact by implementing CMPs (for GDPR) and developing workarounds (for ITP), it is clear that cookie-based targeting will be less reliable. Thus, for a programmatic buyer, reaching the right audience through PMPs is far easier than open exchanges. Eventually, advertisers are compelled to try out PMPs.
– Consolidation
Consolidation accrues the supply and demand, which in turn, makes the premium publishers/advertisers to curate a marketplace to stand out from the crowd and trade better.
Takeaway:
Last week, we saw OpenX is working on an identity graph solution and the industry is prepping up for a cookie-less era. In the long run, open exchanges will have their places along with other programmatic models – PMPs, PGs, etc. If you're a publisher with an engaged audience, you'll see yourself selling on both PMPs and open exchanges in the future.
How SPOs are done?
Supply Path Optimization isn't something new in our industry. Buy-side platforms and agency-focused exchanges tend to implement a strategy to weed out the inefficient middlemen/vendors in the supply chain. For instance, PubMatic and Goodway Group partnered to create a low-fee supply chain recently.
AdWeek's piece on SPO hinted that major ad tech companies are cutting down the vendors in their supply chain to make sure the advertisers are paying the right CPMs.
Rubicon Project:
Rubicon Project considers the number of "hops" b/w buyers and publishers' inventory to deliver better ROI for its brand customers. Unlike other vendors, the Rubicon Project believes reducing the number of hops will automatically reduce ad lag, middlemen, ad errors, and brand safety concerns. To reduce the hops, the company is trimming exchanges from resellers, thus providing a reliable supply path for its advertisers.
AppNexus:
AppNexus, on the other hand, focus more on the "aggressive auction tactics". By actively monitoring and cutting down the SSPs that utilize hostile strategies, AppNexus ensures the CPMs are always in an acceptable level while preventing the health of the supply chain in the long run.
Iponweb:
Iponweb uses "optimal price discovery" to find the type of auction an SSP is running. Optimal price discovery studies the historical bid stream data to predict the auction (first-price or second-price) and help the buyers to bid the right CPM.
Takeaway:
Whatever the strategy is, there's a common theme in SPO – Paying the right CPM for the impression. Make sure your impressions aren't overvalued. Because buyers will analyze and shift the spending towards a different publisher with the same results, but lesser CPMs. And, it comes down to SSPs you partner with. So, pick the right one.
It's here: Google's ITP and its implications
Apple is making it difficult to use cookies as a valid tracker. With its ITP updates, the Safari browser shortened the lifetime of first-party cookies and completely blocked/purged third-party cookies.
Google has been long rumored to release a similar feature and in its recent Google I/O event, the company confirmed a series of changes to its Chromium engine that will impact the cookie-based advertising.
– Cookies:
Unlike Safari which blocks third-party cookies by default, Chrome is expected to let users decide. A publisher can "signal" first- and third-party cookies on its site, which will help the browsers/users to categorize and act as per the need.
– Fingerprinting:
The company said that it will block unauthorized fingerprinting techniques by default to prevent the tracking of a user. Though the details aren't clear, with appropriate/legitimate reasons, fingerprinting can be done.
Takeaway:
It is just getting started. Google didn't detail how the new control (to manage/clear cookies) will be presented and many in the industry worry that this will further direct the spending towards walled gardens. Why?
Google has the leverage here. It can put itself in a favorable position while letting the other third-party rivals to struggle without any cookies. Publishers are facing a necessity to work on their first-party data today. It's better for you to start. As the implications are far more severe, we'll cover it up in a separate blog post soon. Sign up to get alerts!
Moments that matter
How Zeta Global Plans to Turn Its Recently Acquired Sizmek Assets Into a Success – AdWeek.
PepsiCo and Mindshare programmatic blockchain test drive 28% efficiency lift – The Drum.