Is the Times right?
The New York Times never puts all its eggs in one basket. We've meticulously studied the growth strategies of the Times and it all comes down to one thing – Look beyond the horizon to thrive in the media landscape.
The publisher doesn't just aim to grow its subscriber base. It focuses on programmatic and innovative ad products to ensure its one-off users and non-subscribers are monetized effectively. Last September, in our weekly roundup, we mentioned that the New York Times developed and successfully rolled out ad products that target the readers based on emotions evoked by the content.
It seems the publisher is serious about its proprietary products. At the recent NewFronts event, the Times pushed its new contextual-based ad products to woo advertisers.
What are the ad products?
As per Digiday, one product is similar to what we discussed here a while ago – it will help advertisers to target readers based on their motives. The product will help advertisers to target readers who are likely to perform a certain action. In other words, who are likely to undertake certain steps desired by an advertiser.
The other one is about distilling the site into "a couple of hundreds" of topics to assist marketers to precisely target readers in a brand-safe/the most relevant environment.
Takeaway:
The publisher made it clear that they are investing to grow the advertising wing. As it already partnered with major programmatic exchanges, it turns the focus towards contextual advertising. Categorizing the content as "news" isn't enough to promise advertisers a brand-safe environment, so it's slicing itself into hundreds of topics. Motive-based advertising is its next bet on its content, rather than users. The publisher believes the content will induce the readers to take a particular action and it will likely use its first-party data to better itself along the way.
Bid shading is losing momentum
Ever since Google announced its move towards the unified first-price auction, bid shading is on top of the mind for many in the industry. Of course, we were also talking about it from the days of yore. But you wouldn't believe what it comes down to.
Advertisers are wary of the ad tech vendors employing bid shading (bid shading helps to mitigate the impact of the shift from second-price auction to first-price).
Why?
Isn't bid shading helps advertisers to avoid overpaying for the ads? Yes, you're right. But advertisers and marketers don't want to put up with the black box proprietary tech and hidden fees levied by the vendors.
"They recognize the value that comes with using the technology, but they're also fearful of the risk they could be exposed to as a result of some of the black box models around the technology."
– Chris Kane, Jounce Media.
Often times, advertisers need to investigate and dig deep to know about the hidden fee/extra margin added by the vendors for bid shading. As Google goes first-price, adoption will apparently increase and this, in turn, will draw more attention to the practice. And, that's happening already.
Takeaway:
In general, ad tech vendors adapt quickly to advertisers as they risk losing the clients if they fail to. Bid shading, emerged as the hack to deal with the CPM hikes seem to lack the transparency and accepted practices to continue to unroll throughout the buy-side. We believe that it won't end bid shading, but help the industry to become more transparent.
It's the year of programmatic video
Video is arguably the fastest-growing consumption medium today. This year's NewFronts proved the same. Programmatic won't be behind either – as per the recent data by eMarketer and IAB.
eMarketer predicts that almost half of the programmatic ad spending will go to video this year. To be specific, US advertisers will spend $29.24 billion on programmatic video, which is 49.2% of all programmatic digital display ad spend. The report says that the demand will likely be stable for the next couple of years.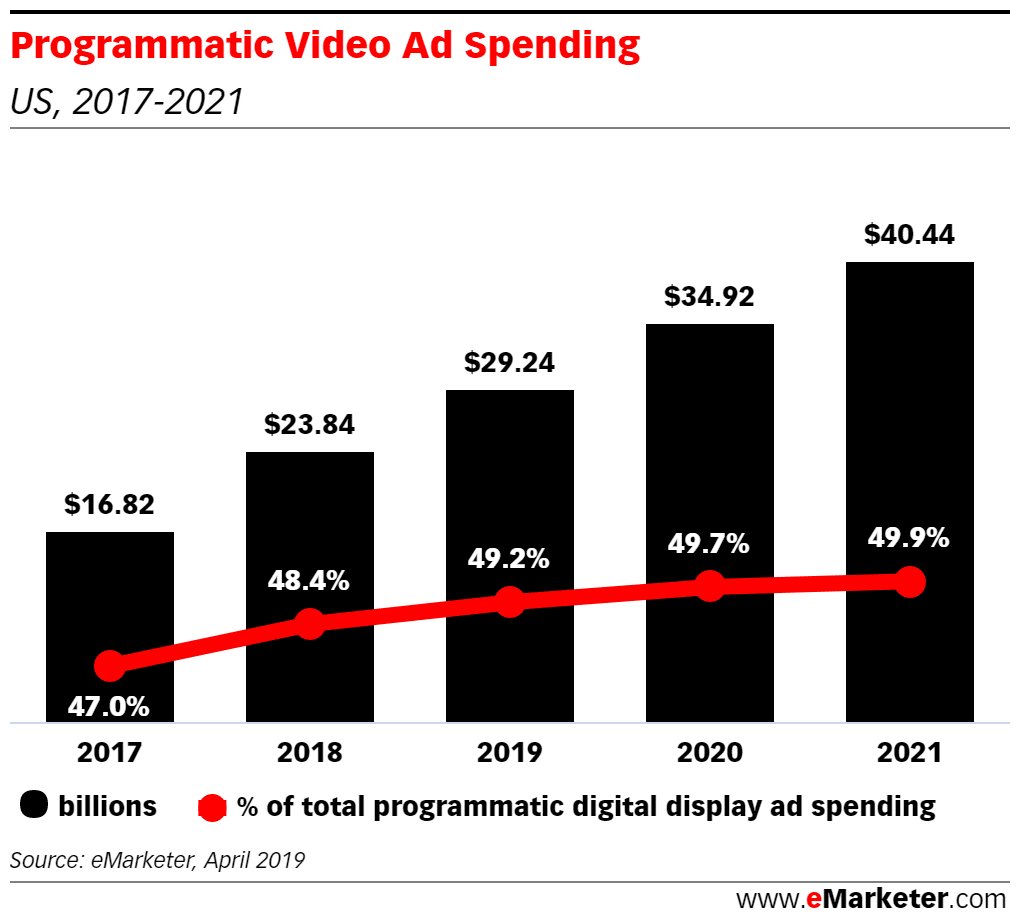 "The near 50-50 split of spending is an indicator of how eager buyers and sellers have become to capitalize on video advertising in any and all forms."
– eMarketer principal analyst Lauren Fisher.
IAB's video ad spends report says that advertisers, on average, will spend $18 million this year, a 25% increase from the last year. All the verticals will benefit from increased spending, especially media and entertainment (+75%) and fashion and apparel (+45%).
Most importantly, advertisers are looking to invest in original content and try out new ad formats.
Takeaway:
Though it sounds like a cliche, many publishers overlook it. Advertisers don't care about the innovative ad formats, verticals, etc. as long as you move their bottom lines up. You drive up the ROI of the campaigns, everyone wins. Video attracts consumers, but better content makes them stay and take action. If you haven't already, you need to take a cut from programmatic video advertising.
OpenX identity graph signals the future of ad exchanges
If you read our ad tech roundup, you know the consolidation and commoditization are threatening the survival of ad tech vendors. Major ad exchanges have to innovate continually to thrive in the midst of duopoly and Amazon. Besides, platforms promising better audience data are trying to eat the ad dollars. With its hands full, ad exchanges have to figure out a way to keep pacing towards their revenue goals.
OpenX, a well-known exchange places its bet on identity graph – a graph connecting the data points of a customer to enable people-based targeting. Last week, the company revealed that the 'OpenAudience' identity graph has been functioning in beta with a handful of buyers through a PMP setup.
"We need to create a true people-based system for the open web, so the open web can generate its fair share of ad spend."
– OpenX CEO Tim Cadogan.
How can an ad exchange create an identity graph?
Ad exchanges are known to put the bid with the user ID and it's up to the buy-side platforms to decide the worthiness of the impression and bid accordingly. According to AdExchanger, OpenX will collect data from its publishers and uses identity solutions like Tapad and LiveRamp to "enrich" the IDs.
Takeaway:
Wait till you hear the long-term plan for OpenAudience – Enabling everyone to access, share and benefit from the identity graphs with the help of APIs. The line b/w DSPs and ad exchanges are getting blurred again. While the industry can make use of an identity graph, having a third-party controlling it, will hamper the adoption. That being said, OpenX can benefit from it if it finds a profitable way to do it at scale.
Target Roundel – Goes head-to-head with Amazon
Amazon's ad revenue growth enticed both Walmart and Target. What's the status?
Walmart is busy acquiring and building its own ad business and Target is ready to race with Amazon.
Target rebranded its media company to 'Roundel'. Roundel breaks the boundaries and allows advertisers to run ads on the curated list of publishers, other than Target's own web properties. And, there's more.
From TV to channels, Target's Roundel offers a well-rounded advertising tool for marketers. Most importantly, Target will capitalize on its in-house first-party data to deliver better results for the brands and agencies. According to Digiday, Target isn't going to share or give access to its customer data to any third-party platform as it puts the privacy at risk.
If there's one thing we've learned from Amazon, it's that the company won't let first-party data slip away from its hand. Target knows it too.
Takeaway:
We all knew Walmart and Target will chase Amazon to get their share. As a publisher, it is important to create a moat for your media business – Build first-party data, analyze your readers' patterns and adjust, and don't overreact.
Moments that matter
Google DSP to default to ads.txt inventory. So, you won't get any bids from Google bid manager without ads.txt files – Marketing Land.
Ad fraud is down a report – AdWeek.