It's true, Google is shifting to the first-price auction
Programmatic auction is pretty simple to understand. But when the players in the system tried to ran both first-price and second-price auctions, the path winning bid took to reach the end of the supply chain (publisher's impression) gets tangled.
As of now, some of the major ad exchanges have already switched to first-price auction – Index Exchange, OpenX, and Rubicon Project. Others including, Google – the largest of them all runs second-price auction.
ICYDK, in the second-price auction, an advertiser who won the auction, pays a cent ($0.01) higher than the second-highest bid; rather than paying the actual bid price.
That changes, once and for all, from this year. Google publicly announced that it will be shifting from second-price auction to the first-price auction, gradually over the course of the year.
What does it mean for publishers?
Price floors. We all know you set the floor price to keep the CPMs above the minimum value (as per your revenue goals). Well, most probably, you need to work on the floors again as the bids are going to change considerably at the start.
Buyers will shift their bidding strategies and DSPs will try to adopt techniques like 'bid shading' to lessen the impact.
The next important part is, demand partners. A recent Digiday research concluded that header bidding + first-price auction increased the ad revenue for publishers. So, it's time you analyze and replace the underperforming partners with the right ones.
Takeaway:
The CPMs are likely to moderate after some time. Buyers who are completely new to first-price auctions and DSPs who didn't experience the shift are going to struggle a bit. That being said, many adtech vendors are prepared as the industry has already started the process. Google, will expedite it.
Zero second branding: MRC Viewability standard is enough?
Just last week, we scrutinized whether the current viewability standard is enough or not. We saw how some advertisers were complaining that a second of viewability isn't going to be enough.
Well, you know there's always a study when you desperately need one. The Wall Street Journal published a research conducted by a neuroscience research company Neurons Inc, which shows that 400 milliseconds is all users took to see and emotionally react to 67% of the ads.
That's not even half-a-second.
But wait, that's for mobile ads. For desktop, the ads took 3 to 4 seconds to produce the same impact.
So, we need a separate viewability standard for mobile and video?
The study didn't conclude what's the ideal time for an ad to be in-view to trigger the response from the user. Besides, there's a lot of factors in play. For instance, as per the same study, a big brand (well-known or familiar) got the reaction early than the smaller brands.
Thought the research didn't include, we also need to consider the environment (context, ad unit size, formats, etc.) before deciding on any standard.
Takeaway:
If you're an advertiser, here's a new term for you to play with – Zero second branding. It's nothing but a fancy way to say that you need to capture the emotions of the readers/users within a second.
Publishers, on the other hand, can see that desktop ads need to be in view for a bit longer than mobile ads. Strategize your ad placements and campaigns accordingly.
Amazon's quest to lure advertisers – Attribution
Amazon introduced 'new to brand', a metric for brands to track and increase their customer acquisition strategies. Now, it's diving deep into the acquisition part with the new program called 'Amazon Attribution Program'.
According to AdAge, the eCommerce giants is testing a program (still in beta) where selected brands are given the ability to know which ad campaigns helped them generate more add-to-cart actions.
Attribution
To put it simply, Amazon is improving its attribution system. And, it's a right move to lure advertisers. As you know, many retail giants aren't really interested in setting up seller accounts and spend on Amazon Ad Platform as they're essentially driving away potential customers who can directly buy from them to Amazon.
You can say that the situation is the same (if not worse) as the publishers' relationship with the duopoly. Amazon, with its growing ad business, wants to get everyone onboard and this is a key step in the process.
Takeaway:
"There has been an arms race for attribution for quite some time. Google has bought up quite a few attribution solutions. Facebook bought Atlas, which had an attribution tool, and now Amazon has gotten in the game."
– George Manas, President of Resolution Media
The attribution works as usual with the help of pixels and cookies. However, placing a system ready to optimize and track is far better than developing the "perfect" system and introducing it late.
Do readers want personalized ads?
Personalized ads are one of the foundational premises upon which programmatic industry is based. There are many studies concluding that readers actually want personalized ads. But are the readers still saying the same?
We know that the readers are increasingly worried about their privacy online, thanks to the recent scandals of the duopoly. In addition, privacy advocates and GDPR took the privacy to center stage.
What are they expecting with their personal data?
As per the latest research by network security firm RSA, almost half of the users believe using their personal shopping habits and locations to monitor fraud is considered ethical. On the other hand, just 17 percent said personalized ads are ethical.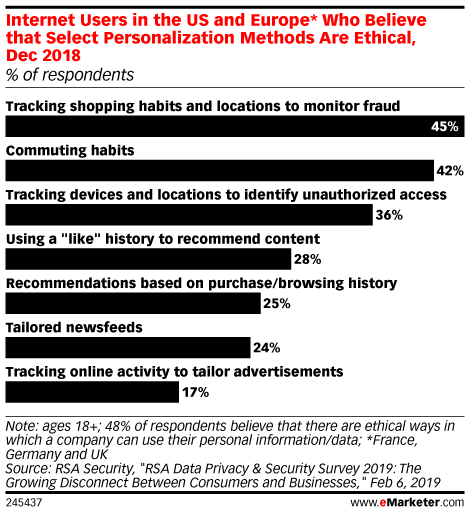 Here's the problem.
Readers wouldn't likely to chose personalized ads when they are given an option like monitoring fraud, identifying unauthorized access. To them, ads are helping brands to earn customers, methods like fraud and unauthorized prevention help them to stay safe and secure.
The publishers, typically, aren't considered while making the decision. The living proof is the Guardian. It had to explain why it needs contributions from its readers and the publisher wouldn't have thrived without the message. Similarly, readers needed to be educated about why personalized ads are served in the first place.
We aren't suggesting it will drastically change the result. Publishers have to play their part well (maintaining a better UX, content, etc.) to influence the results here.
There's also encryption. With the rise of privacy laws, adtech is essentially improving the way it functions and it will have a positive impact on the numbers.
Moments That Matter
Verizon Media to Shutter Oath Ad Server. It's not easy to compete with Google – AdWeek
Publishers are using cross-platforms to sell ads directly. But will it last? – Digiday.