Digital ad spending > Traditional ad spending
For the first time in history, digital ad spend in the US will surpass the traditional ad spend this year, as per the latest forecast from eMarketer. Yeah, until last year tradition ad spending was bigger than the digital.
Now, let's see the numbers.
The digital ad spending in the US will hit $129.34 bn this year, growing 19% YOY – 54.2% of estimated total US ad spending. And, of course, mobile ad spending takes up more than two-thirds (=$87.06 bn) of the digital ad spend.
Duopoly?
Surprisingly, the combined market share of the duopoly (Google and Facebook) will drop, but their revenues will grow. If you're wondering who's chipping away duopoly, check the most-used shopping application on your phone – Amazon.
Amazon will increase its market share from 6.8% to 8.8% in 2019, to make sure it stays in the top 3 digital ad platforms list.
Top 5 Companies
What happens to the traditional ad spend?
Now, where are the advertisers are shifting their ad dollars from?
Directories – Yellow pages will take a severe hit, declining 19%.
Newspapers and Magazines – The spend on newspapers and magazines will drop 18%.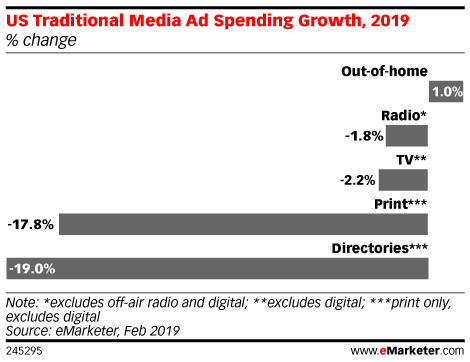 Overall, traditional ad spending in the US will plummet to 45.8% in 2019, from 51.4% last year.
Why the shift?
As you've predicted, consumers (especially the future generations) are online and continue to wander digitally. Besides, advertisers found it cheap, quick, and easy to target users online, rather than offline.
Takeaway:
Want to know how Amazon is gaining traction quickly, here's one. To put it simply, you need to trail the moves, and we do it here for you. Next, if you're willing to experience the void to be created by the duopoly, try to do what's best for your readers and in most cases, it works pretty well.
Creating better ad experience
Speaking of what's good for readers, Coalition for Better Ads conducted a survey to figure out how can publishers create a better ad experience for the readers. Google, which relies on advertising wrote a blog post about it.
Here we highlight the key findings.
Ad Formats – Dos and Donts.
A picture is worth a thousand words.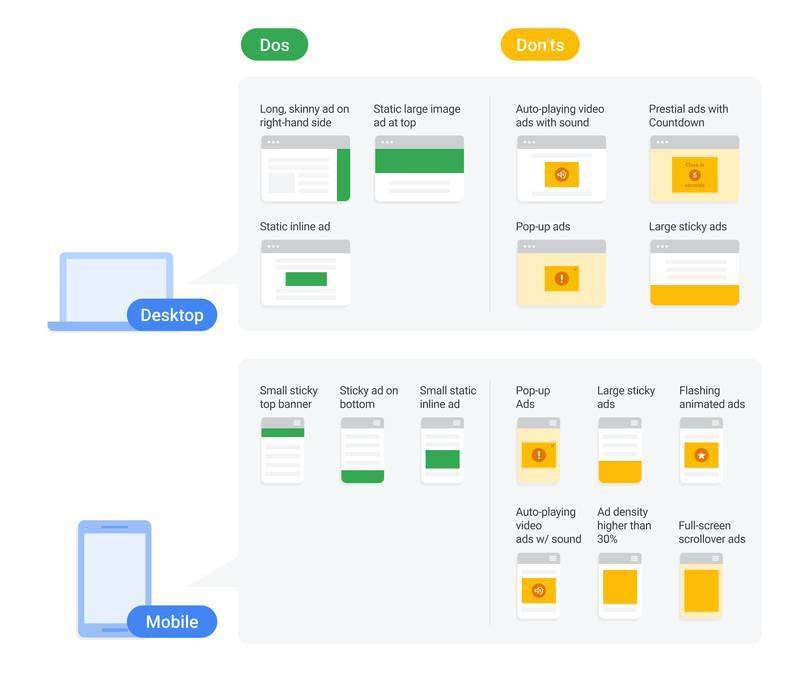 Bad Ad Formats
After surveying 66,000 web and mobile readers, the Coalition said that the publishers should run the right formats (refer above) and stay away from
– Popup Ads – More than 50 percent of the users said they won't revisit or share a page with popups.
– Video ads auto-playing with sound.
– Prestitial ads with a countdown (blocking the content).
– Sticky ads obscuring a huge portion of the content.
Good Ad Formats
Also, the research found that users don't hate all formats of ads. Narrow ads at the right-side of webpages (the most popular one) and small sticky ads at the top of the mobile web are viewed and endorsed by readers.  
Takeaway:
This isn't the first time the consortium released a study. Previously, it listed the abusive ad formats we should avoid at all costs. As the study is based on the thousands of readers from varied segments, you can't say 100% of it works for everyone, especially you. Consider it as a starting point and use inferences derived from your readers (own data) to make the final decision.
Viewability + Performance-based Metrics – The Future?
Ad Viewability has never been out of the spotlight. It's the part of every conversation between a CMO and advertising industry leaders. Keith Weed, CMO of Unilever* has pushed the industry towards 100% ad viewability standard. MRC hinted that it might happen soon.
*Unilever spent $9 billion dollars in 2017 for advertising, only next to Procter & Gamble.
The publishers responded by improving their viewability across the devices – Especially, UK publishers who are known to have middling viewability rates. As per Integral Ad Science, Desktop viewability in the UK is 63.4%, a 19% increase from the previous year.
Is it enough?
Advertisers always try to improve their ROI (programmatic or not). But unlike print, there's a possibility for advertisers to measure and track several metrics. Now that the viewability has begun to improve, there's a new discussion – Adding a performance-based metric to viewability.
Time
Advertisers are concerned that their ads aren't viewable for a time that is required to drive the goals of the campaign. So, a second of viewability is also not enough.
Both pixels in-view and time in-view should be increased.
Takeaway:
We can see it coming. It happens all the time. The standard evolves as the web and consumers. It's time for you to do the same. That's why we always agreed to refresh ads only when active readers have seen the ads for a certain period of time (set by the parties involved in the campaign).
"Declaration Fraud" – It's not what I paid for.
AdExchanger reports a new fraud where ad buyers are duped to bid for the inconsequential video impressions.
Header Information
Media buyers, typically, depend on header information (such as ad format, URL, ad size, location, and page context) to buy the impressions. So, sellers should send accurate data to the buyers so that they could bid and win.
But some unscrupulous sellers are tweaking the ad sizes to get more bids from the demand-side. For instance, AdExchanger notes that advertisers including EICO, Mazda, AT&T, Accenture, and Spectrum, bought the full-screen video ads (at least that's what the request says), but instead delivered a tiny video ad.
SHE Media, Mediavine, and CBS Interactive were found sending 640×480 or 640×360 sizes in a request, but they rendered ad in a 300×250 unit. SHE Media and Mediavine acknowledged that the technical hiccup was the reason.
Takeaway:
As with any other problem in adtech, declaration fraud can be solved by the players in the ecosystem – together. That being said, publishers and ad exchanges have a higher responsibility to send the right information in the first place. If you're a publisher, you should start mentioning the video ad experience (slider, in-banner, in-article, in-feed, etc.) and specific ad sizes, rather than picking the common or largest denominator, in your bid requests.
Moments That Matter
French data watchdog withdraws probe from adtech biz Vectaury – The Register.
Taxing the duopoly is the silver line to propel digital journalism – Free Press.
Apple News: Publishers lament that it's hard to back out now –  Digiday.
LiveRamp Identity Graph is free for DSPs. Advertising IDs are well on their way to replace cookies – AdWeek.