AMP ads better the ad experience –  A win-win-win situation?
It's a hard fact. But we have to say it. Digital advertising could be influenced by a handful of companies – Not because they own the market (almost), but because they own the consumers. For instance, Google.
Google will get 33% of the total digital advertising spend this year. It's feasible for the giant to compete against the adtech companies (Exchange bidding Vs Header bidding) and of course, to create an initiative like AMP.
Last year, Google decided to replace the HTML ad creatives with AMPHTML ads – it's an HTML ad created using the AMP framework. Recently, the company released its first-year results in its blog. As expected, the AMPHTML ads have grown in popularity – 12 percent of the ads served by Google is AMPHTML ads, which is an 11x increase from the last year.
There's a good reason behind it. AMPHTMP ads strive to frame a rare win-win-win situation. Here's how.
Readers:
As you have predicted, AMPHTML ads load faster than the standard HTML ads (a feature called fast fetch make the ad requests earlier). This means the users can see the ads as soon as they load a page (AMP or not).
Publishers and Advertisers:
Publishers are delivering higher viewability and CTR which directly improves the ad revenue. To be precise, impressions are increased by 0.87% and ad CTR by 3.83%.

What's more? Google says its DSP (Display & Video 360) will start supporting AMPHTML ads soon.
Takeaway:
Google's bid manager is one of the largest in the ecosystem. If it pushes advertisers towards AMPHTML ads, we'll eventually see a drastic shift in the industry. It's time for your developers to dig the AMP repositories again.
Ad Viewability compromised user experience
Ad viewability could degrade the user experience. Most publishers know how to improve the viewability by prioritizing advertisers, but only a few publishers know how to improve viewability by prioritizing users.
Digiday says that viewability might have cost publishers more than they thought. Publishers have begun to realize placing too many ads above the fold have increased the bounce rates and deflated the pageviews.
In addition, viewability didn't yield the expected results. For the past few years, advertisers demanded the viewability of the ads to be more than at least 50% and DSPs can, in fact, bid based on domain or ad placement level viewability.
But the drive towards higher viewability wasn't impacting the CPMs as much. For instance, when Ranker-dot-com overhauled its site layout, viewability doubled from 35 percent to 70 percent. Clark Benson, CEO of Ranker said that the CPMs of highly viewable ads didn't differ much from the other ads.
Other publishers like News Corp, Remedy Health Media lamented that the ad prices didn't go up. But the truth is, viewability isn't a way to improve CPMs. It became more of a necessity in our ecosystem and publishers need to deliver viewable ads to continue to attract ad spend from the DSPs.
Takeaway:
If you're going to change the site layout and improve the design, do it. But don't just do it for viewability. Prioritize users, deliver strong content, and viewability tend to increase. Besides, you can refresh ads in a legitimate way without increasing ad units. So, make the users stay and read the content, rest all will follow.  
 Complaint against adtech – Appended
Just two weeks ago, we saw that private activists are actively pursuing adtech with the help of GDPR. Now, there's an update in the complaint they've filed against adtech.
What is it?
As you know, GDPR mandates that the user should be informed whether their personal information is used or not and also, about the companies that are going to process it.
Your guess is right. That's why the IAB developed a consent management system and publishers started implementing it. In fact, private adtech companies have designed their own CMPs and offered it for free.
But the new complaint from the UK and Ireland watchdog says that IAB knows it is impossible to technically let users know every data controller in the RTB ecosystem. The complaint refers to the pdf sent by the IAB EU (which is obtained by the freedom of Information request from the European Commission).
That's not all. The complaint also included some sample bid requests from the IAB and Google's own documentation. The bid requests have information such as Page URL, pseudonymous ids, GPS data.
What did IAB say?
Townsend Feehan, CEO of IAB Europe wrote a clear response. First, what the complaint says was "true at the time, but has changed since". And, OpenRTB is a protocol that should be and can be used in a way that complies with the law.
"Neither OpenRTB nor the TCF can be used to physically prevent the illegal transmission of user data to parties that have no legal right to receive it"
Here's the complete response here.
What about Google?
Google, as usual, said publishers using RTB via Google's systems must abide by its own policies – Obtaining consent from users in EU, not collecting sensitive information, etc.
Takeaway:
Though Google stays cautious, it needs to face some questions. To put it simply, TCF tries its best to stay compliant with the law. Publishers cannot possibly list all the vendors and expect users to go through them before reading a piece of content. After all, readers didn't come to a website to scrutinize the adtech companies. They would rather like to skip the consent mechanism than going through the adtech companies.
TCF 2.0, which will be released this July could be the ultimate answer for all the complaints.
Retention – Finally, gets the priority
We constantly insist only a few things to publishers. Of those, focusing on churn rate is an important one. We know why – all the top media publishers like The New York Times, Financial Times focused on churn rate to thrive in the midst of a volatile market. You should too.
And, as per Digiday's latest report from Axel Springer's survey, European publishers started it already. Axel Springer's sixth annual Paid Content Summit in Germany attracted several publishers including The Guardian, Financial Times, Business Insider, The Wall Street Journal, and The New York Times.
The survey from the summit says that reducing or eliminating the churn has become one of the top priority for publishers.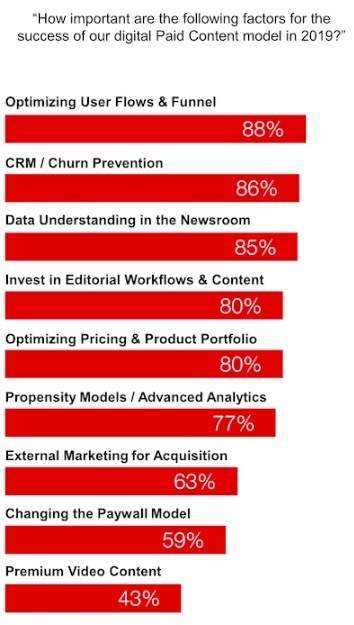 Also, the publishers ranked the importance of platforms to their subscribers' acquisition strategies.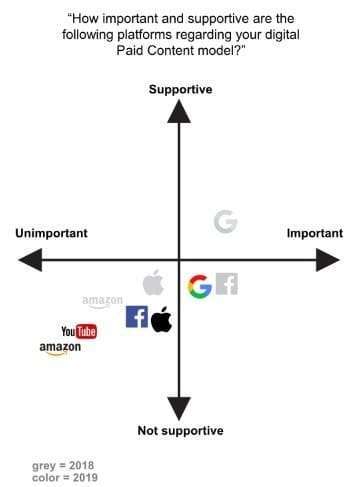 Surprisingly, almost all the platforms were considered "unimportant" and "not supportive" to the publishers' strategies. Some publishers said they'll use Facebook and Google for retention purposes, but most admitted that their subscription product offers aren't enough. Subscribe with Google, Facebook Instant Articles aren't working for the publishers.
Takeaway:
Ad-supported publishers need to take a look at their churn rate too. Why?
GDPR impacted the CPMs and will continue to do so until we figure out the ideal framework for consents. Increasing retention will help you increase page views and impressions. Too much platform dependency won't help you succeed.
Moments That Matter
Candid thoughts of ad buyers at the Digiday Media Buying Summit – Digiday
Valuing your journalism more is important than you think – Nieman Lab.