What publishers are up to in 2019?
Here we are, stepping up into 2019 with ambitious goals, both as an industry and as a player in the ecosystem. For the last month of 2018, we've curated the future goals of programmatic media buyers.
We did it for two reasons.
– To help you make informed decisions regarding technological investments and partnerships.
– To steer your strategy towards the right direction (the way marketers are headed).
Here's the latest part where we look at the goals of publishers in the programmatic industry and a glimpse of technologies you should consider investing in (backed by data).
First, the goals.
According to Digiday research, over half of the surveyed publishers said that they're planning to increase spending on programmatic ad technologies this year. So, publishers are going to open up their inventories through programmatic exchanges more than they ever did before.
Why?
a. Well, it's because buyers are poised to increase their programmatic spending.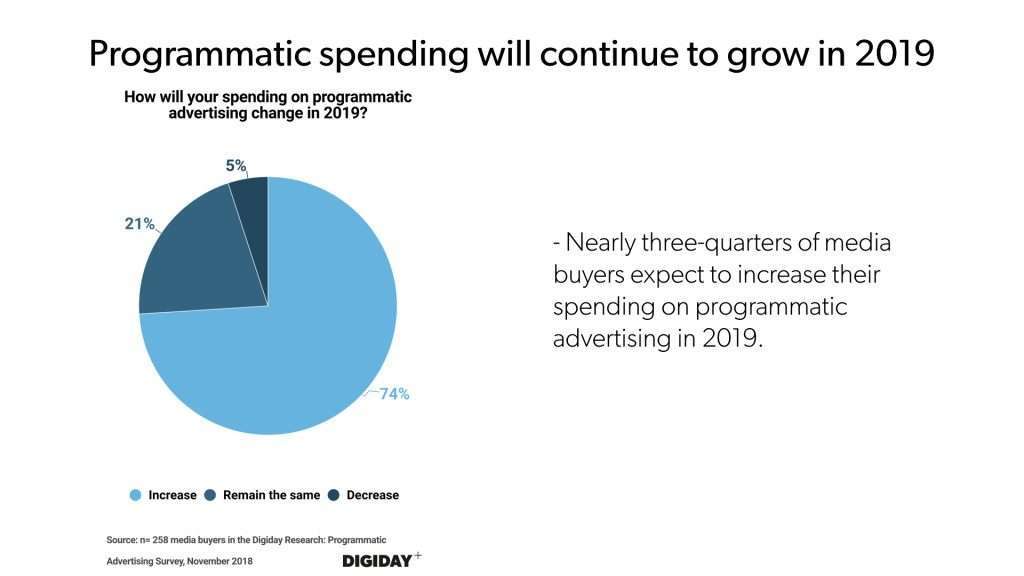 b. As Facebook Instant Articles and Apple News are still struggling to justify that they're worth the effort, publishers decided to keep going programmatic. 
c. eMarketer says 86.2% of all digital display ads will be traded programmatically by 2020 and publishers had to get their pie.
Takeaway:
It's obvious for you to invest in programmatic technologies. But where are you directing your funds? 
DMP? CDP? Bot traffic optimization? First-party data?
The same research led by Digiday shows that buyers bet on the targeting and optimization capabilities of the technologies. We already know SPO is gaining traction and the trend will continue to grow this year.
What can you do?
Make sure you won't get weed out by partnering with the right SSPs and prevent your impressions from ad fraudsters. Investing in first-party data would increase the value of your inventories drastically.
27 percent of the media buyers said transparency is an issue in programmatic advertising. Again, get rid of the unnecessary partners in the chain and ensure the supply is not corrupted by any means.
The Good, the bad, and the ugly of Facebook
Let's talk about Facebook. Why?
Because it's Facebook and it eats almost 20 percent of the digital ad dollars every year.
Seriously, that's not the reason we're talking about Facebook today. Experts predicted how 2019 will be for the largest social media network and we're joining them.
The Good – It will continue to increase its digital advertising revenue. Regardless of the scandals and measurement errors, marketers tend to check Facebook ads in their to-dos.
Agreed and we believe the company is going to be more careful now. It will generate ad revenue but most importantly, it'll handle the metrics and data more carefully this year.
The Bad – The market share of the duopoly will decrease and the growth of revenue decreases year after year.
Though marketers spend on Facebook, they will do some of the open internet too. Besides, the slower growth means the company won't allow myriads of third-parties to use the personal data. If you decide to be careful, you're going to pass some conspicuous monetization opportunities.
The Ugly – User engagement is going to stay more or less the same (till 2020) and privacy scandals are gonna stay where they belong – with Facebook.
Takeaway:
Instagram is canceling out the impact on its parent and so, you can't believe buyers are going to end up in open exchanges. In addition, Amazon is rising up to fill up the void created by the duopoly. Stay hungry and stay transparent at the same time. 
Do we need cookies?
Of course, we do. But Ad Exchanger's recent piece has some interesting insights about the ID-based solutions out in the market.
a. LiveRamp IdentityLink
LiveRamp, "the most prevalent identity solution" in the adtech doesn't rely on cookies. It rather uses cross-device IDs that incorporate information like mobile device IDs, consumer histories, home addresses, and offline information. In fact, that's why it has a higher chance of getting a huge market share.
b. The Trade Desk unified ID
The Trade Desk offers a unified ID, which is based on cookie-identifiers. It is the most scaled identity solution, mainly because of the company's strong data marketplace and heavy ad buys.
Recently, the company boasted a match rate of up to 99 percent with early adopter Index Exchange.
c. The IAB Tech Lab DigiTrust ID
After the acquisition of DigiTrust by IAB Tech Lab, DigiTrust focused more on developing an industry-wide identity solution and so far, publishers and supply partners have fully backed the initiative.
When it comes to DSPs and DMPs, it's quite complex. Because they offer their own (ahem, The Trade Desk, LiveRamp, etc.) identity solutions.
However, DigiTrust will publish its first case study this year, according to its founder Jordan Mitchell.
d. Advertising ID Consortium
Advertising ID Consortium framed to develop a neutral industry-wide solution is still in its infancy. Here's how it's doing.
e. ID5
ID5, a french adtech company aims to capitalize on its giant media publishers. The company houses cookies (from its publishers) on the identity graph to improve match rates of the partners.
Takeaway:
We're progressing towards the identity-based solutions, but it's not enough to drop cookies. As Safari, Mozilla began to get rid of cookies, the development of ID solutions has been accelerated.
Sooner, we'll have a couple of IDs to go with. We'll keep you updated.
Proof that Open Internet can thrive
Imgur, a massive online image sharing community made waves when it said that the advertisements were celebrated among its users (when done right). A growing audience and unprecedented engagement helped the company to become the top online destination in the US for the millennial men.
That wasn't long ago. It pitched itself as a platform to reach "geeks at scale". But today, it evolved the way it approaches brands and media buyers.
"A place of positivity", where 250 million users gather monthly to make the magic of the internet. Without a surprise, it works well.
Imgur has run more than 300 campaigns and grown its direct revenue by more than 675 percent in the last 3 years.
Imgur's Ad Free Day sponsored by Red Dead Redemption II is a kind of sponsorship I'd like to see experimented with on other sites. I actually feel grateful for a sponsor which is a feeling I never have when getting a face full of ads on websites. pic.twitter.com/zL89rP6bzK

— Heather Bryant (@HBCompass) December 7, 2018
What's next?
As per the company's VP of Sales and Revenue, Bob Huseby, Imgur will invest in B2B advertising and maintain positive content that attracts both users and advertisers.
Takeaway:
The company has been running header bidding and direct partnership for a while. What makes it stand out is the content and how it capitalizes on them. If you have the right content evoking positive emotion, who doesn't want to run a campaign and see?
Moments That Matter
Not just publishers and adtech vendors, regulators are interpreting GDPR differently and it is starting yet another chaos in adtech.
"Oath never stood a chance", Verizon will take a $4.6 billion write-down.
Facebook Watch still remains a mystery for all. 
3ve: