Going Above and Beyond in Personalization – Part II
In our last roundup, we saw how USA Today Network and The New York Times developed their own ad products to help advertisers target the audience psychologically. Let's continue to get inspired this week with ESPN.
ESPN, a well-known sports publisher has also been targeting the audience based on the widely changing emotion, not just on the other traditional metrics like the duopoly.
c. ESPN – LiveConnect
The publisher uses the vast amount of data it collects from the user registration process and combines it with the game results to deliver the right ads. For instance, a fan of winning team might see a different ad altogether than that of a losing team at any point in time.
"Whether or not a sports fan is happy, sad, slightly anxious, or overjoyed, we have the ability to anticipate their emotion and deliver relevant ads to them that creates a personalized experience"

– Travis Howe, Senior VP of Digital Ad Product Sales and Strategy, ESPN (Source).
Howe further said about 80% of the users are sharing the favorite sports and teams to get a tailored experience.
Takeaway:
You can do more with the user preferences and LiveConnect is a perfect example of it. ESPN not only personalizes the content and videos but also ads with the help of the data. Ultimately, the more tailored your experience, the better the ROI will be.
Finally, the right mobile formats for publishers
Asking whether the ad viewability should be measured is not a question anymore. Now everyone offers some sort of technology to measure viewability of an ad. Leaving aside the effectiveness of the measuring technology, marketers are beginning to look into a known and forgotten part of the ad campaigns – Ad formats.
So, you can offer all sorts of metrics including viewability, but what about the ad formats? Are you offering the right ad formats for mobile?
Kargo and MediaScience partnered together to find the right mobile ad formats by monitoring various factors including follow up looks, heartbeat, and blood pressure. The study has some insights which we wanted to share.
a. The Top Performer
Interestingly, Animated ads (not video ads) are declared as the top performers at the end of the study. Based on time-on-screen, % of ad looked, time spent on viewing the ad, # of times specifics of an ad has been viewed, and follow up looks, Animated ads performed better (cumulatively) than traditional banner ads and video ads.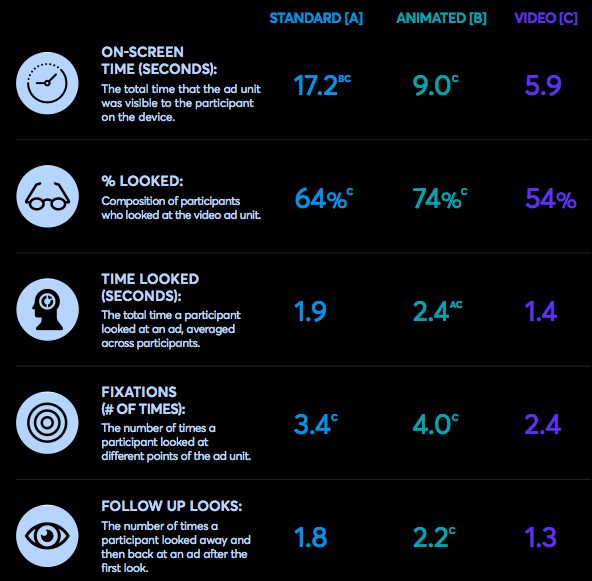 Banner ads had more time-on-screen as expected.
b. The Most Polarizing
Video Ads, once again proved to be the most engaging and creative ad format on mobiles beating both animated and display banner ads.
Takeaway:
As you could see, video ads outscored banners and animated ads on negative-side (intrusive, annoying, disruptive). So, it's essential to deliver a seamless video experience to the readers. Identify what's working for your readers and go with it. But ensure you're running the right formats on your site to attract premium buyers.
Video Monetization – What's Going on?
Talking about the significance of user experience in video monetization, here's an interesting add-on from DMEXCO. Marketers are concerned about the context and user experience while approaching a publisher for video ads.
Unlike static banner, video ads need to be coherent and shouldn't take time to load. Besides, U.S ad blocking users have their own preference when it comes to video. According to eMarketer, 30% of ad blocking users said they don't want to see pre-roll ads as it blocks the content completely and hence, the ad blocker. This also means publishers need to be wary of the type of video ads.
Dotdash – User-centric video strategy
Dotdash, the topical publisher can be cited as an epitome for balancing user experience and video monetization. The publisher is nearing $100m in revenue, but don't have a scaled video distribution and monetization strategy in place.
"We made a decision based on revenue, and everybody hated it. We're a place where people come to get answers. The better we serve those people, the longer they'll stay."
– Neil Vogle, CEO, Dotdash.
Dotdash only runs one or two-minute videos on specific and highly-relevant articles with no pre-roll or mid-roll ads. Because of the slow and steady method, they're winning both users and advertisers at the same time.
Amazon's video server is on the horizon?
Amazon, which is approaching the duopoly with a stack of ad products is reportedly planning to add a new companion to heighten its position. It's not acquiring any adtech company, instead, it is planning to build a video ad server.
As per the source, Amazon has brought up the topic while meeting with top video and TV companies. The software would help advertisers deliver ads at the right time without compromising other crucial factors.
Starting with the TV and OTT audience
Amazon's server is for TV and it's own streaming service. This means the company is planning to capture Comcast's FreeWheel market and prevents Google from capitalizing on the TV ad market.
Takeaway:
The way Amazon diversify itself in the advertising market should be noted. Even though Amazon's ad stack looks nascent, industry prognosticator Scott Galloway says the retail giant can reap $11 billion this year, which almost 3x the eMarketer's estimate. Regardless of the predictions, Amazon has continued to evolve faster than any other ad tech companies and captured the limelight. 
#Share the roundup with your team and help them stay up to date.