Going Above and Beyond in Personalization – Part I
We all know that ads should be relevant and precisely targeted to the users to get the maximum ROI for advertisers and procure the best possible CPMs. However, personalizing the experience for your readers is a bit laborious.
So, we'll cover a few interesting examples where the publishers are taking the personalization to the next level. The idea is not to replicate them, but to inspire from them.
a. USA Today Network – Lens Targeting
The US-based publisher has started assessing and categorizing the content based on the emotions the content might evoke (the most). And, from last year, it began to sell impressions with the help of the categorization. Dubbed as 'Lens Targeting', an advertiser can use the product to target ads psychologically.
Result:
"An ad campaign for a nonprofit that was targeted to people reading inspirational stories resulted in a 25 percent higher donation rate than ads that weren't targeted."
– Digiday.
b. The New York Times – Project Feels and Readerscope
The New York Times developed two innovative ad products to help advertisers run the successful campaigns on the open Internet.
Project Feels – An artificial intelligence tool to predict the kind of emotion an article might evoke to the readers. The Times analyzed thousands of data points and used deep learning to develop the final product 'perspective targeting'. An advertiser can use perspective targeting to target ads based on the reader's emotion.
Readerscope – Similar to Project Feels, Readerscope can visualize what readers are interested in and what kind of content or creative will work for them. The visualization is developed by collecting anonymous user data.
"These data products grew out of our internal innovations using machine learning to understand our readers better."
– Chris Wiggins, Chief Data Scientist, The New York Times.
Twitter Timeline Ads is in Alpha
You're already aware of Twitter's Timeline Ads Pilot. In case you've missed our roundup, Twitter aims to place ads on embedded Twitter Timelines. And, the company has already started testing the product, as per the source.
Any publisher who abides by Twitter's content policy and guidelines can join the program but there are no data about the take-up rate. The revenue generated from the Timelines ads will be equally split between the publisher and the company.
At the moment, a publisher can display four ads to readers among the top 20 tweets.  
Who's in Alpha?
TheStreet.com and Advance Local, a digital media company that holds 25 local news sites, including AL.com, Syracuse.com, and OregonLive.com.
And, Twitter is actively reaching out to publishers to increase its Alpha base.
Should you try it?
In a line, it's too early to predict the success (or failure) of the Timeline ads. But one thing is certain, the ads won't be intrusive and attract the readers as much as other display ad formats. Besides, we're not sure how many readers are going to scroll through the timeline on a website to see the tweets and hopefully, some ads.
What's Interesting?
Ads.txt. Twitter highly encourage publishers to create ads.txt files to prevent ad fraudsters from ruining the pilot program. If you already have one, just add Twitter to the file.
Watch out, Amazon is closing in fast
As per the latest eMarketer's estimate, Amazon stands at No.3 in terms of digital ad market share in the US. The eCommerce giant's ad revenue will double this year and beat the revenues of Oath and Microsoft.
"US advertisers will spend $4.61 billion on Amazon's platform this year, accounting for 4.1% of all digital ad spending in the country."
– eMarketer
eMarketer increased the estimate by 10% to 12% and cites 'Amazon Advertising' and 'Organic Growth' as the major reasons.
How's the duopoly?
They still stand tall and strong. The duopoly holds 57.7% of US digital ad spending while Amazon has a little over 4%. But, that's about to change in just 2 years.
As you could see, Amazon will have 7.0% of the all US digital ad spending by 2020. And, it means Amazon competing with Facebook (20.6%) and Google's (37.1%) isn't just a fad.
Takeaway:
We second eMarketer. Amazon simplifying its ad products into 'Amazon Advertising' has attracted big buyers and incited the mid-market sellers to give it a try. In addition, Amazon has been evolving its ad formats by listening to buyers. It is true that you can't capture $2 billion in revenue in the next quarter, but you can substantially improve the ad revenue if you keep evolving as Amazon.
55% of the Payment Came Late in Adtech
OAREX Capital Markets, a financial intermediary for ad tech analyzed more than 10,000 invoices from its clients and found that 55% of the payments came late. On average, payments get delayed by 7.7 days and around 10 percent of the payments were delayed by more than 15 days.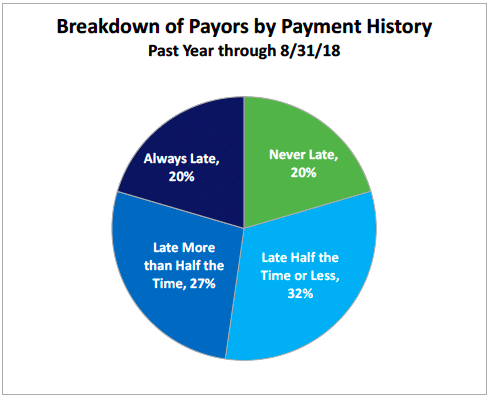 Payments delay is at all-time high
61% of all payments were late during Q4 2017.
The payments are getting later and later even during the last (and the best) quarter of ad tech. For instance, 56% of payments from Taboola are late as per the study. The potential reasons might be the middlemen.
As we all know, from ad fraud to redirect, publishers are partnering with a number of middlemen to ensure human impressions. Besides, some SSPs and Ad Exchanges use third-party services to prevent malware and measure viewability, etc. Everything sums up to a long list of vendors who can disrupt the smooth payout cycle. 
We believe the immediate solution is Supply Path Optimization.