Google and Apple's duopoly in the U.K. mobile market is likely to face antitrust action by the antitrust watchdog Competitions and Markets Authority (CMA). According to a CMA statement, Apple and Google have been provisionally found to be leveraging their market power to create self-contained ecosystems in the U.K.
Summary
Digiday's research reveals publishers are still worried about the impact of a cookieless future on their businesses despite having established alternative strategies.

OMG Signal Unit's research indicates that consumers' concerns or lack of it regarding sharing personal data do not necessarily coincide with their behavior while giving consent.

November marks the biggest month in terms of growth in ad spending in the U.S. market.

Publishers are ramping up efforts to secure an advantageous position within a saturating podcast market.

Sara Silverstein, the new editor-in-chief of TheStreet plans to increase new readers by hiring more people.

Reach PLC plans on achieving 10 million registered users by understanding their users comprehensively.

Google and Apple face antitrust action from U.K's CMA for maintaining duopoly in the nation's mobile market.

Mozilla aims to increase its revenue to $500 million in 2021 through its new product offerings.

Mozilla's GPC is likely to face enforcement limitations owing to the lack of privacy legislation in most U.S. states.
Ad Tech Trends For Publishers
Digiday reveals publisher uncertainty about a post-cookie future despite set plans to tackle it
According to research conducted by Digiday, most publisher strategies relating to cookie deprecation remain consistent with what they were at the year's beginning. However, the survey also clarifies that publishers are worried whether these strategies will work or not. 
The initial surveys clearly indicated that an immense priority would be given to first-party data. Ad-tech solutions and publisher solutions would be combined to complement this data, and non-ad revenue streams such as subscriptions would be implemented where applicable. Almost ten months since the first survey, Digiday's third survey bore similar responses.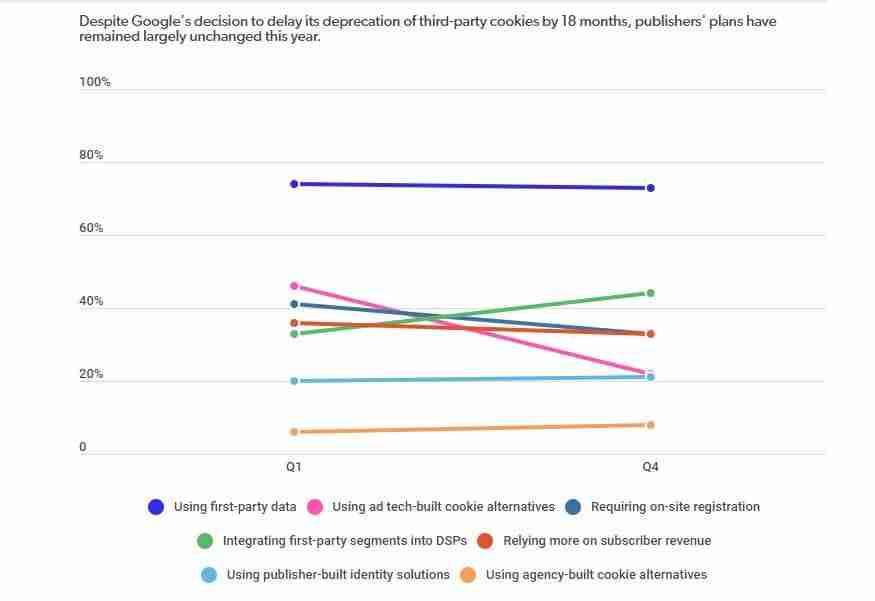 However, these strategies seem to be doing little to assuage publishers' worries about how the deprecation might affect their businesses and these worries also remained consistent between and Q1 and Q4 of 2021. While the percentage of respondents who thought that third-party cookie deprecation would hurt their ability to target ads and measure ads stood at 60% and 58% during Q1, the number stands more or less the same at 55% for both in Q4 of 2021.
Subscribe to our weekly roundup
Stay informed with the latest adtech news
Consumer's data privacy concerns sometimes contradict their actions
Omnicom Media Group's OMG Signal Unit surveyed over 1,000 respondents belonging to various age groups and ethnicities from the U.S. population regarding their concerns with data privacy. They combined insights gained from this survey with Sourcepoint's research from the previous year. Sourcepoint's research was based on which sectors consumers are inclined to give their consent to. 
When comparing consent rates with concern rates of sectors, news channels recorded a high 76% consent rate, while food and drinks sectors triumphed with 86% consent rates. Whereas, finance and banking – sectors that showcased lower concern rates in the surveys, also showcased low consent rates. Personal finance had a consent rate of only 24%. 
The results derived from this analysis clearly showcased that while concern might be a reason for consumers to not give consent, the lack of concern does not necessarily mean that consumers would be motivated to give consent. It further revealed that sharing personal data has to come with some value for the consumer. The level of concern seemed to increase with the increase in the respondent's age.
Takeaway:
There remains a clear disparity between consumer concern and their behavior. To tackle this disparity aligning consumers' attitudes and expectations with high-value content and tools is as important as understanding their concerns with data privacy. This is what will prove crucial in motivating consumers to provide consent.
The U.S. ad market records the best November ever
According to the U.S. Ad Market Tracker, November 2021 marks a momentous month for the U.S. ad market, both in terms of expansion and ad spending. 
November 2021 saw an ad spend growth of 10.3%, an increase from the 6% growth recorded in November 2020. The results from the tracker revealed that Google showed a marked 5% year-over-year increase in revenue while maintaining the top spot in the share of ad spend.
Strategies From Top Publishers
Publishers plan to ramp up podcast strategies in 2022
As the podcast market faces saturation owing to giants like Spotify, publishers and large media groups plan to ramp up their efforts in 2022 to make a place for themselves in this lucrative market. Major publishers like The Washington Post, The New York Times, L.A. Times, and The Atlantic are hiring or have hired new heads of audio to give direction and leadership to their podcast efforts.  In a bid to expand their podcast's scope and expertise, many publishers are looking to expand their podcast teams by hiring new people. Notable names include L.A. Times, The Washington Post, and CNN. 
Another strategy to attract more listeners has been to increase the number of podcast episodes and their frequency. According to a Neilsen and Acast survey, almost three-quarters of the 2,000 respondents say that they listen to podcasts on a weekly basis. However, currently, only 43% of podcasts are published on a weekly basis, which creates a huge scope to attract these listeners.
TheStreet's new editor-in-chief plans to increase staff to attract more free readers
Sara Silverstein, the new editor-in-chief of TheStreet, a financial publication elaborated on what she plans to bring to the table going forward in a Q&A with Digiday. TheStreet had 4.8M unique visitors in October 2021, a 24% drop year-over-year, according to recent data from Comscore.
To make business and financial news more accessible to audiences. They want to make investing and managing money seem like interesting and less-confusing concepts than what they presently are.

Provide their audiences with helpful information, resources, and tools that would make the aforementioned task achievable.

Massively hiring new people to expand the reach, capability, and expertise of TheStreet. 

Focusing on financial areas like crypto trading, retail companies, and such, and hiring adequate people to expand coverage in similar areas. This will help them make the free side of their publication enormously resourceful to audiences who are interested in investing but do not pay for TheStreet's premium products. 

Roll out new initiatives to drive the growth of both the premium and free side of TheStreet and reach a larger audience of intelligent people interested in investing.

To make TheStreet a well-known resource for audiences. Subscriptions are not their topmost priority at the moment.

To reach those groups of audiences that currently feel excluded from conversations relating to business and finance. 

To diversify their audience and reflect the same through diversity in their own voice and staff.

To invest in video strategies that will help TheStreet reach new audiences on the free side of their publication as well. Currently, TheStreet only produces premium video content.
Reach PLC plans on reaching 10 million registered users
Reach PLC, a British digital publisher owning more than 200 U.K. publications set a goal to get 7M people to register with email identifiers by the year 2022. The publisher has already surpassed the goal of 8 million users in November. Their next target is to reach 10M registered users. While the deadline for this goal has not yet been set, Terry Hornsby, Group DigitalDirector of Reach, revealed to Digiday what they plan to execute to reach this target. To summarize, the strategy includes:
Understanding the users better and providing them with reasons to sign up with Reach. 

Leveraging newsletters, local news, local brands to increase user engagement and advertising opportunities.

Using internal data for behavioral advertising for editorial content and serving audiences with resources they might be most interested in.

Personalizing user experiences through content recommendations, sample content, and promoting sections to users who spend the most time browsing them on Reach's website.

Reaching long-term personalization by intrinsically mapping and understanding data and providing users with relevant content at different stages of their lives. 
Google and Apple likely to face antitrust action for duopoly in UK mobile market
Google and Apple's duopoly in the U.K. mobile market is likely to face antitrust action by the antitrust watchdog Competitions and Markets Authority (CMA). According to a CMA statement, Apple and Google have been provisionally found to be leveraging their market power to create self-contained ecosystems in the U.K. The degree of authority they wield in these markets has made it extremely difficult for smaller firms to enter the system or compete meaningfully. 
The CMA also stated that the situation has created less competition and limited meaningful choices for users. Users are unable to reap benefits from innovative new services or products such as web apps or playing games using cloud services on iOS devices. As a result, the users might end up paying higher than they would have in a competitive market.
The issues that the CMA highlighted with regards to the duopoly include bundling services, restrictive terms and conditions for third-party developers, self preferencing, and as much as 30% commission these platforms sometimes charge for in-app purchases. However, before these actions find any conclusion, the CMA would have to wait for competition rules in the U.K to be updated and requisite legislation to be framed.
Browser Updates
Mozilla hopes to generate more than $500M in 2021
Mozilla Corporation released its financial report for 2020 a few days back. Its current revenue stands at $466M, which it accrued through its search partnerships, advertising revenue, and subscriptions. The revenue growth is not much compared to 2019, where the corporation accrued $455M in revenues from the same revenue streams. However, Mozilla also disclosed it plans to increase revenue growth to $500M in 2021.
This increase in revenue can be attributed to the growing success of Mozilla's new products such as Firefox Relay Premium, Mozilla VPN, along with other commercial initiatives. Angela Plohman, Mozilla's executive VP, and Eric Muhlheim, the company's CFO predict that revenues from new products are going to increase by 150% accounting for 14% of Mozilla's revenue in 2021.
It needs to be noted that 86% of the company's revenue in 2020 came from its search deal with Google, which makes Mozilla completely dependent on its competitor. The only way to get out of this pickle is to diversify its revenue sources and decrease its reliance on Google. It also needs more users to adopt its services, or to return to them. 
With users becoming increasingly skeptical about Google's motivations in a post-cookie world, and Microsoft Edge making a few mistakes, Mozilla finds itself in an opportune situation to take advantage. However, it needs to stay away from recent decisions like the featuring of sponsored ads and suggestions on Firefox, if it wants to be successful.
Mozilla's GPC rollout for Firefox users facing enforcement limitations
Mozilla has expanded the implementation of Global Privacy Control (GPC) for all users. This feature was previously available only for Firefox Nightly users. This feature tells websites that you don't wish to share or sell your personal information.
However, the feature might not have great significance for most US users. Apart from the CCPA, GDPR, and Colorado's privacy laws, no other US state has or enforces such privacy laws. Consecutively, Colorado and California have further received criticism for loopholes in their privacy laws and might find it difficult to enforce this feature. 
While Mozilla has shared feedback with CPPA and encouraged other privacy agencies globally to expressly comply with GPC, widespread adoption seems unlikely. This can primarily be attributed to enforcement limitations in jurisdictions that do not have privacy legislation.
Moments That Matter