Ad Quality Challenges in 2021
With the phasing out of third-party cookies, as well as the privacy changes to Apple's IDFA, publishers are having to shift from audience-behavior-based mechanisms to contextual solutions. The decline of user-tracking mechanisms has definitely paved the way for contextual advertising, but, the limitations in the field have raised viable concerns regarding ad quality in the minds of publishers.
To find out how publishers are dealing with these challenges, Digiday, along with GeoEdge surveyed close to 100 publishers. The report released by them gives a clear picture of how publishers are moving from an automation-centric past, into a hybrid future that focuses on human-machine interfaces to better control the quality of ads.
The survey found out that publishers are somewhat divided regarding how ad quality challenges have shifted over the course of the past year. While 35% of the respondents have stated that ad quality challenges have increased moderately or adversely, almost 40% of the respondents stated that the challenges were lessening, and ad quality was in fact improving.
Subscribe to our weekly roundup
Stay informed with the latest adtech news
The most common type of ad quality issue that respondents are encountering involves bad players trying to lure users offsite using false pretenses or misleading links that take users to websites other than what the ad promised. Fake news, violent content, links redirecting to sites containing malware or other threats, are other issues that the report stated.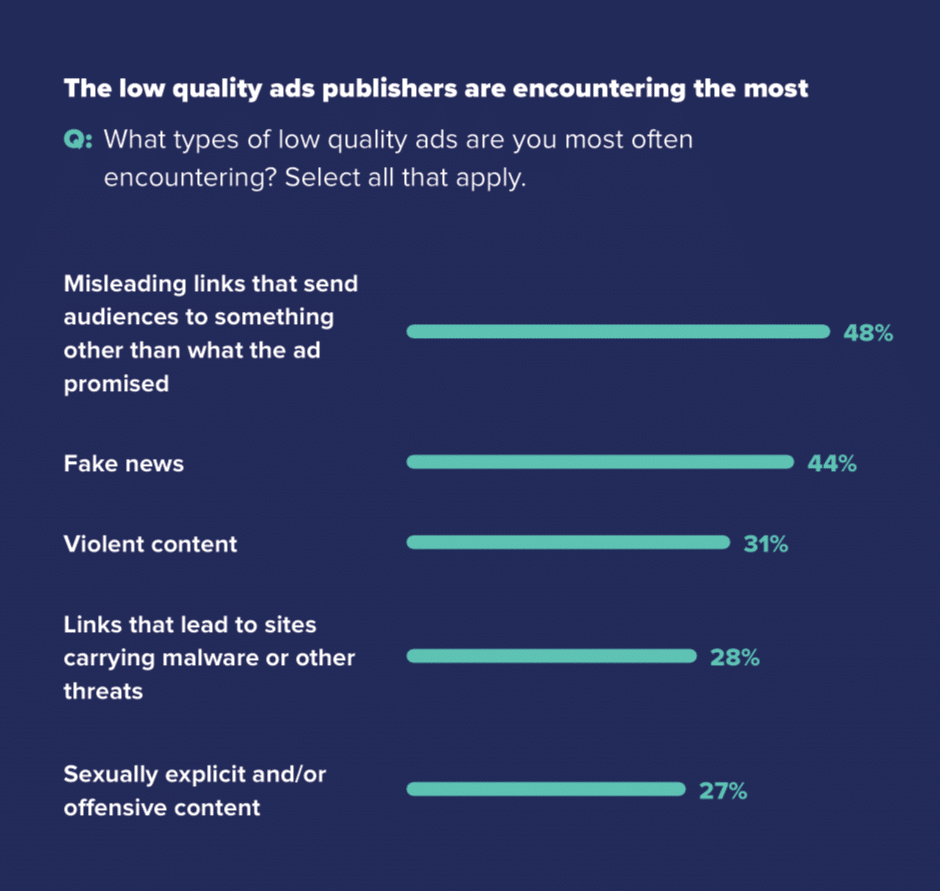 So, how publishers are taking control over ad quality and transparency?
48% of the publishers are tackling ad quality issues by manually removing bad ads from their websites, while 45% of the publishers are taking a strategic route by investing in direct partnerships with trusted advertisers. It is clear that work needs to be done on both sides and favorable partnerships are built to address the growing concern of ad quality that the industry faces.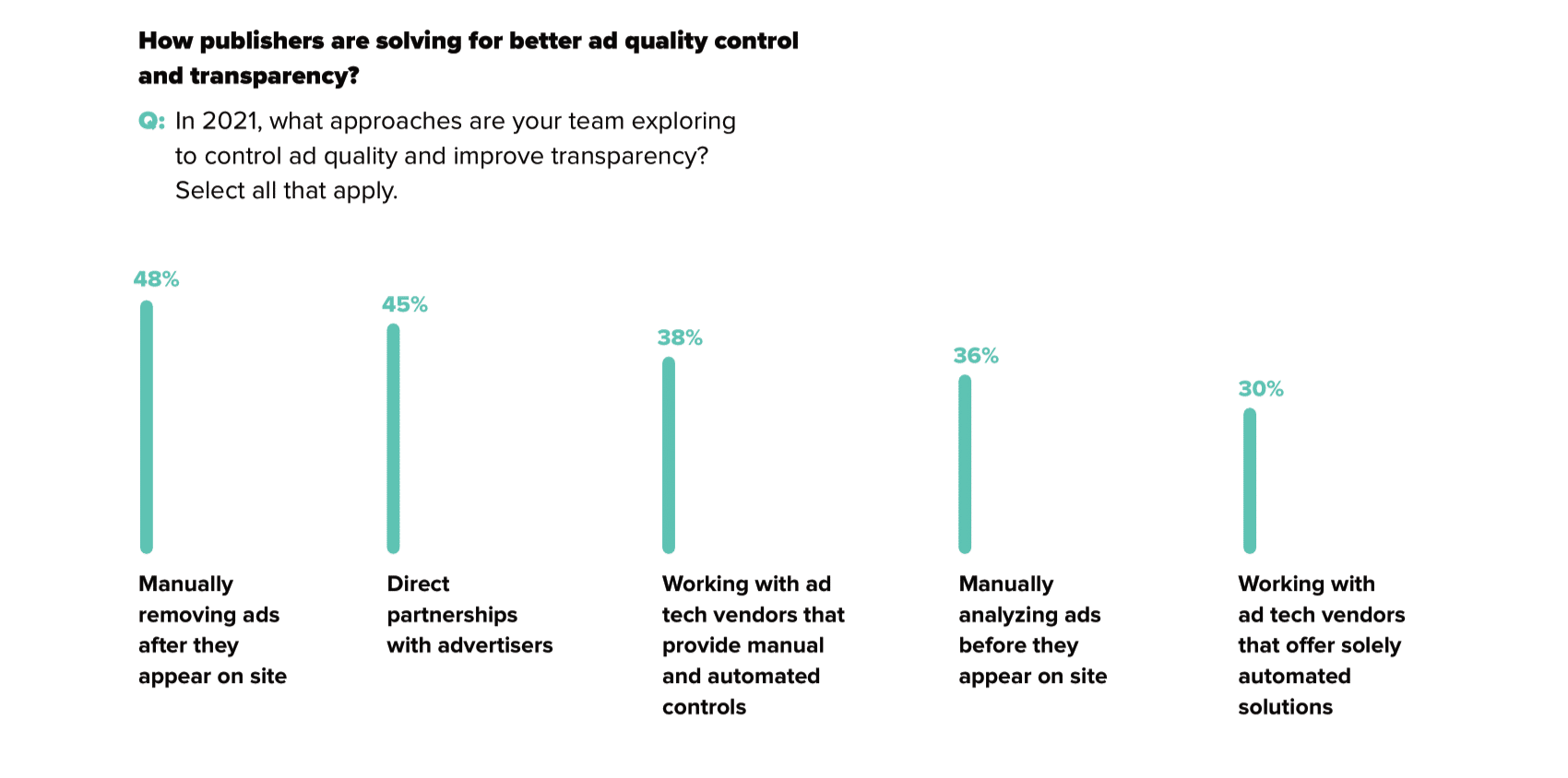 How Advertisers are Trying to Combat the Supply Chain Crisis?
Ad spend plans are facing dire times as supply chain disruptions continue across various industries. According to Business Insider, industries ranging from FMCG, retail, to automotive, are all facing similar challenges with Q4 budgets being slashed by 10% to even 50% by advertising agency clients.
Advertisers are changing marketing messages owing to stock shortages, which is only resulting in added work pressure during a time when companies are facing staff shortages. The need to have last-moment planning sessions and changing things at a moment's notice is proving to be cost-intensive for clients and labor-intensive for marketers.
Agency insiders state that even large companies like Audi, and Bed Bath and Beyond are not exempt from the supply chain disruptions. Companies are finding it hard to put their products on the shelf, and hence have to replan their advertising strategies, as increasing prices of raw materials, lack of availability of materials, and labor shortage plague the industry. 
What are they doing to combat the supply chain crisis?
Marketers are focusing more on building their brands and advertising a promised future of electric cars, rather than trying to sell cars they are unable to manufacture. They are even exploring social media channels like TikTok to reach young customers who might become potential customers in the future. While agencies are unsure as to how long these challenges would last, industry experts are touting that these budget cuts, reservations regarding planning ad campaigns and ad spending could trickle well into 2022.
Strategies from Top Publishers
Harvard Business Review's Social-first Vertical
Ascend, a vertical from Harvard Business Review, which was populated from India in 2016 using a network of freelancers, is specifically focusing on young global postgraduates starting their careers.
Ascend's prominent strategies include targeting the aforementioned audience through emerging social media platforms like TikTok, Twitter, and Instagram, amongst others. Its strategy is similar to those employed by large media companies like The New York Times and The Wall Street Journal.
The publisher hopes that readers explore and engage with HBR via Ascend. By keeping their content free, they hope to build a loyal audience base, which eventually goes on to subscribe for HBR and renew the subscription throughout their careers. The current rates for subscribing to HBR stand at $120 per year and $150 per year for the premium version.
"We introduce younger people to the brand, help them build better habits, help them make better career decisions. And when the day comes that they're more in the middle of their careers instead of the beginning, they will turn to the HBR content,"
– Paige Cohen, Editor-in-Chief, Ascend (Src)
The strategy has worked noticeably as advertisers responded to HBR's increased subscription rates. The advertising business of HBR has grown by almost 12%, while its subscription rates saw a 15% boom between 30th June 2020 and 30th June 2021. While those in charge remain tight-lipped about exact figures, Ascend's articles received almost 80,000 views in only the last month.
Is Podcasting the Next Big Thing for News Publishers?
The New York Times has experimented with audio journalism for a while now. Having launched The Daily back in 2017, The NYTimes has evolved its audio programming offerings by incorporating newsmaker interviews, provocative debates, and cultural criticisms as part of its audio journalism. It has further acquired Audm, and Serial Productions while forming a strategic alliance with This American Life. More than 20 million monthly listeners listen to these offerings by the Times on a monthly basis.
As of October 12, 2021, The NYTimes is striving to bring audio journalism and merge it with the various digital experiences it offers. The publisher welcomes testers to participate in a brand-new experience dubbed New York Times Audio. It will be provided in the form of an app with content curated by talented editors and journalists of The New York Times. The app will allow listeners to engage with news, criticisms, and ideas that they like. 
The New York Times seems to have realized that podcasting is the next big thing for news publishers. The plan is to include content sourced from articles and podcasts created by the New York Times, while also incorporating new audio formats directly from The Times newsroom. New York Times Audio will also feature content from premium magazines like The Rolling Stone, and New York magazine. Owing to its strategic alliance with This American Life, the product will also feature every episode from this iconic show that can be regarded as the pioneer of audio journalism. 
The Telegraph's "Special Sauce Formula" to Increase Subscriptions
Newsletters have proven to be the most effective way of converting readers into paying subscribers for The Telegraph. Their analytics team has found out that users who sign up with their newsletters have a higher chance of converting, with those having signed up for more than one newsletter, having an even higher conversion rate.
Newsletters offered by The Telegraph have also been shown to have retained more subscribers, with 30% better retention being experienced after three months, and 50% after twelve months. However, the media organization has also understood that offering focused and fewer newsletters have a better chance of helping them grow their subscriber base.
To come to this conclusion, Telegraph has employed a "special-sauce formula" devised by Dan Silver, Director of email and newsroom innovation at The Telegraph in 2019. The formula aims to provide a holistic view of newsletter performance, and instead of focusing on open rates, and click-through rates, gives more priority to onsite retention, subscriber conversion rate, and inbox engagement. It provides a detailed view of how users engage with newsletters and provides individual newsletters with an overall score that can be used to track its performance or compare it with other content pieces.
Getting Started With The Trade Desk UID 2.0 in Canada
The Trade Desk has been earnestly lining up partners to test its Unified ID 2.0 since October 2020. While a wide range of participants has signed on with the identifier solution that is touted to replace third-party cookies, it was not until March that beta tests were started in the U.S.
As of this week, live beta testing for Unified ID 2.0 has also kicked off in Canada. The partners who have taken up the task of helping fulfill these tests include Magnite, Index Exchange, Publicis, Kinesso, Omnicom Media Group, and Acxiom (both Acxiom and Kinesso are working as closed operators and are owned by IPG). TTD has also gathered the support of new partners like Comscore Canada, Kijiji, and Rogers.
However, a number of questions regarding the viability of such an email-based identifier solution have been brought forward by industry leaders, with the most prominent one being from Google. In a blog post referring to PII graphs created using email addresses of users, Google's Director of Product Management for Ads, Trust, and Privacy, Dave Temkin stated that such solutions would not be able to meet the consumers' rising expectations for privacy, nor be able to stand toe-to-toe with the miscellaneous regulatory restrictions.
While Google has its own stakes in the bid to find a viable identifier solution after the demise of third-party cookies, the reservations brought forth by Dame Temkin are not without weightage. Research conducted by YouGov Canada and TTD in June showcased that almost 79% of Canadians were inclined towards learning more regarding what type of data was being collected during their online browsing sessions, and knowing how their email addresses might be used after they have signed on to a website. This clearly indicates that a majority of the user base in Canada (and theoretically the world) is still clueless about how Unified ID 2.0 works or how their data is being collected and used. 
id-sources.json: Making the Digital Advertising Marketplace Better
In a bid to increase transparency and accountability surrounding the use of identity solutions, IAB Tech Lab released id-sources.json on Wednesday. It will remain available for public comment till the 12th of November. Rearc Accountability Working Group has developed id-sources.json, which the IAB announced during the IAB Tech Lab Summit: Renaissance. 
This framework is designed similarly to the supply chain transparency standards released by the IAB and it will enable companies to identify and declare their user sources. The benefits of the product will vary depending on the way it is used. Brands, advertisers, and publishers that are integrating various identity solutions from different providers will be able to quickly recognize supply chain paths that are most suitable for activating addressable audiences. 
id-sources.json will provide a standard to companies to enable them in stating the identity sources they are using in ad campaigns. It will also help eradicate ad campaign discrepancies between publishers, advertisers, and the technology providers they associate with, by clearly stating who supports a particular process.
Moments That Matter
California's New Privacy Chief Could Push For Rules On Email-based Ad Identifiers – Digiday
How Facebook Is Overhauling Its Attribution Standards To Deal With Apple's ATT – AdExchanger
Publisher And Agency Executives Scrutinize Email-based Universal IDs As The Third-party Cookie's Long-term Heir Apparent – Digiday
How Publishers Can Future-proof Their Contextual Advertising Strategy – Digiday
Google Says FLoC Testing In Chrome Won't Start Until Next Year – TechRadar