Summary
Header Bidding adoption has increased by 1.4% among the top 10K sites in the US. 72% of the client-side wrappers are using Prebid – Kevel. 

Amazon remains the top bidder for the third consecutive quarter. Xander and Index also maintain their respective positions as the top second and third bidders. – Kevel

Investment in digital media is falling continuously YoY. So far, media sites have raised $115 million in 2021. During 2015, investors poured more than a billion into media businesses. – Axios

A potential Google update can replace complicated FLoC IDs with simple topics like 'performing arts' or 'fitness.' Doing so can minimize the risk of fingerprinting with FLoC.

Travel publisher Atlas Obscura attracted advertisers outside the industry by changing its content strategy. 

Quartz and NYT are trying to gain more paying users by launching fresh newsletters and making existing ones subscriber-only.

Firefox has released a new feature that can clear every kind of data that a site can leave on your device. Cookies, supercookies, cached data, browsing history, everything can be deleted with the new feature called Enhanced Cookie Clearing.
Ad tech Trends for Publishers
State of Header Bidding Q3 2021
Kevel's header bidding tracker is up with data for Q3 2021. Here are the highlights: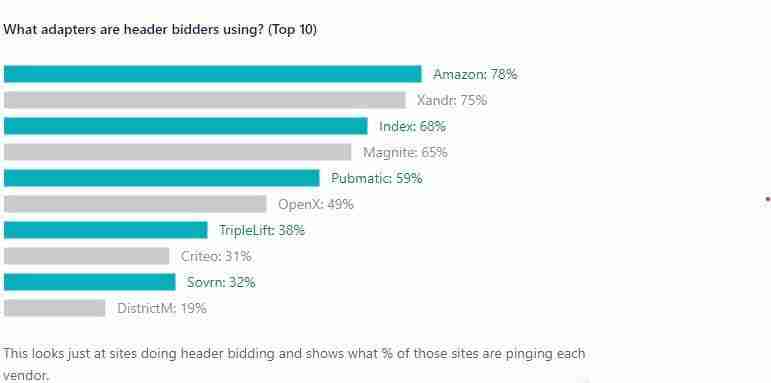 Only 17% of the top 10K US sites do header bidding. The adoption has increased by 1.4%.

68% of the top 10K publishers have implemented header bidding on their sites. It's a 1.5% growth from the previous quarter.

Amazon remains the top bidder for the third consecutive quarter. Xander and Index also maintain their respective positions as the top second and third bidders.

72% of the client-side wrappers are using Prebid, whereas only 28% are using proprietary codebase.
Subscribe to our weekly roundup
Stay informed with the latest adtech news
Investment in Digital Media
Axios reports that the investment in digital media continues to drop in 2021. The year 2015 witnessed a boom when media sites raised more than a billion from investors. In 2020, we saw around $300 million invested in 38 deals. With close to $115 million investment via 18 deals, 2021 doesn't look promising either.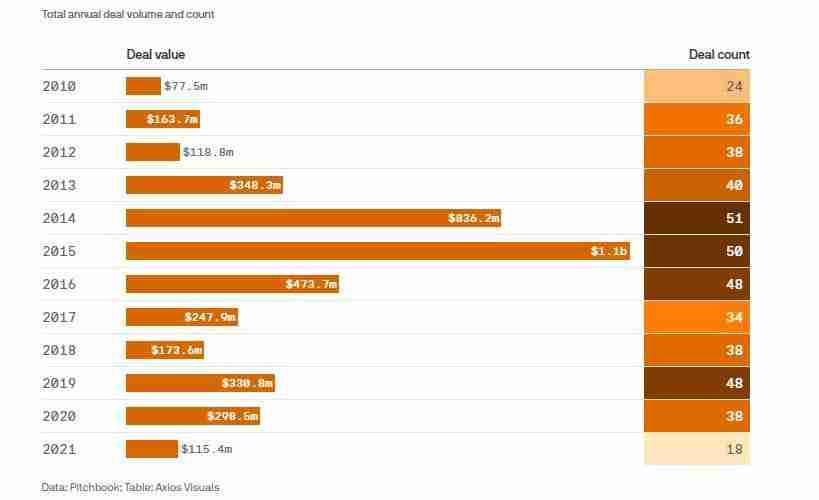 Frequency Capping is needed
Watching the same ad, again and again, is the most irritating experience for US adults while consuming ad-supported video content. Publishers and advertisers should know that frequency capping can be their best bet to avoid such situations. The second most annoying factor is the presence of too many ads. So, place your ads wisely to ensure that you aren't losing your visitors.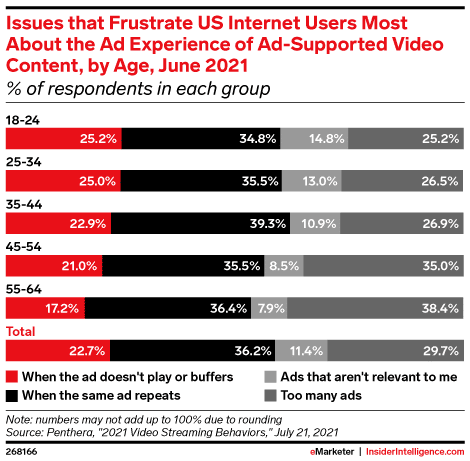 Google's Potential Update for FLoC
We've seen concerns around FLoC that it isn't privacy compliant. Google even delayed FLoC tests in Europe due to GDPR violations. So, now that the industry has some more time to prepare a cookie alternative, it is also the perfect moment for Google to improve FLoC.
A potential update can involve assigning topic categories to users instead of complex numeric cohorts IDs. The topic names can be simple, like performing arts or fitness. Simpler terms can make it further easy for people to understand the targeting process.
"It might make sense to stick to topics instead of cohorts."
– Josh Karlin, a tech lead manager of Google's Privacy Sandbox team.
So, Google might assign topics to people based on the sites they visit and other publically available data. The list of topics can come from sources like IAB's content taxonomy. IAB's 256 topics will be much easier to understand than over 30,000 cohorts. Ads can be targeted to the topics and users can have the ability to opt-out.
Google acknowledges that FLoC is vulnerable to fingerprinting. Having fewer data points in the form of topics can decrease the chances of fingerprinting. However, this new method isn't confirmed yet; we'll have to wait for an official statement from Google before concluding.
Related Read: Google Quietly Drops New Privacy Sandbox Guidance, Clamps Down On Workarounds For Cross-Site Identity And Tracking | AdExchanger
Strategies from Top Publishers
Atlas Obscura (Travel)
The pandemic wracked havoc on travel publishers. Their niche was the most impacted due to travel restrictions all around the world. To deal with the situation, Atlas Obscura redefined its perception towards exploration. Instead of limiting itself to travel-based exploration, the publisher started creating content on everything from learning about new subjects or trying out new skills from experts online, as well as leaning into the road trip model for discovering a new place. Everything is exploration as long as it's a new experience for you.
By changing its content strategy, Atlas Obscura was able to attract advertisers outside of the travel industry. So, experiment with closely related content categories if your existing vertical isn't performing.
Strategies to Increase Subscribers
Quartz and the NYT are both working continuously on their subscription businesses. Quartz found out that 75% of its paying subscribers are reaching its content via their inboxes. It means newsletters can become the best way to cater to its paying users. It currently has 11 newsletters, five of which are exclusive to members. It is launching 4 new members-only newsletters to gain more paying customers.
Similarly, the NYT is making one-third of its newsletters subscriber-only. This strategy will push free subscribers to the paying model.
"We see that almost half of subscribers open a newsletter in a given week, and people who do receive newsletters are far more likely to pay and to stay."
– Alex Hardiman, chief product officer at the Times.
Firefox to Block More Cookies
Firefox has a history of releasing new features to block cookies. This time, it'll allow its users to block supercookies. The new feature is called Enhanced Cookie Clearing. 
When you decide to tell Firefox to forget about a website, Firefox will automatically throw away all cookies, supercookies and other data stored in that website's "cookie jar".
– Mozilla Blog.
While the announcement doesn't discuss further what supercookies are, it says the feature will delete "all traces of a website in your browser". Apart from regular cookies, the feature will clear other data such as site settings and cached data like HTTP cache and any other data left by third-party embeds on a site.
Would it impact you? We don't think so. It is a very specific feature and we don't expect many users to go to their history and delete data for specific sites. Also, how many Firefox users do you get on your site?
Moments that Matter
Publishers have scaled back their third party cookie prep – Digiday.
The World's Largest Ad Blocker Launches A DSP – AdExchanger.
Unified ID 2.0 quietly amasses more support from the agency world – Digiday.
How many readers actually scroll once they load an article? – What's New in Publishing.