Summary
A PINF (Public Interest News Foundation) survey reveals independent publishers earn a lot less for their audience when compared to large-scale publishers. Most of their revenue comes from ads and display ads are the biggest contributor.

The Independent is creating unique and hard-to-find audience segments like climate warriors, female investors, etc to attract advertisers.

Livingly is providing a contextual targeting product to help advertisers reach audiences across its network.

Outside is offering subscription bundles to increase its revenue per user. 40% of the new subscribers are choosing the bundle over the older subscription plans.

The USA Today is adopting paywalls for its premium content. Most parts of the site will still remain free to access.

The Information is launching an entirely new standalone publication to cover the electric vehicle industry. It'll charge separately for the content on the new site.

Google would soon conclude the tests on FLoC, but it is reluctant to share feedback from test participants. Privacy advocates are criticizing Google's approach as the changes will impact the entire industry.
Ad Trends for Publishers
State of Independent Publishers
The Public Interest News Foundation recently surveyed 56 independent publishers with turnover below £2m in the UK. The findings published in PressGazette reveal the stark differences between small independent publishing businesses and large-scale media houses. If we compare reach to revenue ratios, we'll find that independent publishers make a lot less for their audiences when compared to the big names in the industry. Here are the highlights:
The difference in the revenue starts from the very top. For instance, Reach, the UK's largest commercial publisher made £600.2m with 42.1m users per month. On the contrary, JPI Media, the third in the rank, made £88.2m with 14.8m monthly uniques.

Independent publishers struggle more with platforms like Facebook and Twitter due to a lack of recognition. Persuading the social media platforms to verify them is a challenge.

The median income of such publishers falls at just £42,224. Four in ten of them generated less than £20,000.




A third of their budget goes to editorial costs.




The majority (33%) of these publishers rely on ads for revenue. Only 7% of the publishers received Government advertising or public notice (one of the ways of the Government to support publishers).




Digital display is the biggest revenue generator for independent publishers.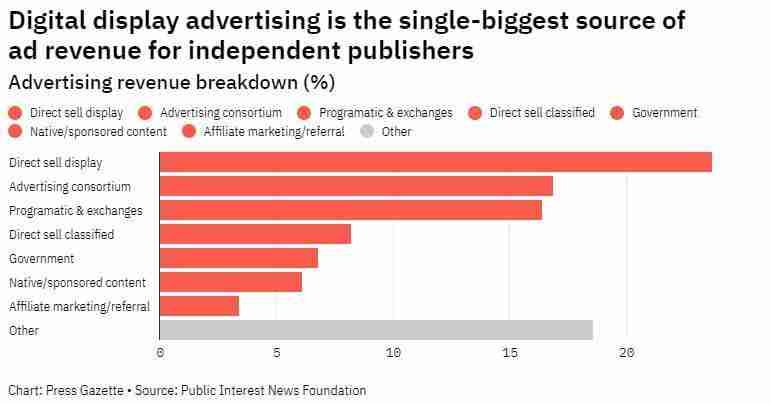 Takeaway:
Digital publishing is easy to play but a hard-to-win game. The current scenario demands a laser-sharp focus on your niche with a clear differentiation from your competitors. You should learn how independent publishers like Bleacher Report, Pitchfork, TechCrunch, etc., made it big with their unique strategies. Our Becoming Series can help you with that.
Subscribe to our weekly roundup
Stay informed with the latest adtech news
Contextual Segmentation Strategies for Post-Cookie World
Contextual advertising is receiving a fair amount of reconsideration because of the cookie situation. This week Digiday dived into the strategies of The Independent, Livingly, and BuzzFeed to find out how they are using context to provide attractive audience segments for advertisers. Here's what we learned:
The Independent
The publisher is incorporating its first-party data to create audience segments for contextual ads. For instance, user actions on climate-related articles or reviews for low-carbon travel destinations can be used to understand the psychographic traits or buying habits of environmentalist audiences. The idea is to create unique segments like climate warriors, female investors, etc., and sell them at a premium via direct channels like PMPs and Programmatic Guaranteed.
"The more that we can identify voids in the market is an opportunity for partners to then come and work with us."
– Blair Tapper, Senior Vice President, The Independent.
Livingly
Livingly runs multiple women-centric sites. Recently, the publisher introduced a contextual targeting product that provides cross-network segments. For example, advertisers can target new mothers while they are reading about kids-friendly furniture on one site, or parenting-related content on another. Livingly mines the data through editorial quizzes on its sites. Soon it'll also develop questions on behalf of its advertisers too.
Subscription Business Strategies from top Publishers
Most publishers witnessed significant spikes in their subscriber base during the pandemic. The industry realized there's great potential in the subscription business, and many publishers rolled up their sleeves to try the opportunity. While the initiation phase is over, this is the time to see how to scale it. Let's have a look at some strategies to do the same.
Outside
The publisher runs 20 different titles and offers a $49-per-year print-and-digital subscription for each of them. Outside wants to shift the subscribers from print-only to digital + print plans, so it discontinued the standalone print subscriptions altogether. In the next move, the publisher has introduced a new bundled offering with additional perks.
The $99 yearly bundle gives access to member-exclusive digital content and online courses, a personalized feed from 20 publications, the Outside TV streaming channel, and discounts on mercs. Currently, 40% of new subscribers are choosing the bundle over an individual subscription. The publisher thinks its 1.5 million existing subscribers will also convert.
USA Today
The USA Today is taking one of the traditional approaches of locking premium content. But how does the publisher define premium content? It says, "exclusive investigations, sophisticated visual explainers, thought-provoking takes on the news and immersive storytelling." In other words, USA Today will create content for which people are ready to pay.
The Information
The Information is launching an entirely new standalone publication about batteries and electric vehicles. It'll charge separately for the content on the new site. But why would people pay for it? Because it'll provide a hyper-premium coverage of an industry that is hardly covered in-depth. If you aren't aware, the electric vehicle industry can reach a valuation of $24 trillion by 2040. The new publication will offer a weekly newsletter, email updates throughout the week, industry briefings, conference calls, events, and more for its specialized business audience.
Google's Lack of Transparency towards FLoC Development
Google would soon conclude the tests on FLoC, but it is reluctant to share feedback from test participants. Privacy advocates are criticizing Google's approach as the changes will impact the entire industry. Additionally, test participants including publishers and ad tech companies are interested in extending the trials.
Google mathematician Michael Kleber says, "The main summary of that feedback will be the next version, and you can surmise based on what features (and the reasoning for these changes) are available in the next version." Dr. Lukasz Olejnik, an independent privacy researcher and consultant, raises a valid question that whether the public is just supposed to guess what was said by interpreting technical changes.
The lack of transparency in the development raises suspicion. Even if there are problems with FLoC, the industry expects Google to share them so that everyone can contribute suggestions. Broader participation can bring better results. Given Google's historical modus operandi, the opaqueness is bound to raise skepticism.
Moments that Matter
Marketers Buy Tech Firms to Keep up With Ecommerce and Ad Changes – Business Insider
'The backplane for advertising': Amazon plots big step up for APS – Digiday
New Rules for Behavioral Advertising: How the CDPA and CPRA Compare – AdExchanger
States Target Google Play Store Practices in Antitrust Suit – WSJ