Summary
Only 20% of the publishers consider Twitter as a valuable source of revenue. Facebook and YouTube rank relatively higher.

Almost half of the listeners are skipping ads in podcasts. Just 15.7% say that they never skip.

The NYT is creating social media posts similar to cards and PPT's. The strategy helping the publisher with better engagement.

Ranker has lots of polls on the site and its visitors enjoy voting at them. The users' votes are becoming an incredible source of first-party data for the publisher.

The IAB Tech Lab has launched its supply chain validation service for publishers. It validates information between both ads.txt and sellers.json daily.

The US senators are worried about data flow from the US to other countries during RTB auctions. Soon there can be a new law for it.
Latest AdTech Trends for Publishers
Value of platforms for publishers
Digiday recently investigated the role top social platforms play in media businesses. It surveyed a few hundred media and marketing professionals and it turns out that publishers don't see the platforms equally. Here are the highlights:
Despite being the second most used platform, only 20% of the publishers consider Twitter as a valuable source of revenue.

Only a third of the publishers invest even moderately in creating original content for Twitter.

45% of the publishers that use Twitch say that the platform is valuable for brand-building.

Facebook and YouTube rank relatively higher for revenue generation.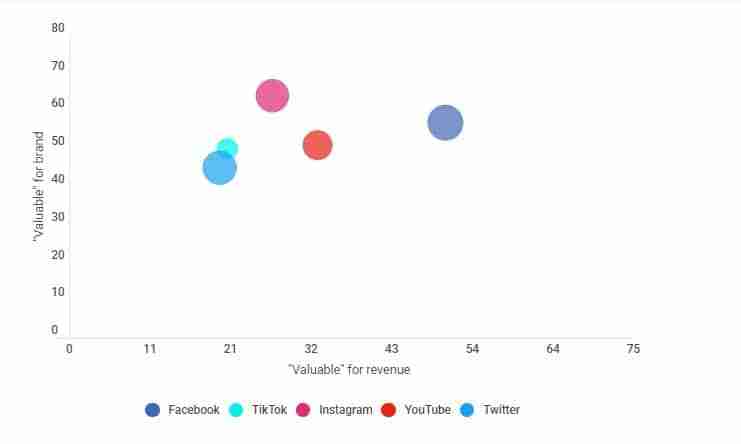 Read the full story on Digiday (Paywalled)
Subscribe to our weekly roundup
Stay informed with the latest adtech news
What publishers need to know about their podcast ads
Many publishers have started taking podcasts seriously after the coronavirus pandemic. Publishers are embracing them to diversify their revenues whereas advertisers are spending more due to the brand safety they offer. If you have recently started podcasting, here are some important figures from eMarketer:
Almost half of the listeners are skipping ads in podcasts.

33.6% of the listeners are skipping ads "almost all the time," whereas 17% are doing it "most of the time."

There are just 15.7% of listeners who never skip an ad.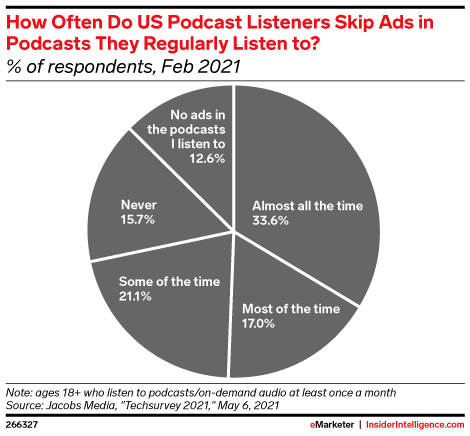 So, if you can control the ad placements, make sure that your listeners don't skip them. For instance, do subtle promotions for your sponsors, don't have the same spots every time, etc. 
Strategies from Top Publishers
NYT's  Social media strategy
The New York Times is experimenting with social media posts that look similar to cards and PowerPoint slides. This approach is helping the publisher create compelling visual stories with elements like maps, graphs, etc. 
"We made it part of our daily routine to have these visual presences for whatever news or whatever story we're trying to share."
– Jake Grovum, Deputy Off-Platform Editor
Facebook and Twitter do not have sliding posts, so single cards work best on these platforms. People read text-heavy cards on these platforms. Such posts bring engagement but traffic is not always guaranteed. So, the publisher also shares links separately for traffic acquisition.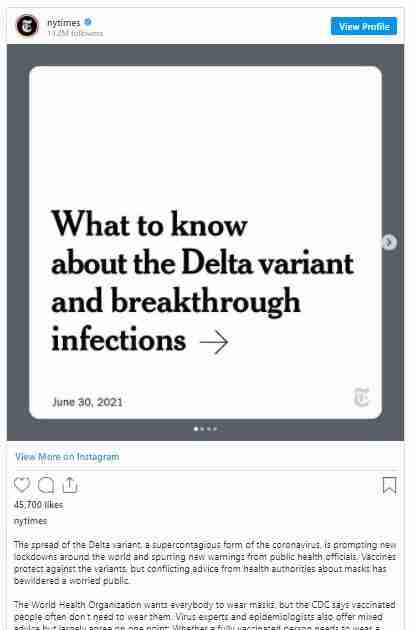 Higher engagement also brings an overall increased reach to the social media accounts. It's good for future posts. At the time, the publisher can understand what the audience wants by measuring engagement.
Ranker's First-party data strategy
Google postponed the cookie-demise last week, but some companies have decided to keep preparing at the same pace. Ranker, a publisher with 25 million unique monthly visitors, is one of them. 
Ranker has polls about movies, celebrities, sports, and music. Users vote on topics like "who's the best character on Rick and Morty TV series?" Ranker correlates the user's votes with his interests. For example, fans of HBO's Westworld can also enjoy shooting games because of the similarities between the two. So, this audience becomes valuable for video game advertisers. At the same time, the publisher can help HBO find potential subscribers by analyzing the current Westworld fans.
Ranker has many opportunities for data collection as most of its content is votable. The visitors also enjoy voting, so there's no friction that harms the user experience. There's no doubt that Ranker can build very strong user profiles with its methods of data collection.
IAB Tech Lab Launches New Supply Chain Validation Service
IAB Tech Lab has released Supply Chain Validation, a tool to automate verification of your ads.txt file. It'll compare your ads.txt against sellers.json to make sure the supply chain is free of irregularities. The three notable features of the tool are:
It validates information between both ads.txt and sellers.json daily.

It notifies the publisher of inconsistencies between their listed sellers and the referenced sellers.json files.

It makes validation results accessible to all IAB Tech Lab members.
You can register on the IAB Tech Lab Tools portal and subscribe to it for an annual fee. You can read about its test cases here. Also, if you are interested in further insights and discussions with IAB, you can attend the webinars listed in its press release.
Why Senators are Worried About Data Exports
In April, some US senators asked ad tech companies like AT&T, Google, Twitter, and Verizon Media about the details of firms involved in RTB with them. They were concerned about the data flow from the US to other countries during RTB auctions. We know that the industry has always been working internationally, so it was natural that the questioned companies had partners all around the globe, including from countries like China, Turkey, Russia, and the UAE. As a result, we can soon see new legislation to regulate the data flow to other countries.
What are the concerns?
Based on the reports so far, some concerns are evident from the government's side:
The government from these countries can use the data against the US government.

Bad actors from these countries can spread disinformation and manipulate the American residents.

This information can be used as a threat to national security.

Demographic information such as location data can help perpetrators to carry out life-threatening activities against individuals.
What to expect?
We can see more discussions and debates on this topic. If a law is passed, expect some difficulties in working with your international partners. The government may enact special restrictions against data flow to adverse countries like China, Russia, etc. It'll set penalties for violations. But, we'll also see the industry coming up with the solutions. It would be speculative to say anything at this moment. We'll have to wait to find out how the events will unfold.
Moments that Matter
Verizon Media adds shopping data with Catalina partnership – Digiday.
Instagram is testing ad revenue share with publishers via IGTV – Axios.
Magnite Moving Ahead With Alternative To Third-Party Cookies – AdExchanger.
4 Questions Publishers Seeking Identity Partners Need To Ask – AdExchanger.