Summary
Advertisers are shifting their budgets from iOS to Android devices due to Apple's anti-tracking feature.

Google's decision to hide Ad ID in non-personalized ad requests won't have any significant impact on mobile advertising.

The number of users paying for online news increased by just 2% worldwide. Nordic countries lead the growth.

Google has postponed the cookie phase-out till 2023, allowing more time for itself and the industry to develop the Privacy Sandbox.

The Globe & Mail has introduced a dynamic paywall that uses AI and deep learning. The publisher has doubled its email registrations; subscription conversion increased by 51%.

The NYT will allow its subscribers to gift articles to non-subscribers. It'll observe whether the non-subscribers coming via the "gift" link are more likely to subscribe.

Google will replace its SPM program with MCM on September 30. Publishers under SPM need to talk to their partners else you can lose your AdX access.

Apple's 'Hide My Email' feature isn't expected to have a big impact. There'll be very few users of the service.
Latest Ad Tech Trends for Publishers
Media Spend after ATT 
As more and more people are updating their iPhones, ATT feature has reached 70% of the users. Digiday reports that the update is forcing marketers to shift their budgets towards Android devices. Here are the highlights:
Appsumer witnesses the spend split change from 60:40 to 62:38 within two weeks. The mobile intelligence company tracks $500 million of annual ad spend across over 100 apps.

Another measurement company named Singular reports the same trend where the split has reached close to 70:30 levels.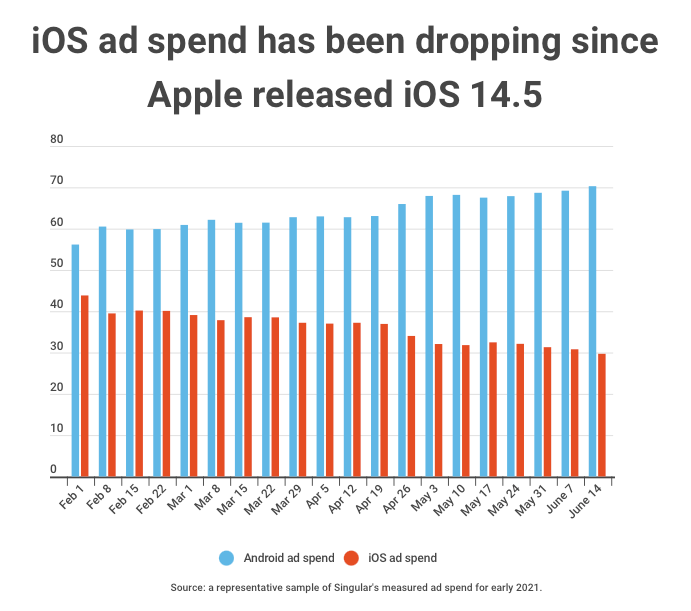 Subscribe to our weekly roundup
Stay informed with the latest adtech news
Limit Ad Tracking Impact
Singular released another report that measures the impact of zeroing out the Android Limit Ad Tracking. If you don't remember, last month, we discussed Google's feature to counter Apple's ATT changes. It'll allow users to hide their Ad IDs from advertisers. The report says only a minuscule portion of the users would disable ad personalization on their phones. So, hiding Ad IDs wouldn't have much impact on the industry.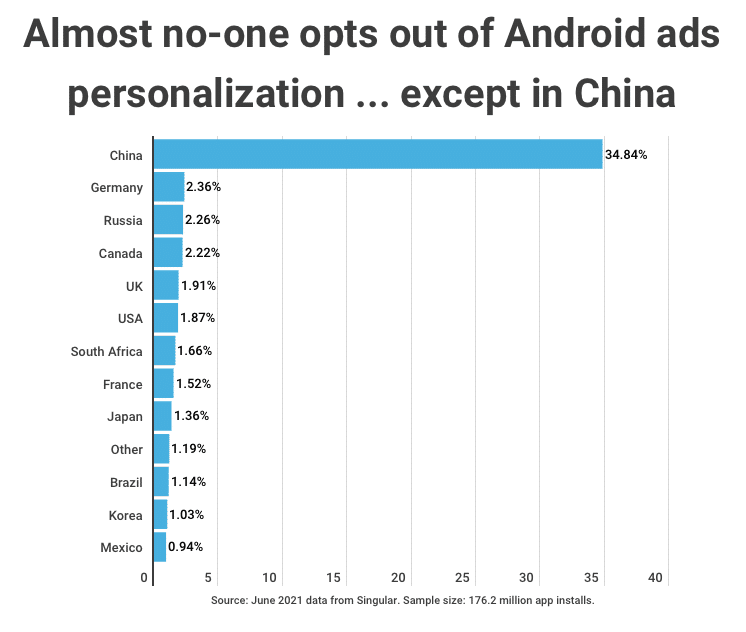 The numbers are so low because the users have to deliberately disable ad personalization. The feature is also buried under the settings. China looks like an outlier, but it might be due to some manufacturers who are selling devices with the settings turned on by default.
Global News Subscription Trends
The 2021 Digital News Report (DNR) from the Reuters Institute shows just a 2% increase in the number of users paying for online news. A small number of wealthy countries have high proportions of payers. Norway and Sweden have the biggest share of people who pay for the news.
Branding plays an important role in gaining subscribers. Most of the news subscription revenue goes to the top names in the space, for example, NYT, Washington Post, Wall Street Journal in the US. Similarly, Telegraph, Times, the Guardian in the UK.
Google's Cookie Delay
Google delays the Cookie-Apocalypse
Google has postponed the cookie phase-out till 2023, allowing more time for itself and the industry to develop the Privacy Sandbox. As per the company, the delay will help safeguard publishers that support free content. Additionally, Google is worried that moving too fast can force companies to use sneakier practices like fingerprinting.
"…we need to move at a responsible pace. This will allow sufficient time for public discussion on the right solutions, continued engagement with regulators, and for publishers and the advertising industry to migrate their services."
– Vinay Goel, Privacy Engineering Director, Chrome
Digiday says that this event was imminent due to the slow progress of the project. Some of the solutions were not privacy compliant in the EU. Last week, we even saw UK authorities disallowing Google from killing the cookie.
Industry Reactions
Adexchanger talked to multiple industry professionals, and most of them had similar reactions. Nobody is surprised with Google's move because the timeline looked impractical from the beginning. Google had no choice other than to take some more time. Most of the people are relieved despite spending a lot of effort preparing for the post-cookie world. The expanded deadline will give them enough time to organize better than earlier. 
What changes from here?
Aaron Grote from Stirista says that this event can halt some companies from working on cookie alternatives. Google's announcement implies that antitrust regulators have a significant influence on the matter. Other companies might want to stay away and watch. Also, ID solution providers anticipated an unprecedented demand in the post-cookie era. After the announcement, they have to cool down for the coming two years. Advertisers may shift their budgets back to cookie-based targeting.
Strategies from Top Publishers
The Globe & Mail
The Globe and Mail, the largest newspaper in Canada, has recently introduced a dynamic paywall. It uses artificial intelligence and deep learning to determine when — or if — to present a paywall. This approach helps the publisher in balancing the potential for ad revenue vs. subscription revenue.
The publisher shares a few examples. For instance, a reader who mostly skims through general news is less likely to subscribe than a reader who consumes lots of business-related content. So, the algorithm won't ask a general newsreader for a paid subscription again and again. It might only ask to register with an email instead.
"It knows when to give up. It knows when not to bug someone because they're not going to get money from them anyway."
– Sonali Verma, Senior Project Manager, The Globe and Mail
What's the result? The publisher has more than doubled its email registrations and subscription conversion increased by 51%. Return visits and engagement among registered users have also improved. The technology has been adopted by more than 50 outlets across 11 different publishers.
The New York Times
The NYT will allow its subscribers to gift articles to non-subscribers. Among all the sharing options, the subscribers will also see an icon to gift. The recipient will have 14 days to read the article before it goes behind the paywall.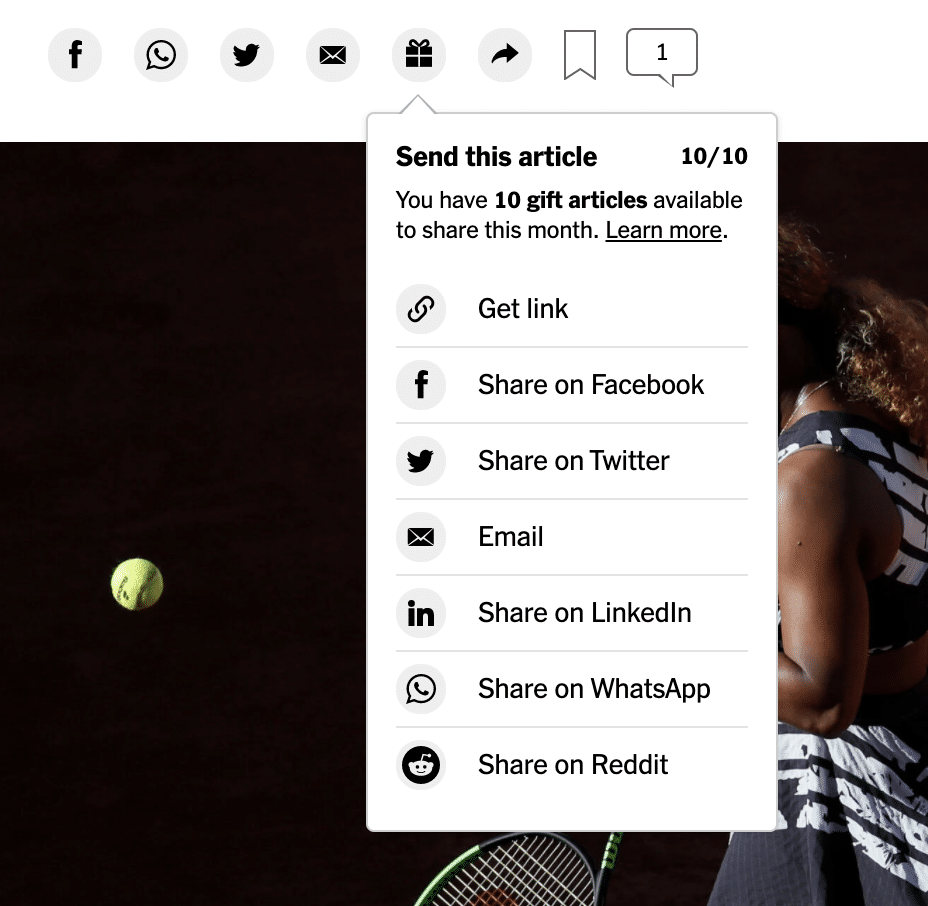 It is a tactic similar to other publishers that allow sharing articles with non-subscribers. The Wall Street Journal, The Information, The Financial Times, and many more publishers already have the feature on their sites. The publisher will observe whether the non-subscribers coming via the "gift" link are more likely to subscribe. Further strategies would be developed based on the findings.
Adjusting to the New Platform Changes
Preparing for the SPM overhaul
Google is about to change how smaller publishers access AdX demand. So far, the publishers could integrate with channel partners if they could not reach the required minimum monthly impressions. This program was called Scaled Partner Management (SPM).
Starting September 30, the Multiple Customer Management (MCM) program will replace SPM. Any publisher that monetizes non-owned and operated inventory in Ad Manager through a channel partner will be required to use MCM. It'll allow two kinds of relationships between the parent and the child publisher: 
One where the child can have full functionality of Google Ad Manager (GAM) 360 without having to pay an ad-serving fee directly. The control lies with the parent publisher, who is also responsible for trafficking ads for the child. The child can only work with one MCM partner in this capacity.

The other option is to have a consultative relationship between parent and child. In this scenario, one publisher can work with up to 15 different MCM partners at once.
So, publishers utilizing the SPM program need to retag their sites and arrange a new rev share agreement with their partners. Failure to do so can make you lose your AdX access. Read our article on MCM to dig deeper.
Publishers vs Apple's 'Hide My Email' feature
Many publishers are worried about Apple's burner mail aka the 'Hide My Email' feature. It'll help users to sign up for newsletters and subscriptions with fake addresses. But Adexchanger says there's not much to fret about as the feature won't reach critical masses. Users need to use Apple's native app, iCloud account, and a device with the latest software.
But, it'll be a nightmare if you try to track the users of the service. Your mails might reach their Spam folder, resulting in a decreased open rate. If you can't recognize them, they might keep using your free trials by signing up again and again. But, as the number of such users is expected to be small, you can ignore them for now.
Moments that Matter
BuzzFeed will go public. Here's what it told investors about the future of digital media. – NiemanLab.
Google Loses Its Spot On IAB Europe's Board; YouTube Scores A Copyright Win In The EU – AdExchanger.
Google Faces EU Antitrust Probe of Alleged Ad-Tech Abuses – WSJ.
Recent FTC chair signals push for rules on data collection and dark patterns – Digiday.