Summary
Advertiser Perceptions SSP Report says that this year, publishers are working with an average of 6 SSPs at a time. Last year the number was 5 and it is expected to keep rising.

The average number of demand-side platforms used by advertisers declined from 6 to 3 over three years.

9 out of 10 publishers with a minimum of 3 million unique monthly visitors now use PMPs and rely on SSPs to operate them.

Magna Advertising says that the global ad market will grow 14% to reach $657 bn in 2021 and 64% of the ad sales will take place for digital formats.

Search and social media ads may benefit the most among digital formats with 20% and 26% growth respectively in 2021.

Amazon is not allowing FLoC to work on its properties. Google will have to stay deprived of Amazon's humongous data pool.

Group Nine provides first-party data points such as content preferences and engagement depth to help advertisers win users on its properties.

A new complaint has been filed against IAB in the EU that says the organization facilitates gathering users' sensitive data through RTB. Also, there are no measures to safeguard this data.

The Week has redesigned its site to prioritize native offerings like sponsored ads. It has helped the publisher to achieve 5% to 10% more sessions per user and 15%-30% more time on site. The changes are due to the falling demand for display ads whereas increased interest in native formats in the past five years.

Legacy publishers are targeting 7-14-year-old kids to grow their audience base and increase subscription revenue. America's Test Kitchen, The Week, the NYT, Time, everyone has something to offer.

Buzzfeed has started a program to reward contributors for creating viral content. This strategy can have many benefits for the publisher, including reduced cost of content production
Latest Ad tech Trends for publishers
Highlights from Advertiser Perceptions SSP Report
AdExchanger has reported the findings of the latest Advertiser Perceptions. It's based on a survey of 151 publishing executives with at least three million unique monthly visitors.
"Publishers are open to putting as many pipes as possible into their inventory as possible, if that SSP can make the case that it has unique supply or data that will make the publisher more money."
– Lauren Fisher, Advertiser Perceptions VP of business intelligence.
Let's see what it tells apart from Google's dominance in the market:
This year, publishers are working with an average of 6 SSPs at a time. Last year the number was 5 and it is expected to keep rising.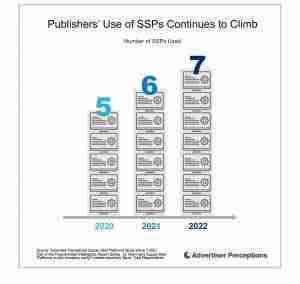 On the contrary, advertisers' average number of demand-side platforms declined from 6 to 3 over three years.

Only 5% to 7% of publishers consider Magnite, Xandr, SpotX, Amazon, or Verizon as their single most preferred SSP. Needless to say, Google is preferred by the majority.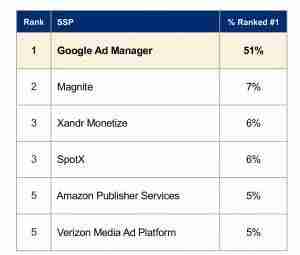 Subscribe to our weekly roundup
Stay informed with the latest adtech news
Global Ad Market Projections from Magna
A global media investment and intelligence company, Magna Advertising suggests that the global ad market will grow 14% to reach $657 bn in 2021:
64% of the ad sales will take place for digital formats, an increase of 20%.

Almost all the digital ad formats will deliver double-digit growth in 2021.

Search and social media ads may benefit the most with 20% and 26% growth respectively.

Video ads will grow by 24%.

With a 17% increment, the UK's ad market will grow faster than the US (15%) and China (16%).
The US audience will Spend a Third of Media Time on Mobile
eMarketer reports a continuous growth of mobile media consumption in the US. The growth will be slower than last year but mobile will still hold almost a third of the media time of the audience.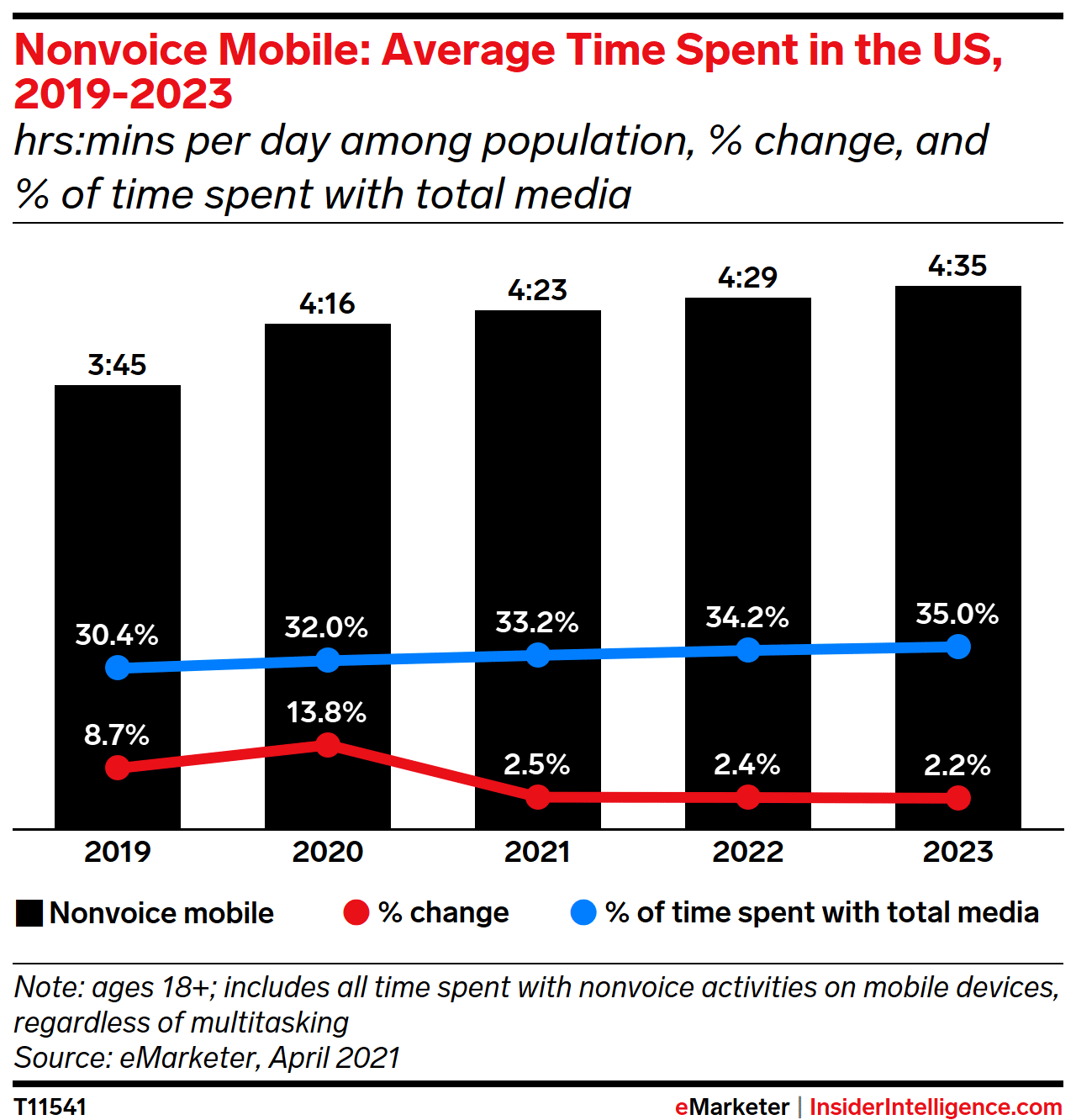 Last year, mobile saw double-digit growth of 13.8%, the fastest increase after 2014. It was largely due to the pandemic. As the country reaches normalcy, the coming years will see just a 2.2% to 2.5% increment. It means the US audience will spend more than 4 hours and 23 minutes on mobile from 2021.
Shaping Up the Post-Cookie World
Amazon Shuts the Door for Google's FLoC
Digiday recently found that Amazon is not allowing FLoC to work on its properties including Amazon.com, WholeFoods.com, and Zappos.com. This move will prevent Chrome from mining valuable behavioral data that could've been used to create audience cohorts for targeting without cookies. As Amazon has its own advertising business to run, it's expected that it'll do whatever can be done to weaken the competitor (i.e., Google).
Also, Amazon is not only using Google's recommended method of blocking FLoC, i.e. sending a response header from HTML pages, it is also trying another method that sends an opt-out header from Amazon analytics requests. It means Amazon might be testing the effectiveness of various methods. It's noteworthy that Amazon sits on a humongous amount of user data worldwide and it has all the necessary resources to prevent Google and other ad tech companies from accessing it so that it has strong walls around its platform.
Group Nine's First-Party Data strategy
Most of the publishers are looking forward to finding an alternative to the third-party cookie, Group Nine is no different. It has properties including Thrillist, NowThis, The Dodo, Seeker, and PopSugar. The publisher has recently launched its first-party data solution that enables targeting based on content preferences. As explained by the Chief Insights Officer, Ashish Patel:
"We can say, here's a segment of Papa John's, here's everybody that watched 30 seconds of a Thrillist pizza video over the last six months and we think that they're a better audience to download your app."
While content preference is the primary point of logic, engagement depth is the key signal on what users are more likely to convert on a product. For example, Group Nine will not only tell that a user is interested in, say pizza, but it'll also show the depth of engagement by using metrics like how many articles a user has read on that topic. The publisher uses its DMP to carry out the targeting.
Group Nine also offers another tool that allows brands to use its first-party data to send targeted ads to users via Group Nine's Instagram and Facebook accounts. In other words, the publisher's strategy is to deliver the best targeting capabilities to its client with the help of its first-party data.
Targeting Vs. Privacy
Complaints against IAB in EU
The Irish Council for Civil Liberties is taking IAB Tech Labs to the court in Germany. The complaint is about RTB auctions and the data involved in them. As per the complaint, IAB provides the codes for gathering users' sensitive data like political affiliation, medical conditions, household income, whether they may be a parent to a special needs child, etc. It also claims that there are no measures to limit what adtech companies can do with this data, nor who they might pass it on to.
The complaint is initiated by a former adtech insider-turned whistleblower, Dr. Johnny Ryan. He is doing so because he's unhappy with Europe's data protection agencies and their working procedures. This is not the first time that Ryan is filing a complaint against RTB, also he is not the only one doing so. Hearings about programmatic advertising and its privacy concerns are going on all around the world and they are expected to go on until a large portion of internet users are educated about the workings of the ad tech industry.
Data clean rooms are getting popular for privacy reasons
Advertisers like Activision are increasingly using data clean rooms for data-sharing in privacy-compliant ways. Data clean rooms allow advertisers to get the benefits of data sharing with media houses, without actually sharing it. The advertiser and the publisher's data are not mingled together, they are kept inside their separate cloud environments. Later, algorithms are run across the environments so that data is not commingled and therefore compromised.
It can't be said how successful Activision has been with its methods. We'll come to know as the advertiser shares the results and the trend picks up a little more. The privacy push will encourage many companies to conduct such experiments, keep your eyes open if you are also looking for strong privacy-compliant ways of delivering targeted ads.
Strategies from Top Publishers
The Week's site redesign strategy
The Week has redesigned its site to prioritize native offerings like sponsored ads. The publisher has also embraced lazy loading to improve the site's user experience. The pages are three times faster and ad viewability is up by 20%. The cleaner and faster website have helped the publisher to achieve 5% to 10% more sessions per user and 15%-30% more time on site. 
The changes are due to the falling demand for display ads whereas increased interest in native formats in the past five years. While the revenue from native ads has more than doubled YoY, it has remained almost static for display ads. The trend is not new, other publishers like the Atlantic have experienced the same earlier. It is largely due to the higher engagement native ads provide and the results they deliver to the advertisers.
Kids Content is Attracting Publishers
Legacy publishers are targeting 7-14-year-old kids to grow their audience base. This audience segment can bring a good amount of subscription and sponsorship revenue if the right content is produced. Digiday shows how some of the publishers are attracting this young audience:
America's Test Kitchen: It published a cookbook for young chefs that topped the New York Times bestsellers charts in 2018. Later, it released more cookbooks in 2019 and created a monthly cooking subscription box on the same theme priced at $25.99 per month or $240 for a year. The idea is to make parents buy subscriptions for their kids.
The Week: The publisher has launched The Week Jr. and it is bringing both subscription and ad revenue. The magazine's initial print run was 50,000 copies but after a year it has 100,000 subscribers.
The New York Times: The NYT is publishing the kid's edition of the paper. The monthly kid's edition has 12 pages and around 20 stories. Only the back cover contains advertisements.
Time: The publisher has had in-school, curriculum-based content offerings for kids for a long time. During the pandemic, the publisher started distributing the content digitally. Initially, it was sponsored by companies like Google, HP, and AT&T, later Time moved to a subscription-based model. Currently, it has 93,000 subscribers.
BuzzFeed is leveraging its community for content creation
BuzzFeed has run a community of contributors since 2013. It helps the publisher in gaining user-generated content. Recently it has started a program to reward the contributors for creating viral content. The rewards will be based on the number of pageviews generated by the post. For example, $150 for 150,000 views,  $500 for 500,000 views, and so on.
This strategy can have many benefits for the publisher. For starters, a lot of content can be produced without the need for more full-time employees. Second, BuzzFeed will make a profit whenever the pageviews on the article bring more revenue than the reward it has to give to the contributor. Third, the contributors will be motivated to share the content. Fourth, BuzzFeed can increase its content diversity with the help of outsiders.
Aren't those benefits enough to try such ideas? Yes, they are! But at the same time, the publisher has to take care of content moderation and quality control. Hiring people for the job wouldn't hurt.
Moments that Matter
Identity Reality Check: Most Identity Solutions Will Fail – AdExchanger.
Comscore and Viant Partner to Expand Cookie-Free Predictive Audience Access – Comscore.
Antitrust Regulators Are Turning Up The Heat On Big Tech. Here's Your Cheat Sheet – AdExchanger.
UK's CMA opens market study into Apple, Google's mobile 'duopoly' – TechCrunch