Summary
The US population is spending as much as half of their day consuming media. The consumption of digital media is higher than traditional media in the US, UK, Canada, South Korea, and China.

Content consumption on mobile spiked by 13.8% due to the pandemic in 2020 but 2021 will show a moderate growth of 2.5%.

Amazon is preparing a new identifier that'll work solely inside the company's ad ecosystem. It can be similar to Google's PPID, but nothing has been confirmed yet.

Google will stop tagging its users with its AD ID if they have opted out of tracking. So far, the ID was tagged to opted-out users because it was used for non-advertising purposes like analytics and fraud detection. The company will bring an alternative till July.

33Across launches a new probabilistic identifier that combines contextual signals and the data aggregated by the company.

Group Nine Media is creating audience segments based on time spent watching its content. The publisher believes that this metric can determine the user's purchase intent.

Facebook is under an antitrust probe again. European Commission will check whether the company has unfair advantages over advertisers using Facebook Marketplace.

To settle down the antitrust case in France, Google has offered interoperability of AdX with ad servers run by other companies. The acceptance is awaited with French authorities. – WSJ
Latest Adtech Trends for Publishers
Last week, eMarketer released a few reports related to current adtech trends. Two of them are about content consumption behavior among worldwide and US audiences. Let's have a look at them so that you can strategize your content accordingly.
Media Consumption Trends in Select Countries
Media consumption is booming in some countries where users are spending almost half of their day with digital and traditional media. The US tops the list where an adult spends an average of 13 hours and 12 minutes consuming media. Interestingly, digital formats gain a major share of attention (8 hours). Other countries with a higher share of digital are the UK, Canada, South Korea, and China.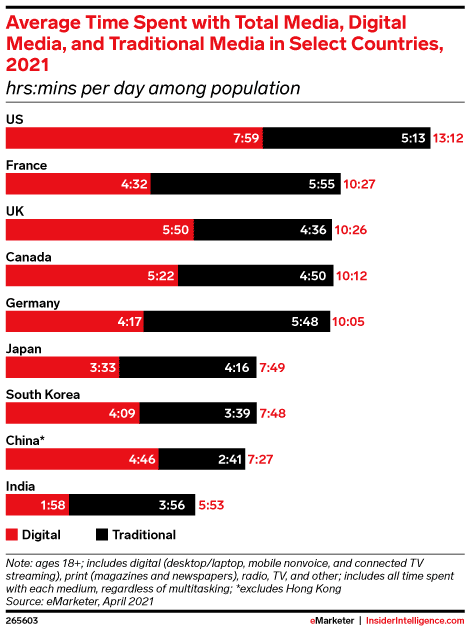 Time Spent with Mobile in the US
The pandemic accelerated content consumption on mobile devices in the US. But, as the country moves towards normalcy, the growth is expected to slow down in 2021. While 2020 brought a 13.8% increment, 2021 will experience mere 2.5% growth in the trend. Still, nearly a third of all media time will be spent on mobile this year. Also, mobile will keep gaining its market share among the US population.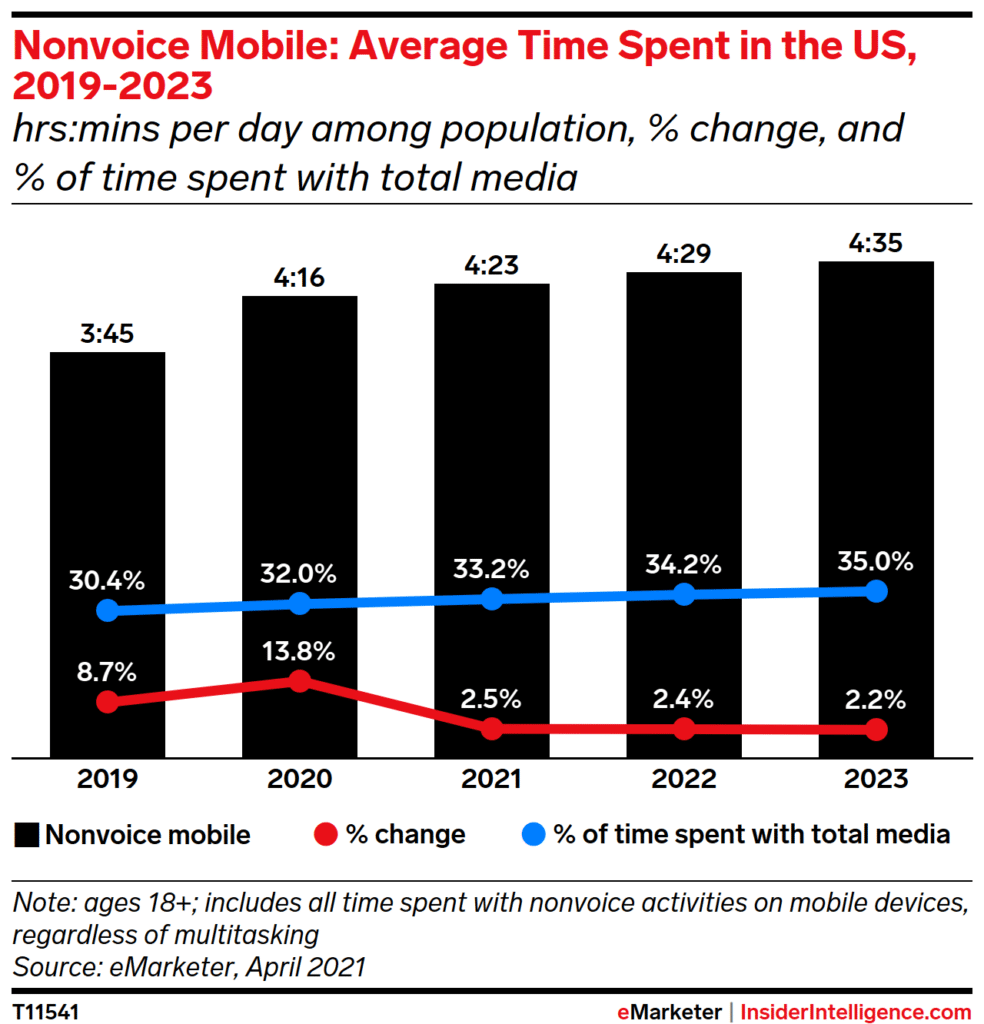 Takeaway:
Going as per the trends, you may not see a significant increase in your average session duration this year as you've seen in 2020. A mobile-first strategy is a must as it'll keep growing stronger in the coming years. 
Updates from Identifiers for Post-Cookie World
An identifier by Amazon
Amazon is the latest company preparing to offer a new identity solution for the post-cookie world. The move can help the tech giant to strengthen its position in the ad tech industry by attracting more advertisers and publishers. Digiday reports that the identifier will work solely inside the Amazon ecosystem, ie, Amazon Publisher Services and Amazon DSP. Publishers have to fulfill some requirements before they start using it.
Sources gave rough overviews to Digiday about how the identifier might work. One of the sources says that be like Google's PPID:
"They are thinking about it more in terms of Google's 'ppid,' where it's siloed to a particular network of O&O sites. It would be more as a means to inform their DSP of frequency and attribution while maintaining an identity silo." 
Another source at Amazon says that it'll operate as per Amazon's privacy notice, interest-based ads, and opt-out policies.
Google limits Ad ID
When it comes to privacy, Google has been facing a lot of mistrust from a large number of its users. Hearings related to its data usage and anti-competitive practices have made many people further doubtful about the company. Google has taken many actions to defend itself and ease the tension among the users, for example, phasing out third-party cookies, not supporting identity solutions, etc.
In its recent attempt to please privacy concerned users, Google has announced that it won't tag users by Advertising ID if they have opted out for tracking and personalized ads. So far, the opted-out users were still tagged by the mobile ID because it was used for non-advertising purposes as well, for example, attribution, analytics, fraud detection, etc. It means Google needs an alternative Advertising ID for such purposes. The company says that the alternative will be available by July.
This policy is a response to Apple's ATT changes. But, Google won't be actively pushing its users to decide whether they want to be tracked or not. 
New Identifier by 33Across
We are seeing new identifiers coming up almost every week. This time it's 33Across with its probabilistic identifier called Lexicon that combines contextual signals like time of day, the site URL, and the device being used – and the data aggregated by the company itself. 33Across wants to target the audience that deterministic identifiers like UID 2.0 or Liveramp's ATS would fail to identify when the users do not opt-in with email.
Advertising Beyond Cookies and Identifiers 
Exploring wider applications of FLoC
Google started testing FLoC for targeted ads, but some ad tech companies are exploring whether it can be used for wider purposes. Mediavine is one such company that is trying to improve its content recommendation with the help of FLoC. When users are not logged in to the publisher's site, the data offered by FLoC can be leveraged to make better recommendations.
To measure the success of its experiment, the company will see how the content recommended to FLoC users performed when compared to completely anonymous users. If it works, the company wouldn't have to completely rely on contextual signals while serving content to non-logged-in, anonymous users.
Another company, CafeMedia, is trying to correlate FLoC's cohorts with its content clusters. "For example, we can see that one range of cohorts is significantly less interested in browsing food content and more interested in personal tech and finance," says Don Marti, VP of Ecosystem Innovation at CafeMedia. It'll help the company to better understand the cohorts and take effective audience targeting decisions. 
Group Nine's New Audience Segmentation Approach
Group Nine Media has taken a different approach to building its first-party data strategy. Its audience segments will be based on the amount of time its audiences spend watching its content. It'll use these segments to not only target users on its owned and operated sites but also on social media sites using lookalike modeling. Of course, the publisher will also use other traditional data points and it'll be one of the bases for creating segments.
The publisher believes that engagement depth can be used to determine a user's purchase intent.
"Engagement depth we've seen, so far, is a good proxy for propensity for intent to purchase. It's more efficient to hit the 45-second viewer than the 15-second or 30-second viewer. What we're excited about is we're seeing this pattern across multiple categories." 
– Ashish Patel, Chief Insights Officer, Group Nine. 
Developments in Antitrust Probes Against Tech Giants
Facebook
Facebook is once again under an antitrust probe in Europe. The Competition and Markets Authority (CMA) and the EU's Competition Commission will investigate how the company uses data from advertising customers and users of its single sign-on tool and whether the data provides it an unfair advantage over its competitors.
Here, the competitors are not other social networks like Twitter and Snapchat but the advertisers that post classified ads on the platform to sell goods. "When advertising their services on Facebook, companies, which also compete directly with Facebook, may provide commercially valuable data. Facebook might then use this data in order to compete against the companies which provided it."
"This applies in particular to online classified ads providers, the platforms on which many European consumers buy and sell products. Online classified ads providers advertise their services on Facebook's social network. At the same time, they compete with Facebook's own online classified ads service, 'Facebook Marketplace'.", says the press release by European Commission.
Google
Google is close to settling its antitrust case in France. The most interesting development in the case is that Google has offered improved interoperability of AdX with ad servers run by other companies. The offer also includes the removal of some more obstacles faced by competitors but the acceptance is in the hands of the board. If it happens in other parts of the world as well, publishers would have more freedom for choosing their ad servers beyond GAM.
Moments that Matter
Conviction Of Russian Ad Fraudster Sets Precedent. Will It Make Scammers Think Twice? – AdExchanger.
What will the media world look like in 2030? – eMarketer.
MediaMath Explores Strategic Options as Dealmaking in Ad Tech Picks Up – WSJ.
Google's fingerprinting restriction confuses its ad tech partners – Digiday.