Summary
Most of the top publishers are skeptical about the use of identity solutions. Privacy compliance, data security, losing power to ad tech companies are some of the main concerns.

Omnicom Group is collaborating with Infosum and Pubmatic is working with Zeotap to solve the identity problem in adtech.

Liveramp's cookieless solution Authenticated Traffic Solution (ATS) has been adopted by 400 publishers, more than 70 DSPs & SSPs, and over 100 brands.

Rich Calkins from OpenX suggests publishers use Prebid Server and do rapid testing with its ID modules to succeed in the post-cookie world.

US News & World Report is doing intent-based segmentation of its first-party data. It'll help the publisher in attracting advertisers who do not have established e-commerce businesses or direct relationships with customers.

Vice Media has gained 500,000 followers on one of its Instagram accounts by producing content in Stories format. It is now creating more stories than text or video.

The total worldwide ad spend will reach $747.67 billion and digital's share will reach 60% this year for the first time.

Top advertisers including P&G, L'Oréal, Amazon, Mitsubishi are set to increase ad spend this quarter.
Adtech Trends for Publishers
Pandemic's Impact on Worldwide Ad Spending
Last week, the eMarketer gave a final look at the ad spending in 2020. The year was truly unpredictable but somehow the industry came out of it safely.
eMarketer forecasted a 7.0% growth before the pandemic but later, the number went down to negative 4.5%. Ultimately, the market shrunk by just 1.2%

The dip in the previous year will boost the ad spending in 2021. The total media spend will grow by 15.0% whereas digital will grow by 20.4%.

Digital ad spending remained almost unaffected despite the upheaval. eMarketer predicted a 13.6% growth in February and the final figure was 12.7%.

The total worldwide ad spend will reach $747.67 billion and digital's share will reach 60%  this year for the first time.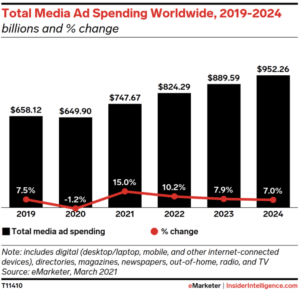 How Top Advertisers Are Spending
Digiday regularly asks the top advertisers in the industry about their plans for the coming quarters. It gives us a rough picture of how the coming months may look like — for open web and walled gardens. Here is what the advertisers are saying:
P&G has increased its spending by $270 million.

L'Oréal's online sales have increased by 47% in the first quarter so the advertiser is ready to spend more on mediums like retail media networks as well as social platforms like Instagram and TikTok.

Amazon is spending $6.2 billion this quarter compared to the $4.8 billion it spent during the same quarter last year.

Mitsubishi reported a loss of revenue in the past year but the advertiser plans to spend more to come out of the slump.
Latest in Identity Solutions
Publishers' Approach Towards ID Solutions
The race to build the ultimate identity solution is not slowing at all. We are seeing new offerings and partnerships almost every week. But the participation of publishers is the most important factor behind the success of any identifier. After all, they are the ones who'll bring the audience data. So, there's no surprise that many publishers are regularly being contacted by identity providers.
So, should the publishers start working with them? Digiday says some publishers, especially the larger ones, are skeptical. Thomas Lue Lytzen from Ekstra Bladet, one of Denmark's biggest news publishers, worries that it'll again become just an audience provider to the ad tech companies with no control over the data collected from its sites.
"We're skeptical of sharing this sort of data with the broader ecosystem because there's a risk that it ends in a situation where you have ad tech vendors building these huge databases on our audiences that we have no control over so we're back to square one of publishers just being providers of users and not journalism"
– Thomas Lue Lytzen, director of sales and ad tech, Ekstra Bladet.
Some publishers are doubtful whether the methods applied by the service providers are privacy compliant. The NYT even finds sharing user data with identity solutions as a "sketchy" practice. A UK-based alliance that includes publishers like The Guardian and the Stylist Group, thinks that the identity solutions aren't viable for the long term.
There are other concerns like whether the audiences want their data to be shared with third parties? Would the data be secure? Would it be shared across the ad tech providers? In a nutshell, top publishers are hoping for better solutions and they are also testing the waters before jumping the ship.
New Partnerships
Annalect, the subsidiary of advertising holding company Omnicom Group is collaborating with Infosum, a privacy-preserving data collaboration technology. Annalect deals in data and analytics and this partnership will help it expand its first-party data management capabilities. Annalect's CEO says,
"Adding an independent clean room provider to the Omni infrastructure will empower our clients to connect their first-party data with media and commerce platforms, as well as their broader supply-chain partners, while respecting consumer privacy."
The next partnership comes from Zeotap and PubMatic. The press release says that Zeotap's Universal ID solution, ID+, will now be available in Identity Hub, PubMatic's Prebid-based identity management solution. Zeotap's taxonomy will also be available within Audience Encore, PubMatic's audience data platform.
The Cookie Replacement
Adoption of Liveramp's Cookie Alternative
The Authenticated Traffic Solution (ATS) was developed by LiveRamp to enable targeting in a cookieless environment. The solution helps in recognizing the publishers' known audience on the web to deliver targeted ads. Just like any other solution, its success depends on adoption. LiveRamp has recently announced that ATS is picking up across the world.
The company says 70% of the Comscore-20 and 65% of the Comscore-50 publishers have taken up ATS. Apart from the 400 publishers, more than 70 DSPs and SSPs and over 100 brands have also taken up the solution. The company is confident that the number of ATS users is going to increase over time.
Suggestions from OpenX
Rich Calkins, Director of Product Management at OpenX, has some suggestions for you to work in the cookieless future. So what should you do?
Publishers should start moving server-side because Prebid.js is mainly adopted for its cookie match rates. But, once the cookie is gone, there's nothing to match. The incentive to use client-side bidding (match rates) will be gone so by moving to the server-side you will have the benefit of a faster setup.
Prebid offers 27+ ID modules. It already has many features that'll be useful in the cookieless future and many more will be added soon. But which one works for you? You have to conduct rapid experiments to find the answer. At the same time, you have to actively update your bidder setup. "Set it and forget it" approach won't work here.
Strategies From Top Publishers
Intent Based Segmentation
US News & World Report is taking an e-commerce style approach while building its first-party data segments. It is using the concept of Buyer's Journey to understand its users' intent. In the words of Alex Kalaf, VP, Marketing, "We're showing where they are in the decision-making process."
For example, a user researching the best colleges in an area is probably a student ready to enroll in a degree program. Similarly, a user looking for the best restaurant in a city might be someone planning to dine out soon.
Such data can be very helpful to advertisers who do not have established e-commerce businesses or direct relationships with customers. After the third-party cookie is gone, the businesses that need this type of data will struggle even more. The publishers who employ this strategy can attract more demand. 
Stories
There are hardly any popular social media platforms that do not offer content in Stories format. Be it Facebook, Instagram, Whatsapp, YouTube, you'll find them everywhere. It's becoming popular among the users so it's obvious that everyone wants to create content in this format. Vice Media tried the same and it's getting promising results.
The publisher has developed an app to create content in the Story format. Currently, more than 250 Vice employees are using it to generate over 3,000 pieces of original content every month. Result? Its average impressions per post are up 72% across Vice Media Group. The Instagram followers of Vice World News went from 100,000 to 600,000 in six months. 
The publisher is now producing more Stories than text and videos. And Vice is not the only publisher who benefitted from the format. Bustle Digital Group also leveraged Stories while it was doubling the revenue of W Magazine.
Moments that Matter
Facebook, German publisher Axel Springer strike global cooperation deal – Reuters.
Verve Group Launches ATOM Targeting By Cohort For iOS – AdExchanger.
The Information staffs up in a push to reach 'hundreds of thousands' of subscribers – Digiday.
Media Voices Special: Which publishers won the pandemic? – Media Voices Podcast.