Summary
LoopMe's survey reveals 45% of UK consumers are most annoyed by watching the ads for the same products again and again. But 88% of the consumers prefer the value exchange of ads for content.

Only 18% of UK consumers have a clear understanding of how companies use their data for ads.

In another study, eMarketer shows 30% of all the publishers are unsure about their preparation for the post-cookie world.

Digiday says 50% of the small-scale publishers are planning to focus on revenue sources other than ads.

PubMatic Inc., OpenX, and Zeta Global Corp suggest a new identifier called SWAN. The user has to give the consent only once and it'll be applicable throughout the SWAN network.

Correio, a Brazillian news publisher, is successfully using WhatsApp to build its audience. The publisher engages in WhatsApp groups, its journalists act as "a friend and specialist" when sharing updates and insights. 

Short snippets with around 100 characters and no image receive the highest CTR on news aggregating services. 

Google shows concerns around ACCC's portability and interoperability proposals. It says that the measure may put consumer privacy at risk.
Latest Ad Tech Trends
Consumer Ad Preferences
LoopMe, an outcomes-based advertising platform, has surveyed 3395 consumers across the UK at the beginning of March 2021. The survey reveals the current state of consumer ad preferences in the UK. Here are the major findings for publishers:
For 45% of the consumers, it's "most off-putting" to see the ads for the same products again and again.

But, 88% of the consumers prefer the value exchange of ads for content.

Only 18% of the consumers have a clear understanding of how companies use their data for ads.

48% of the consumers do not read cookie and website policies.

Only 17% of the consumers believe that their data is more secure than it was a year ago.

29% of the consumers find websites and apps the most helpful in making their smartest purchasing decisions.
Takeaway:
The lack of understanding around online ads is causing most of the skepticism among the users. A huge chunk of the audience understands the value of ads. Educating your visitors about your data usage practices can help you get better results with your monetization strategy.
Identity in the Post-Cookie World
The Cookie's impact on small publishers
Ask any adtech/publishing professionals about how to deal with the cookie situation, and the first suggestion will be about the use of first-party data. Most of the top publishers have their first-party data strategies in place. But still, according to eMarketer, 30% of all the publishers said they aren't prepared to handle the upcoming cookie-related changes and privacy laws.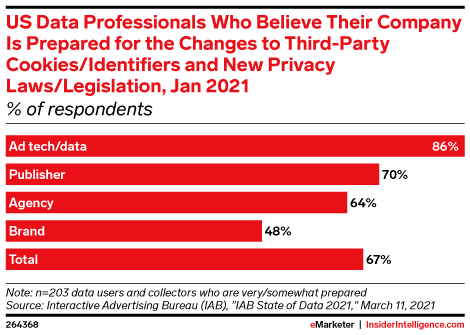 So, it shows many don't have a practical plan in place. Keep a tab on universal IDs, especially, SharedID and start working on first-party strategies. 
But what about the small-scale publishers? Digiday talked to 114 professionals to find out how small-scale publishers are preparing for the post-cookie world. Half of them will rely more on non-advertising sources. The majority of these publishers will focus more on subscription revenues.
There are many challenges that small-scale publishers face concerning online ads. Hiring the right talent for the programmatic operations, attracting direct demand, the huge power in the hands of the big tech, and the uncontrollable nature of ad revenue, are some of the difficulties in front of them. 
New Cookie Alternative
No matter how uncertain the post-cookie scenario is, the ad tech industry is not slowing down on finding a solution. PubMatic Inc., OpenX, and Zeta Global Corp are among the latest companies to suggest a new identifier called SWAN. It is open for public comments for the next 60 days.
James Rosewell, one of the minds behind the solution describes it as a new utility for publishers and advertisers that don't want to rely on Google and prefer a "common interest community" to handle identifiers. He compares the initiative to ICANN; what ICANN is for domains and SWAN could be for identifiers.
A user visiting a website in the SWAN network will be asked for consent on behalf of all the publishers in the network. The response will be saved in the network registry and all participants will abide by it. Users can change preferences anytime on any of the websites (part of the network).
Want to receive the latest adtech updates every week, just sign up for our adtech weekly roundup.
New Strategies from Publishers
Every week we find new strategies that publishers are implementing to grow their business. This time, WNIP has given us two strategies that you can use:
Using Messaging Apps
Correio, a Brazillian news publisher, believes apps like WhatsApp can help to build deeper connections with the audience. It started building a community around football. It used a Google form to sign up the first 50 members to its WhatsApp group. Its journalists act as "a friend and specialist" when sharing updates and insights.
At present, the publisher manages multiple groups on different topics. The publisher also runs event-specific groups that open and close as a series of events occur. While some groups allow their members to post, others do not do so. Clearly, it has come a long way. 
The WhatsApp groups are not just a source of traffic. Its content coordinator says, "We use the open groups as a source to know what people are talking about and sharing. We don't mind if competitors' content is shared. If it's just Correio, you make the group feel artificial".
Acquiring Audience from News Aggregators
WNIP also published the results of research that can help you perform better on news aggregating services. It shows that the length of the snippet has a direct correlation with the CTR of the article. Longer snippets tend to attract smaller CTR and vice versa. A longer snippet can reveal everything that the reader needs to know, leaving no reason to click.
Similarly, snippets with images have lower CTR than the snippets that include images with them.
Takeaway:
While the snippet length and the inclusion of images on the news aggregating services may not be in your control, this research tells you what works for a great CTR on articles. Use these findings even when you are sharing your articles in the social apps to get the best results.
Google's Response to ACCC's Proposals
The Australian Competition and Consumer Commission proposed data portability and interoperability as well as data separation mechanisms to balance the distribution of power in the online publishing industry. As per ACCC, Google has a monopoly in the market because it has an enormous amount of data about the consumer. This availability of the data becomes a barrier to entry for small players.
The competition can be increased in the market if this data is available to other parties. For example, a user can request Google to hand over his data to a publisher. And, the data separation proposal seeks the data to be distributed within companies to prevent data gathered in the context of supplying one service from being used in the supply of a different service. For example, data collected from Gmail shouldn't be used on YouTube.
This week Google has shown concerns about the proposals. Its platform director in Australia says:
"Well-meaning but misjudged interventions can cause unintentional harm to consumers and businesses. For example, measures that increase transparency for one group may put consumer privacy at risk. We firmly believe that privacy needs to be a core principle underpinning the development of any proposals. Our users trust us with their data and we take that responsibility seriously."
The essence of the concern is that sharing data among platforms can be a risky business from a privacy point of view.
Moments that Matter
How publishers are earning money with NFTs – Digiday.com.
IAB Tech Lab Releases New Buy-side Transparency Specifications for Public Comment –  PRNewswire.
Google To Detail FLoC Targeting Nuances In Coming Weeks – Mediapost.
Vista Equity Partners Acquires Majority Stake in TripleLift in a Deal Valued at $1.4B – AlleyWatch.