Summary
Some publishers are seeing growth in the referral traffic from Facebook News. But, Facebook still remains a minor contributor to the overall traffic.

Around 70% of US adults are not ready to pay more than $10 to read digital content. Only, around 14% would pay more than $15.

49% of the overall news subscribers come under the category of "zombie subscribers" whereas the digital-only publishers have only 20% users in this audience segment. Zombie subscribers are the ones that do not visit the website they have paid for even once a month.

Fashion publisher WDD is diversifying its revenue with online courses. It has partnered with educational institutions to awards certifications 

Decrypt has started a reward program to engage its audience. The rewarded tokens can be exchanged for items like T-shirts, stickers, access to promotional events, or premium content, etc.

Google announces that it won't build identifiers to track users after the 3p cookie phases out. It would bet on FLoCs instead.

Google's announcement causes confusion in the industry. Read its implications and expert reactions in this week's roundup.
Adtech Trends for Publishers
Facebook News growth trends
Facebook started offering a News tab in the US last year. Selected publishers were supposed to receive a payment from the company for featuring their 'trusted' news stories. For a few months, it was difficult to differentiate the news tab traffic from the regular Facebook referral traffic. But as the product is improving, the publishers can understand the difference.
Some US publishers are witnessing a growth in traffic from Facebook News. According to Digiday, one publisher is experiencing an increase for five consecutive months. For another, the news section sends 50% of the traffic from the Facebook platform. However, the base of the growth is still very small as Facebook and especially the news section is among the minor contributors to the overall traffic.
Paid Digital Content
eMarketer shows that only 14% of US adults are willing to pay more than $15 per month to read digital content. Close to 70% do not want to pay more than $10. The findings come from a survey of 9,313 US adults conducted by What If Media Group in January 2021.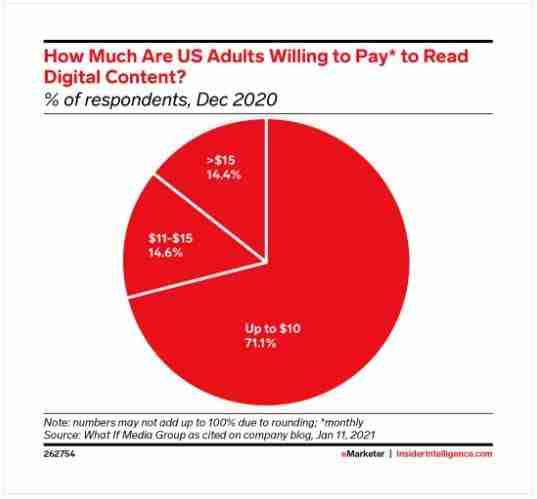 So, consider this trend while forming the pricing strategy for your subscription plan.
Zombie Subscribers
Zombie subscribers are the ones that do not visit the website they have paid for even once a month. As per Spiegel, 49% of the subscribers fall under this category. The publishers with print plus digital offerings suffer more with zombie subscribers than the publishers with the digital-only model. Here are the figures:
Overall:
49% of the subscribers do not visit the site even once a month.

54% of the subscribers visit the site only once a month or less.

58% of the subscribers visit the site only twice or less in a month.

69% of the subscribers visit the site 7 days or less in a month.

79% of the subscribers visit the site 15 days or less in a month.
Digital-only:
20% of the subscribers do not visit the websites even once a month.

24% of the subscribers visit the site only once a month or less.

27% of the subscribers visit the site only 2 days or less in a month.

36% of the subscribers visit the site 7 days or less in a month.

48% of the subscribers visit the site 15 days or less in a month.
Takeaway:
While Facebook News is not available for every publisher, there's nothing to stop them from growing subscriptions. You have to understand the user behavior to build a sustainable subscription business. Your pricing should fall in the most comfortable bracket for your target audience. At the same time, you need to prevent your subscribers from becoming zombies or they'll leave you sooner or later. 
Google Won't Build Alternative Identifiers
We've been keeping with Google's Privacy Sandbox updates for a while now. When Google announced that it'll phase out the support for third-party cookies in Chrome, the open web had no choice but to come up with alternative identifiers to retain individual targeting. 
For the past few months, it's almost impossible for you to not see any updates regarding ID solutions. 
But just as publishers are trying to decide 'what's the suitable ID solution to go with?', Google made an announcement last week that created a lot of confusion — and now the question became 'does it even matter?' 
So, let's take a look at the announcement and then answer some of the questions you might have. 
No Alternative Identifiers:
Google announcement isn't entirely new. In fact, it's more of a clarification than an announcement.
1. Google made it clear that it won't build its own or support any of the existing/upcoming alternative identifiers once the 3p cookies are gone. 
"Today, we're making explicit that once third-party cookies are phased out, we will not build alternate identifiers to track individuals as they browse across the web, nor will we use them in our products."
2. It acknowledged that other providers may offer such alternative identifiers that Google doesn't — for instance, Unified ID 2,0, but it still holds its stance. Google simply believes that universal IDs aren't going to meet rapidly evolving regulatory requirements. Instead, Google places its bet on Privacy Sandbox and FLoCs.
"Our web products will be powered by privacy-preserving APIs which prevent individual tracking while still delivering results for advertisers and publishers."
3. It also mentioned that Google's ad platforms will continue to support targeted ads powered by first-party data.
"We will continue to support first-party relationships on our ad platforms for partners, in which they have direct connections with their own customers."
That's it. You can see a few more details that are just repeated from its last announcement. Now, what it means for the adtech and some of the noticeable comments from the experts. 
Impact on Adtech and the Open Web
Google will stop building and using user profiles (User IDs) within its ad products. When advertisers use AdX to buy ads on publisher sites like BuzzFeed, it'll be based on FLoCs or first-party data — not any identifiers. 

Now when you use Google's ad products, the default method of targeting is 3p cookies. That is, Google uses the cookies to target users and serve personalized ads. When the 3p cookies are gone, proposals in the Privacy Sandbox (think, FLoCs) will become the default way. 

Google will not block any DSPs from connecting to publishers via its ad server and will also allow publishers to use first-party data to target individual users.

Alternative identifiers like UID 2.0, LiveRamp's Identity Link, etc. wouldn't be affected. Google simply said that it doesn't support any; Chrome didn't say so. 

Google will still allow individual targeting on its own properties (Google Search, YouTube, etc.) for logged-in users. So, if you're logged into Google and use multiple Google properties, behavior on one Google property can be used to personalize ads when you are on a different property. If you search for "MacBook pro accessories" on Search, then ads related to MacBook accessories can be shown while you're on YouTube.
You can read more answers from Digiday's piece here. 
Industry Reaction: 
The most common reaction is confusion. Many were confused as the announcement talked about Google's stance on alternative identifiers. If it was from Chrome, then it's a real problem. 
But now, things didn't change much according to several veterans interviewed by AdExchanger. Some explicitly claim that it's a net positive for the Open Web — noticeably, Jeff Green, CEO of The Trade Desk. While some aren't so sure as they are still awaiting to see how FLoCs compare to alternative identifiers in terms of performance. 
If Google convinces that FLoCs can reliably replace cookies, then Google didn't lose anything here. That being said, no one believes it will — at least yet. Simply put, the future is likely to be the combination of FLoCs, alternative identifiers, and first-party audience segments (created by publishers using solutions like SharedID). 
Want to receive the latest adtech updates every week, just sign up for our adtech weekly roundup.
New Publishing Strategies
Women's Wear Daily
In an attempt to diversify its revenue, WWD is turning towards education. It has partnered with the Parsons School of Design and education platform Yellowbrick to create fashion-related online courses.
Fashion Business Essentials, one of the courses created by the partnership, has 15 hours of instruction and project time in five modules: "Entrepreneurship and the Fashion System," "Managing Fashion Production," "Fashion Branding," "Marketing Strategies," and "Retailing and Distribution." The course will award a Completion Certificate from Parsons. 
Decrypt
The crypto publisher has launched its own cryptocurrency. While doing the same may not be possible for every publisher, what's noteworthy is that Decrypt is incentivizing its users to read and interact with its content. It has devised a wallet that stores the small incentives (tokens) that the user receives for engaging with the site, like reading (three tokens), reacting with an emoji (one token), or sharing (two tokens). The tokens are exchangeable for items like T-shirts, stickers, access to promotional events, or premium content, etc.
Takeaway:
Revenue diversification is the new norm for publishers. You have to understand your strengths and your audience before venturing into a new area for diversification. WWD knows that its audience wants to learn, so it started online courses. Similarly, Decrypt knows that its users have wallets for cryptocurrency and they understand blockchain, so it started the token reward program. 
Moments that Matter
A new identity challenge for marketers: Apple's mobile ad ID becomes opt-in – eMarketer.
Publishers see success with podcasts created to deepen coronavirus crisis coverage – Digiday.
Xandr Integrates With Unified ID 2.0 And Outlines Its Identity Roadmap – AdExchanger.
Google says publishers don't want collective bargaining – Digiday.